San Francisco Parks: My Top 20 Picks

San Francisco parks offer you the chance to stretch out and enjoy the greenery. Throughout SF, you will find both large and small green spaces, some with great views, some with trails, others with a variety of sports and play facilities.

Among the most loved parks are Golden Gate Park, Alamo Square, and the Presidio. Read on to learn more about my 20 favorites.

Disclaimer: I receive a small commission from some of the links on this page.

1. Golden Gate Park

Golden Gate Park is the most famous of all the San Francisco parks for many reasons. Being that it is over 1,000 acres, there are numerous events, places to visit, and things to do here. A fun little tidbit is that Golden Gate Park is actually about 20% larger than Central Park in New York City.

Some of the most beloved places to visit in the park include the California Academy of Sciences where you can see all kinds of incredible exhibits and creatures of all type. You will definitely want to meet Claude, a incredibly rare white Alligator.
Some of the other wonderful places in the park include the classic Conservatory of Flowers, the Japanese Tea Garden where you can transport yourself to Japan for a little while, and Ocean Beach which gives you an amazing view of the Pacific Ocean.
You might even see a whale passing by during the migration.
Some of the top activities in the Golden Gate Park include taking a 2-hour narrated Segway Tour which will take you to all the above mentioned places and others including the gorgeous Stow Lake, Redwood Tree Grove, and other hidden gems that you might miss if you just walk around the park by yourself.
The park is also home to many events throughout the year that you'll want to check out on your trip here. Some of these include the Hardly Strictly Bluegrass and Outside Lands festivals, Sunday Streets, Bay to Breakers, and more.
Here are some fun things to do in Golden Gate Park.
2. Marina Green
This beautiful 74-acre park will give you incredible views of the Golden Gate Bridge, Fort Mason, the Presidio. It's one of the best San Francisco parks to relax in as you enjoy these views.
One of the favorites for local and visitors alike is the Little Marina Green Picnic Area where you can reserve picnic tables and have a great meal. Another classic San Francisco treat to do here is fly a kite since the wind is usually blowing just perfectly for it.
Last but not least, you will definitely want to check the famous Wave Organ. This organ is built so that when waves go through it, it makes all kinds of strange and wonderful sounds and noises.
Note: If you are coming for Fleet Week, this is probably the best of the San Francisco parks to see the ships, boats, and the incredible Blue Angels airshow.
3. Presidio

Originally designed as a military installation by the Spanish when they came to the Americas, the Presidio became a national park in 1994. Between those times it was a well-regarded military base.
You will find plenty of fun things to do in the Presidio including visiting the Walt Disney Museum, stopping by the National Cemetery, and going for a hike. You can also grab dinner in one of its restaurants or enjoy one of several annual events.
If you want to see more this wonderful park, you can always rent a bike and cruise around it. There is also the PresidiGo Shuttle if you want to relax and take it easy.
These are a few ideas for your visit to the Presidio and tours that you take you through this lovely park
>> Additional National Parks in and around San Francisco
4. Alamo Square

You may not know Alamo Square, but I'm sure you've seen the postcard perfect Painted Ladies. These houses are also known as "Postcard Row" since they have become such a San Francisco landmark and perfect photo.

This is one of the San Francisco parks that is well known for its views. From the park, you can see downtown San Francisco in the background including the Transamerica Pyramid.
If you want to get that perfect picture, the best time to stop by the Painted Ladies is during the afternoon as the sun shines down on them.
There are numerous ways to learn more about this park including a Hop On Hop Off Bus, an electric bike tour, walking tours, and more.
5. Mission Dolores

Another one of the most popular San Francisco parks is Mission Dolores. This park is located in the Mission District and is also close to the Castro District.
This park is well known for people just hanging out, having picnics, and enjoying the incredible view of San Francisco. The park slopes down from the southwest to the northeast, so you can be sure to see the sights of the city unobstructed by other people enjoying themselves in the park.
If you are looking to get in a bit of exercise, this park also has 6 tennis courts, 2 soccer fields, a playground for kids and loads of greenspace to enjoy.
6. Buena Vista Park

This is one of the San Francisco parks located in the classic Haight-Asbury and Buena Vista neighborhoods. It is 37-acres and is located on a steep hill which gives visitors a great view of the city towards the north.
This park is not as well-known as some of the other parks, but it is well worth a visit as it has one of the few remaining coast live oak groves. If you haven't seen these magnificent trees in person, it is a must visit during your stay in San Francisco.
Something this park is known for, and a great photo opportunity, is the large peace symbol shaped out of flowers. If you look towards the south side of the park, you'll see one of the buildings where Alfred Hitchcock's Vertigo was filmed.
7. Corona Heights Park

Located in the Castro and Corona Heights neighborhoods, this park is small but still worth a visit if you want a different experience in the San Francisco parks.
People love this park because of the views you will get of the city, and also because of the variety of plants you'll see here including the California Poppy, Checkerblooms, Johnny jump-ups, and much more depending on the season that you visit.
For those that want to learn more about the wildlife in this park, check out the Randall Museum, which has exhibits for anyone from the age of 3 and up.
This is also a great location if you are looking for a bit of a hike, there is a one-mile trail that will lead you around this park. However, parts of it are steep and there is loose gravel, so be careful and plan ahead.
8. Rincon Park

Located on the Embarcadero, this is one of the San Francisco parks that is famous for its artwork. You will not miss its huge "Cupid's Span" bow and arrow sculpture.

It is also a great place to have a picnic and view the Bay Bridge stretching from the San Francisco side all the way to Treasure Island. On a clear day, you can even see over to Oakland and the East Bay.
This park is full of native plants and there are paths for you to explore as you visit this park. Even though it is one of the smaller ones in the city, it is still worth it to see the sculpture and views across the bay.
9. Washington Square

This beloved park, in the North Beach district of San Francisco, is well known for its beauty and the festivals, concerts, free movie nights and fun events that the park is home to during the year.
This square park is a special place to visit since there is so much to do all around it including eating at places such as Mama's restaurant and tasting some of the incredibly focaccia at the Liguria Bakery.
People also visit this park since the classic Saints Peter and Paul Church is located right beside it and because one of the scenes from the classic movie, Dirty Harry with Clint Eastwood, was filmed here.
Here are a few fun things to do in North Beach in addition to Washington Square.
10. Lake Merced Park

Lake Merced is a large freshwater lake with a large park around it and is popular with nature lovers. There is a 4.5 mile paved trailed that allows visitors to walk, or bike, around the edges of it and enjoy its peace and quiet.
This park also has picnic areas, a fishing pier, and much more to enjoy. If you like golfing, there are three courses bordering it includes the San Francisco city owned public Harding Park.
This is one of the San Francisco parks is that it is home to numerous migratory birds as they make their way along the Pacific Flyway.
11. Japanese Tea Garden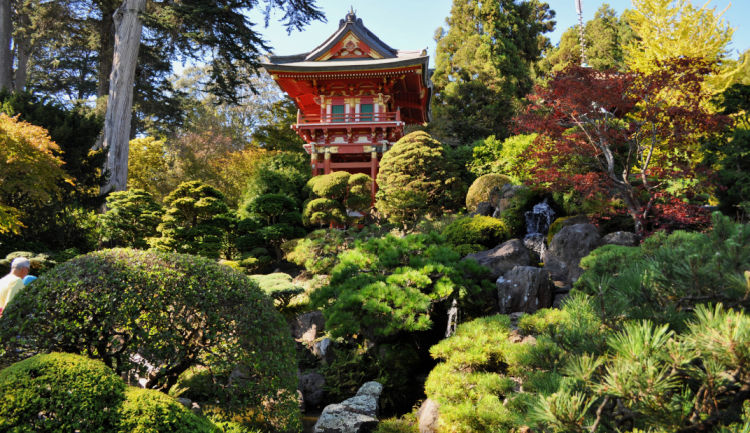 The Japanese Tea Garden is one of my favorite San Francisco parks within a park. You'll find this peaceful oasis in the middle of Golden Gate Park, not far from the de Young Museum.
This gem was originally a 1-acre treasure created in 1894 for the California Midwinter International Exposition, but after the fair was expanded into the permanent 5-acre Japanese-style garden it is today.
Some of the classic architectural pieces in this harmonious landscape include the pagodas, an arched drum bridge, stone lanterns, a zen garden, stone paths, and native Japanese plants. There is also a traditional tea house on site.
This park is open daily from 9 am to 5:45 pm (except from November to February, when they close at 4:45 pm) with a small admission fee.
12. Lafayette Park
Lafayette Park dates back to the 1860s and is located on a hill in the city's Pacific Heights district, now known for being one of the richest residential neighborhoods in all the U.S.
From the park, you'll get views of Alcatraz, the Marina District, the bay, and Twin Peaks. In addition, you can admire the multi-million dollar homes that surround it.
This 11-acre green space includes two tennis courts, a children's playground, an off-leash dog area, restroom facilities, and a picnic area.
13. Alta Plaza Park
Alta Plaza Park is another hilltop park just a few blocks west of Lafayette Park, also in the prestigious Pacific Heights neighborhood. 
The park is characterized by a broad, tiered staircase that climbs the steep, terraced slope from the southern edge on Clay Street to the grassy top, which offers panoramic views of San Francisco and the bay. 
You'll find trees and benches at the summit, and a children's playground, basketball court, and tennis courts nearby. There is also an off-leash dog play area in the southeast corner.
14. Aquatic Park
If you're looking for a little beach time in the city, check out Aquatic Park, located on the waterfront between Fort Mason and Ghirardelli Square.
There is a distinctive curved pier marking the area where local swimming and rowing clubs regularly enjoy the protected shallow cove. Don't be fooled, though—the water is cold! (Hence, the annual Polar Plunge event held here.) 
You'll usually see sailboats coming in and out of the dock and people jogging through the park. This is a great place to stretch your legs and get away from the crowded tourist attractions in nearby Fisherman's Wharf.
15. Glen Canyon Park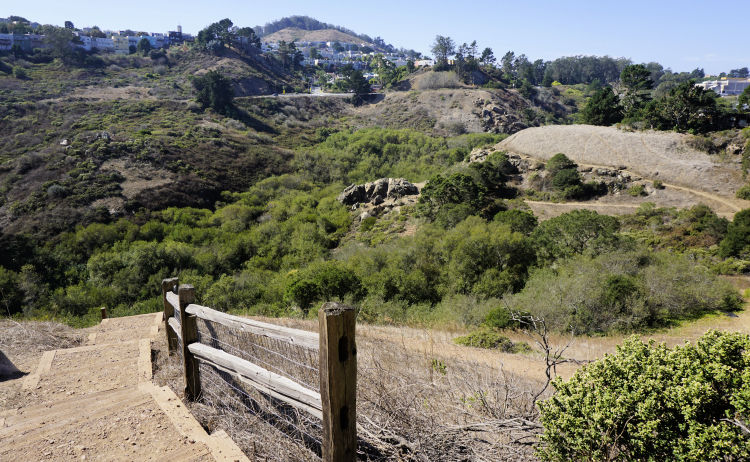 Glen Canyon Park is a rather unexpected find in the geographical center of the city, about a 25-minute drive southwest of downtown. 
Quite an escape from the urban sprawl, you'll find an impressive 77-acre piece of wilderness where they've managed to preserve the natural habitat for the owls, hawks, and native plants that live here.
With over four miles of hiking trails, this is a great place for people who want to get their heart rate up while taking in the views. You can also walk down the hill and enjoy some local joints in this less-touristy part of San Francisco. 
>> Learn more about visiting the Glen Park district
16. Presidio Tunnel Tops
This national park got its name when the community was given the chance to reimagine a public green space in place of where a once-elevated highway had been converted into tunnels so that a park could go on top of it. 
These tunnels lead from the city to the Golden Gate Bridge, so it should come at no surprise that the park above them offers excellent views of the iconic bridge and the bay.
This is also a popular location for those interested in SF military history to check out the old batteries.
The park offers large lawns with picnic tables, art murals, play structures for children, park ranger campfire talks, and gatherings of food trucks. 
17. Stern Grove
This park, located between the Sunset District and Lake Merced on the city's west side, is best known for the free weekly music festival held here every summer since 1932.
It's a lovely tradition that has always been sponsored by donations and open to the public, who flock to the large, grassy outdoor amphitheater with their families and picnic blankets.
In addition, the 33-acre recreational area is full of beautiful pine and eucalyptus groves, and includes one of San Francisco's three natural lakes. There is also a children's playground, a dog play area, and athletic fields and courts. 
18. Bernal Heights Park
Many people say the 360-degree views from here are second only to Twin Peaks, and some say they're even better. In any case, it's much less crowded than its rival, and that is especially appreciated by the many dogs and their owners who come here to get some exercise. 
Bernal Heights is on the southern end of town, just beyond the Mission District. As the name suggests, you'll be high above the rest of the city, and you can get here by either driving up a winding road, or by climbing the stairs from various directions. 
If you drive, it's just a five-minute walk to the view from where you park. If you decide to hike, you'll be graced with the butterflies and the flowers that line the hill. 
19. Ina Coolbrith Park
This small park is one of San Francisco's best kept secrets. It takes a bit of a climb up some steep stairs to get to the top, but you'll be rewarded with a view of downtown, the Bay Bridge, Coit Tower, and Alcatraz. This is also amazing to do night with the glow of the city lights.
Come enjoy the greenery and all the birds who are drawn to this lush spot in the city. Since it's a skinny patch on a hill, there are no sports fields, but there plenty of benches to sit and admire the view. It's not unusual to see birdwatchers or a couple taking photos with the incredible backdrop. 
You'll find this gem between North Beach and Russian Hill at the intersection of Taylor and Vallejo Streets. 
20. John McLaren Park
Down at the southern edge of San Francisco, by the Excelsior and Bayview Districts, you'll find the city's second-largest park.
Named after the 'grandfather' of Golden Gate Park, it's easy to see the inspiration. In its 312 acres, you'll find over 7 miles of trails to explore, which meander through a variety of habitats: meadows, marsh, grasslands, and forest. There's even a lake.
This park is so extensive that apart from the beautiful nature areas, there is also a pool, a golf course, the Jerry Garcia Amphitheater, playgrounds, game courts, and picnic areas. 
More Fun Things to Do Around SF

Comments? Questions? Suggestions?
I would love for you join me in my private Facebook group! 
It's a great place to interact with me and others that know the area well.
You can ask questions, get advice for your upcoming stay, and then share your photos and advice with others when you return home. It's a great community and the fastest way to get answers to those nagging questions about your visit!