Alamo Square
Discover The Best Things to Do in This Beautiful SF Neighborhood
Alamo Square is a beautiful and centrally located neighborhood that lies just to the west of Hayes Valley. The centerpiece of this San Francisco neighborhood is the park, which is bordered by Fulton, Steiner, Scott, and Hayes Streets.
This historical district is also popular for its spectacular views of downtown and its Victorian houses, some of which are called Painted Ladies. The most famous set of Victorian Painted Ladies is shown in the picture below (they are also called the "Seven Sisters" of Alamo Square).
You will see many other beautiful Victorian-style houses around the park and throughout the neighborhood.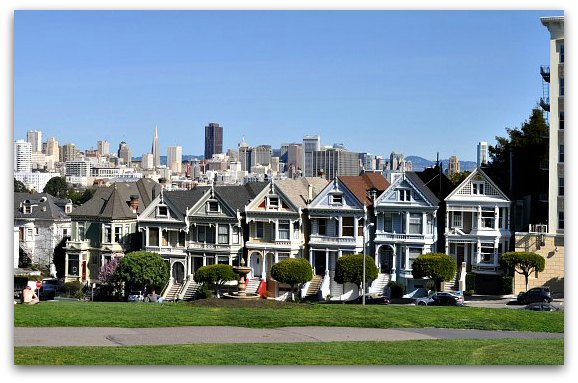 For some of the links on this page, I receive a small commission when you purchase. You don't pay more when you buy through me and it gives me the chance to offer you all this great content for free!
History of this SF District
You wouldn't know it now, but this used to be a suburb. Back in the 1850s, the land was just sand dunes. However, when a group of wealthy businessmen wanted to move further away from the city, they selected this area as their new home.
Development in this San Francisco neighborhood boomed from the 1870s to the 1890s. Residents built a variety of Victorian houses, from the well known Queen Anne style to the more modest Stick style.
The ground in this area is more stable than in most other neighborhoods in the city, so the 1906 earthquake did not destroy very many Victorians here. They are still alive and well—many with a broad array of colors.
The Victorian Painted Ladies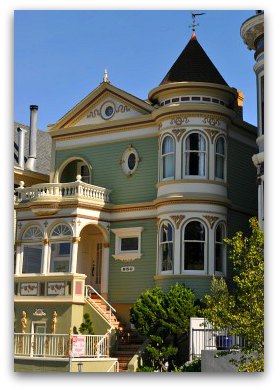 The most famous Victorian Painted Ladies in San Francisco are across from the park on Steiner Street. These seven beauties line up side by side for a picture-perfect scene. They are known as the "Seven Sisters."
This set of Painted Ladies stands out because they are all similar (except the largest one on the far left) and have a beautiful view of downtown behind them. During your visit, walk up Hayes Street to get that perfect picture. You may recognize this famous image from the TV series "Full House."
Any Victorian with three or more paint colors is considered a Painted Lady, so even though the seven on Steiner Street are the most famous, there are several more in the neighborhood to enjoy.
To find the greatest Victorians, you can just walk up and down the streets. Some of my favorite streets are Grove (between Steiner and Webster), McAllister (between Steiner and Scott), Steiner (between Hayes and McAllister—where you will find the famous Painted Ladies), and Scott Street (between Hayes and McAllister).
Alamo Square Park
After walking around the neighborhood, the park is the perfect place for a picnic lunch. You can sit facing the Seven Sisters and enjoy a great view of downtown San Francisco. On a sunny day in the city, this is one of the most beautiful places to visit.
Here is the map of the park. The star shows you where the Seven Sisters are.
INSIDER'S TIP: These famous Painted Ladies are facing west. The sun shines on them in the afternoon, so this is the best time to get your pictures. The blue stars on the map show the best locations for taking photos.
Where to Grab Lunch, Dinner, or Drinks
If you decide to skip the picnic lunch, there are several other great options in this neighborhood. Most of them are right on Divisadero Street, which is just two blocks west of the park.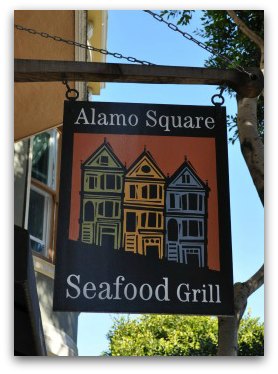 Bean Bag Cafe: This is one of my favorites because they have good food that isn't too expensive. The downside is that it is usually quite crowded. Here you can find some great salads, crepes, and cheap beers. It is right on the corner of Divisadero and Hayes Streets.
Little Star Pizza: This is one of the best casual pizza places in San Francisco. It is open for lunch only on Friday, Saturday, and Sunday. However, they serve up dinner every night except Mondays. They also have a nice selection of beers and good salads. It is on Divisadero between McAllister and Fulton.
Alamo Square Seafood Grill: Locals love this quaint seafood restaurant, which only serves dinner. The focused menu and great prices keep people coming back for more. This neighborhood gem is on Fillmore Street between Fulton and Grove.
Nopa: This is another great dinner option. Nopa is both a bar and restaurant on the corner of Divisadero and Hayes Streets. Here you can find dishes such as braised duck leg, pan roasted rainbow trout, or even Moroccan vegetable tagine. It's a little pricier than most of the other options, but their food is worth the trip. Don't forget to check out their excellent wine selection while you are there.
Best Places to Stay
Alamo Square is a calm, quiet San Francisco neighborhood. If you love mixing with locals, this is a great area to stay in. It's not as centrally located as Union Square, but there are plenty of public transportation options that will easily take you to other neighborhoods.
There are no large hotels or hotel chains in this neighborhood. Instead, you will find several small, locally owned hotels and bed and breakfast options. The following are some of my top picks.
Chateau Tivoli
1057 Steiner Street
Chateau Tivoli was originally built in 1892 as a single family home for the lumber baron DB Jackson. Many eclectic San Franciscans have inhabited this historic home, including Ernestine Kreling, the owner of the Tivoli Opera House, and Bob Kaufman, a poet that inspired the term "Beatnik."
The house was fully restored in the 1980s and has been a bed and breakfast since 1997. Its antique decor and romantic appeal make it one of the most popular bed and breakfasts in Alamo Square.
They have free wireless internet, desks in all the rooms, and a library. Of course, breakfast is included, as is the evening wine and cheese reception. It's the perfect retreat away from the busy streets of San Francisco.
You can choose from nine rooms that range from $120 to $300 a night.
The Metro Hotel
319 Divisadero Street
This is a small 24-room hotel. It sits right on Divisadero Street, which is home to many restaurants, bars, and shops.
Rooms available range from small double rooms to those with two queen beds. They include free Wifi and flat screen TVs. This clean and comfortable hotel also offers a private garden for its guests.
The hotel is close to public transit for easy access to Union Square, the Castro, and the Haight-Ashbury district.
You will find exceptional value with this hotel. Rooms start at around $88 a night. Find additional reviews and great prices for The Metro Hotel on TripAdvisor.
Other Places to Stay in Alamo Square
The Grove Inn: 890 Grove Street

Warm and friendly atmosphere in this 16-room bed and breakfast
Gorgeous location on a tree-lined street with several Painted Ladies just steps away
Free high speed internet access
Rooms start at around $195 a night



Casa Loma Hotel: 610 Fillmore Street

Inexpensive, clean 48-room hotel with both private and shared bathrooms
Budget friendly, but because of its older construction, it can be loud
Amenities include wireless internet, laundry, and vending machines
Rooms start at around $75 a night
Find reviews and competitive prices for these and other great hotels on TripAdvisor.
Other Top Hotels
Another great place to look before booking is on the Special Offers section of TripAdvisor.com. They feature discounts on room rates, parking, Wifi, and more. Check out their deals today.
Tours: Guided, Walking, and Other Tour Options
The San Francisco Board of Directors recently voted to ban tour buses with 10 or more seats within a 10-block radius of Alamo Square.
If you book a tour with Alamo Square listed on the itinerary, I recommend confirming your route with your tour agency.
A Perfect Day in Civic Center & Alamo Square: This self-guided tour offers you the chance to visit both of these neighborhoods in just one day. This easy-to-follow route includes morning visits to the Asian Art Museum and City Hall. You will then grab some lunch and get an afternoon view of the Painted Ladies of Alamo Square. It's a fun way to spend the day and see all of the best sites these two districts have to offer.
Landmark Victorians Of Alamo Square: The best walking tour of this district is this free walk organized by the public library. During this two-hour walk, you will get up close and personal with many of the colorful Victorians. You will walk up a few hills and through the park as you learn more about some of the most interesting houses. If you are lucky, you might even get the chance to see the inside of one of the remodeled Victorians. Find the schedule for this walking tour and other free tours offered by the SF Public Library.
Tips to Get Here
Bus: There are two Muni buses that will get you quickly from Union Square this neighborhood. The best option is the 21-Hayes. The 21-Hayes stops on the southern side of the park. Get off the bus at the Hayes and Pierce Street stop. The other option is the 5-Fulton, which drops you off one block north of the park. Get off the bus at the McAllister and Pierce stop and walk up the hill on McAllister Street to get to the park.
Taxi: Taking a taxi is another option. From Union Square, it will cost around $15. From Fisherman's Wharf, it will cost a little more. Expect to pay around $20 or more for a cab from this part of town. Find tips for taking taxis in the city.
More Fun Pages