Sausalito Attractions & Activities: 11 Fun Ideas

by Jill Loeffler  •

Updated: September 8, 2023
Sausalito is a small waterside town across the bay from San Francisco. Many people come here only to shop or to have some lunch.

However, you will find several interesting Sausalito attractions and activities. They range from wine tasting to the historic houseboat walking tour.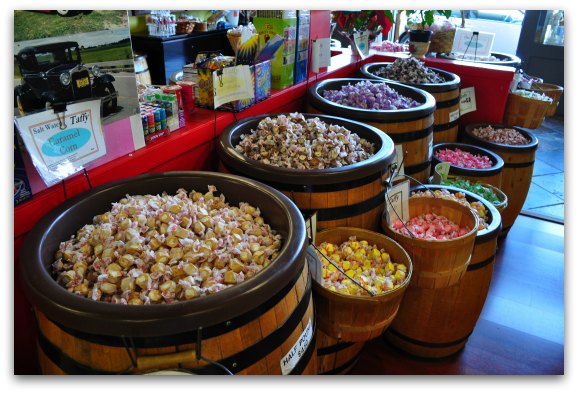 The huge selection of saltwater taffy at Munchies Candies
In addition, you will also find other fun options such as kayaking on the bay or a bike ride to or from San Francisco.Here are some of the best things to see and do during your visit to Sausalito.
Disclaimer: I receive a small commission from some of the links on this page.

11 Top Attractions & Activities

1. Shopping

As I mentioned above, this is the main draw to Sausalito. A few dozen shops line up along the beautiful waterfront and this is where most people spend their time.
The main shopping street is Bridgeway. This is where you will find interesting art galleries, several boutique-clothing stores and fun specialty shops (including my favorite, Munchies Candies).
2. Wine Tasting at Bacchus & Venus

Sampling the local wines is another way to enjoy your time in Sausalito. There are a few places that offer wine tasting along Bridgeway.
My favorite place to go is Bacchus and Venus at 769 Bridgeway. They offer flights for those that love reds, whites or even sweet wines. Tasting fees range from $12 to $35 per flight.
3. Bay Area Discovery Museum

If you are traveling with kids, then you must stop by the Bay Area Discovery Museum at 557 McReynolds Rd in Sausalito. This museum brings out the creativity in all kids.
It's set on 7.5 acres of natural beauty with the Golden Gate Bridge in the background. Kids can create art, spend time in the 2.5-acre outdoor interactive exploration area or learn more about the plants and animals in the bay.
4. Sausalito Art Festival

One of the biggest events here every year is the Sausalito Art Festival. This three-day long event falls on Labor Day weekend every year.
This festival features live music from internationally recognized artists. In addition, you will also find unique arts and crafts from almost 300 artists and gourmet food and drinks to round out your experience. Discover more details on what to expect during this annual event.
5. Lunch or Dinner on the Waterfront

The fish tacos at Scoma's are my favorite!
There is no shortage of amazing places to eat in Sausalito. You will find both inexpensive places with just a few tables to higher-end expensive restaurants with clear views of San Francisco.
One of the least expensive options is a little place to the north of Casa Madrona hotel. It's a nondescript place with burgers, ice cream and fish & chips. My favorite high-end place is Scoma's on the southern end of Bridgeway.
6. Bay Model Visitor Center

One of the most overlooked Sausalito attractions is the Bay Model Visitor Center at 2100 Bridgeway. It's a free educational center managed by the U.S. Army.
Step inside to see a three-dimensional hydraulic model of the San Francisco Bay. It's over 1.5 acres in size and shows you the flow of the bay from the Pacific Ocean all the way through the Delta to Sacramento.
7. Kayaking in the Bay

The calm waters around Sausalito create the perfect environment for your first kayaking experience. It's also a great way to see some amazing views of San Francisco, Tiburon and Sausalito.
My favorite company to go with are Sea Trek. They have excellent guides, reasonable prices and well-maintained equipment.
8. Historic Houseboat Walking Tour

The waters off the northern part of Sausalito are where you will find a small wooden houseboat community. It's famous in the area and one that many people know little about.
On this two-hour tour, you get the chance to walk through the houseboat community, historic vessels and the WWII Liberty Ship Yards. It's offered on Saturday and Sunday is $65 per person with a minimum of 6 people.
>> Visit Viator for details and to book your tour today
9. Sausalito Ferry

One of my favorite Sausalito attractions is the ferry. It isn't your typical attraction, but instead offers you some of the best views of the SF bay.
The ferry runs several times a day between San Francisco and Sausalito. The ride takes about 30-minutes and you get the chance to see Alcatraz Island, the Golden Gate Bridge and the beautiful skyline of San Francisco. Find the latest schedule and get more details on taking this ferry during your visit.
>> More great ways to get from SF to Sausalito
10. Headlands Center for the Arts

Another one of the overlooked Sausalito attractions is the Headlands Center for the Arts. This one sits outside of town on the cliffs above the water where the SF Bay and the Pacific Ocean met.
They feature an ever-changing art exhibit, so what you see here depends on when you visit. They open their doors to the public Sunday - Thursday from 12pm to 5pm. You will find them at 944 Simmonds Road.
11. Jazz & Blues by the Bay

If you are looking for some local flare, then head over to Jazz and Blues by the Bay. It's a free event every Friday night from the end of May through September.
From 6:30 pm to 8 pm (from 6 pm to 7:30 pm in September), you can listen to local musicians at Gabrielson Park near Bridgeway and Pine Streets.
>> Find this year's schedule of performers
Half-Day Trip that Includes a Stop at Muir Woods & Sausalito

Although you can easily get over to Sausalito on your own, I recommend taking a tour if you plan to also visit Muir Woods. This lovely redwood forest houses the only coastal redwood trees left in the bay area. It's tough to get out to Muir Woods on your own, even if you rent a car.
This 4-hour combined tour is one of the best. It offers you the chance to spend about an hour at each location. You can also stay longer in Sausalito at the end if you want to spend some additional time there.
This trip also includes a photo stop at the Golden Gate Bridge. Overall, it's an easy way to get to these two popular attractions with less hassle then going on your own.
You can book this tour online through GetYourGuide. It runs in both the morning and the afternoon, so you can select the time that works best for you!
Where to Stay

If you love the peace and quiet of a small town, then I recommend spending a night or two in the peaceful village of Sausalito. There are only a handful of hotels, but they offer a quiet, serene setting away from the chaos of the city.
My favorite place is The Inn Above Tide. It sits right on the waterfront with amazing views of San Francisco and the waters of the bay. It's also just steps from the restaurants and shops in Sausalito.
The town calms down at night, so it leaves you with a well-located yet comfortable retreat. It's perfect for a romantic weekend getaway or just a night away from the hustle and bustle of the city.
Find out even more about The Inn Above Tide and others in Sausalito on my hotels review page.
Are you ready to book a room? You can read recent reviews and find the best deal on Sausalito hotels and others around the bay area. Find the best deals today!

Other Ways to Get Here

You have a few different options to get to Sausalito. The most popular is the Sausalito ferry, which I mentioned above. Here are a few other great options.

Golden Gate Transit #130 Bus

Golden Gate Transit offers a direct route from San Francisco to downtown Sausalito. You will want to take their #30 bus. It drops you off right in the heart of the action.
If you are in Union Square, you can pick up #130 Golden Gate Transit bus Mission and 3rd Streets. The ride takes about 50 minutes and costs $8.00 for Golden Gate Transit per person each way.
If you are in Fisherman's Wharf, you can take the 28 MUNI bus to the stop on Lombard at Fillmore. You can then catch the northbound #130 at the corner. This ride takes about 40 minutes and costs $8.00 per person each way.
Bike

Biking is another popular way to get over here. You can rent a bike in Fisherman's Wharf and ride it over the Golden Gate Bridge to Sausalito. The ride takes anywhere from 2 to 3 hours.
Once you arrive, you can lock up your bike, grab some lunch and visit some of the top Sausalito attractions. You can then either bike back to SF or take the Sausalito ferry home. It will drop you in Fisherman's Wharf close to the bike rental agencies.
If this option interests you, you can either reserve your bikes online through GetYourGuide in advance or go in person to one of the bike shops in Fisherman's Wharf after you arrive. All have similar prices and services.
Drive

You can also drive to see the Sausalito attractions. You will need a car if you want to visit either the Bay Area Discovery Museum or the Headlands Center for the Arts.
If you don't plan on visiting either of those, then I recommend using one of the public transit options. They are cheaper and easier than finding a parking spot once you arrive.
Comments? Questions? Suggestions?
I would love for you to join me in my private Facebook group! 
It's a great place to interact with me and others who know the area well.
You can ask questions, get advice for your upcoming stay, and then share your photos and advice with others when you return home. It's a great community and the fastest way to get answers to those nagging questions about your visit!