Things to Do in Napa: 30 Unforgettable Experiences

by Jill Loeffler  •

Published: March 24, 2023
My list of the best things to do in Napa includes some of the best places to hike, what to expect on the Napa Wine Train, and some great local museums. You'll also find some of my favorite places to eat, a few nightlife ideas, and some of its top annual events.
Napa Valley is a gorgeous Northern California wine region about one hour north of San Francisco. Even though most people visit for the wine, you will find dozens of non-wine-related activities here.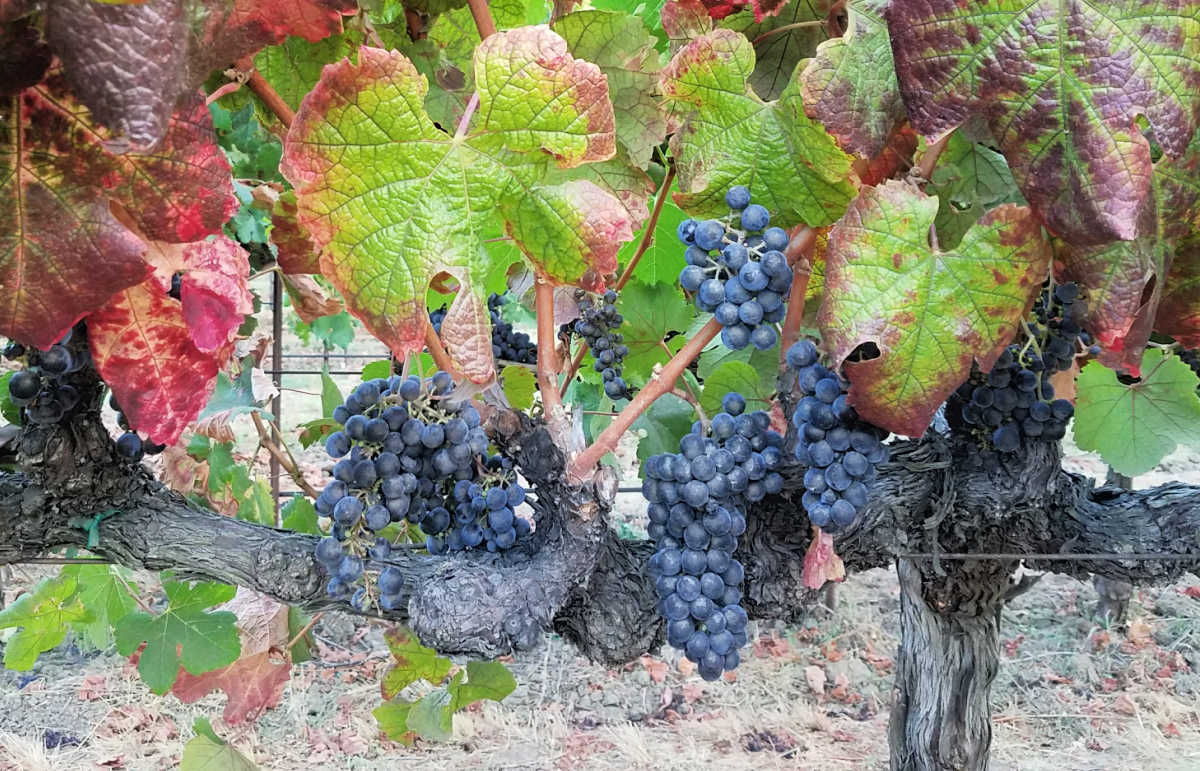 Disclaimer: I receive a small commission from some of the links on this page.

1. Wine Tasting
The most popular Napa Valley activity is wine tasting. You will find several hundred options all around the valley, from the city of Napa on the southern end to the small town of Calistoga on the northern end.
Napa Valley is well known for its Cabernet Sauvignon and Chardonnay wines. However, the region has a wide range of wines, including everything from well-known varietals to those with only a few acres planted.
They include everything from Merlot to Grenache to Petit Sirah. Wine costs anywhere from $20 to more than $1,000 a bottle!
Some of my top picks include Spring Mountain Vineyard, Stag's Leap Wine Cellars, and Castello di Amorosa.
>> Find a list of my favorite places to go wine tasting in Napa
Find Some Great Tours from San Francisco
2. Napa Valley Wine Train
Another one of the best things to do in Napa is to enjoy lunch and some wine on the historic Napa Valley Wine Train. This differs from your standard train as it's more of a rolling lunch and wine-tasting adventure.
The journey starts in Napa, slowly rolls north, and then turns around to make its way back to the beginning. What's included in each ticket varies but usually includes lunch or dinner and wine tasting.
They offer a variety of packages, and some offer stops at one to two local wineries for a tour.
It's fun to experience Napa Valley as you sample some of the best local wines.
>> Find out more about the Napa Valley Wine Train and its different package tours
3. Local Events in Napa Valley
Each month, you will also find some noteworthy events around Napa Valley. You'll find art, film, and wine festivals. You'll also find some great cycling and running races throughout the year.
Check out the most up-to-date events by month below!
4. Cycling Around Napa Valley
If you love the outdoors, spend some time exploring this region by bike. Off the main busy highways, you will find plenty of places to go cycling.
You can do a little wine tasting as you go or admire the beauty of this region. You can either go on your own or on a guided tour.
I love this Napa Valley E-Bike Tour!
This half-day tour includes stops at several wineries (tastings not included) and a chance to learn more about the region from a local, knowledgeable guide. Since it's an e-bike, you can also pedal some and let the bike do the heavy work when relaxing and soaking in this region's beauty.
5. Hiking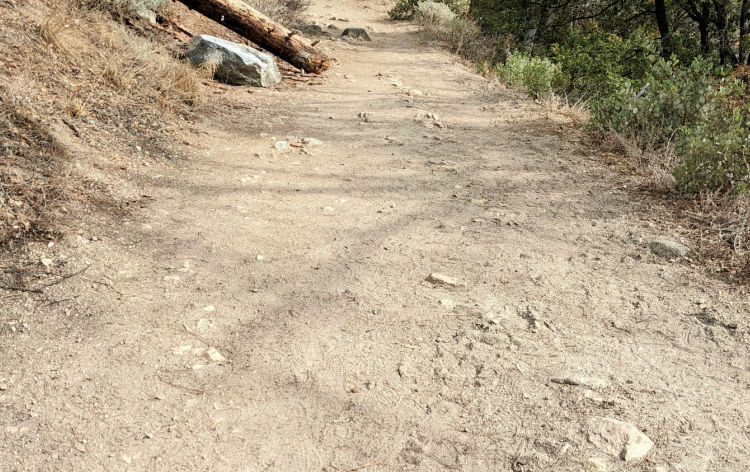 One of my favorite things in Napa Valley is to head out on a hike. You will find many great places to enjoy the outdoors!
You can hike through vineyards, check out some historic sites, and see views from above. Several great hikes allow you to get away from the crowds and experience nature alone or with your group for a few hours.
My favorites include the Oak Hill Mine Hike, hikes in Skyline Wilderness Park, and the Moore Creek Trail.
In addition to these trails, check out the 47-mile-long Napa Valley Vine Trail. It connects the city of Vallejo with Napa Valley and reaches all the way north to Calistoga.
The trail is well-maintained, wide, and mostly flat. It's a great way to explore wine country on foot (or on a bike).
6. Walking Tour by Smartphone
The fascinating city of Napa, California, is famous for its wineries, yet there is more to this historic and popular tourist destination. A great way to explore it is to sign up for the Scavenger Hunt Walking Tour.
This tour uses your smartphone to take you and a group of up to six persons on a walking tour of the city's most exciting and important landmarks.
You will learn about the history of Napa by solving a series of challenges that are presented along the way. As the tour is guided by phone, you can do it at your own pace. Most people take 90 minutes to three hours to complete it.
It's a great way to get to know Napa and is fun for all the family.
>> Find out more about this tour here 
7. Horseback Riding
Combine your love of wine with a fabulous horse-riding experience at Shadybrook Estate with the Napa Valley Trail Rides. You recreate the feeling of a rancher's experience as you ride through the magnificent scenery on the estate itself.
This is a fabulous experience for those who love riding and nature. When you book the Trail Ride and Terrace Tastings package, you get to enjoy one of the region's finest wineries fully.
Check the website for more information on trial rides, private events, and more. You will find there is plenty to enjoy in the glorious surroundings of Napa Valley.
8. Kayaking
Kayaking or canoeing on the Napa River is an exciting pursuit for all ages. The Napa Valley History Guided Kayaking Tour takes you on a thrilling water-borne journey on the river.
I love that it caters to novices and those experienced in kayaking. Your guide will set you up with suitable equipment and safety gear so that you will be in good hands.
As you take a leisurely ride down the river, the guide points out historical sights and tells tales of the region you won't hear elsewhere!
Look for the various local wildlife and learn about winemaking in the Napa Valley while enjoying your time on the river. It's a great family experience.
>> Find out more about the local kayaking experiences
9. Culinary Institute of America (CIA)
The Culinary Institute of America is where students enroll to learn how to cook and about the fine food and wine of Napa Valley. Many Master Chefs and restaurant owners worldwide learned their trade here.
Visitors can experience excellent food cooked to perfection at one of the three restaurants. Wine-tasting sessions are also held here, as Napa Valley is rightfully famous for its many fine wineries.
With perfect grape growing conditions, you will find some of the world's best wines are made in Napa Valley. It's worth a visit to learn more about the region's rich food, wine history, and culture.
10. Napa Valley Museum
The Napa Valley Museum in Yountville is home to permanent galleries tracing the region's history. It is a fascinating place to spend time learning about Napa Valley and its cultural history.
Some displays explain the rich geographical and geological qualities of Napa Valley, which make it ideal for growing grapes and supporting wineries. The history of Napa Valley, from the days of Native Americans to the influence of migrant workers, is also covered in detail.
There are exhibitions of local artists plus regular unique displays. It's a great day out with plenty to keep children engaged.
>> More great ideas for those traveling with kids
11. Ace and Vine
On Lincoln Avenue in Napa, Ace and Vine combine a casino experience with The Deck, a bar and restaurant. The casino allows you to choose your game and play against others.
When you get hungry, check out The Deck, a wonderfully comfortable bar and eatery where you can sample some of the region's most impressive wines and grab a meal.
With a great choice of draught beers, fine wines, and a selection of liquor, The Deck caters to all tastes and is a popular place for locals to hang out. They sell wine by the glass or bottle and have a reputation for excellent cocktails.
Ace and Vine is a perfect choice for a relaxing drink and meal after a long day exploring the delights of Napa Valley.
12. Shows at the Blue Note
The Blue Note on Main Street is one of the city's premier live music venues. It's set inside the old Napa Valley Opera House in downtown Napa.
With music most evenings, you can catch top local acts and those from further afield. Depending on when you go, there are regular jam nights if you want to join in!
Popular with locals and visitors, you can enjoy quality live music in a wonderfully welcoming setting. If you get hungry, a good food menu offers a choice of dishes with many suitable for vegetarians.
The drink menu covers local wines, top beers, cocktails, and many other options. If you want a great night out, this downtown Napa club is always a lively and fun place to be.
13. Hot Air Balloon Ride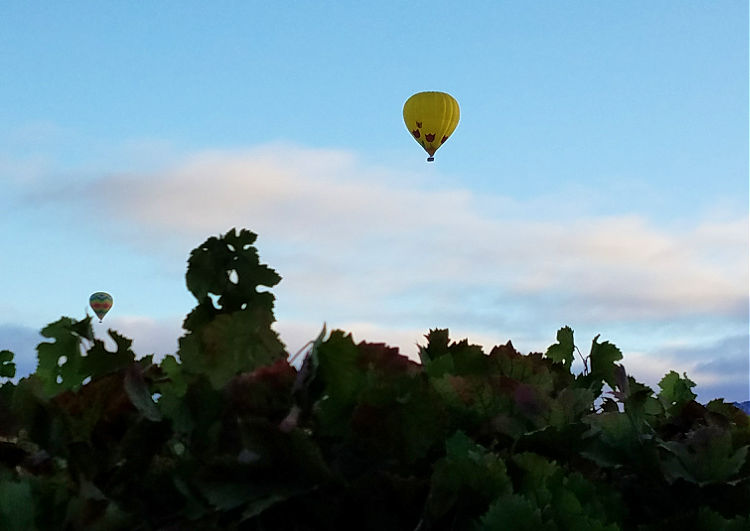 There is no better way to get a complete picture of the beauty of Napa Valley than from the air, and I highly recommend a hot air balloon ride. The trip begins at dawn, so you can get up high and see the valley come alive as the sun rises.
Throughout your ride, you'll enjoy a fantastic view of the vineyards and surrounding scenery.
The package comes with coffee beforehand and a sparkling wine brunch after the flight, and there is simply nothing to match silently drifting over such glorious scenes. Your pilot will explain ballooning, and the journey will take between 40 minutes and an hour.
Be aware that this adventure is weather dependent, and you must book in advance as balloon rides are remarkably popular.
>> Find out more about taking this balloon ride here
>> Find out more about balloon rides over Napa here
14. Bothe-Napa Valley State Park
Bothe-Napa Valley State Park is a beautiful place with many amenities suitable for families on vacation. The beauty of Napa Valley - a premium wine-making region - is something to behold, and this park shows it to its best.
Close to the historic city of Calistoga, which is famous for its natural hot springs, Bothe-Napa Valley State Park is a place where you have many options to choose from. You can take one of many trails, go mountain biking, and explore the local natural landscape.
Campsites can be found in the park, and there is an equestrian center where you can enjoy horse-riding and other activities. The Visitor Center is worth learning about the region's history, and the Native American Plant Garden is fascinating.
The park is easy to reach by car or a regular shuttle bus from Calistoga and is an enjoyable family day out.
15. The Petrified Forest
We could only write about things to do in Napa by recommending the simply astonishing Petrified Forest. This unique attraction is popular with tourists, and there is nowhere else with an atmosphere and ambiance like this.
Take a guided tour through the Petrified Forest and walk among the remains of Redwood trees from an incredible 3.4 million years ago!
The Forest was covered in volcanic ash from Mount St Helena, seen from the Meadow Trails and the Main Trail.
Each path is a half-mile trail. You should know that the paths are not paved and can be uneven.
You will learn about the history of the Petrified Forest and how it was discovered accidentally in 1870 and subsequently excavated.
Located at Calistoga, one of the gateways to the glorious Napa Valley, weather can make going here tricky. So, book ahead and check availability for an unforgettable experience.
>> Find additional fun things to do in Calistoga
16. Private Farm Workshop and Garden Tour
If you are a keen gardener, you will undoubtedly enjoy the Private Farm Workshop and Garden Tour.
It takes place with a private group as it's not open to the public. It is only bookable in advance and is a fascinating educational tour of a garden that sits high on the slopes of the Napa Valley.
This is a 'no-till' market garden that takes advantage of the fine and rich soil in Napa Valley. They grow over 40 varieties of fruit and vegetables.
You will enjoy a hands-on experience showing you a range of regenerative features of the garden and learn new techniques that will allow you to improve your garden while respecting the ecosystem.
You can also enjoy tasting sessions of organically grown fruit and vegetables. Unfortunately, due to the nature of the garden, this is not a wheelchair-friendly activity and must be booked in advance.
>> Find out more about this tour
17. Robert Louis Stevenson State Park
The glorious landscape surrounding Robert Louis Stevenson State Park is among the finest in the Napa Valley region.
The 5-mile hiking trail to the summit of Mount St Helena is among the most popular reasons for visiting the park.
It will take you past where Robert Louis Stevenson, the famous Scottish writer, spent his honeymoon with his wife in 1880 in a cabin at an old mine. The cabin is long gone, but the location is marked with a memorial.
The terrain throughout the park is somewhat rough, and it may be difficult for some people to complete the trail. It is, however, worth the effort, as the views from the summit are simply breathtaking.
18. Lake Hennessey City Recreation Area
Lake Hennessey City Recreation Area is set around the beautiful lake, and boating, fishing, and other water-borne activities can be enjoyed here.
This is a popular recreational area frequented by locals and vacationers and is a picturesque location for all to enjoy. You are only allowed to launch your craft from the Boat Dock.
Swimming in the lake is prohibited. Be aware that you are not supposed to encounter the water, and there may be surface debris that boaters should look out for.
Even so, Lake Hennessey makes for a great family day out.
19. Napa Premium Outlets
While visiting Napa Valley, check out the fantastic Napa Premium Outlets in the city. This is the place to go for massive savings on some of the most coveted brands.
Names such as Brooks Brothers, Michael Kors, Gap, Nike, and many more famous brands are among the 40-plus stores here, and you can save up to 70% on recommended retail prices.
There's a food court in the Napa Premium Outlets with various options, including Chinese and Mexican food, plus a coffee outlet, so you can settle back and relax when you've finished shopping.
It's worth spending a few hours at Napa Premium Outlets, and you can save a lot of money here.
>> Find details about additional Bay Area Outlet Malls
20. Napa Valley Gondola on the Napa River
Take a romantic ride for two on an authentic Venetian Gondola on the Napa River, handled by a Gondolier who will bring a slice of musical Venice to Napa Valley.
This unique experience is popular with couples, yet the Gondolas can seat up to six people, so it's fun for families and groups too!
The 55-minute 'Casanova Cruise' is popular with groups, or you can combine your Gondola ride with a wine-tasting session involving some of Napa Valley's most impressive wines.
Special requests can be accommodated where possible, as every booking is for a private cruise. There are few better ways to enjoy the beautiful sights of Napa Valley than this.
>> More details about this experience
21. Golfing
Golf is a popular pastime in Napa Valley, and there are plenty of top-class courses to choose from here. Because of that, you can enjoy a few rounds in some of the most spectacular surroundings available.
Silverado Resort Golf offers access to two 18-hole courses with plenty of challenging fairways and greens. This is the only 36-hole course in Napa Valley.
Other options include the 18-hole Eagle Vines, a beautiful course in a lush setting. There is also the Chardonnay Golf Club, an 18-hole course.
Another is the picturesque Mount St Helena Golf course, where the beautifully designed 9-hole course has the mountain scenery as a stunning backdrop.
I recommend you contact your chosen course in advance to book your tee times, as all 8 Napa Valley courses are popular.
22. Bowling
Bowling is a good old American sport, so why not visit the Napa Bowling Center when you visit Napa Valley?
Specific sessions are set aside for the over 55, plus various leagues popular with locals.
A bar and restaurant are on-site for meals and beverages, and a fun family day out is guaranteed. And, if bowling isn't your thing, they also hold poker sessions for adults.
23. Breweries
In addition to amazing wines, Napa Valley is also home to several great breweries.
Fieldwork Brewing Company
One of my favorites in the city of Napa is Fieldwork Brewing Company. They offer a great selection of seasonal beers. So, there is always something new to taste.
They are set inside the industrial Oxbow Public Market near the Napa River and steps from downtown Napa.
Mad Fritz
Another fun place to experience Napa's growing brewery scene is Mad Fritz in St. Helena. Here you can take a guided tour to learn more about their brewing process.
You can also sign up for their guided tasting experience. Both are limited to a small group of people, and you must make reservations in advance.
Napa Valley Brewing Company
My final recommendation is on the northern end of Napa Valley in Calistoga.
The Napa Valley Brewing Company offers indoor and outdoor seating with some of the best beer in the area. I LOVE the atmosphere of their outdoor seating, especially on a warm summer night.
They also offer both lunch and dinner. I highly recommend stopping here if you love to sample local craft beers!
24. Old Faithful Geyser of CA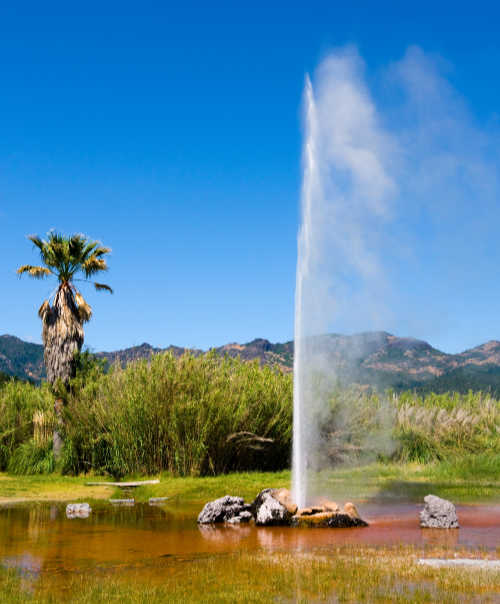 Did you know California has its version of Yellowstone National Park's Old Faithful Geyser? Located in Calistoga Hot Springs in Napa County, this Old Faithful Geyser may not be as big as the more famous example, but it still provides a spectacular sight.
Everyone will love the sight of the steam and water blowing high, and the stunning scenery includes a picnic area and petting zoo that will also appeal to kids. With Llamas, sheep, and goats, it's a fascinating visit.
The Geology Museum on site explains how and why Geysers erupt as they do. There's a lot to see here, and the town of Calistoga itself is rich in history and is close to some of the finest wineries in the Napa Valley for those who enjoy fine wine.
The geyser does its trick every 15 to 30 minutes, so you and the family can play around in between it.
25. Hot Springs
Napa Valley may be famous for its fine wineries, but it was different initially. When the railroad came to the Valley in the mid-19th century, an added attraction brought tourists here: the many Napa Valley hot springs.
Mostly centered around the historic and attractive city of Calistoga, many springs are now spa facilities where you can enjoy a relaxing time and fine wine. The Calistoga Spa Hot Springs also features California's 'Old Faithful Geyser', which erupts its spout of steam and water every 15 or 30 minutes.
Other hot springs include Dr. Wilkinson's Backyard Resort, a spa and wellness center with accommodations in luxuriously appointed rooms. Another is the Indian Springs Calistoga, with its Olympic swimming pool, believed to be the largest in California.
Treat yourself to a spa experience! Please remember to book in advance as they are very trendy.
26. Bottlerock Napa Valley
One of the largest outdoor concerts every year in Napa is Bottlerock. Considered one of the best annual things to do in Napa, this event features three days of live music at the Napa Valley Expo.
Every year, you will find a variety of performances from artists such as The Red Hot Chili Peppers, Post Malone, and Lizzo. Others include Duran Duran, Little Nas X, and the Smashing Pumpkins.
It started in 2013 as a five-day festival but transformed into a very successful three-day event.
In addition to internationally acclaimed artists, this is a fantastic place to sample Napa Valley wines. Several local wineries are in attendance every year.
You'll also find fantastic food and local craft beers. It's held on Friday, Saturday, and Sunday of Memorial Day Weekend.
27. Napa County Historical Society
The Napa County Historical Society is a great way to learn more about the history of this area. It features temporary exhibits, so there is always something new to see.
They also have a research library open to the public by appointment only. My favorite offering here is their Napa Valley guided walking tours.
It's a great way to learn about the people who built this wine country area, historical buildings around town, and so much more.
28. di Rosa Center for Contemporary Art
One of the best things to do in Napa for art and outdoor lovers is to visit the expansive di Rosa Center for Contemporary Art. It features a massive collection of works outdoors throughout its 217 acres.
You can either walk on your own to explore this fantastic art collection or enjoy one of their guided tours which are around two hours long. You'll also find a wonderful collection of pieces in its indoor galleries.
In addition to its permanent collection, the di Rosa Center also features rotating exhibits from local and international artists.
29. French Laundry
One of the premier restaurants in Napa Valley Wine Country is French Laundry. Opened in 1978, this three-star Michelin restaurant sits inside a historic saloon in downtown Yountville.
It features fresh and local ingredients with an ever-changing menu. They offer two fixed-price tasting menus at more than $300 per person every day.
If you want a table at French Laundry, make sure you plan, as their tables are usually booked months in advance.
30. Robert Louis Stevenson Museum
This museum is another one of the fun things to do in Napa Valley for those that love history and literature. Rober Louis Stevenson is a famous author born in Scotland in the mid-1850s.
Stevenson moved to San Francisco and married in 1880. That year, he spent quite a bit of time in Napa Valley writing the book The Silverado Squatters.
In this Northern California museum, you will learn more about this influential author and his life and see one of the largest collections of his writings.
The museum is open from Tuesday - Saturday.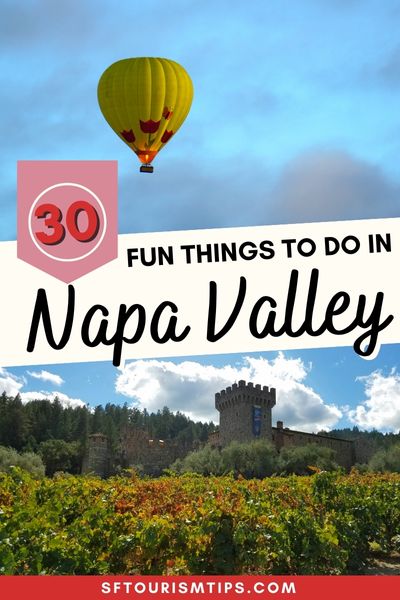 Comments? Questions? Suggestions?
I would love for you join me in my private Facebook group! 
It's a great place to interact with me and others that know the area well.
You can ask questions, get advice for your upcoming stay, and then share your photos and advice with others when you return home. It's a great community and the fastest way to get answers to those nagging questions about your visit!