San Francisco Events 2018
Event Calendar & Other San Francisco Activities
The San Francisco events calendar is full of fun and unique activities every day of the year. Attending one or more of these will make your trip an unforgettable experience.
Living in the city allows me to stay up to date on all of the latest events. Below you will find the best events by month.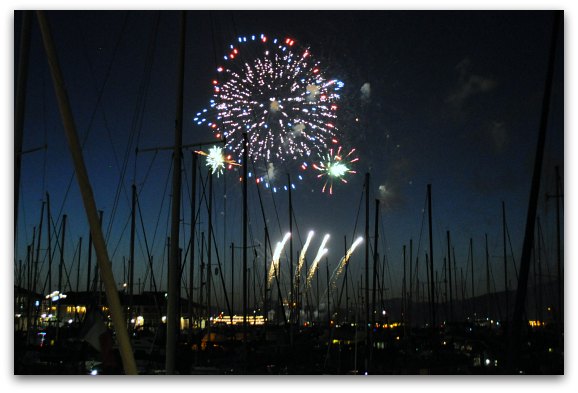 Fireworks over the SF Bay on the Fourth of July
You will also find calendars for ongoing popular events such as the SF symphony, ballet and theater & Broadway performances. In addition, you will find some tips on where you can find half priced tickets, so you can make the most out of your visit to SF.
Upcoming Events By Month
Event & Activity Tickets at up to 50% Off
Are you looking for a way to save money on your visit, yet see as much as possible? The answer is Goldstar.
This online ticket retailer allows you to stretch your vacation dollars with tickets at up to 50% off. Here are just a few of the discounted tickets currently available:
60-Minute Bay Cruise: Cruises around the bay, leaves from Fisherman's Wharf, several cruises a day, Full price $32, Goldstar price $16*


Segway Night Tour: Ride around SF's top districts and see their beauty at night, starts with a 45 minute training session so you are comfortable before you go, ride around Fisherman's Wharf, North Beach and Chinatown, starts at 5pm and lasts about 3 hours (including the training session), Full price $75, Goldstar $37.50*


Twilight Cruise: Spend your evening on the SF Bay, light appetizers and one drink per ticket (additional drinks available for purchase), 2-hour cruise that heads under the Golden Gate Bridge, around Alcatraz, Full price $68, Goldstar $40*
*Small service fee at checkout.
Goldstar adds new tickets each day so make sure you check back often to find the tickets you need for your upcoming visit.
Ongoing Events & Performances
Theater & Broadway Shows
The San Francisco theater calendar is chock full of amazing shows. Each year, you can find hundreds of performances from romantic comedies to dark dramas. The calendar includes San Francisco theater shows for 2018.
Learn More: Full theater calendar
Learn More: Read more about Beach Blanket Babylon
---
SF Giants Baseball
Tickets are already on sale for the 2018 San Francisco Giants games. Here you will find a full schedule of home games for the 2014 World Series Champions. You can also learn more about where to get the best tickets and tips for enjoying a game at AT&T Park.
Learn More: 2018 SF Giants
---
San Francisco Ballet
San Francisco is home to the oldest ballet company in the US. They got their start in 1933. Since that time, they have become a world renowned ballet group. Each year, they perform between January and May. They also perform the holiday classic, The Nutcracker, every December.
Learn More: Ballet Company
More: Nutcracker Ballet details and ticketing information
---
Symphony Calendar & Tips to Attend a Performance
The world class San Francisco Symphony plays dozens of shows every year. They range from classical performances to collaboration with well known artists.
Here you will find a current calendar of performances. You will also find some tips for parking, ideas on what to wear and recommendations on places to eat near Davies Symphony Hall.
Learn More: Symphony Calendar & Tips for Attending
---
Opera Calendar
The city is home to the second largest Opera Company in North America. They made their debut in 1923 and continue to perform to large audiences every season. This year, you can see several classic performances such as The Barber of Seville, The Flying Dutchman and Falstaff. Newer collaborations are also scheduled including The Gospel of Mary Magdalene and Dolores Claiborne.
Learn More: Full Schedule and Tips to Attend a Performance
---
49ers Football Season
The home football team here is the San Francisco 49ers. They currently play south of San Francisco in a brand new park in Santa Clara. Discover their schedule and tips to attend a game including what to wear and how to get to the stadium.
More: 49ers Football Schedule & Attendance Tips
Top San Francisco Events by Day & Season
Spring | Summer | Fall | Winter
Monday | Tuesday | Wednesday | Thursday | Friday | Saturday | Sunday
Other Popular Annual Events
SF Bay Area Events Calendars
January | February | March | April | May | June | July
Additional Details for Top Events by Month
January
ZAP Wine Festival | SF Sketchfest
---
February
Chronicle Wine Tasting Event | SF Indie Fest |Ocean Film Festival
---
March
CAAM Fest | Disposable Film Festival | Rhone Rangers Wine Tasting
---
April
Cherry Blossom Festival | Giants Baseball | Cesar Chavez Festival
SF Human Rights Film Festival | Union Street Spring Celebration
TAPAS Grand Wine Tasting | Glen Park Festival | International Film Festival
---
May
Bay to Breakers | International Beer Festival | Carnaval Festival | Uncorked Wine Festival
Oysterfest | Asian Heritage Festival | Green Film Festival
---
June
Gay Pride Parade & Festival | Haight Street Fair | Ethnic Dance Festival
North Beach Festival | Frameline Film Festival | Union Street Festival | Japan Day
Juneteenth Festival | SF Folk Festival | Pinot Days | Alice Summerthing
---
July
Fillmore Jazz Festival | Salsa on the Fillmore | Breastfest Beer Festival
Laborfest | Frozen Film Festival | Jewish Film Festival
---
August
Outside Lands Music Festival |Japan Film Festival
SF 49ers Football | Nihonmachi Street Fair | J-Pop Summit Festival
Craft Spirits Carnival | Excelsior Street Festival | Origami Palooza
---
September
Chinatown Autumn Moon Festival | SF Fringe Festival | Comedy Day in Golden Gate Park
Sea Music Festival | Brews on the Bay
Ghirardelli Chocolate Festival | Latino Film Festival | Irish Film Festival
A Taste of Greece | Oktoberfest by the Bay | Iranian Film Festival
Polk Street Blues Festival | Sausalito Art Festival
---
October
Fleet Week | Open Studios | Treasure Island Music Festival | Potrero Hill Festival
Arab Film Festival | Italian Heritage Parade | Litquake | Noe Valley Harvest Festival
SF International Festival of Short Films | United Nations Association Film Festival
Fiesta on the Hill | Wharf Fest | SF Dance Film Festival
Hardly Strictly Bluegrass Festival | Castro Street Fair
---
November
SF 49ers Football | Cirque du Soleil | American Indian Film Festival | Transgender Film Festival
Holiday Tree Lighting | Renegade Craft Fair | South Asian Film Festival | Save the Waves
---
December
SF Ballet Nutcracker | Santa in SF | Holiday Attraction Schedule | Santa Con SF
---
Beyond San Francisco
Discover calendars and details for events outside San Francisco.
Monterey Bay Calendar of Events
Want to Add An Event to the San Francisco Events Calendar?
Want to add your event to this calendar? Fill out the form below. Please make sure to include the following.
Full event name


Date(s), times(s) and location of the event (if outside of the city of San Francisco, please include name of city and venue location).


Contact person and information for the event for questions. This will not be posted on the site along with the event, but used for communication of any details of the event before it is posted on the site and to inform you when the event is live.


Any other details about the event you would like me to include that will help my visitors understand what the event is all about.
Note: Only requests for events two or more weeks away will be considered. I manually review all requests and only add San Francisco events that will benefit my visitors to my calendars.
---
Past SF Calendars & Events
Previous/Canceled Events