San Francisco New Year's Eve Cruises
Enjoy a Night on the Water to Ring in 2020
San Francisco New Year's Eve Cruises are my favorite way to celebrate the new year. The best part is that there are several types so you can find the one that fits you best.
On this night, you will find party cruises for those 21+ and higher-end dinner and dancing cruises. All offer some food, drinks, and of course, an amazing view of the fireworks show at midnight.
Many of these cruises return to port shortly after the fireworks display.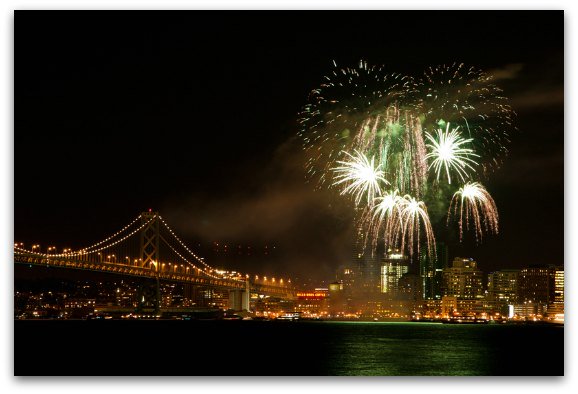 Be prepared to fight through the crowds as the thousands of people watching from the shore will also be heading home.
Also, many of them sell out early, so grab your tickets as soon as you know this is what you want to do for New Year's in San Francisco!
San Francisco New Years Eve Cruises 2019 - 2020
SF Spirit Moonlight NYE Party
Speakeasy New Year's Eve Cruise 2020
Red & White 21+ NYE Cruises
Hornblower New Year's Eve Cruise with Four Course Dinner

Hornblower San Francisco New Year's Eve Cruise
New Year's Eve Fireworks Gala Cruise
New Year's Rock the Yacht
Fireworks Cruise with SF Bay Adventures
Fun Things to Do During the Day
Do you love exploring on New Year's Eve Day? If so, you will find plenty of things to see and do. Here are just a few of my top recommendations.
Hamilton: Head over to the the Orpheum Theater for a performance of Hamilton, the show starts at 1 pm and is a fun thing to do to start your celebrations
Tours & Cruises: You can also explore SF on New Year's Eve Day on one of many tours or cruises. Here are just a few ideas for this day.
Hotel Rooms
Whether you are staying for a few days or are just in town for the night, I highly recommend checking out the great hotel deals on TripAdvisor.com. They offer dozens of options throughout the city. The best way to grab the top deals is to book your room early! Check out the current special offers on TripAdvisor.com here.
Are you looking for a few recommendations? If so, then check out my Union Square Hotels and my Fisherman's Wharf Hotels pages for the best options for every budget.
Top Shows and Concerts
Other 21+ Parties
If you prefer to stay on land, you also have several amazing options. Most of the 21 and older parties feature several dance floors, a variety of music, open bars (for at least part of the night), and a chance to meet some new friends.
Learn More: 21+ Parties on NYE 2019/2020
SF NYE Fireworks Display
The biggest event on NYE 2020 is the fireworks display along the SF Bay. This year's display starts at 11:59pm and lasts for about half an hour. You will find it (and thousands of other fireworks lovers) just to the south of the Ferry Building along the Embarcadero.
Learn More: Tips to Attend the 2019/2020 NYE Fireworks Display
All 2019 & 2020 NYE Activities in SF
In addition to all the parties, you will find some other fun things to do in SF this night. You will find theater performances, live music, and several other fun things to do. You can also find out details on the extended hours for all public transit options in and out of SF.
Learn More: All NYE Activities for 2019/2020
Other Fun Things to Do in SF