Fisherman's Wharf Hotels
Top Hotel Recommendations in this Famed SF Neighborhood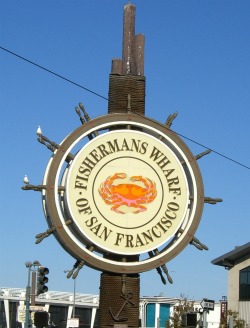 Fisherman's Wharf hotels are on the northern end of San Francisco near many popular attractions. Discover details on the best SF lodging options in this neighborhood including the Sheraton, Holiday Inn Express, and more.
There is a lot to see and do in this district, including the popular shopping area at Pier 39, Ghirardelli Square, and the Alcatraz Ferry Terminal. If you plan on spending a lot of time in this neighborhood or are traveling with children, I recommend staying at one of the hotels recommended below.
You can also easily access the rest of the city from Fisherman's Wharf. Public transportation is a good option, as buses, cable cars, and street cars run frequently in and out of this neighborhood. Getting to Union Square only takes about 15 to 20 minutes.
You will find both recognizable hotel chains and some great local gems in this neighborhood. Many line up along a couple of main streets that are within walking distance to the action and the waterfront.
Below are some of my top recommendations for every budget. They are set up by star rating to make it easy for you to find the type of hotel that works for you. At the top of the page, you will find the four-star hotels. The next section is the three-star hotels—which are the most popular—and the final section includes a couple of two-star recommendations.
Disclaimer: I receive a small commission from some of the links on this page.
Fisherman's Wharf Hotel Deals
Before you get started on my list of top options below, here are just a few places to look and see what types of deals you can get on your Fisherman's Wharf Hotels.
Booking: Find great deals all around San Francisco for your upcoming stay!
TripAdvisor: What's the #1 hotel in San Francisco? Read reviews & find hotel deals on TripAdvisor!
You will also find some great deals below for each hotel. All of these deals are offered through TripAdvisor and you just need to click the "Book a Room" link to learn more.
Four-Star Fisherman's Wharf Hotels
Argonaut Hotel San Francisco

| Around $287 - $541 a night | Book a Room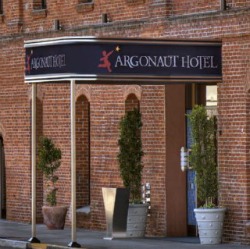 This boutique hotel is my top recommendation for luxury hotels in Fisherman's Wharf. It is located on the western side of the neighborhood, right across the street from the waterfront, and close to all of the action.
The building was originally a warehouse built in 1907, and was eventually converted into a hotel with a fun nautical theme.
Rooms include a flat screen TVs and high speed internet. They also accept pets.
The Argonaut features views of the Golden Gate Bridge and Alcatraz Island. There is an on-site restaurant, bar, and fitness center. In addition, the hotel invites guests to its wine happy hour nightly.
---
Sheraton Fisherman's Wharf Hotel

| About $197 - $490 a night | Book a Room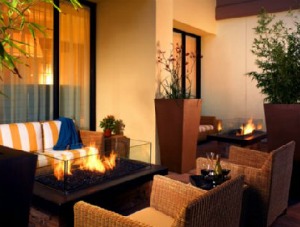 Another one of the great Fisherman's Wharf hotels is the Sheraton. This is a huge hotel that is made up of 6 buildings and includes 531 rooms.
They just remodeled in 2009.
The location is great since it is just a couple of blocks from Pier 39 San Francisco. It also has an outdoor pool and wireless internet access.
The rooms in this hotel are spacious and clean. They include coffee makers, desks, and comfortable beds.
---
San Francisco Marriott Fisherman's Wharf

| Around $237 - $443 a night | Book a Room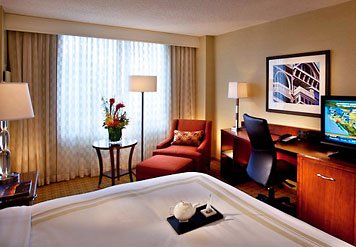 The Marriott is another one of the top Fisherman's Wharf hotels. It is just two blocks from Pier 39 San Francisco. It has 285 rooms that are in one five-story building.
The hotel has an on-site spa that offers massages, facials, and other treatments. It has a two-level health club and sauna that is open 24 hours a day. The hotel also offers wireless internet.
The rooms feature luxurious bedding and bath products. All rooms also include free internet, safes, refrigerators, coffee makers, ironing boards, and hairdryers.
---
Hyatt Centric Fisherman's Wharf

| Around $230 - $527 a night | Book a Room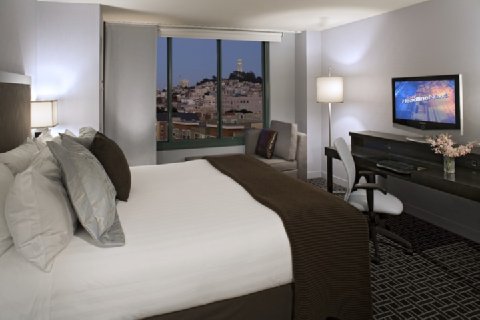 Located just two blocks from Pier 39 San Francisco, this sleek, modern hotel is in a five-story building with 316 guest rooms.
Guests who stay at the hotel can enjoy the heated outdoor pool and spa tub. They can also access the fitness center that has equipment with individual TVs.
All rooms include luxurious bedding and beds. They also feature 32-inch TVs with premium channels, marble bathrooms, wireless internet, and desks.
The hotel also has a great restaurant and sports bar.
---
Pier 2620 Hotel

| Around $243 - 466 a night | Book a Room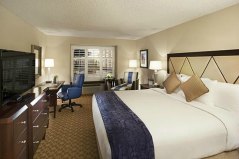 One of the most popular Fisherman's Wharf hotels is the Pier 2620 Hotel. They offer large rooms, plenty of amenities, and the perfect location for both vacationers and business travelers.
Just three blocks from the water, this hotel is close enough to walk to any location in the neighborhood.
Rooms include free high speed internet, 55-inch flat-screen TVs with media hubs, safes, mini-fridges, coffee-makers, and comfortable beds.
This hotel also features a 24-hour fitness center for guests and a business center for those working during their trip.
---
Top Fisherman's Wharf Attractions
Three-Star Fisherman's Wharf Hotels
Hotel Zephyr (Formerly Radisson Fisherman's Wharf)

| Around $213 - $448 a night | Book a Room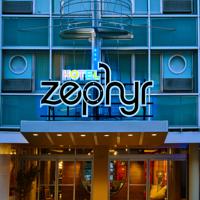 This gem is one of the best located Fisherman's Wharf hotels. It offers direct access to Jefferson Street (the main street in the district) through a small hallway and door.
The reason I love this place is because they offer newly refreshed rooms, free Wifi throughout the building, and a state-of-the-art gym. All rooms also offer coffee makers, large windows, and tech-friendly smart TVs.
It's perfect for those wanting a comfortable place to relax with easy access to the local attractions.
---
Holiday Inn Express Hotel & Suites Fisherman's Wharf

| Around $229 - $491 a night | Book a Room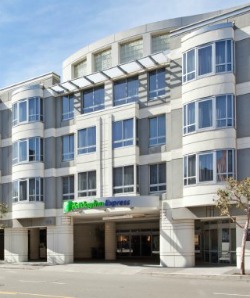 One of the newer Fisherman's Wharf hotels is the Holiday Inn Express Hotel and Suites. It's also in the heart of the action, just a few blocks from everything in Fisherman's Wharf.
It has quite a few amenities for its guests, including a fitness center and on-site childcare services. All rooms have satellite TV and high speed internet access.
This one of the few hotels that offer complimentary breakfast with your stay. There is also a bar in the hotel so you can kick back and relax after a long day of walking around the city.
This is another great option for those looking for a three-star hotel for their stay.
---
Courtyard San Francisco Fisherman's Wharf

| Around $228 - $425 a night | Book a Room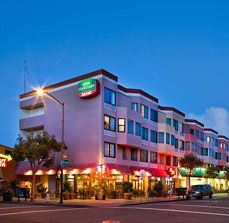 The Courtyard by Marriott is another favorite of mine because it is just a block from the water. This location can't be beat at this price point!
The hotel has a restaurant and cafe off the lobby, high speed internet access, and plenty of room to work or relax.
Connecting rooms are available for those traveling in larger groups. You can also access movies in your room if you decide to stay in one night. If you like the Marriott chain of hotels, this is a great option for your stay.
---
The Tuscan

| Around $241 - $428 a night | Book a Room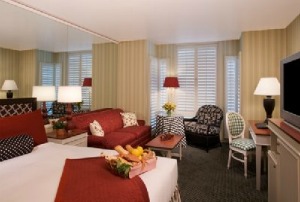 The Tuscan is another popular San Francisco lodging option in Fisherman's Wharf. This 221-room hotel is conveniently located, making it easy to get around the neighborhood on foot.
Features include an evening wine hour every night, complimentary Wifi, and a traditional Italian restaurant.
The Tuscan also allows small pets for a fee. Enquire directly to learn more.
Two-Star Hotels
San Remo Hotel
Around $113 - $172 a night | Book a Room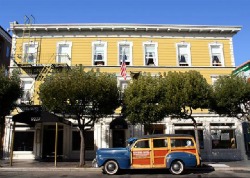 Unplug and unwind in this historic hotel on the border of North Beach and Fisherman's Wharf. It is simple and cost effective.
The San Remo was built in 1906, and in line with the decorations from that era, does not have phones or TVs in the rooms. (They do, however, provide free Wifi if you choose to bring your device.)
This budget friendly option has few amenities and shared baths.
---
Wharf Inn San Francisco
Around $188 - $385 a night | Book a Room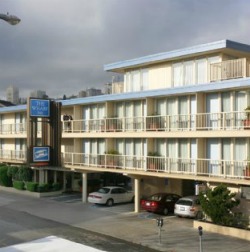 Another simple and affordable option is the Wharf Inn. This is one of the Fisherman's Wharf hotels with free parking (a huge money saver).
Located just a block from the water, you can walk to the ferries instead of worrying about driving.
The Wharf Inn does not have many amenities, but is clean and comfortable. It is great for those who spend little time in their room and just need a clean place to crash.
---
Travelodge
Around $130 - $238 a night | Book a Room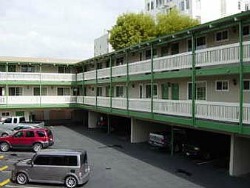 The Travelodge is another one of the budget friendly Fisherman's Wharf hotels.
It is just a few blocks farther out than the others on this list, but is still centrally located for easy access to all the attractions. It's about a four-block walk to the waterfront.
This is a small establishment with only 25 rooms. The amenities are basic, but they do offer free Wifi and TVs and microwaves in the rooms.
---
These are some of the best Fisherman's Wharf hotels. Many of these do not include parking and charge quite a bit for the convenience.
If you are staying in the city for most of your trip, then there is no reason to rent a car. If you are driving to San Francisco, you will want to enquire on parking fees before booking your hotel as they can run up to $30 or more a night!
More San Francisco Lodging and Tourism Tips
San Francisco has a lot of hotels throughout the city. Here are some additional neighborhoods to investigate:
San Francisco Hotels Union Square: Want to stay in the center of San Francisco? If so, then check out this list of great hotels in Union Square. Staying here puts you in the middle of some great nightlife and restaurants. You can also access other parts of the city easily.
Downtown San Francisco Hotels: This page includes a number of hotel recommendations just outside of Union Square. Most are just a few blocks from Union Square and all are still centrally located.
Want to search for hotels by budget instead? If so, here are a few additional options for you to review:
San Francisco Luxury Hotels: Find recommendations for some of the great, historic and luxury hotels located in Nob Hill. You can also find recommendations for some of the newer modern luxury hotels popping up throughout the city.
Cheap Hotels in San Francisco: Want to find something a little more reasonably priced? If you are like me and spend little time in your room, then check out some of these great cheaper hotels. The are clean, yet affordable so great for those looking to spend most of their time out exploring the amazing sites throughout San Francisco.