Fisherman's Wharf Restaurants: My 20 Top Picks


by Jill Loeffler  •

Published: October 10, 2022
Are you looking for the best Fisherman's Wharf restaurants for your stay in San Francisco? My list includes ideas for breakfast, lunch, and dinner. I also included a list of some of the best seafood spots in this lively district.
Some of my top picks include the popular brunch spot, Hollywood Cafe, the best place for sourdough bread, Boudin Bakery, and the high-end restaurant, Gary Danko.
On my list, you'll find options that fit every budget.
5 Best Breakfast in Fisherman's Wharf

Hollywood Cafe

Breakfast at the Hollywood Cafe in Fisherman's Wharf
The place to be for the finest breakfast in Fisherman's Wharf, Hollywood Café continually gets rave reviews for its traditional breakfast offerings which is why it's the first restaurant on our list.
A varied menu of dishes includes eggs benedict, classic sandwiches, and a choice of meat breakfasts at prices from $18 upwards.
This is a must-visit café for anyone spending time in San Francisco, and one where superb service from its friendly staff and quality cooking come first. Check out their film star-themed dishes too for something unique and original.
Eight AM

For a traditional American breakfast, Eight AM comes highly recommended. The avocado toast – among the most popular dishes that this friendly and welcoming restaurant in Fisherman's Wharf café offers – is frequently reviewed as the best restaurants in the region by regular visitors.
Serving a choice of breakfast dishes from 8am – hence the name – this is a relaxed and pleasant place to enjoy an unrushed breakfast before your busy day in and around SF.
Outdoor dining tables are also available.
Cafe de Casa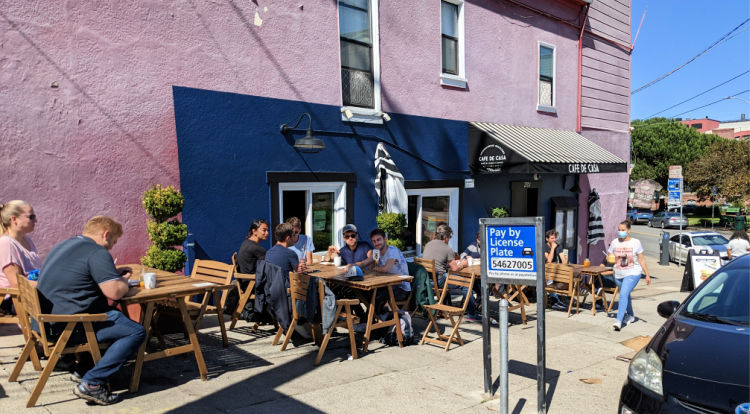 A welcome taste of Brazilian breakfast cuisine is on offer at Cafe de Casa, a delightful eatery on Fisherman's Wharf.
The signature dish at Cafe De Casa is the traditional dish Feijoada, a wonderfully rich blend of black beans with sausage, pork, and beef served with a side of greens and orange and simply oozing flavor.
At $19 this is a breakfast to savor, and one that will certainly set you up for the rest of the day.
Eagle Cafe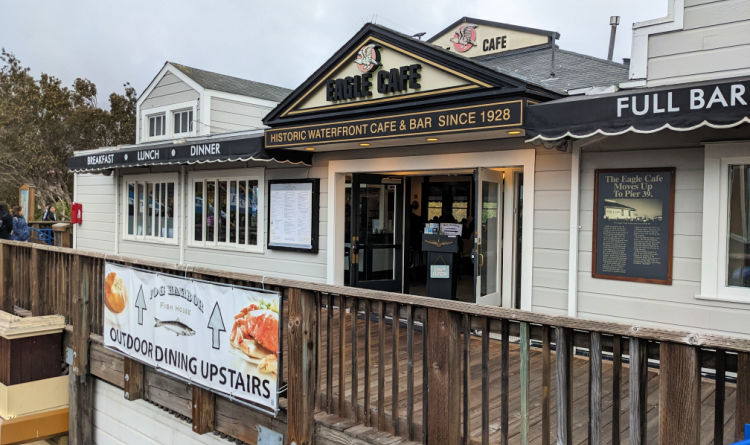 Occupying a picturesque waterfront location, Eagle Café is a long-established café offering a full range of American-style breakfast dishes.
Priced around $15 to $20, choose from standard offerings such as bacon, sausage, and egg breakfast through a range of specials including a stunning bacon and cheese burger plus everyone's favorite avocado toast.
This historic café is popular with locals and visitors, and as a family-owned establishment is a friendly and relaxing place to eat.
You'll find them on the second floor of Pier 39 near the entrance.
Pat's Cafe

The colorful and bright façade of Pat's Café – in North Beach just a couple of blocks from Fisherman's Wharf – is familiar to locals as is the wonderful traditional American food served here with a smile.
Waffles, pancakes, traditional breakfasts, omelets, and many more popular dishes make up a comprehensive menu, with prices ranging from around $9 up to $20.
A wonderful place to start the day.
>> Find additional breakfast ideas around SF
Disclaimer: I receive a small commission from some of the links on this page.

Fun Things to Do Around Fisherman's Wharf
5 Lunch Ideas in Fisherman's Wharf

Bistro Boudin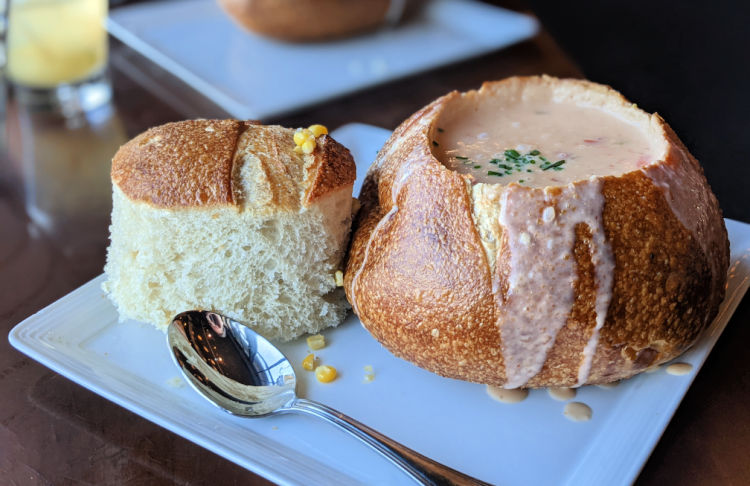 Chowder in the sourdough bread bowl at Boudin's Bakery in San Francisco.
Popular with locals and visitors, Bistro Boudin is a fine dining experience on Fisherman's Wharf with superb views of the water should you choose a table by the windows.
They are famous for their sourdough bread especially their bread bowls with hearty clam chowder.
The menu also offers a mix of American cuisine plus pizza and fine steaks, yet for many diners, the menu to go for is the seafood one.
Superbly cooked whole Dungeness crab and traditional fish and chips range in price from around $25 to $55, and the restaurant comes highly recommended.
Buena Vista

Famous for its signature Irish Coffee, The Buena Vista offers a fantastic lunch menu. It's also a great spot for dinner and breakfast on the weekends.
With everything from traditional omelet dishes to quality steak, plus many more fine dishes, this is a place where you will enjoy the pleasant and relaxing atmosphere and exceptionally fine coffee.
The clam chowder comes highly recommended, as do the steaks and burgers, and the café is rated as a 'must visit' destination by former customers.
We recommend enjoying your meal with an Irish coffee as they were the first to introduce this tasty cocktail to the US in 1952. 
>> Learn more about visiting Fisherman's Wharf
>> More great spots to eat outdoors
Wipeout Bar & Grill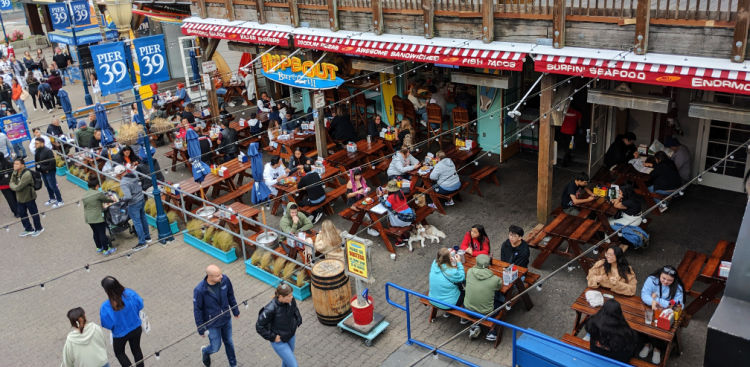 Occupying a prime spot on Pier 39, Wipeout Bar and Grill is well known for its wide variety of affordable yet superbly cooked lunch dishes.
Everything from fish and chips to steaks and burgers, plus a choice of surf and turf dishes, is on offer at this lively yet enjoyable bar and café. With prices starting at around $10, this is an excellent choice for a family lunch.
Check out the range of pizzas for some excellent options.
Players Sports Grill & Arcade

The popular Players Sports Bar and Arcade combine tasty food at sensible prices with arcade games and sports on the TV.
A suitable place to go to watch football or basketball while enjoying lunch, this is one of the more popular and lively joints at which to hang out on Fisherman's Wharf.
Try the fried calamari for around $14, or a combination platter for $23.50, and then try your luck at the arcade!
Freddie's Sandwiches

If a quick grab-and-go sandwich is what you want for lunch, there is no better place to go in Fisherman's Wharf than Freddie's Sandwiches.
Offering an online ordering option, and with a wide choice of sandwiches, popular choices include a 6" deli turkey sandwich, bigger 8" Italian comb sandwiches, and many more, with prices from under $10 and upwards.
The café comes highly recommended by locals and visitors.
Fun Food Tours Around SF
5 Top Dinner Spots

Surisan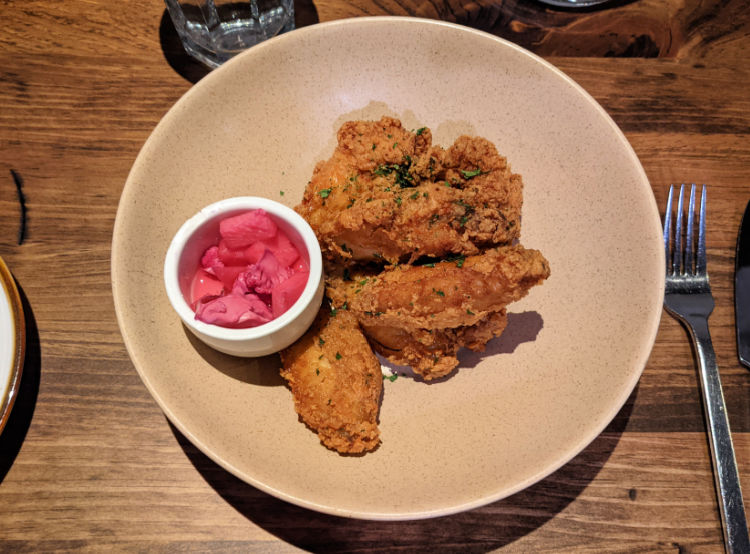 Fried chicken dish at Surisan
Offering a variety of Korean food choices, the menu at Surisan – one of the most delightful restaurants in Fisherman's Wharf – is one of the most appealing of all. It's one of my favorites for dinner here.
Mixing Asian cuisine with American favorites gives us a choice of dishes such as mango salad, pork dumpling soup, Korean fried chicken, kimchi fried rice and many more delicious bites, yet it is the Korean BBQ sets and fried chicken dishes that prove the most popular.
Also, if you love bacon, don't miss their bacon flight with four yummy slices with very different flavors! 
With a BBQ set for two priced at $49 and single menu items ranging from $12 to $27 each, I believe Surisan to be excellent value.
Gary Danko

Lovers of French cuisine should head to Restaurant Gary Danko, where old-school cooking and dining is combined with quality food and a superb atmosphere.
Having served Fisherman's Wharf for more than 20 years this established restaurant is a favorite for locals and a must-visit destination for visitors to the area.
Choose from 3, 4, or 5-course meals starting at $120, and enjoy some of the finest meals you will find anywhere in SF.
McCormick & Kuleto's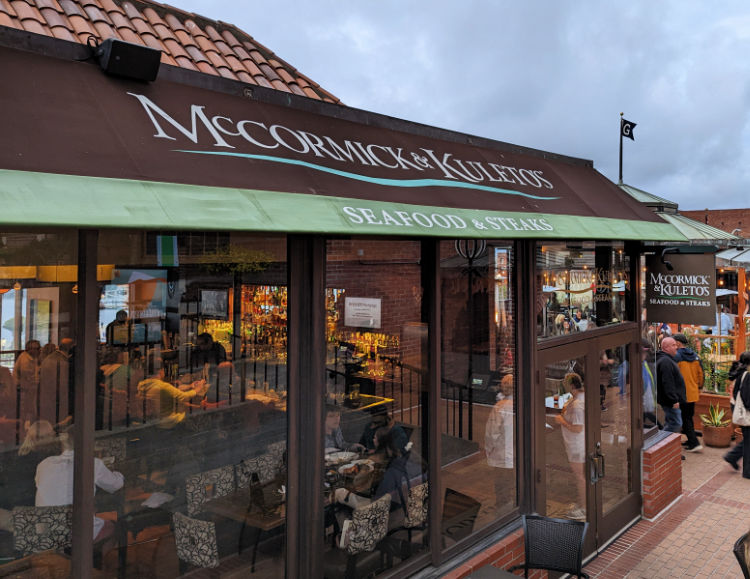 A popular steak and seafood restaurant located in Ghirardelli Square, McCormick and Kuleto's offers a fine choice of dishes of superb quality, using local ingredients wherever possible.
The lunch and dinner menu starts with oysters for a few dollars and includes stunning American favorites such as stuffed Dungeness crab, and a variety of traditional cuts of steak, soups, and more.
Prices range from around $20 upwards, and this is a fine dining experience not to be missed.
San Francisco Brewing Company

There is little to beat a casual meal with a locally brewed beer in the glorious beer garden of the San Francisco Brewing Company.
A popular hang-out for locals, and equally frequented by visitor, the menu offers a mix of pizzas, local classics such as fish and chips and clam chowder, and a variety of American favorites.
Vegetarian dishes are also offered, and we highly recommend a visit to this Fisherman's Wharf delight as it's one of the best restaurants on the list.
Prices are very reasonable at around the $17 to $25 mark.
>> More great breweries around SF
Hillstone Restaurant

Specializing in popular American favorites, Hillstone Restaurant is among the most popular venues for lunch and dinner in Fisherman's Wharf.
A choice of burgers starts at around $23 and $14 for a traditional Caesar salad is terrific value. A pleasant place for a relaxed family dinner, the steaks and chops are priced in the $30 to $65 price bracket and come highly recommended.
Reservations are essential as Hillstone is a busy venue and is highly rated locally.
5 Best Fresh Seafood Fisherman Wharf Restaurants

Scoma's

Serving its famous 'Pier to Plate' menu of locally sourced fish dishes since 1965, Scoma's is the local's favorite Fisherman's Wharf fish restaurant.
Starters begin at around $20 for a simple yet delicious shrimp cocktail, while mains include such as Dungeness crab, a classic mixed platter, and traditional beer battered fish and chips.
If seafood is not your thing the Wagyu Beef is sensibly priced at $36, and prices are generally between $20 to $40.
There is also a selection of chicken dishes plus a sandwich menu. You also can't beat the waterfront views! 
Fog Harbor Fish House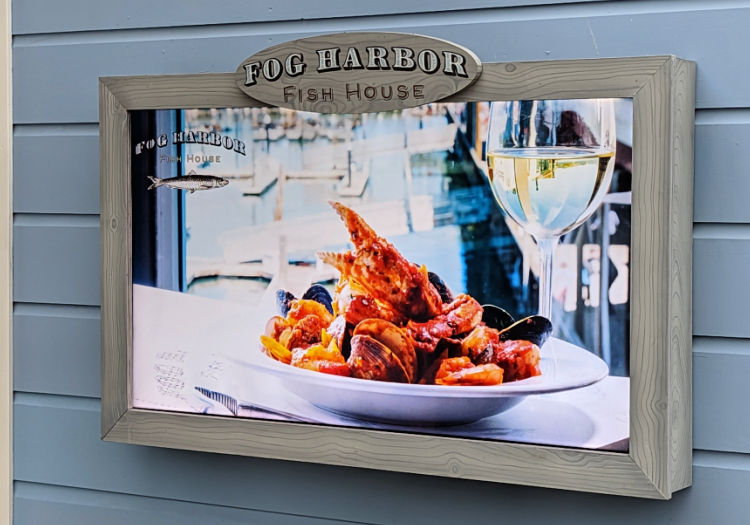 One of the most respected fish restaurants in the region, Fog Harbor Fish House concentrates on traditional seafood dishes made from locally caught and sourced ingredients.
Choose from simple fish and chips or a variety of fresh fish including Pacific cod, halibut, and a luxurious scallop and crab risotto.
From the basics to the exotic, prices begin at less than $10 for clam chowder to a glorious shellfish platter at $88 for two.
Fog Harbor Fish House is a must-visit restaurant. You'll find it on Pier 39.
Capurro's Restaurant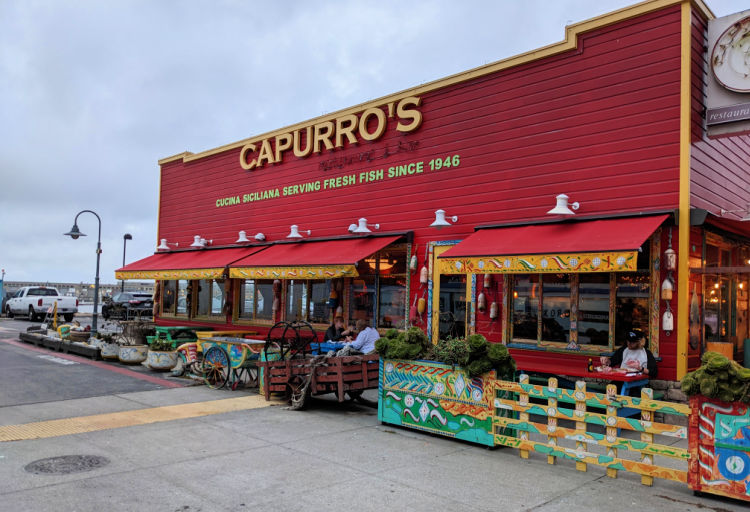 Billed as 'the original seafood restaurant' Capurro's has been serving locals with traditional seafood dishes since 1946.
One of the main attractions apart from the superb food is the delightful outdoor dining patio where patrons can take a table.
Fish and chips is the popular dish here, and there is a good variety of crab dishes, plus a fish of the day option.
Capurro's also serves homemade pasta and nothing on the menu is over $30. They offer both indoor and outdoor seating.
Pier Market Seafood Restaurant

For the best in quality seafood dishes in Fisherman's Wharf, you should check out Pier Market, an established fish restaurant on Pier 39.
The classic New England clam chowder is a bargain price at less than $8 for a bowl, and this charming and friendly eatery is popular with a reputation for traditional seafood at competitive prices.
A mixed grill of salmon, cod, and shrimps is priced at under $30.
The menu also offers a choice of burgers, steaks, and chicken dishes.
The Codmother Fish & Chips

Fish and chips is a legendary dish in the San Francisco Bay region, and there are few better seafood outlets than The Codmother, a locally famous food truck occupying a permanent spot on Fisherman's Wharf.
Traditional fish and chips, sourced locally, are priced at $16.99, and alternative dishes including fried calamari, fish tacos, and New England clam chowder are equally reasonably priced.
There are few tables for sit-down meals, but the simple and delicious seafood dishes make a visit worthwhile.
>> More great seafood spots around San Francisco
>> More great cheap eats around SF
Comments? Questions? Suggestions?
I would love for you to join me in my private Facebook group! 
It's a great place to interact with me and others who know the area well.
You can ask questions, get advice for your upcoming stay, and then share your photos and advice with others when you return home. It's a great community and the fastest way to get answers to those nagging questions about your visit!