25 Cheap Eats Around San Francisco

by Jill Loeffler  •

Published: January 17, 2023
Even though San Francisco can be expensive, you will find dozens of places for cheap eats throughout the city. My list includes highly rated places I love, which also won't break the bank.
You will find mostly locally-owned restaurants with a handful of popular chains mixed in. Many of these places offer some or all main dishes at around $8 to $14 each.
Some offer enough food at this price for you to share with your group or save some for later.
Here are 25 great spots near downtown SF, Union Square, Fisherman's Wharf, and other places throughout San Francisco.
Disclaimer: I receive a small commission from some of the links on this page.

Union Square and Downtown San Francisco
You will find dozens of cheap eats in both districts in San Francisco. These are just some of my favorites that I know you will love!
Sushirrito
Address: 226 Kearny Street
Sushirrito offers 'Modern Japanese with a Latin Twist, and if sushi burritos sound like your thing, this is the place to be.
With a choice of branches in and around San Francisco, this is the ideal place to catch up with friends over innovative made-to-order burritos full of flavor in a charming and lively outlet.
Japanese mixed with Latin is a clever choice, and Sushirrito is the leading brand.
Try it. I know you'll love it!
>> Find some of my favorite sushi spots around San Francisco
Super Duper Burgers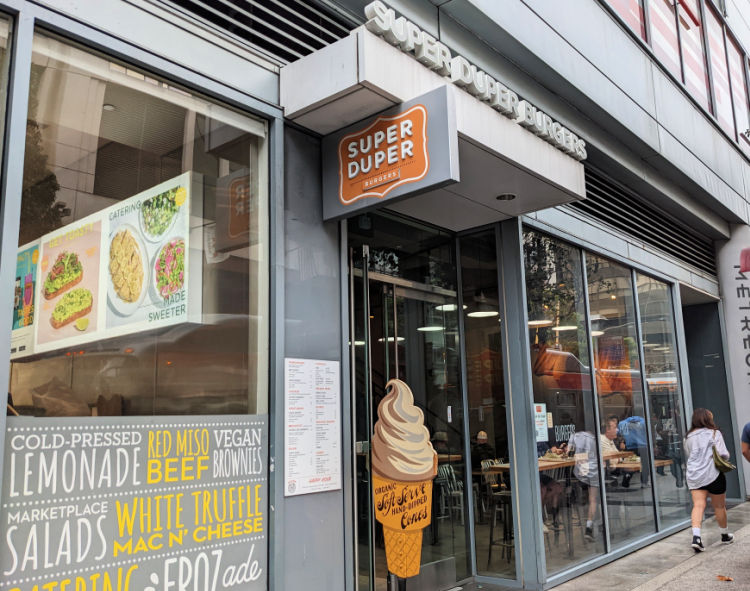 Address: Various locations around San Francisco
For traditional burgers made from sustainable ingredients and natural products where possible, you can't beat Super Duper Burgers. This brand has a few outlets in the Bay Area and Downtown San Francisco, and if you love a burger, you'll love this place!
The menu is refreshingly simple, with a choice of burgers, chicken, and vegetarian options, and we guarantee kids will love the milkshakes! You'll enjoy the ambiance, too, with its hand-painted signs and friendly welcome.
>> Other places I love for a tasty burger
Uncle Vito's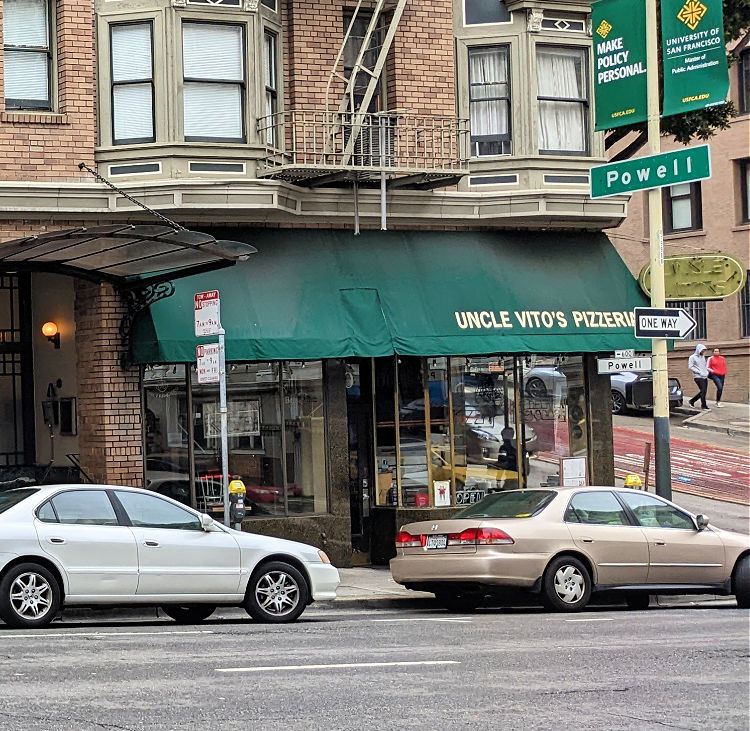 Address: 700 Bush Street on the Cable Car Line
A range of superbly made pizzas - the dough is freshly made each morning, and the ingredients are fresh and locally sourced - greets you at Uncle Vito's, a long-established traditional pizza house.
The smells from the freshly made pizzas add to the feel and comfort of this charming restaurant, and with toppings to suit all tastes, this is a pizza lover's delight.
You'll find Uncle Vito's close to Union Square, and we believe the prices are very reasonable for the quality.
>> More of my favorite pizza spots
The Halal Guys
Address: 336 O'Farrell Street
The Halal Guys serve a fabulous menu of traditional American Halal food.
With a mouth-watering Beef Gyro Platter at the head of the menu, plus chicken and falafel platters and all available as sandwiches, this is an excellent spot for a catch-up and a light meal or lunch.
Choose from the standard options of hummus and other sides and sauces, fries, cookies, and more, and you have a brief yet adequate menu and great prices.
>> More great Mediterranean spots around SF
Pinecrest Diner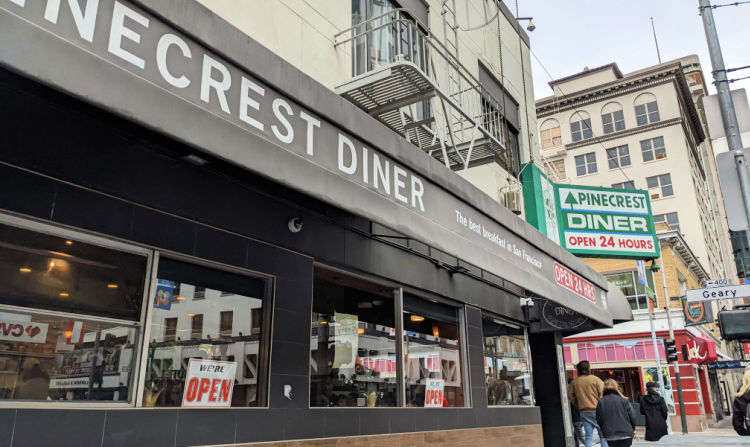 Address: 401 Geary Street
Offering a choice of sit-down meals for between $10 and $16, there is plenty of traditional American food such as chicken wings - check out the authentic hot sauce - fries, and chili con carne.
Yet Pinecrest diner is famous for its all-day 24-hour breakfasts. Traditional bacon or sausage with eggs, ham, scrambled eggs, and a choice of great breakfast specials draw in people from across San Francisco, and I highly recommend you give it a go.
>> Additional places to eat around Union Square
The Bird SF
Address: 115 New Montgomery Street
The snappily named 'The Bird' is known for its excellent fried chicken sandwiches, wings, salads, and a choice of many sauces and fritters.
If you don't want the bun - freshly made daily by a local baker - try the 'Naked Bird,' which is just the chicken cooked either classic or spicy and served with a side of hand-made apple slaw.
Enjoy a beer in cans or on draft to wash down your chicken, and look at the superbly affordable prices.
Fun Tours in San Francisco
Cheap Eats SF: Fisherman's Wharf
The Fisherman's Wharf area along the San Francisco waterfront offers many amazing places to eat. These are just a few options that will help you stay on budget.
The Codmother Fish & Chips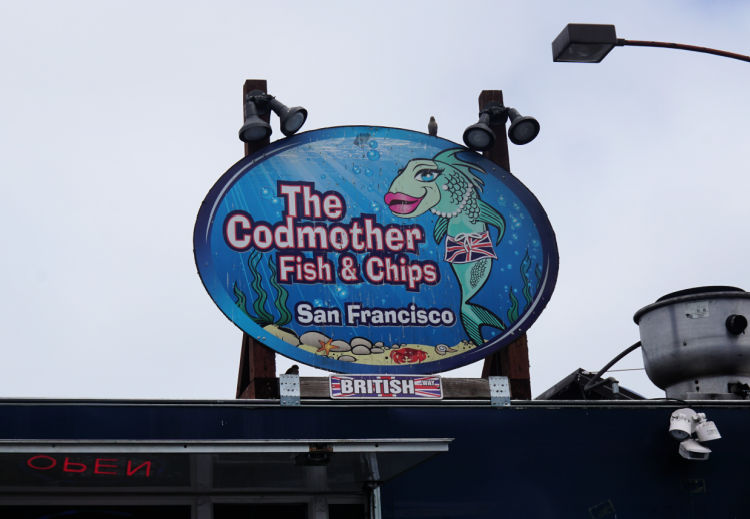 Address: 496 Beach Street
Ideally located on Fisherman's Wharf, The Codmother is considered one of the best fish and chip shops in San Francisco. Most patrons order online for delivery or to pick up, and it's fair to say this place has more than its fair share of regulars!
With a choice of traditional fish and chips complete with tartar sauce and ketchup, delicious calamari dishes, shrimp, clam chowder, and a great selection of kids' meals, I guarantee you'll get fresh fish at great prices.
If you decide to eat here, they offer just a handful of picnic-type tables in their outdoor space. It's an amazing place to eat on a sunny day in San Francisco.
>> Additional places to eat around Fisherman's Wharf
Tanguito
Address: 2850 Jones Street
A favorite with visitors in Fisherman's Wharf, Tanguito offers a mix of quality Argentine-influenced dishes alongside traditional burgers.
Beef and Chicken Empanada are favorites here, and I love the Steak Sandwich, a perfect choice for a quick, simple, and delicious lunch.
While there is no indoor seating, there are plenty of tables in shaded and covered areas where you can enjoy tasty food at sensible prices.
Freddie's Sandwiches
Address: 300 Francisco Street
If you're in the Fisherman's Wharf area and fancy a tasty sandwich, head to Freddie's Sandwiches for what I consider the best selection in the city.
Order online for delivery or pickup and enjoy a classic Club Sandwich from a fantastic menu made from fresh ingredients and simply sublime.
Or check out the range of specials and other choices, such as my favorite, the Italian Combo - you won't be disappointed.
In-N-Out Burger
Address: 333 Jefferson Street
For classic burgers around Fisherman's Wharf, it's hard to beat In-N-Out Burger, which is famed for quality, traditional burgers and fries at great prices.
These are burgers made the right way - with no heat lamps, microwaves, and no frozen items - and you can tell with each bite.
A simple yet adequate menu of burgers, cheeseburgers, double burgers, and fries makes this a great family option, and kids will love the shakes!
More Fun Things to Do in Fisherman's Wharf
Chinatown and North Beach
These two San Francisco districts also offer quite a few affordable options. You'll find various cuisines at a reasonable price, from dim sum to pizza by the slice.
Note that some dim sum restaurants are cash-only spots.
Cilantro Taqueria San Francisco
Address: 2257 Mason Street
For the best authentic Mexican cuisine in the Chinatown area of SF, I recommend the wonderfully friendly Cilantro Taqueria, where burritos, nachos, enchiladas, and many more delicious Mexican dishes await.
A choice of beef or shrimp fajitas would be high on my list of favorites, and with eat-in or take-out options, it's an excellent place for a lazy and relaxed evening meal.
Try it when you're in the area. I believe you'll love it.
>> More great Mexican restaurants around SF
Golden Boy Pizza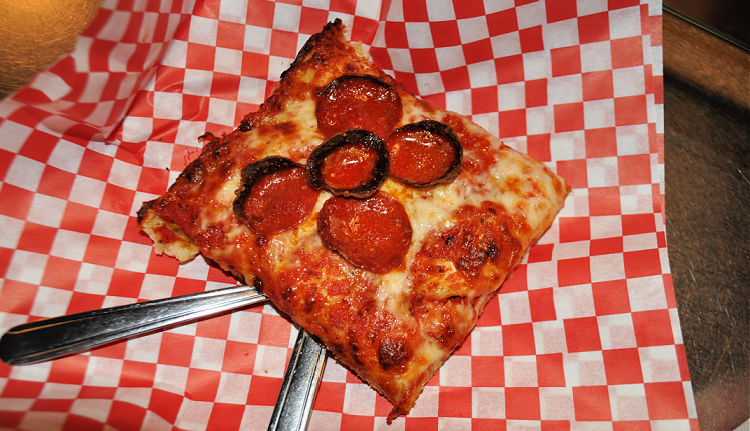 Address: 542 Green  Street
Offering a simple yet attractive menu of traditional pizzas is Golden Boy Pizza. Established in 1978, this charming outlet offers eat-in and take-out options.
This is authentic Italian pizza style, with a choice of classic pepperoni, cheese, sausage toppings, combinations, and garlic options.
The pesto veggie option is simply superb, and that's before I mention the clam and garlic pizza (which you have to try at least once)!
Good Mang Kok Bakery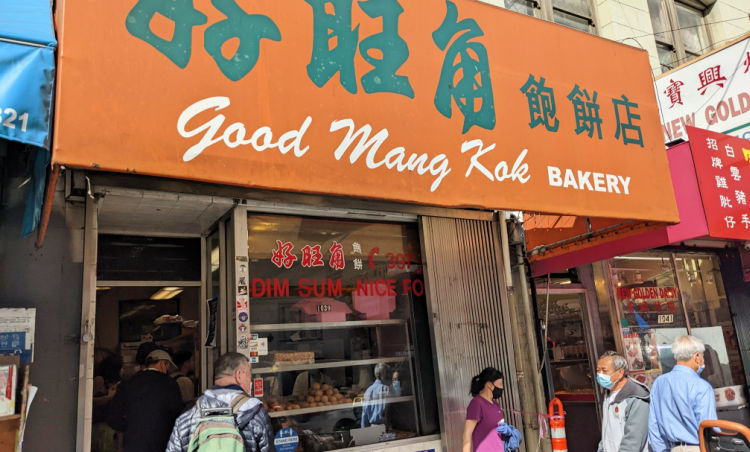 Address: 1039 Stockton Street
When you arrive at Good Mang Kok Bakery, you may find a line out of the door. Don't be deterred, as the service is superbly efficient at this wonderfully authentic Chinese bakery, and the dim sum is among the best I have ever tried.
Be aware that there is no seating inside, but the local parks are a great place to relax and enjoy your meal.
With around 50 items on the menu, there is something for everyone but take cash as it is a cash-only spot.
>> A full list of my favorite dim sum spots
Tony's Coal Fired Pizza & Slice House
Address: 1556 Stockton Street (at Union Street)
The place to go for a slice of genuinely authentic American-style pizza is Tony's Coal-Fired Pizza & Slice House.
Next door to Tony's Pizza Napoletana, this is an excellent choice for sampling pizza cooked in either traditional New York style or New Haven, Connecticut. It's all about the cooking method, and Tony may be on hand to tell you more!
I know these are some of the best pizzas in SF.
Note: Tony, the owner, is a world-famous pizza chef with several awards to his name. If you have time and a little more cash, you can head next door to his full-service restaurant, where they have several pizza ovens to offer a selection of pizza types from around the world.
Alimento
Address: 507 Columbus Avenue
An excellent Italian eatery with a fabulous menu of stunning sandwiches made fresh on the spot, Alimento is an experience that every visitor looking for cheap eats in SF should enjoy.
There is nothing to match traditionally made gelato - ice cream as it is also known - and the range of flavors is fantastic.
This would make an excellent choice for a family lunch, and the prices are reasonable.
>> Additional places I love to go to for Italian food
Dim Sum Bistro
Address: 675 Broadway
Dim Sum is a great way to enjoy a snack of mixed items, and the popular Dim Sum Bistro has a comprehensive menu offering a full range of dim sum dishes, soups, sticky rice plates, as well as burgers - although I don't know why anyone would go to a dim sum bakery for a burger!
Everything is cooked on-site using traditional ingredients and methods, and the prices are so good you'll be amazed.
Other Cheap Eat Around San Francisco
This part of the list includes other cheap eats in San Francisco. You'll find everything from inexpensive American restaurants to one of my favorite breakfast spots.
Red's Java House in the South of Market District
Address: 38 Bryant Street
Red's Java House is as traditional as it gets, serving quality burgers, hotdogs, french fries, and breakfast in a pleasant and welcoming setting. I used to eat here all the time when I worked just a few blocks away.
Their lunch menu is served all day - the fish and chips is a popular choice - and a range of exciting specials such as meatballs sandwiches, eggplant, and parmesan sandwiches, and corned beef and hash add to the variety.
I love the prices here and know you will too!
>> More about the South of Market District
Good Luck Dim Sum in the Inner Richmond
Address: 736 Clement Street
Good Luck Dim Sum is a classic Chinese dim sum bakery offering various dumplings and other dim sum standards.
Egg rolls and shrimp dumplings, pork siu mai, beef, and chicken dishes, garlic noodles, and a choice of chow mein and vegetable options are part of a superb and lengthy menu.
Freshly made dim sum at such prices is not to be missed. Bear in mind it is cash only.
>> More about the Inner Richmond
Rossi's Deli in the Castro
Address: 426 Castro Street
Rossi's Deli in the Castro is a famous sandwich joint with a big following. It's best to order online for carry-out, and they wrap your food, so it stays fresh.
Classic Rossi's sandwiches include a cracking roast beef, a delicious chicken option, plus many others, including fresh roast turkey and hot pastrami.
If you want something simple, they do others, such as tuna salad, corned beef, and ham, all at great prices.
>> More about visiting the Castro
Yamo in the Mission
Address: 3406 18th Street
For something different in San Francisco, why not try Yamo? This authentic Burmese restaurant offers a great selection of authentic Burmese dishes at excellent prices - Mango Chicken for just a few dollars, for example, or the unusual Tea Soup, which is worth trying.
The menu is comprehensive, and if you're unfamiliar with Burmese cuisine, I am sure you'll appreciate something new. At this price, you can't go wrong.
>> More fun things to see and do in the Mission
Bahn Mi Viet near Alamo Square
Address: 518 Divisadero Street
Vietnamese cuisine is among the tastiest and original of Eastern cuisines. Banh Mi Viet is a highly regarded San Francisco Vietnamese restaurant offering a variety of classic meals from the region.
Try the shrimp spring roll for a delicious seafood snack or the Beef Banh Mi for a delightful mixture of tastes and spices. This is a friendly, welcoming, and interesting choice with affordable prices.
>> Tips for visiting the Alamo Square District
El Farolito in the Mission
Address: 2779 Mission Street
Who doesn't love Mexican food? In San Francisco, there is plenty of choices.
El Farolito is in the Mission district of San Francisco and is a classic Mexican spot. Burritos of many kinds, quesadillas, Mexican sandwiches, and favorites such as tacos make up the menu, along with many specials and other options at sensible prices.
Mexican makes great comfort food - but look out for those spices!
Abu Salim Middle Eastern Grill in the Haight Ashbury
Address: 1599 Haight Street
The popular Abu Salim Middle Eastern Grill is located in the famous Haight Ashbury district of San Francisco. A menu of falafel, halal, and other Arabic dishes provides something for everyone in this charming and welcoming restaurant.
Beef, Lamb, and Chicken wraps - all marinated in a rich mix of spices and served with authentic vegetable accompaniment - are always my choice.
Still, there is so much more in Middle Eastern cuisine that you'll want to try some more unusual dishes.
>> More about visiting the Haight Ashbury District
Art's Cafe in the Inner Sunset
Address: 747 Irving Street
In the Inner Sunset district, Art's Cafe sees lines queuing for their magnificent and unusual hash brown sandwiches. Affordable and - according to regulars - fabulous and delicious; choose from various fillings, including bacon, sausage, ham, chicken, and my favorite, teriyaki beef.
There's a lot more to Art's Cafe's menu, including pancakes, omelets, breakfasts, and egg dishes, and this is one cafe you need to visit when in San Francisco.
>> What else there is to see and do in the Inner Sunset
La Taqueria in the Mission
Address: 2889 Mission Street
La Taqueria in the Mission District is a popular Mexican food destination offering a menu of traditional and authentic dishes. The various burritos are superb, and the chicken taco is popular, as are many other Mexican options. Friendly and welcoming,
La Taqueria is where you'll find a lively and friendly atmosphere, plus great food at sensible prices.
This one is well worth a visit if Mexican is your thing.
Comments? Questions? Suggestions?
I would love for you to join me in my private Facebook group! 
It's a great place to interact with me and others who know the area well.
You can ask questions, get advice for your upcoming stay, and then share your photos and advice with others when you return home. It's a great community and the fastest way to get answers to those nagging questions about your visit!