Best Pizza in SF: 8 of My Favorite Places to Grab a Slice or an Entire Pie

by Jill Loeffler  •

Updated: January 2, 2023
Discover the places where you will find the best pizza in SF. My list includes options for every budget. I've also added in a few places where you can casually grab a slice or enjoy a sit down experience where you can savor an entire pie.

Many of the best options are in North Beach. However, you will also find some great pizza places in the Mission, Nob Hill, and Pacific Heights.

Disclaimer: I receive a small commission from some of the links on this page.

1. Golden Boy Pizza

Golden Boy Pizza is a long-standing pizza restaurant in the North Beach District. It's one of my favorite places to grab a slice, and sometimes a beer, for lunch or a quick dinner. They serve pizza by the slice or you can order an entire pie.
The slices are thick, so you can usually get away with just one slice a person.
Their specialty is the garlic clam pizza, although I usually steer toward the pepperoni or veggie pesto slices. They have a quick customer turnover, so you can always find a place to sit.
You will often find a small line, but not to worry as their ordering station is right inside the front door.
Make sure to order first before heading inside to find a seat.
Average Price: Slices are $3.50 to $4.50, full pizzas are $12.00 to $30.00 each
Address: 542 Green Street 
District: North Beach
Pizza & Pub Crawl Experience: You can also check out this North Beach tour that focuses on the best pizza in North Beach. You'll stop at some of the districts best watering holes. Check out this tour here on Viator.
North Beach Walking Tour: You can also sample pizza and other fun Italian treats on this great North Beach Food Walking Tours. Learn more about it on Viator.
2. Little Star Pizza

Little Star Pizza is always on the top of my list when I want to head out for pizza. Their menu features both deep dish and thin crust options. You can either order one of their preplanned pizzas or create your own.
Their deep-dish pizza is incredible and VERY filling. Because of that very reason, I often order their Pesto Chicken or White Pie thin crust pizzas. Unlike most pizzerias, their pizza crusts are made out of cornmeal and have a very distinct flavor. There is also a gluten-free option.
You'll find Little Star Pizza at two different locations in San Francisco.
Average Price: Pizzas range from around $15 to $32 each
Western Addition/NOPA Location: 846 Divisadero Street
Mission District Location: 400 Valencia Street
3. Pizzeria Delfina

Pizzeria Delfina is a very popular pizza place with the locals. They offer two locations: one in the Mission District and one in Pacific Heights. The key to their success is the basic, fresh ingredients they use to make their food consistently delicious.
They offer traditional pizzas such as four cheese and margherita, as well as more creative options such as broccoli raab and clam pie. In addition to their incredible pizzas, they have a small dinner menu of salads and pasta, as well as a great selection of drinks.
Average Price: Pizzas are $16.00 to $19.00 each
Mission District Location: 3611 18th Street
Pacific Heights Location: 2406 California Street
4. Tony's Pizza Napoletana

Tony's Pizza Napoletana is the creation of Tony Gemignani, an 13-time winner of the World Pizza Championship in Italy. He was the first American to win this award. Their kitchen houses seven different types of pizza ovens, so they pretty much have any type of pizza you could ever imagine.
Last time I was there, I was able to try their limited-quantity "sausage and stout" pizza, a wood-fired Napoletana pizza with a unique dough handmade with Guinness beer. It was a little pricey, but it was amazing.
If you are a pizza connoisseur or just want that chance to try a pizza that is different from anything else you've ever tried, then stop by Tony's for lunch or dinner.
Average Price: $16 to $45 a Pizza
Address: 1570 Stockton Street
District: North Beach (Little Italy)
More Fun Food Tours
5. Il Casaro Pizzeria & Mozzarella Bar

Another place for the best pizza in SF is Il Casaro Pizzeria, a casual place that serves lunch and dinner every night of the week. They first opened in San Francisco's Italian district in 2014 and were so popular they added another location in the Castro in 2019.
"Il Casaro" means cheese maker, and these people take their ingredients seriously. They make their thin-crust pizzas Napolitan style with caputo flour and San Marzano tomatoes imported from Naples. 
Equally as impressive as the piping hot pies from their wood-fired oven is their mozzarella bar with varieties ranging from fior di latte to burrata.

Average Price: $13 to $20 per pizza
North Beach Location: 348 Columbus Ave 
Castro District Location: 235 Church Street
6. Long Bridge Pizza

The thriving Dogpatch district is where you will find the next places on my list for the best pizza in SF. Long Bridge Pizza is a laid back spot where you order the pizza at the register and then take a seat. Don't forget to order a pint of craft beer on tap from one of the local breweries. 
At Long Bridge, they specialize in a thin-crust sourdough pizza that combines flavors from East Coast, Italian, and San Franciscan styles. On Mondays, they feature Detroit-style square pizzas whose special mozzarella and cheddar blends crisps nicely into the edges.
Average Price: $14 to $32 per pizza
Address: 2347 3rd Street
District: Dogpatch
7. Patxi's Pizza

Looking for pizza with a modern twist? Or having trouble choosing between Indian, Mexican, BBQ, and pizza? Turn to Patxi's famously creative deep dish pies: Chicken Tikka Masala, Chicken Fajita, or BBQ Combo. If that sounds like a bit much, then you can always opt for one of their equally tasty classic thin-crust pizzas, salads, or piadinas.
Patxi's originated in 2004 in Palo Alto, about an hour south of San Francisco, and has since grown to offer four different SF locations. 

Average Price: $12 to $36 each
Hayes Valley: 511 Hayes Street
8. Delarosa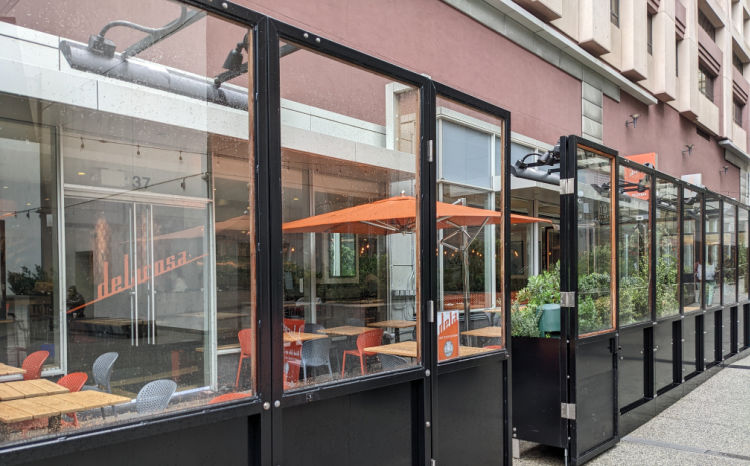 This Roman-style pizzeria is a great casual spot open all day every day for communal-style dining with dozens of stools lined up along the long bar and table.
Their thin-crust pizza goes great with their specialty cocktails and hits the spot for happy hour, lunch, or dinner. Additionally, you can order pizza with other small plates, craft beer, and Italian and California wines. 

Average Price: $10 to $16 each
South of Market District/Downtown Location: 37 Yerba Buena Lane
Marina District Location: 2175 Chestnut Street
More Great SF Tours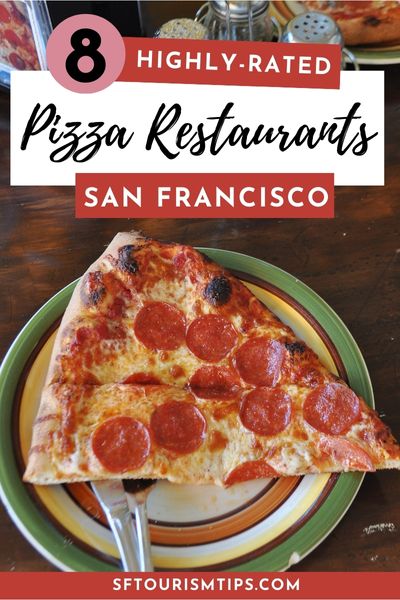 Comments? Questions? Suggestions?
I would love for you to join me in my private Facebook group! 
It's a great place to interact with me and others who know the area well.
You can ask questions, get advice for your upcoming stay, and then share your photos and advice with others when you return home. It's a great community and the fastest way to get answers to those nagging questions about your visit!