Best Pizza in SF
10 of My Favorite Places to Grab a Slice or an Entire Pie
NOTE: On December 6, San Francisco (and a few surrounding counties) will once again be on a stay-at-home order. This will last indefinitely. Click here for more information.
Discover the places where you will find the best pizza in SF. My list includes options for every budget. I've also added in a few places where you can casually grab a slice or enjoy a sit down experience where you can savor an entire pie.
Many of the best options are in North Beach. However, you will also find some great pizza places in the Mission, Nob Hill, and Pacific Heights.
Disclaimer: I receive a small commission from some of the links on this page.
1. Baonecci Ristorante
Baonecci Ristorante is one of my favorite Italian restaurants. It's also a great find if you are looking for the best, thin crust pizza in SF. The crust is handmade daily and it's simply amazing. If you love thin crust pizza, then head over to Baonecci Ristorante.
They are open for dinner Monday - Saturday and also Saturday for lunch. They are closed on Sunday.
Average Price: Regular pizzas are $18.95, specialty pizzas are $19.95
Address: 516 Green Street
District: North Beach
2. Golden Boy Pizza
Golden Boy Pizza is a long standing pizza restaurant in the North Beach District. It's one of my favorite places to grab a slice, and sometimes a beer, for lunch or a quick dinner. They serve pizza by the slice or you can order an entire pie. The slices are thick, so you can usually get away with just one slice a person.
Their specialty is the garlic clam pizza, although I usually steer toward the pepperoni or veggie pesto slices. They have a quick customer turnover, so you can always find a place to sit. You will often find a small line, but not to worry as their ordering station is right inside the front door. Make sure to order first before heading inside to find a seat.
Average Price: Slices are $2.75 to $3.75, full pizzas are $35.00 to $48.00 each
Address: 542 Green Street
District: North Beach
3. Little Star Pizza
Little Star Pizza is always on the top of my list when I want to head out for pizza. Their menu features both deep dish and thin crust options. You can either order one of their preplanned pizzas or create your own.
Their deep-dish pizza is incredible and VERY filling. Because of that very reason, I often order their Pesto Chicken or White Pie thin crust pizzas. Unlike most pizzerias, their pizza crusts are made out of cornmeal and have a very distinct flavor. They have two locations in San Francisco.

Average Price: Pizzas range from around $13 to $26 each

Western Addition/NOPA Location
Address: 846 Divisadero Street
Mission District
Address: 400 Valencia
4. Pizzeria Delfina
Pizzeria Delfina is a pizza place very popular with the locals. They offer two locations, one in the Mission District and one in Pacific Heights. The key to their success is they use basic, fresh ingredients and their food is delicious and consistent.
They offer traditional pizzas such as four cheese and Margarita. They mix the traditional options with creative ones such as Broccoli Raab and Clam Pie. They offer just a few other dishes, but their focus is on pizza.

Average Price: Pizzas are $10.50 to $19.00 each

Mission District
Address: 3611 18th Street

Pacific Heights
Address: 2406 California Street
5. Tony's Pizza Napoletana
Tony's Pizza Napoletana is the creation of Tony Gemignani, an 11-time winner of the World Pizza Championship in Italy. He was the first American to win this award. Their kitchen houses seven different types of pizza ovens, so they pretty much have any type of pizza you could ever imagine.
Last time I was there, I was able to try their limited quantity Sausage and Stout Pizza. It is a wood-fired Napoletana pizza with handmade dough that includes Guinness beer. It was a little pricey, but it was amazing.
If you are a pizza connoisseur or just want that chance to try a pizza that is different from anything else you've ever tried, then stop by Tony's for lunch or dinner.
Average Price: $15 to $41 a Pizza
Address: 1570 Stockton Street
District: North Beach
Additional Places for the Best Pizza in SF
6. Carmel Pizza Company: A casual, patio spot in Fisherman's Wharf, offers a great vibe and one of the best options on a warm day in SF, 2826 Jones Street, $9 to $15 per pizza
7. Il Casaro Pizzeria & Mozzarella Bar: Another places for the best pizza in SF is Il Casaro Pizzeria, it's a casual spot that serves lunch and dinner every night of the week, they serve Napolitan style pizza which comes out piping hot from their pizza oven, North Beach, 348 Columbus Avenue, $12 to $17 per pizza
8. Long Bridge Pizza: The thriving Dogpatch district is where you will find the next places on my list for the best pizza in SF, it's a casual spot where you order the pizza at the register and then take a seat, Dogpatch, 2347 3rd St, $12 to $30 per pizza
9. Patxi's Pizza: Deep dish pizza is the speciality at Patxi's, they have restaurants in Hayes Valley (511 Hayes Street), the Marina ( 3318 Fillmore St), and Noe Valley (4042 24th St) , $12 to $36 each
10. Delarosa: This Roman style pizzeria is a great casual spot, their thin crust pizza is hits the spot for happy hour, lunch or dinner, they also have tasty cocktails, Financial District, 37 Yerba Buena Lane, $10 to $16 each

Follow SFTourismTips on Facebook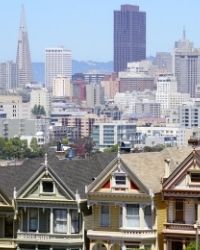 On my Facebook page, you will find more great information about planning your San Francisco vacation.
It includes tips, must see attractions, and other fun details.
Click the link below to check it out. If you enjoy the page, give us a like.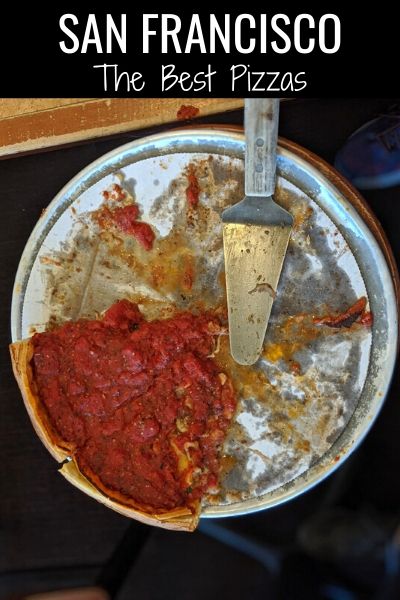 Find Additional Places to Eat in SF