Downtown San Francisco: 18 Things to See & Do in this Popular District

by Jill Loeffler  •

Updated: May 11, 2022
Downtown San Francisco is a loosely defined area that includes the Financial District and parts of Union Square, the Tenderloin, Chinatown, and South of Market (SoMa).
This area has quite a few fun things to do and see which makes it a must visit location while you are on your vacation here. 

Top picks include museums, concerts, and theater performances. You will also find some of the best hotels, restaurants, and fun nightlife options. 
It's centrally located, which makes it easy to get to all of SF's top attractions and other neighborhoods around the city.
Disclaimer: I receive a small commission from some of the links on this page.

18 Things to Do in Downtown San Francisco

Downtown San Francisco covers an area of about two miles by two miles. It's the heart of the city and you will find loads of things to do and enjoy when you come to this fun area. Here are 18 of my favorites.
1. Union Square

You will find quite a bit to do in and near Union Square. This one square block long park is the center piece for this thriving district. One of the biggest draws to this district is the shopping.
You will find more than a dozen high-end shops lined up along the park including everything from Louis Vuitton to Apple. Which is great because if you have problems with your phone or computer while on vacation, this is the best location to help you fix it.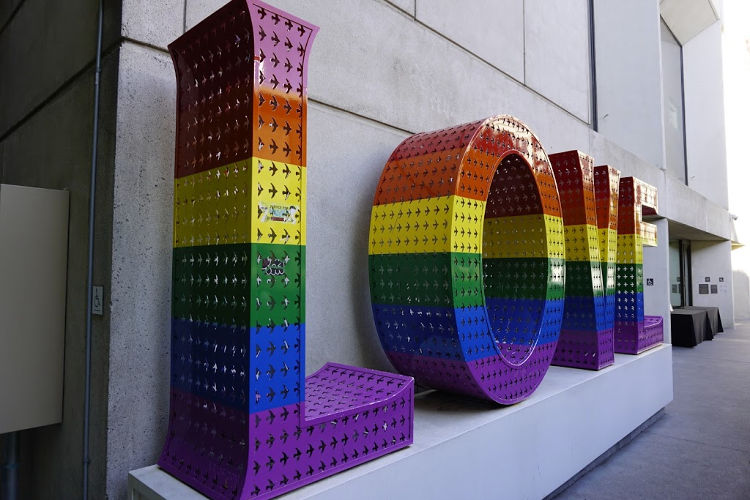 On the streets nearby, you will find additional high-end shopping, but you will also find some bargains too. H&M and Zara both have a big presence near Union Square. 
This area has one of the highest concentrations of hotels with options from the large chains such as Marriott and Hyatt to boutique options such as the Inn at Union Square and the Hotel Nikko.
2. Evening Ghost Tour
Downtown San Francisco has quite an interesting history and this tour is a must for those wanting to know more about its darker side. No, you won't see any ghosts on this tour, but you will learn all about those that got a little too rowdy in Union Square and Nob Hill over the years.
This 60- or 90-minute walking tour takes you back in time as you hear stories of haunted hotels, streets and clubs. Your guide will tell you about what happened following the 1906 earthquake.
The tour runs several nights a week. 
Visit GetYourGuide.com to learn more and get dates for upcoming tours.
3. Curran Theatre

The Curran Theatre is a historic gem just a few blocks west of Union Square. This downtown San Francisco theater offers three to four large productions each year. They also feature unique performances for the holidays and other special events.
Built in 1922, the Curran is a medium sized venue with around 1,600 seats. The types of shows you can expect at this theater include Dear Evan Hansen, Harry Potter and the Cursed Child, and The Jungle. You will find it at 445 Geary Street. 
4. Museum of Modern Art 

San Francisco's Museum of Modern Art is one of our most popular art museums. This recently renovated treasure features more than 30,000 pieces in their collection. You will get the chance to see famed pieces from artists such as Georgia O'Keefe, Frida Kahlo, and Diego Rivera. You will also see works from Henri Matisse, Jackson Pollock, and Pablo Picasso. 
With their newly added space, the SF MOMA also has plenty of room for more than a dozen traveling exhibits at once. They show pieces from artists such as Alexander Calder, Andy Warhol, Louise Bourgeios, and many others. Find a schedule of upcoming exhibits here and at museums all around SF.
5. Ferry Building

The Ferry Building along the Embarcadero is another one of the fun things to do in downtown San Francisco. This historic building mainly served as a ferry terminal for years for those commuting into SF from Marin and the East Bay and back.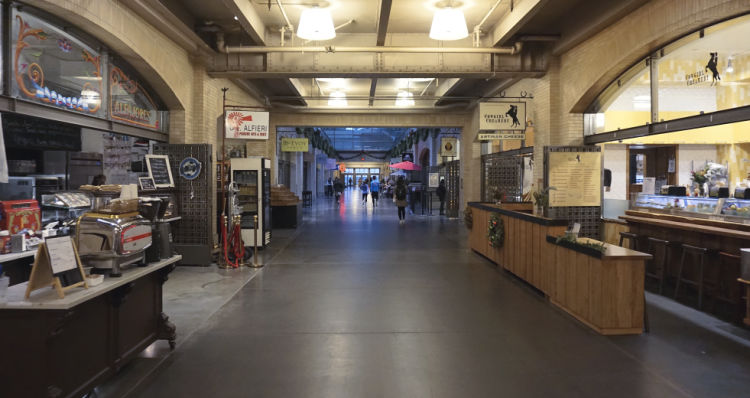 Today it plays double duty as a gourmet food lovers paradise. The halls are lined with wonderful restaurants and several shops selling fresh bread, award winning wines, and the best local cheese that you will never forget. 
You can stroll the halls on your own or learn all about its goodies for sale during a food walking tour. You will sample your way through the Ferry Building as you learn all about is history, the food you are tasting, and more. This tour runs a couple of days a week. Find the upcoming schedule and ticketing details here.
6. The Punchline Comedy Club

If you love comedy, then head over to The Punchline Comedy Club. This downtown San Francisco establishment welcomes comedians from all around the world. Most nights of the week they have at least one comedian on stage and often more. 
Some of the people you might get a chance to see include Will Durst, Dan St. Germain, and Greg Proops. See a schedule of upcoming shows below.
>> Additional comedy shows around SF
7. Salesforce Tower 61st Floor Tour
The new Salesforce Tower is a wonderful addition to downtown San Francisco. This 61-story building is now the tallest in all of SF and this gives you a chance to visit their 61st Floor that is open to the public for tours. It is also called the Ohana Floor in case you see it listed under this name.
It's open to the public one Saturday a month and they offer four different tour times that day. They will then give you 1 hour to check out the amazing views including ones of the Golden Gate Bridge, the Pacific Ocean and Alcatraz Island.
The only downside is that the tours book up really early. If you know your dates for your upcoming visit, make sure to visit their site and sign up for their "notify me" e-mail to find out when they announce new dates.

8. Downtown Breweries
You will also find several fantastic breweries in downtown San Francisco. Here are just a few of my favorites. 
Bartlett Hall: This craft beer and gastropub is a great place to stop when exploring Union Square. They have American dishes and some great happy hour specials. 242 O'Farrell Street. 
Cellarmaker Brewing Company: This is another great spot for craft beers. They feature small-batch brews, so you'll often find something different on their menu every time you visit. 1150 Howard Street. 
21st Amendment Brewing & Restaurant: This is an old-school San Francisco brewery near the ballpark. It's the perfect stop before or after a Giants game or when you are exploring the South of Market District. They also have tasty burgers and a number of other amazing American dishes on their menu. 563 2nd Street.
>> More great breweries around SF
9. Westfield San Francisco Centre

If you plan to do a little shopping while you are here, you will love the variety of shops inside the Westfield San Francisco Centre. You will find everything from shoes to clothing to gifts for yourself or loved ones.
The anchor stores at this downtown San Francisco shopping center include Nordstrom's and Bloomingdales. Other top picks include Abercrombie & Fitch, Claire's Boutique, Footlocker, and others. You can also pick up some Ghirardelli Chocolates, enjoy a casual lunch in their downstairs food court, or see one of the latest films at the Century Theater. 
You will find it at 865 Market Street.
>> More places to shop around SF
10. Cable Cars

Downtown San Francisco is also where you will find all three of our cable cars. Two of the three depart from Powell near Market Street. The Powell/Hyde line takes you up and over Nob Hill with a final stop in Fisherman's Wharf.
The Powell/Mason line takes you through North Beach with a final stop three blocks south of the Fisherman's Wharf area.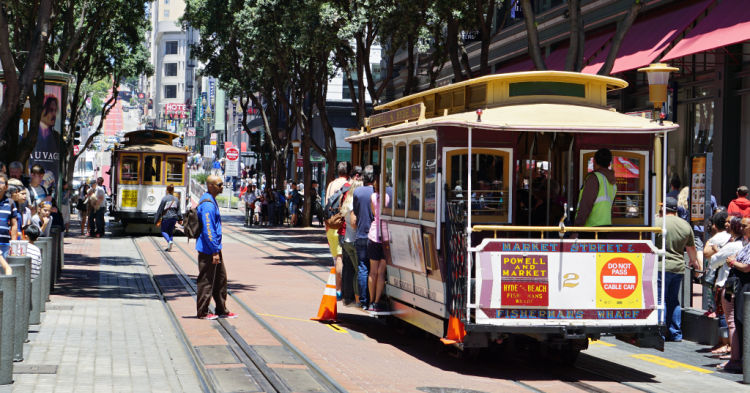 The third line runs east and west along California line. You can pick it up at California and Drumm Street. It will take you up to Nob Hill and all the way to the corner of California and Van Ness.

11. Walking Tour of Union Square and Chinatown
Visit two of San Francisco's top districts on this 2.5-hour walking tour.
On this tour, you'll learn the history of Union Square and its important role in the Gold Rush. You'll find out about the colorful hearts around Union Square and other popular pieces of art around the district.
You'll then head over to Chinatown, where you will hear about the history of the oldest Chinatown in the US. You'll find out how it changed over time and admire some of its beautiful street art.
Both morning and afternoon tours are available. It runs most days of the week. Visit Viator to learn more and check for ticket availability. 
12. Golden Gate Fortune Cookie Factory

Another cool thing to see in downtown San Francisco is the Golden Gate Fortune Cookie Factory. This quick stop is a fun place to visit and gives you a glimpse into the world of yesterday. You will see how fortune cookies are made and will even get a chance to buy some of their delicious treats.
It's free to visit, but you will need to pay $1 to take some pictures. It's located at 56 Ross Alley in Chinatown.
>> Explore all of Chinatown with this fun guided walking tour
13. Chinese Temples

Another must see in downtown San Francisco is one of the historic Chinese temples in Chinatown. Most feature historic altars and gorgeous décor. My three favorites include the Kong Chow Temple, the Tin How Temple, and the Ma Tsu Temple.
The Kong Chow Temple has ancient artifacts even though it relocated to this location in 1977. The Tin How Temple was built in the mid-1800s. The final temple is quite a bit newer but offers quite a vibrant colors and newer altars.
14. Contemporary Jewish Museum

The Contemporary Jewish Museum is a great place to see art relating to the Jewish Culture and learn more about the San Francisco Jewish community. They offer a handful of full-time exhibits, but most of their space is dedicated to temporary exhibits featuring Jewish artists from around the world.
Exhibits include everything from paintings to sculptures to works about Jewish history and culture. 
Their new building opened in 2008 which is a combination of old and new building materials. Make sure to spend time not only admiring the exhibits but also taking a close look at the structure for the museum itself.
>> Use the Go San Francisco Pass for admission to this museum and many others
15. Dragon's Gate

You cannot miss the Dragon's Gate which is the official entry point into Chinatown. This downtown San Francisco attraction features a traditional green tiled top with two dragons on the top of it.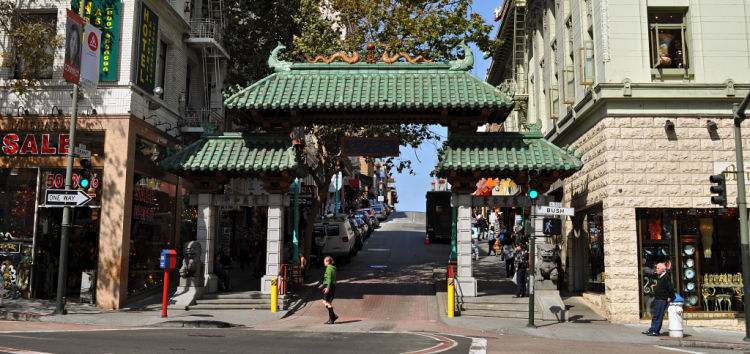 There are also detailed columns with Chinese writing on the sides. Once you step inside the district, make sure to also check out the light posts throughout the district.
The first set is just a few steps inside the gates.
They have similar detail and they are worth some time to view and even photograph.

16. Museum of African Diaspora

The Museum of African Diaspora is another great find in the downtown San Francisco district. The museum tells the story of the African Diaspora through hands-on exhibits, audio recordings, and videos. 
They did an amazing job with this museum. It isn't like a typical museum with artifacts throughout, as it is more like an interactive learning experience with their hands-on displays.
17. Concerts at August Hall

If you are looking for some live music in downtown San Francisco, head over to August Hall at 420 Mason Street. They offer live music several times each month. 
The building opened in the mid-1890s as a Victorian Playhouse by August Headman. It then became a USO club called The Stage Door, which premiered Alfred Hitchcock's film Vertigo.
If you haven't seen the movie, you definitely will want to when you get back, that way you can see what August Hall looked like back in the day.
18. Rincon Center Murals

Step into the old Rincon Post Office for a look at more than 20 historic murals. Completed in 1948, these murals caused quite the controversy during their time. They were created by an artist that had never visited San Francisco, but created the murals based on what he thought the area was all about. 
The murals walk through SF's history from before the Gold Rush all the way to the pre-WWII era. You will see scenes with the building of the Golden Gate Bridge and other interesting figures from that time. 
They are free to visit and worth a spending some time at for those that love history and interesting art.
>> Additional places to find murals and street art around SF
Where to Stay in Downtown San Francisco

Downtown San Francisco has the largest concentration of hotels in the city. You will find everything from five-star beauties to budget-friendly gems. Here are just a few of my top picks.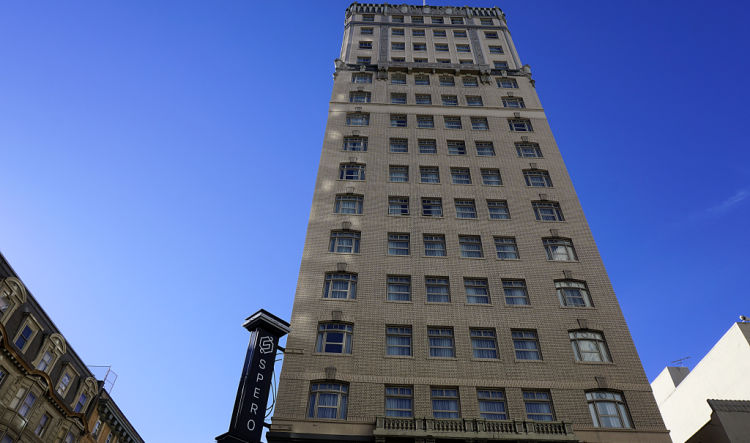 Westin St. Francis: 4-star hotel in the heart of downtown San Francisco in Union Square, you will find a couple of lovely restaurants inside the hotel and a great wine tasting room, and it's the only hotel right on the square, 335 Powell Street, learn more and check for availability
Omni San Francisco Hotel: 4.5-star hotel in the Financial District, located right on the California Cable Car line and walking distance to shopping, restaurants, and several attractions, 500 California Street, find more details and booking information
The Park Central: 4-star hotel in the SoMa district, really close to the SF Museum of Modern Art, the SF Cable Car turnaround on Powell, and the Westfield Shopping Centre, 50 Third Street, find more details and availability and reviews.

Find additional lodging recommendations for downtown SF.

How to Get to Downtown San Francisco

Public Transit

Public transit is the best way to get around downtown San Francisco. You will find a variety of options that take you to places all around the city. Here are a few popular routes.
F Streetcar: This will take you all the way to Fisherman's Wharf. It's a slow ride but worth your while as it takes you past top attractions along the way including the Ferry Building, Alcatraz Landing (where you grab the ferries to Alcatraz), then Pier 39 and finishes at Fisherman's Wharf. You can pick it up at stops along Market Street.
Cable Cars: All three cable cars have stops in downtown San Francisco. You can take the Powell/Hyde or the Powell/Mason all the way to Fisherman's Wharf.

Buses: There are numerous buses that come through this area. Popular routes include the 30 to Chinatown, the 6 or 7 to Haight-Ashbury, and the 5 to Golden Gate Park.

Light Rail: You can also take the light rail trains. All of the trains run through this district (underground). You can take them to Oracle Park which is home to the San Francisco Giants' baseball team and other events, Ocean Beach, the Civic Center, Dogpatch, and other places around SF.

Driving & Parking

If you plan to drive, you will find quite a few parking options. It can be a hectic part of town, so make sure to stay alert as there are pedestrians and scooters all around the downtown San Francisco area.
Here are a few places to park.
Sutter Stockton: The Sutter Stockton Garage is a great option for those heading to the Financial District or Union Square. It's one of the largest garages in the area and well located next to several districts. 444 Stockton Street.

Union Square Garage: The Union Square Garage is my top pick for those visiting the Union Square area. It's a medium sized garage underneath Union Square Park. It's great if you plan to go shopping or grab dinner in this district. 333 Post Street.

5th and Mission Garage: The 5th and Mission Garage is great for those heading over to the Westfield Mall, Yerba Buena Gardens, or other places in the SoMa district. It's a huge parking facility that is easy to find and has plenty of places to park on most days. 833 Mission Street. 

Comments? Questions? Suggestions?
I would love for you to join me in my private Facebook group! 
It's a great place to interact with me and others who know the area well.
You can ask questions, get advice for your upcoming stay, and then share your photos and advice with others when you return home. It's a great community and the fastest way to get answers to those nagging questions about your visit!