Chinese Temples in Chinatown SF: What You Need to Know to Visit These Temples in San Francisco
To learn even more about the Chinese culture during your visit to San Francisco, you should take a few minutes to check out one of their temples. These are my three favorite Chinese temples in Chinatown SF.

All three open their doors to visitors.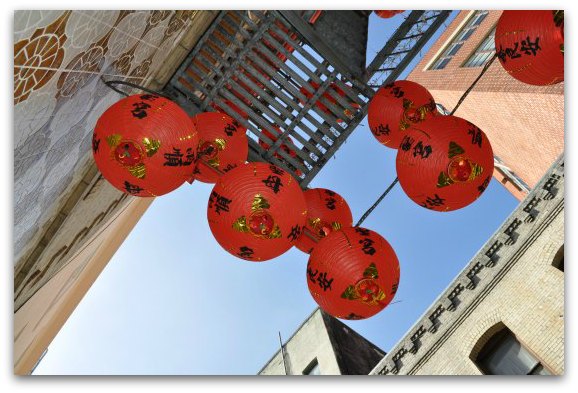 Disclaimer: I receive a small commission from some of the links on this page.

Tips for Visiting Chinese Temples in Chinatown SF
Even though they welcome visitors, there are a few rules to follow when you enter each one. They are not posted, but it's a great way to show your respect to those that are there to worship.
No Photography: They prefer that you do not take photographs. Kung Chao and Tin How forbid it all together, while the Ma Tsu only allows photography if no one is there for prayer during your visit.
Be Respectful: Do your best to stay out of the way of those that are at the altars or making their way to the altars.
Keep Chatter to a Minimum: You are free to talk and discuss items on display, but keep it to a minimum so you don't disturb others.
Don't Touch the Altar or Artifacts: They ask that you don't touch any items. They are not behind display cases but refrain from touching them. Also, secure your bags so you don't accidentally hit one of them.
Don't Expect a Tour: Many visitors comment that the people that work in the temples are rude. It is true that you won't be greeted or shown around, but keep in mind that is because it's a place of worship - not a true 'attraction'. If you have a question, don't hesitate to ask, but expect that you may not always get an answer.
Kong Chow Temple

The Kong Chow is one of the most important Chinese Temples in Chinatown SF. The original one was built in the mid-1800s. However, it was destroyed by the 1906 earthquake and fire that devastated San Francisco.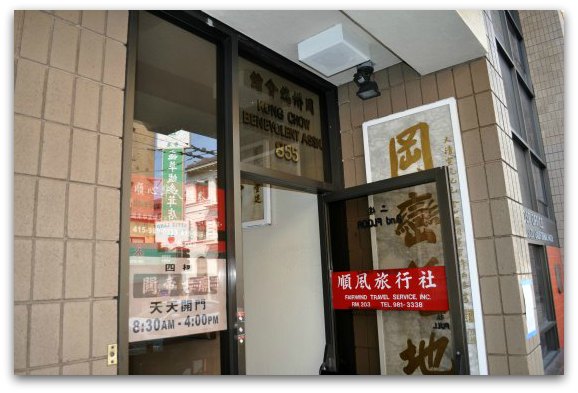 After the earthquake and fire, a new temple was built. It was then moved to its current location in 1977.
This one honors Guan Yu, the God of War. He is one of the most well-known Chinese figures.
People that come here ask Guan Yu for protection against evil events, demons and bad fortune in their lives. It's a popular place for the local community to visit.
Take notice of the altar and some of the statues here as they are the oldest Chinese relics in the United States.
The temple is small, and it only takes a few minutes to look around.
The temple on the top floor at 855 Stockton Street. It is usually open every day from 9am to 4pm.
Once you enter the building, you can either walk up the stairs or take the elevator to the top floor. If you walk up the stairs, you will walk right through the temple door.
If you take the elevator, head to the right when you get to the top floor. You can't miss the door to the temple.
At all three temples, you may feel a little strange walking in - or at least I did my first time. Don't worry, even though you won't be greeted by anyone, they are public places, and everyone is welcome to visit.

I also make sure to drop a few dollars in their donation box whenever I visit. I recommend you do the same. This helps with the maintenance of the temple, so others can enjoy it for years to come.

Tin How Temple

The Tin How Temple is the oldest of the Chinese temples in Chinatown SF. This one was also built in the mid-1850s. Unlike the Kong Chow Temple, it remains in its original location.
The first thing that will catch your eye here is the beautiful wood carving. You will be tempted to pull out your camera but remember that this temple does not allow any photography.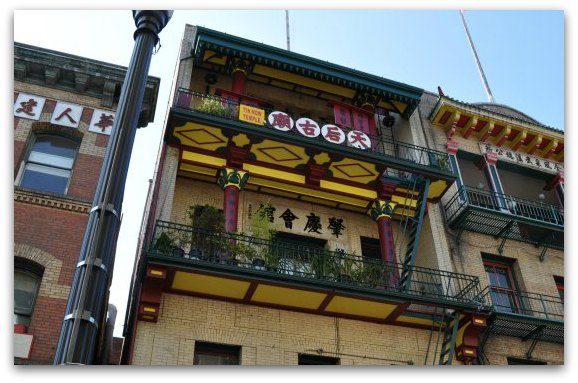 The gorgeous red and gold throughout the temple is also very striking. In total, it will take you less than 10 to 15 minutes to walk through this temple.
You will find in at 125 Waverly Place. It is open from 9 am to 5 pm daily.
This temple is also on the top floor but does not have elevator access. If you want to visit this temple, be prepared to climb three flights of stairs.

Ma Tsu Temple of USA

The third of the Chinese temples in Chinatown SF that I enjoy visiting is the Ma Tsu Temple of USA. It is more modern than the previous two temples. It's the easiest one to access as it is on the first floor of the building.
The Ma Tsu Temple is a Buddhist and Daoist Temple. This is the only one of the three where they allow photography as long as no one is there for worship.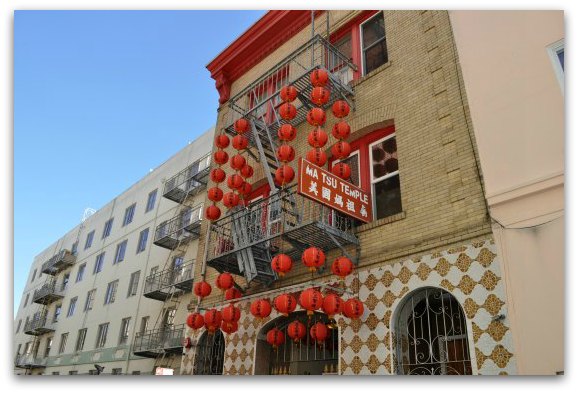 Inside this temple, you will see a number of colorful statues and altars. This temple has the most space to walk around in of the three listed here even though it is also small.

If you want to see a temple, but are feeling uncomfortable about intruding, I recommend stopping at the Ma Tsu Temple. Since it's on the first floor, you can easily see most of it from the street without entering.

The woman that typically works in this temple does not speak very much English. However, she is very friendly and will help you if she is able.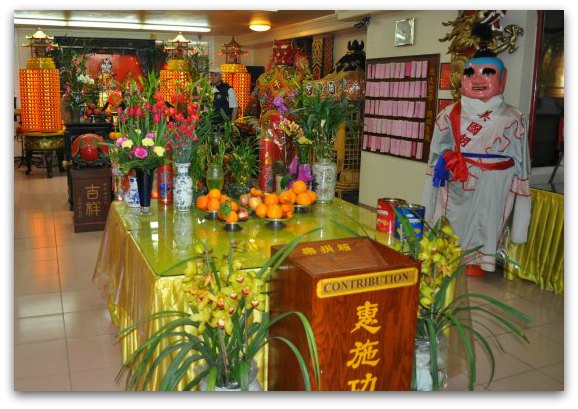 You will find this temple at 30 Beckett Street. Once you turn down the street, you will see the red lanterns hanging out front. You can't miss it.

Disclaimer: I receive a small commission from some of the links on this page.

Chinatown Tours

If you don't want to venture out on your own, a great way to find these Chinese Temples in Chinatown SF is on a guided walking tour of the neighborhood. Most of these tours take you inside at least one temple.
In addition, they will take you past other Chinatown hot spots and show you some hidden gems. They will also provide you with tips on the best places to grab dim sum or other meals in the district.
You will find both free and paid guided walking tours. The free tours do a good job but offer more of a highlight of the neighborhood. The paid tours go into more detail and take you to more hidden spots in the neighborhood.
Here you will discover more details on all the Chinatown tours that are currently offered. On this page, you will find a little information on both the free and paid tours. Read each description to determine the one that works best for you!
Other Tips for Visiting Chinatown

Comments? Questions? Suggestions?
I would love for you to join me in my private Facebook group! 
It's a great place to interact with me and others who know the area well.
You can ask questions, get advice for your upcoming stay, and then share your photos and advice with others when you return home. It's a great community and the fastest way to get answers to those nagging questions about your visit!