San Francisco Festivals in 2020
Your One Stop Resource for All Festivals & Street Fairs in SF
NOTE: On December 6, San Francisco (and a few surrounding counties) will once again be on a stay-at-home order. This will last indefinitely. Click here for more information.
The streets are alive again in 2020 with the San Francisco festivals and street fairs. Many of these SF events draw hundreds of people and are a tradition in many of these neighborhoods.
Entrance is free to many of them. At most festivals, you can walk the streets and enjoy live music, food and drinks. You can also visit booths with original art work, crafts, jewelry and more.
NOTE: Due to current health restrictions, all festivals are on hold. Once I have more information about when they can resume, I'll update this page. You can also check out out typical schedule by month, so you know when to expect once they are back up and running!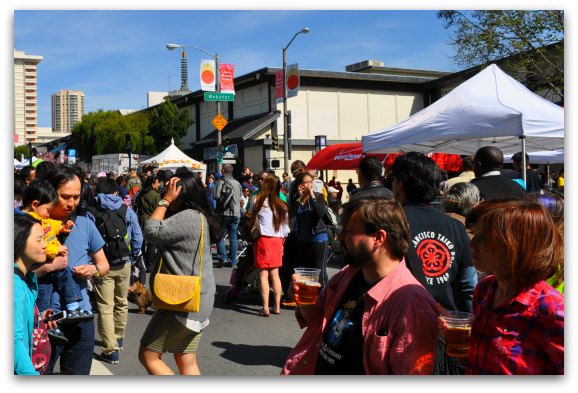 Disclaimer: I receive a small commission from some of the links on this page.
Types of SF Festivals
Click the links below for a list of popular annual festivals based on interests.
Food | Music | Parades | Street Fairs | Wine
March 2020
Ocean Film Festival
2020 festival is postponed.
More than 50 works that explore our amazing oceans
Pieces about the ocean's ecosystem, interesting plants and animals and more
Saint Patrick's Day Parade & Festival
At Civic Center Plaza in the heart of the city
Live music, cold beer and dancing
Outside the main festival is a fun, family friendly area with activities for the kids
Date: Postponed
Parade starts at 11:30am
>> More details on our March festivals
Hotel Deals Around SF
Planning to spend a night or two as you enjoy some of the top San Francisco festivals? If so, make sure to check out these top hotels deals for your stay.
Booking: Find great deals all around San Francisco for your upcoming stay!
TripAdvisor: What's the #1 hotel in San Francisco? Read reviews & find hotel deals on TripAdvisor!
April 2020
Union Street Spring Celebration
28th Annual Spring Celebration & Easter Parade
Date: TBD
Event is from 10am to 5pm
Parade starts at 2pm
Union Street, Gough to Fillmore in the Marina District
Cherry Blossom Festival
Two weekend long celebration every spring
In SF's Japantown neighborhood
Dates: Postponed
Listen to traditional Japanese music, sample gourmet treats and visit dozens of other vendors
International Beer Festival
Date is 4/18
37th Annual Beer Festival from 7 to 10pm
Sample beers from more than 100 brewers from around the world
Cesar Chavez Holiday Parade and Festival
Celebrates the life and work of this labor and civil rights leader
Date: TBD
Parade starts at 11am at Dolores Park
Festival is on 24th Street between Treat and Bryant from 12pm to 5pm
Festival includes entertainment, music and arts & crafts booths
Glen Park Festival
Family friendly event in the Glen Park neighborhood
Food, entertainment and crafts from local artists
Two children's areas with live entertainment, games and two jumpy houses
Event runs from 10am to 4:30pm
Date: TBD
International Film Festival
63rd Annual International Film Festival
Features over 150 films and live events over a two week time period
Showcases narrative feature films, live action, animated shorts, television and theatrical dramas
Dates: 4/8 - 4/21
Bay Area Dance Week
600+ free performances in San Francisco and the Bay Area
Shows from both amateur and professional dancers
10-day event
Dates: 4/26 - 5/5
>> A calendar of more festivals in April
May 2020
Taste of Potrero
Eat, drink, and be merry at this year's Taste of Potrero
Sample some of SF's best food and drinks
Raise money for public education
Date is TBD
Mission Carnaval Celebration
Dates 5/23 & 5/24
Street fair celebrating diversity in the neighborhood and throughout the world
Focused on the Latin American and Caribbean cultures
Food, music and dancing in the streets
Festival is free
Taiwanese American Cultural Festival
Enjoy Taiwanese food, music, and other cultural activities
Free and open to the public
Event in Union Square from 10am to 4pm
Date is TBD
>> More May events in San Francisco
June 2020
Stern Grove Festival Free Concerts in the Park
Every Sunday afternoon from mid-June to mid-August
Specific dates for 2020 are TBD
Weekly outdoor musical festival
Starts at 2pm
Admission is free
Dates are TBD
In the Marina District, on Union Street between Gough and Stein
250 craft booths, 25 gourmet food booths
2 stages of live entertainment
Bistro style cafes by local restaurants
Admission is free
Soy & Tofu Festival
Date: 6/13
Saint Mary's Cathedral in Japantown
Sample soy and tofu products from a variety of vendors
Enjoy live music from Asian American performers
Participate in the interactive games
Attend an educational session on the uses of soy
SF Jazz Fest
Two week long festival of jazz performances
Dates: TBD
All performances are at the new SF Jazz Center or other Civic Center performance centers
Dates are 6/20 & 6/21
From 10am to 6pm in the North Beach neighborhood
125 arts and crafts booths
20 gourmet food booths
Three stages with live entertainment
Italian street painting and beverage gardens
Children's activity area
Admission is free
Date is TBD
In the Haight Ashbury District
Three stages of live music
From 11am to 6pm
Six blocks of vendors from crafts to gourmet treats
Admission is free
Gay Pride Parade & Festival
This year's theme is Embrace, Encourage, Empower
Festival is 6/27 & 6/28
Parade starts at 10:30am on Sunday
Festival includes more than 300 exhibitors
You will also find live music and dancing in the streets all day long!
Juneteenth Festival
Date is TBD
It's the 57th year for this festival, celebrating the 152th anniversary of the Emancipation Proclamation
On Fillmore Street between Post & Turk Streets
Parade begins at 11am
Two stages of entertainment
A Kiddy Corner
Free and open to the public
SF Free Folk Festival
Date is 6/13
One full day of music, dance workshops, concerts, crafts and more
Free festival, but you can support the festival with a donation
At Cyprian's Center, 2097 Turk Street (at Lyon)
Ethnic Dance Festival
Four weekends of dance performances, workshops, panel discussions and more
Dates are 6/13 & 6/14 + 6/20 & 6/21
>> Additional festivals in June
July 2020
TBD in the Pacific Heights neighborhood
One of the largest free jazz festivals on the west coast
From 10am to 6pm both days
Hundreds of booths showcasing unique art, crafts and other goodies
Dozens of food and beverage booths
On Fillmore Street between Jackson and Eddy Streets
Yerba Buena Festival
Annual event at the Yerba Buena Gardens in SOMA
Runs from May through October
Several performances each week from kids shows to local musicians
Breastfest Beer Festival
Beer festival and fundraiser for low-income women diagnosed with breast cancer
Features more than 35 breweries from around the world with many local favorites
Date is 7/18
This year's event is in Marin at the Marin Center in San Rafael
>> More events in July in San Francisco
August 2020
One of the largest outdoor live music festivals in SF
Dates: TBD
In Golden Gate Park on the western side of San Francisco
Features gourmet food, internationally recognized wines and work of hundreds of arts on display.
2020 Dates: TBD
Two main stages
Merchant marketplace with arts and crafts booths
Several gourmet food and beverage vendors
From 10am to 6pm each day
On Polk between California & Sutter
Admission is free
Nihonmachi Street Fair
Asian-Pacific American festival that features traditional and non-traditional performances, art, music and more
Sample yummy foods from Asian Pacific Countries as well as San Francisco favorites
Two stages with live music all weekend long including everything from jazz to rock
Bring along the kids for Asian inspired crafts and other fun games
Dates are TBD in Japantown
Stern Grove Festival Free Concerts in the Park
Every Sunday afternoon from mid-June to mid-August
Specific dates for 2020 are TBD
Weekly outdoor musical festival
Starts at 2pm
Admission is free
>> More events in August in SF
>> Concert calendar for August
September 2020
Fringe Festival
Grassroots theater festivals
2020 Dates: TBD
All performances at the Exit Theaterplex at 156 Eddy Street
35 groups performing 150 shows
Green Film Festival
Films showcasing people and the environment around us
More than 60 films this year from 21 countries
Focus on our impact on the earth and ways we are trying to save it
Dates: TBD
A Taste of Greece
SF's only Greek Food Festival
In the Mission at the Annunciation Cathedral
2020 dates are TBD
Enjoy traditional food, music, and wine
Chinatown Mid-Autumn Moon Festival
2020 Dates are TBD
Starts with a parade on Saturday morning
Features live entertainment, arts & crafts, and traditional food all weekend long
11am to 6pm both days
Oktoberfest by the Bay
2020 Dates are TBD
At SF's Pier 48
Enjoy German food, beer, and entertainment
Head over during one of four sessions during the weekend
Folsom Street Fair
Worlds largest leather & fetish event
2020 date is TBD
From 11am to 6pm
On Folsom Street between 8th and 13th Streets
Admission is free
>> Full concert calendar for September
October 2020
Hardly Strictly Bluegrass
Free Bluegrass Festival held in Golden Gate Park
Date is TBD
Music is free, dozens of food and beverage vendors on hand selling a variety of items
Castro Street Fair
Date is TBD from 11am to 6pm
Intersection of Market Street & Castro Street in the Castro
Live music, almost a hundred booths
Small entrance fee that is donated to local non-profit organizations
Fleet Week San Francisco
Date: TBD
Along the waterfront in both Fishermans Wharf and the Marina Districts
Thousands of people attend every year
Blue Angels perform over the weekend
Litquake
Longest running literary festival in SF
Dates are TBD
Literary events from panel discussions to author readings
All around San Francisco
The Wharf Fest
Date is TBD
One day of activities ranging from live music to a Segway obstacle course
Other events include a chowder competition, fireworks, and booths from local artists
International Festival of Short Films
Date is TBD
All films play at the Roxie Theater in the Mission
Shorts about important moments in people's lives including gains and losses, aspiration, and giving everything for your dream
Potrero Hill Festival
Date is TBD
In Potrero Hill on 20th between Wisconsin and Missouri
Local musicians, food, historians, and other activities for the entire family
November 2020
Dance Film Festival
Date: TBD
All films focus on the art of dance
Most films show at the Bravo Theater in San Francisco
Ski & Snowboard Festival
Explore the latest ski and snowboard gear for the upcoming snow season
Sip wine and brews along the way
Pier 35
Dates are TBD
Tree Lighting Ceremonies
Dozens of tree lighting ceremonies all around San Francisco
Watch them in Union Square, Pier 39, and Ghirardelli Square
Enjoy parades, live music, and other family fun as well
Hip Hop International Dance Fest
One of the largest Hip Hop Dance Festivals in the world
Three days of performances
All shows at the Palace of Fine Arts Theater
2020 Dates are TBD
Craft Festivals at Fort Mason
Offer unique pieces from popular local and national artists
Buy gifts for the holidays or yourself
Offer everything from jewelry to art work
West Coast Craft Fair: TBD
Renegade Craft Fair: TBD
Great Dickens Christmas Fair
Stroll through history at the Great Dickens Christmas Fair
Enjoy food, crafts, and entertainment
Five weekends in November & December
All activities are at the Cow Palace
Dates 2020: TBD
>> Full calendar of events in November
December 2020
Great Dickens Christmas Fair
Stroll through history at the Great Dickens Christmas Fair
Enjoy food, crafts, and entertainment
Five weekends in November and December: 2020 from TBD
All activities are at the Cow Palace
Tree Lighting Ceremonies & Holiday Events
Dozens of tree lighting ceremonies all around San Francisco
Watch them in Union Square, Pier 39, and Ghirardelli Square
Enjoy parades, live music, and other family fun as well
Another Hole in the Head
18th Annual Film Festival
Genre: Horror, Sci-Fi, Dark Fantasy, and Exploitation
10 days of independent films
Dates: TBD
January 2021
ZAP Wine Festival
Wine festival focused on Zinfandel wines
Offers the best Zins from California producers and beyond
At the Presidio and the Four Seasons Hotel
Date: TBD
Martin Luther King Jr. Festival and March
Celebrate the work of Martin Luther King Jr.
All day long event with a film festival, art festival, march and more
Date: TBD with most events on the holiday itself
Bay Area Brews Festival
Sample wines from dozens of national and international brewers
Enjoy gourmet food from SF's famous food trucks (food sold separately)
General admission $50 from 1pm to 4pm or from 5:30pm to 8:30pm
VIP admission $70 from Noon to 4pm
Fort Mason Center
Date: TBD
SF Sketchfest
San Francisco comedy festival
Performances at venues throughout the city
2021 Dates: TBD
February 2021
Chinese New Year's Street Festival
Dates: TBD
Parade is on TBD
Fair includes traditional dancing, art, and Chinese food
Discover lion dancing, calligraphy, and other activities
SF Giants Fan Fest
2021 Date is TBD at Oracle Park
Meet some of the players, get autographs, and pick up single game tickets
Find gear for the 2021 season
Get your picture taken with the World Series trophies
Meet other SF Giants fans
SF Indie Fest
Independent Film Festival heading into its 22nd year
Show include the best in independent, alternative and subversive movies from around the world
One of SF's largest film festivals
2021 dates are TBD
Salsa Rueda Festival
Learn to dance or freshen up your skills during the daytime workshops
Practice and mingle with others during the nightly parties with world famous bands
2021 Dates are TBD
All activities at the Hotel Witcomb
Noise Pop Festival
Independent film, art, and music
2021 Dates are TBD
Several venues around San Francisco
>> More on these and other SF festivals in February
Click here to download the list of all major annual San Francisco festivals and street fairs.

Follow SFTourismTips on Facebook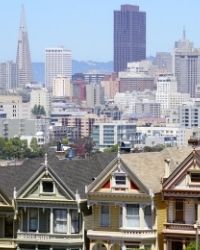 On my Facebook page, you will find more great information about planning your San Francisco vacation.
It includes tips, must see attractions, and other fun details.
Click the link below to check it out. If you enjoy the page, give us a like.

Other Popular SF Events