San Francisco Events in July 2023: Fourth of July, Festivals, & More

by Jill Loeffler  •

Updated: July 9, 2023
Celebrate summer with these San Francisco events in July 2023. You can enjoy sporting events, festivals, free museum days, and so much more. The city also has a large Fourth of July waterfront celebration and fireworks display for the public! 
You will find a handful of concerts and comedy shows. I've also included some of the top cruises, city tours, and day trips for you to explore even more! 
Disclaimer: I receive a small commission from some of the links on this page.

Sporting Events

SF Giants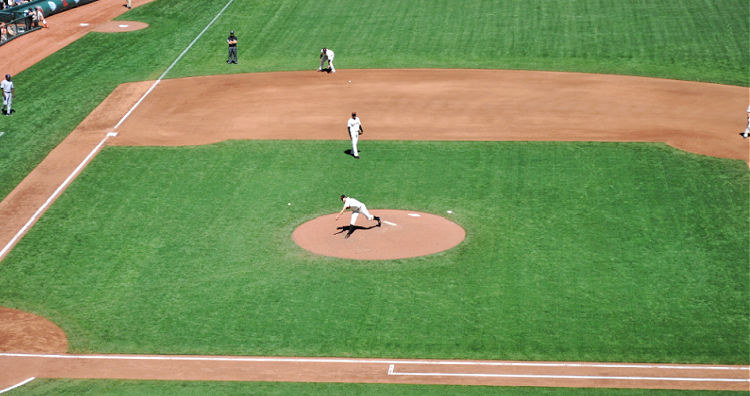 The San Francisco Giants taking the field at Oracle Park.
Dates: 7/3 - 7/5, 7/7 - 7/9, 7/25 - 7/26, 7/28 - 7/30, and 7/31 - 8/3
Location: Oracle Park
Tickets: Ticketmaster | StubHub
You will find fourteen SF Giants home games in July 2023. Watch them take on the Seattle Mariners, Colorado Rockies, Oakland Athletics, Boston Red Sox, Arizona Diamondbacks.

Considered one of the best baseball parks in the US, Oracle Park is a fun place to watch the SF Giants. They have a tasty selection of treats, fun activities for kids of all ages, some of our best local beers on tap, and views of the SF Bay from most seats in the park. Don't miss out on these popular San Francisco events in July.

You will find Oracle Park in the South of Market (SoMa) District.
Click the link below to learn more about their full schedule, how to get here, and other tips to see a game at Oracle Park.
>> Discover the full 2023 schedule for the SF Giants

Oakland A's Baseball

Dates: 6/30 - 7/2, 7/14 - 7/16, 7/17 - 7/19, and 7/20 - 7/23
Tickets: Ticketmaster | StubHub
You can also head over to Oakland to catch a game with the Oakland A's. If you love the American League, this is your chance to catch a game. They play nine home games this month.
The A's take on the Chicago White Sox, Minnesota Twins, Boston Red Sox, and Houston Astros. 
>> July schedule of games for the Oakland A's

San Francisco Marathon
Date: 7/22 & 7/23
This year marks the 46th edition of the San Francisco Marathon! Spend your Sunday morning touring SF's streets with your own feet by joining more than 27,000 other runners in either the 5K, half, or full marathon. 
You'll run past landmarks like the Embarcadero, Fisherman's Wharf, Crissy Field, the Golden Gate Bridge, Coit Tower, Golden Gate Park, the Haight-Ashbury, and the Mission.

Make sure to register today as this is one of the most popular running races and San Francisco events in July.

>> Visit their website for details & to register
Theater: Les Miserables
Dates: 7/5 - 7/23
Location: Orpheum Theatre
Tickets: StubHub

The top theater show this July in San Francisco is Les Miserables. This classic musical is one of the most popular of all time.

It's the story of a prisoner in France in the 19th century that served 19 years for stealing bread. Once he gets out, he breaks parole and an ex-guard that has been hunting him for decades. This three hour long musical is one about sacrifice, redemption, and what one will do to survive.

All shows are at the Orpheum Theater.
>> Read more about seeing a show at the Orpheum Theater
Additional Theater and Broadway Performances in July
A Chorus Line (6/22 - 9/2): What happens when there are only eight spots in a musical and more that one person fighting for each spot? This show takes you through what it's like to a dancer giving everything they've got to become a star in a music. It's won dozens of awards. Find out more on stage at the SF Playhouse this July. Find tickets to all performances.
>> Find additional upcoming shows on my theater calendar
Museums: Free Days & Exhibits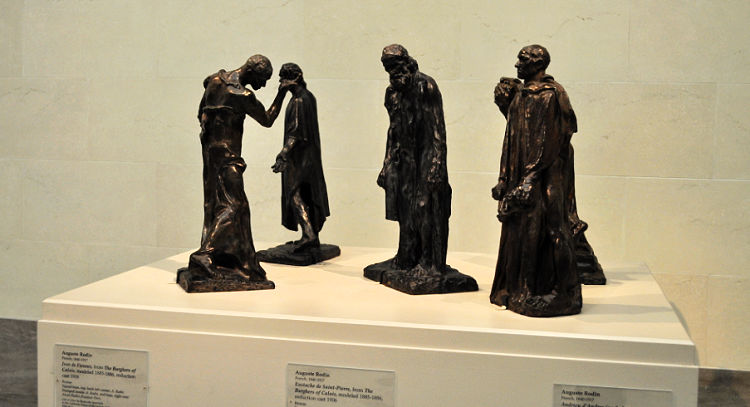 Statues on display at the Legion of Honor in San Francisco.
Free Museum Admission Days
Once a month, several SF museums offer free admission to their permanent collections. Many of these free admission days are offered toward the beginning of the month.
Participating museums include the Conservatory of Flowers, the Contemporary Jewish Museum, and the Asian Art Museum.
It's one of the most popular San Francisco events in July and it's a fun way to see these museums at no cost to you! Find the full schedule of free admission days for July.
Traveling Museum Exhibits
You will find several traveling exhibits this month at some of our top museums. My top picks include The Tudors at the Legion of Honor; Kahinde Wiley at the de Young Museum of Fine Art; and Ragnar Kjartansson, the Visitors at the SF Museum of Modern Art. 
Find out more about SF's museums and their current exhibits.
Nightlife at the California Academy of Sciences
This 21+ event runs every Thursday night in July. It's a fun, themed, adult party where you can mingle with other science lovers and explore the museum's top exhibits with fewer people around.
It's a fun way to learn and see the museum in a different light.
Fourth of July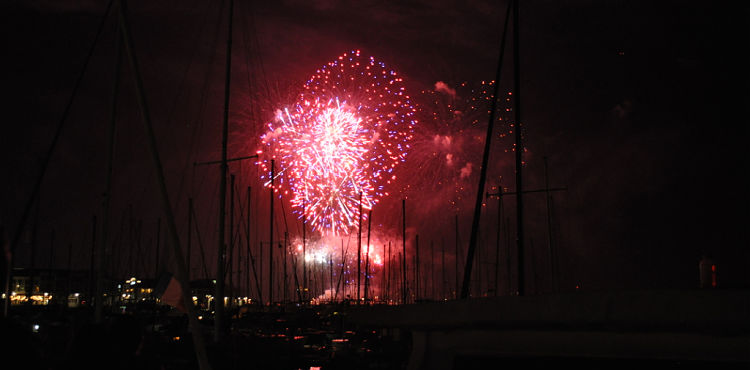 Fireworks over Pier 39 and the San Francisco Bay on Fourth of July!
Date: 7/4 
Celebrate Independence Day 2023 in San Francisco! This Fourth of July will bring lots of fun activities to the city, especially along the waterfront in Fisherman's Wharf. You can enjoy live music, family-friendly activities, and the fireworks display over the water at dark.
It's one of the biggest San Francisco events in July each year!
Fourth of July is also full of other fun activities. You can head out on a cruise, head south to Mountain View for the SF Symphony Firework Spectacular, or enjoy a concert. You will also find some great baseball all week long in Oakland.

>> Find a list of all the top activities and info on the fireworks show

Live Music & Concerts

The marquis at the Warfield showing the performance for that evening.
Head out and enjoy some live music while you're in town, as San Francisco is full of great concert venues from large to small.
Stop into an intimate cafe setting for some local jazz or emerging bands, or purchase tickets ahead of time for one of the bigger names visiting classic venues like the Warfield, the Fillmore, or the Bill Graham Civic Auditorium.
>> Find more concerts for July here

Comedy Clubs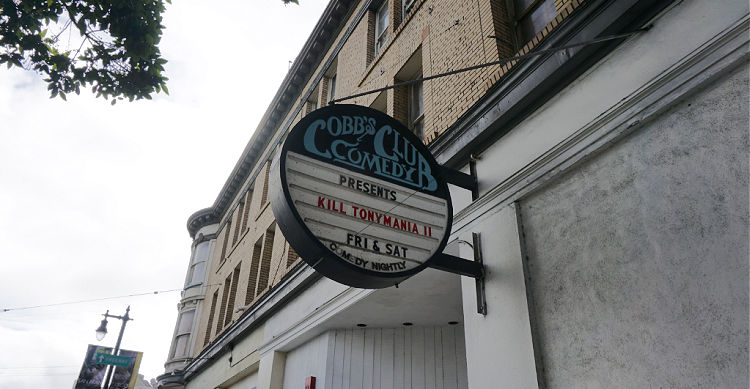 Sign outside Cobb's Comedy Club in North Beach
Dates: Several in July
Laugh the night away at one of SF's premier comedy clubs. Cobb's in North Beach is open. They are known to host the biggest names in stand-up, such as Dana Carvey, Russell Peters, Dave Chapelle, and many more. 

You can also catch local comedians, improv troupes, and musical comedies at those and several other locations all around town.

>> Find a full calendar of shows this month in SF
Festivals, Street Fairs & Other Events in July 2023

Stern Grove (Sundays at 2 pm): It is a San Francisco tradition for people to flock to Stern Grove to enjoy a picnic with friends while listening to incredible live outdoor concerts amidst the tranquility of the trees on summer Sunday afternoons. Many well-known groups perform here, and every week the concert is totally free! All shows start at 2pm. Make sure to book your tickets on advance online as these San Francisco events in July are popular and spots fill up quickly. Without a ticket, you will not be allowed to attend. Find out more about this year's event.

Fillmore Jazz Festival (7/1 & 7/2): The largest jazz festival on the west coast takes place on the weekend before Fourth of July in San Francisco. This is one of the fun San Francisco events in July that offers free live jazz music all weekend long. The festival also features dozens of local artists showcasing their work, top gourmet goodies from SF eateries, and other fun activities. Uncover more details for this year's event.
Golden Gate Bandshell Concerts (Several dates in July): Enjoy free, live music in Golden Gate Park throughout the month of July. Four days a week, you will find all ages concerts in the Golden Gate Bandshell near the California Academy of Sciences. You can listen to Folk/Rock on Wednesdays, Jazz/Soul on Fridays, Cultural/Community Performances on Saturdays, and Reggae on Sundays. Find the full calendar here.
San Francisco Free Folk Festival (7/8): The annual San Francisco Folk Festival is free and offers a variety of dance and music shows, as well as workshops. Guitar, ukulele, waltz, Irish step, and Argentine tango are just a few of the genres you will hear and dance to. In addition, there will be crafts, vendors, and it's one of the San Francisco events in July with fun activities for the whole family.
Frozen Film Festival (7/12 - 7/16): The largest SF film festival in July is the Frozen Film Festival. It offers independent film makers, youth, and underserved communities with great talent but few screening opportunities, a place to show their work to a wide audience.
Bastille Day Festival 2023 (7/15): Celebrate Bastille Day with the Official Committee of French-American Organizations of Northern California. This free outdoor festival runs from 11 am to 6:30 pm and features the best French food, wine and entertainment. It also includes kids activities and tours of San Francisco's French Quarter. All activities will take place at the Embarcadero Plaza at Market & Embarcadero Streets across from the Ferry Building. Visit their site for more details.
Yerba Buena Gardens Festival: The Yerba Buena Gardens Festival is an ongoing summer event offering free entertainment every week from now through October. Find a comfy spot on the Yerba Buena Gardens lawn in SoMa and enjoy live outdoor music, dance, and theater performances that feature both well-known and emerging artists. These shows are a great way to get exposed to classical, jazz, and traditional ethnic music and dances. Get the Yerba Buena Gardens Festival details.
Parks4All: Brewfest (7/29): This Saturday afternoon event is a unique collaboration between the Parks Conservancy and more than 20 local breweries so you can sip delicious craft beers in the recently renovated national park that is the Presidio. Those with tickets are welcome to bring their picnic blankets and their furry friends (on leash) to enjoy the live music, DJs, putting green, food trucks, games, and more. Get more information and tickets here.
LaborFest SF (All month long): LaborFest is an annual month-long event that discusses and educates the public on the struggles of everyday workers from around the world. It features almost two dozen events including documentary films, discussions, and presentations. You can also join in on their walking tours and annual boat tour. Most of the events are free or request a small donation.
Orchids in the Park (7/29 & 7/30): This year's Orchids in the Park is in July at the San Francisco County Fair Building in Golden Gate Park. On display, you will find thousands of gorgeous orchids for sale. The event runs from 10am to 5pm both days. It's one of the more colorful San Francisco events in July. Find out more on their site.
Up Your Alley Street Fair (7/30): This popular leather and fetish street fair is not for the faint of heart. It's one of the San Francisco event sin July that draws in more than 15,000 people each year and is dedicated to those that love leather, whips, toys and so much more. The event is held in the South of Market District on Dore Alley between Howard and Folsom. See their site for more details.
SF Bay Daytime, Sunset & Dinner Cruises in July

The popular 60-minute cruise on the SF Bay.
One of the best San Francisco events in July is our popular cruises. You can head out on the water during the day for the 60-minute bay cruise, the bridge-to-bridge cruise or the high-speed Rocketboat adventure.
As the sun goes down, you will also find a number of popular happy hour, sunset, and dinner cruises. Almost all of them cruise under the Golden Gate Bridge, near Alcatraz, and along the SF Shoreline. You will get some amazing views of the entire SF Bay Area from the boats.
Many of these run daily and it's an experience you will never forget. Here are just a few of the top options. Click the links for more details and ticketing information.

SF Bay Cruise: 60-Minute cruise around the bay with narration

Sunset Sailing Cruise: 1.5 hour cruise that leaves at 7pm in July, includes both indoor and outdoor seating, two drinks and light appetizers with each ticket
Additional SF Tours

Tours to Yosemite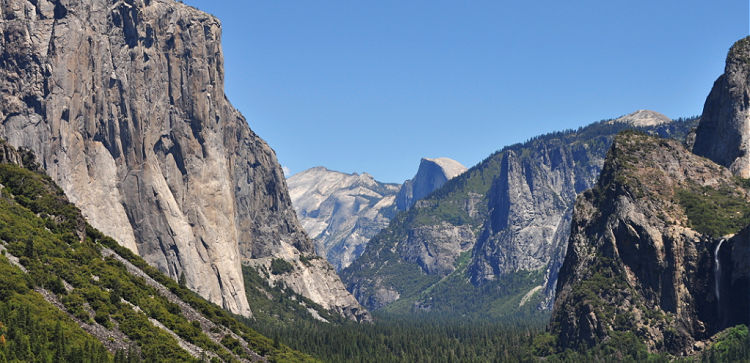 One of the first stops in Yosemite on the one day guided tour with Half Dome in the background.
Another one of the popular San Francisco events in July is our tours to Yosemite. This amazing national park offer views around every corner.
During your tour, your guide and driver will do the heavy lifting to get you to Yosemite which is about 4.5 hours away. Upon arrival, they will drive you to see some of it's top attractions including El Capitan and Half Dome. 
You will then get some time to wonder around and do a little hiking on your own. These highlights tours go fast, but it's a great way to see the natural wonders at this amazingly beautiful park.

You can also select one of the two- or three-day tours. These will give you more time to play and explore the park. The price for the tour also includes lodging or camping equipment.

Here are a few of the top tours.

One-Day Yosemite Tour: Runs every day in July and leaves SF around 7am, 3 hours of free time in Yosemite plus additional time in the park with your guide, 13.5 hour tour

1-Day Yosemite National Park, Giant Sequoias: Runs daily in July, 14 hour tour, 5-6 hours in Yosemite, a 1-hour Sequoia walk

Yosemite Lodge 2-Day National Park Tour from San Francisco: Small group tour with no more than 13 people, stay overnight at the Yosemite Lodge at the Falls, includes one day in Yosemite Valley and the second day in the outlaying area of the park, returns at around 8pm on day two 

More Fun Day Trips from SF

More Travel Tips for July
More Things to Do in San Francisco in July: In addition to these San Francisco events in July, you will find dozens of other fun things to do. Click the link below for further ideas, such as which cruises to take, which walking tours are the best, and which districts to visit this month. Click here for a comprehensive list of things to do this month in SF
What to Wear in July: Discover tips to help you pack on my weather in July page. Here you will find average highs and lows and a little more about what to expect from the weather each day. I've also included tips on how to dress while you are here. What to wear in SF in July
Other SF Bay Area Events
Marin County Fair (6/30 - 7/4): The annual Marin County Fair is in San Rafael at 10 Avenue of the Flags. This year, you can listen to live music and stroll through the competitive exhibits such as wine, baked goods, photography, animals, and more. It always ends with a large firework display to celebrate Independence Day. Tickets range in price depending on the amounts of days and which concerts you want to enjoy.
Festival Napa Valley (7/8 - 7/23): One of the biggest SF Bay Area events in July 2023 is in Napa. Festival Napa Valley is a 10-day events that features local wineries. All events this year will be outdoors. You can taste wine and enjoy music. You will also find some events online this year.
Outdoor Concerts Around the SF Bay Area: Summer is a great time to catch an outdoor shows in the SF Bay Area. There are several large amphitheaters that offer outdoor shows throughout the season. Some of the most well known include the Greek Theatre in Berkeley, Shoreline Amphitheatre in Mountain View, and the stage at Mountain Winery in Saratoga. You will also find some great outdoors shows near the vineyards in both Sonoma and Napa. 

Mosswood Meltdown (7/1 & 7/2): Mosswood Meltdown (Previously Burger Boogaloo) is a fun musical festival at Oakland's historic Mosswood Park. Hosted by actor, writer, director, and artist John Waters, this event features punk rock, pop, and international acts. Some of the artists that have performed at this event include Bikini Kill, Circle Jerks, and Plastic Bertrand. The event runs for two days and features more than a half dozen artists per day. Visit their site for more details and ticketing information.
Los Altos Arts & Wine Festival (7/8 - 7/9): Spend the weekend in Los Altos for their annual Arts & Wine Festival. This highly anticipated event features unique works from dozens of artists, a large selection of locally produced wines, and a variety of cuisines from local chefs. This family-friendly event also free features live music all day on Saturday and Sunday. This is one of the popular SF Bay Area events in July that is free and open to the public. The festival starts at 10 am each day and ends at 6 pm.
Rodney Strong Summer Concerts (7/15 & 7/30): Rodney Strong is known, first and foremost, as a world class winery that produces high quality wines every year. They also have some of the best musicians come to their winery each year to perform and entertain visitors. You will see top talent and be able to watch them from the green with your favorite wine, and snacks, so you can enjoy the whole show without interruption. Every view from the green is excellent but being that this is an outdoor event, make sure to plan accordingly. Low back chairs are allowed, but tables, umbrellas and tall chairs are not. Visit their site for details and ticketing information.
Clay & Glass Festival in Palo Alto (7/15 & 7/16): Check out the works of more than 150 clay and glass artists at this year's Clay & Glass Festival in Palo Alto. This 2-day event features both fine art and functional pieces that you can use around your house. This is one of the SF Bay Area events in July that also offers demonstrations as well as hands-on workshops. The event is free and is at 1313 Newell Road in Palo Alto. 
Benicia Waterfront Festival (7/29 - 7/30): Spend the weekend on the lovely waterfront at Benicia's annual Summer festival. Soak in the sun as you enjoy live music, craft beers, locally produced wines, and gourmet goodies. There is also a Kid's Activity Alley and Vendor Village. The festival starts at 11 am both days and ends at 6 pm. 

Comments? Questions? Suggestions?
I would love for you to join me in my private Facebook group! 
It's a great place to interact with me and others who know the area well.
You can ask questions, get advice for your upcoming stay, and then share your photos and advice with others when you return home. It's a great community and the fastest way to get answers to those nagging questions about your visit!