San Francisco Shopping: Top Places to Shop in San Francisco
You will find several places for San Francisco shopping. They range from the high-end shops around Union Square to the inexpensive stores in Chinatown.

Here you will discover a shopping guide for the city. Below is a list of the top places to shop in SF. You will find both a brief description and some of the types of shops you will find in each area. Additional information is also available for many of options listed.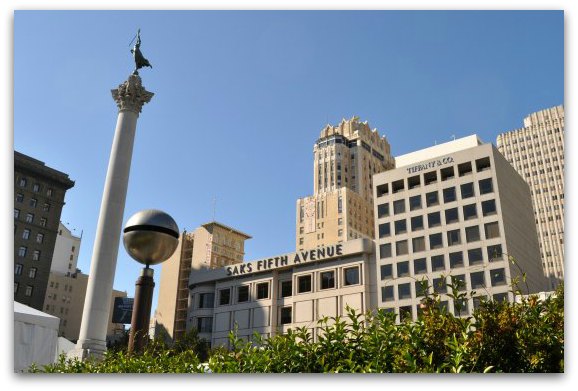 Pier 39

The most popular place for visitors to shop is Pier 39. This restored pier on the water sits on the eastern side of Fisherman's Wharf.
On the pier, you will find a variety of places to shop including both name brand and local stores. You will find everything from jewelry to apparel to gift shops. You can also buy some sweet treats and local wines.
In addition to shopping, Pier 39 is also home to a number of family friendly activities including the Aquarium of the Bay, the 7D Experience, and the Mirror Maze.
You will also find some great places to eat breakfast, lunch, or dinner.
Learn More: Pier 39
Union Square

All around Union Square and the surrounding streets, you will find dozens of shops. This San Francisco shopping area includes high-end brands such as Louis Vuitton, Tiffany's and Sak's Fifth Avenue. Right on the square, you will also find an Apple store, an 8-story Macy's, and a large Nike shop.
If you take a few steps off the square, you will find some great discount retailers such as H&M and Zara. You will also find some great name brand stores such as 7 for All Mankind, Dior, and Burberry.
Down Maiden Lane, you will also find additional great high-end retailers including Hermes, Dior, and Mountblanc.
Learn More: Union Square Shopping
Chinatown

If you are looking for VERY inexpensive items, then head over to Chinatown. The main shopping area is on Grant Avenue. Here you will find gifts, jewelry, luggage and more.
If you want to see what the locals buy, then head over to Stockton Street.
While you are here, you can also sample some tasty dim sum, stop by the Golden Gate Fortune Cookie Factory, or visit one of their colorful temples. You will also find dozens of inexpensive restaurants with a large menu of traditional Chinese dishes.
Learn More: Tips to Shop in Chinatown
Ferry Building

Pier 1 along the SF waterfront is home to the Ferry Building. Here you can sample and purchase tasty treats. Many of the stores here dedicate their space to gourmet foods such as bread, chocolates and cheeses.
You will also find a great wine shop and a couple of kitchen accessory stores.
More and more wonderful restaurants are also opening up shop in the Ferry Building. Some of my top picks include the Slanted Door, Gott's Roadside, and the Hog Island Oyster Company.
Learn More: Ferry Building
Ghirardelli Square

Ghirardelli Square is on the western side of Fisherman's Wharf. This old chocolate factory was renovated and is now a mini-shopping area. There are four Ghirardelli Chocolate Shops here as well as Kara's Cupcakes, Lolo's Stationary and a wine tasting room called Wattle Creek.
You will also find some great restaurants as well as a free walking tour about the history of this old factory.
Learn More: Ghirardelli Square in Fisherman's Wharf
The Cannery

The Fisherman's Wharf neighborhood is full of places to shop. Another option in this neighborhood is The Cannery. It houses only a few stores, but they are set in a gorgeous historic building.
Here you will also find some great restaurants and a fun, outdoor courtyard where you can listen to music in the summer.
Learn More: The Cannery in Fisherman's Wharf
Westfield Mall

Just a few blocks from Union Square, you will find a large, modern shopping center called Westfield Mall. The mall has been around for a while, but it doubled in size a few years ago.
It's one of the premier places to shop with stores such as Bloomingdale's, Kate Spade and Nordstrom's.
You will also find an H&M, Mango and dozens of other shops.
If you are hungry, you will also find a great food court on the bottom level of the mall.
Westfield Mall is at 865 Market Street.
Union & Chestnut Streets in the Marina

Another great place for San Francisco shopping is in the Marina. There are two streets, Union Street and Chestnut Street, with a number of cute shops.
You will find small, locally owned boutiques as well as retail chains such as Sephora, Pottery Barn and the Gap.
Both streets also offer a number of bars and restaurants.
Learn More: Marina District Activities & Attractions
Stonestown Galleria

Another large mall for San Francisco shopping is Stonestown Galleria. The mall is located on the western side of San Francisco. Most of the people shopping here are from the local community. It's a standard mall with Nordstrom's and Macy's as the anchor stores.
Stonestown Galleria is at 3251 20th Avenue in the Outer Sunset neighborhood.
Embarcadero Center

The Embarcadero Center is a four-block long mall with several buildings and retailers. You will find the buildings in the Financial District between Clay and Sacramento Streets. They start at Battery Street and run almost all the way to Embarcadero Street.
Some of the top retailers here include Ann Taylor, the LOFT, Sephora, and Banana Republic. There is also a movie theater, several great restaurants, and a few specialty shops such as the Giant's Dugout.
The official address is 1 Embarcadero Center.
Other Shopping in SF

In addition to the options listed above, you will find a handful of shops in almost every neighborhood. Other popular neighborhoods for San Francisco shopping include Hayes Valley, Pacific Heights and the Haight Ashbury district.
All three neighborhoods offer about a dozen boutique shops with specialty items.
Five Great Places to Buy Costumes

You will find dozens of places to buy costumes throughout San Francisco. But you don't want to spend all day finding just place.
To make it easier, check out my list of five favorite places to buy costumes.
Their selections range from traditional Halloween costume sets to places where you can pull together your own unique look.
Learn More: Five Best Places to Buy Costumes
Where to Shop on Black Friday

Are you visiting San Francisco over Thanksgiving Weekend? Are you interested in picking up some great deals on Black Friday?
If so, check out my list of the 8 best places to shop.
They include some of the best larger malls as well as a few local favorites.
>> Find a list of the best places to shop for Black Friday
Other Popular Things to Do in SF

More Popular Pages

A Perfect Day in North Beach: If you love Italian food and other goodies, then you will love spending the day in North Beach. In addition to San Francisco shopping, this fabulous district features Coit Tower, one of the best Italian delis in the city and a step back in time at the Beat Museum. This self-guided tour is the perfect way to see it all in just one day.
A Perfect Day in Chinatown: As I mentioned above, Chinatown is one of the best San Francisco shopping options. However, do you know about all the other great attractions in this district? Follow me as I walk you through the colorful Chinese Temples, take you to one of my favorite Dim Sum restaurants and give you a chance to learn more about this community's history.
A Perfect Day in Fisherman's Wharf: On my perfect day in Fisherman's Wharf, I take you to some of its top attractions and shopping areas. In one day, you will visit Pier 39, check out the Aquarium of the Bay and stop by Ghirardelli Square. You will also visit the historic Hyde Street Pier, sample the best Irish Coffee in the city and enjoy fresh fish for lunch on Fish Alley.