Nob Hill San Francisco Neighborhood: Things to Do, Restaurants, Shopping, Bars & More

by Jill Loeffler  •

Updated: January 17, 2023
The Nob Hill San Francisco is a popular neighborhood in the central part of the city. Top things to do here including activities at the Nob Hill Masonic Center, bars, restaurants, and shopping.

Other highlights here include the cable car that runs along California Street, Grace Cathedral, and the Cable Car Museum.
It's also home to several luxury hotels including the Fairmont, the Intercontinental Mark Hopkins, and the Scarlet Huntington. Each of them hold an important place in San Francisco history.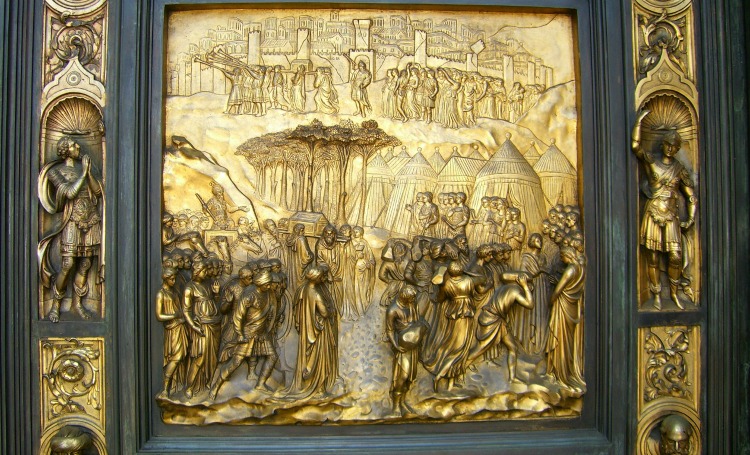 The "Big Four" were four famous San Francisco railroad entrepreneurs who built their mansions on the top of Nob Hill San Francisco in the late 1800s. They were the first to build in this neighborhood. Three of the four mansions burned down in the 1906 earthquake and fire. One of the mansions still stands today and is at the corner of California and Mason Streets.
Where is Nob Hill? The borders for this district are Broadway Street on the northern end. It's southern end is Bush Street. On the east, this district ends at Powell Street and on the west it ends at Van Ness.
It's neighbors include Russian Hill on the north, Lower Nob Hill to the south, Chinatown to the east and Pacific Heights to the west.
Disclaimer: I receive a small commission from some of the links on this page.

Things to Do in Nob Hill San Francisco

You will find a variety of things to do in Nob Hill San Francisco. They include some classic stops such as Grace Cathedral and the Cable Car Museum. You will also find some unique spots to check out such as the Tonga Room (where it rains inside!) and the Antique Vibrator Museum.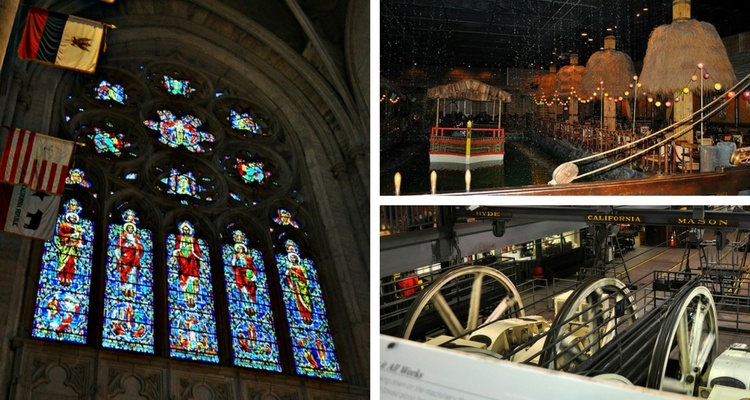 1. Ride the Cable Cars

The California Cable Car line was the first line built. It's one of my favorite routes, since it isn't as busy as the other two lines.
It runs up and down the steep California Street roadway from the Financial District to the western edge of Nob Hill.
It also stops right next to Grace Cathedral and other attractions in this neighborhood.
>> More about riding the cable car through Nob Hill
Hop On Hop Off Bus: Another way to get to Nob Hill San Francisco is on the Hop On Hop Off Bus Tour. This tour offers 40+ stops around town including Fisherman's Wharf, Chinatown, Haight-Ashbury as well as this district. Learn about the popular tour.

2. Visit the Cable Car Museum

In addition to riding the cable cars, you will also find the cable car museum in Nob Hill San Francisco. Here you can learn more about their history and see pictures of when the lines and cars were first built.
My favorite part is watching the wheels pull the cables. It's always hard to believe that these are the actual cables that keep the cars running up the steep San Francisco hills as you watch them turn.
>> Tips to visit this free museum
Tickets to Our Popular Museums
3. See the Lobby at the Fairmont Hotel

The Fairmont Hotel is an historic hotel in Nob Hill San Francisco. Built in 1907, this luxury hotel has hosted dozens of presidents, celebrities, and other famous people.
This is also where the United Nations Charter was drafted in 1945 (the flags outside showcase all of the countries that were in attendance). While you are in the neighborhood, take a few minutes to step inside the lobby of this gorgeous hotel, or book a room and stay the night.
Either way, it's an experience you will not forget.
Book A Room: Fairmont Hotel on TripAdvisor
>> More about what you will see a the Fairmont Hotel
4. Explore Grace Cathedral

Another one of the top attractions in Nob Hill San Francisco is Grace Cathedral. It is the largest—and in my opinion, the most beautiful—church in the city.
The cathedral is open daily to the public. Stop by for a closer look at its famous golden doors, colorful stained-glass windows, and other gorgeous icons.
>> Pics and tips to visit (including the best time to get photos of its golden doors)
5. See a Concert at the Nob Hill Masonic Center

The Nob Hill Masonic Center features events several times a month. You will find internationally recognized comedians and bands. Previous performers here include Ricky Gervais, Spoon, and Tom Jones. You will find it at 1111 California Street.
Check out the calendar below for a list of upcoming shows.
6. Enjoy the View at the Top of the Mark

One of my favorite places to grab a drink in Nob Hill San Francisco is at the Top of the Mark. It is one of the few bars with amazing views of the city of San Francisco.
The bar is on the top floor of the Mark Hopkins hotel on the corner of California and Mason Streets. Stop by for a drink or two and enjoy the scenery from high above the city.
This is also the perfect opportunity to dress up a little during your visit.

7. Learn Its History on a Nob Hill Walking Tour

You will find two tour options for Nob Hill San Francisco. The first is a free walking tour offered through SF City Guides. The second is a paid tour offered twice a day.
Both are excellent tours and offer you a great look inside this history and interesting district.
Both are two-hour tours long and take you back to the 1800s, when the first mansions were built here. You will also learn about the other important buildings and landmarks in the area.
The free walk is offered most Thursday, and Sunday afternoons at 1 pm or 2 pm. There's no need to register. Simply show up at the front entrance of the Stanford Court Hotel on California Street between Mason and Powell a few minutes before the start and check in with the guide.
The paid walk offers a little more depth of the history of the district. It runs daily at 10am and 1:30pm.
>> Check for ticket availability for the paid, daily guided tour on Viator
>> Other free walking tours around SF
More Popular Walking Tours
8. Stop By the Antique Vibrator Museum

One of the unique things to do in Nob Hill San Francisco is a visit to the Antique Vibrator Museum. Inside, you will see items from the 1800s through to the 1970s. The museum is open daily from 12:30pm to 6:30pm inside Good Vibrations at 1620 Polk Street.
>> Find a list of other unusual things to do in SF
9. See it Rain at the Tonga Room

Another one of the fun things to do in Nob Hill San Francisco is to grab a drink at the Tonga Room. This historic bar is located inside the Fairmont. It features island themed cocktails and dishes.
The best part is the large lake in the middle with a boat. If you arrive at just the right time, you can also see it rain!

10. Go Shopping

You won't find much shopping in this district except for a few shops along Polk Street between California and Broadway.
Top picks include ReLove (a second hand store), Terrasol (with handmade items such as soap, candles and other small home decor items), and Picnic (with home decor, clothing and other fun items).

Nob Hill San Francisco Restaurants

After living in Nob Hill San Francisco for several years, I've grown to love so many of the restaurants here. Below are just a few of my favorites.
Swan Oyster Depot: This casual seafood restaurant is one of the best in the city. It is both a restaurant and seafood market, so seating is limited. Here you will find a great selection of fresh seafood at reasonable prices. Lunch only. $$. 1517 Polk Street
Seven Hills: If you are in the mood for some Italian food with a great glass of wine, head over to Seven Hills. They make their pasta in house and one of the house favorites is the Maccheroncelli. Dishes range from around $13 to $40 with some desserts to die for. $$$ 1550 Hyde Street
Mymy: One of the top spots for lunch is Mymy on California Street. They serve up American (new) cuisines with dishes such as crab cake benedict, banana blueberry souffle pancakes, and corned beef hash. $$ 1500 California
Stop by for a Beer or Glass of Wine: Top Bars

Amelie: This is a great wine bar on Polk Street near Washington Street. They have an extensive list of California and international wines. You can also grab some munchies from their menu such as cheese or meat plates. 1754 Polk
Hi-Lo Club: Head over to the Hi-Lo Club for affordable handmade and interesting cocktails. You will also find some great, simple beers by the can or bottle. I like this place because it has limited seating and a local/dive bar feel. It is is often not too crowded until late night. 1423 Polk
Liquid Gold: One of the best places to grab a delicious beer, wine or cider is at Liquid Gold. They offer a variety of options on tap from local breweries and wineries. 1040 Hyde Street
Zeki's Bar: Zeki's is a nice, local, neighborhood bar. I've been coming here for years and love the casual environment of this place. The staff is friendly too. It's packed during the weekends when it turns into a sports bar. 1319 California
Kozy Kar: Step back in time at the Kozy Kar bar on Polk Street. This eclectic bar was designed to make you feel like you are drinking in a 1970s van. You will find old movies playing on the screens, two waterbeds, and many other eye-catching details. Don't forget to check out the decor in the bathroom before you leave. It is on Polk Street near Sacramento Street. 1548 Polk
>> Find more top bars around SF
>> Find some great breweries in SF
Where to Stay

At the top of Nob Hill, you will find a group of highly rated luxury hotels. In addition, this neighborhood also offers several two- and three-star hotels.

Here are some of the best options here.
The Fairmont
950 Mason Street
As I mentioned before, the Fairmont is a historic hotel in Nob Hill San Francisco. This four-star hotel is gorgeous and also in a great location.
In addition to its history, it has a good sized gym, the Tonga Room (a Tiki bar where it 'rains' once an hour), and a spot right on the California Cable Car line. Here are some of its other amenities:
Concierge services
Spacious rooms and suites
Flat screen TV, minibar, and iPod docking station
Many rooms offer beautiful views of the SF bay or the city skyline
High speed internet
Private parking is available on site for an additional charge
Rooms here range from about $280 to $725 a night. Compare nightly rates for the Fairmont Hotel on TripAdvisor.com.
Stanford Court
905 California Street
The Stanford Court is the first of the top four-star hotels in Nob Hill San Francisco. It's in a great location right on the California Cable Car line and just blocks from both Union Square and Chinatown.
The 393-room hotel has the following amenities:
High speed internet access
Fitness center
Business center
Pets allowed
Signature bedding, marble baths, and plush robes
The Aurea Cafe and Lounge is located on site. It's a great place to enjoy some small plates and local and international wines.
A standard room here ranges from about $190 to $390 a night. Discover additional ratings and reviews on the Renaissance Stanford Court Hotel.
InterContinental Mark Hopkins San Francisco, an IHG Hotel: 1 Nob Hill

This hotel is another piece of Nob Hill history (opened in 1926!) in a great location and just steps from the other four-star hotels mentioned above
Great views of the city from many rooms
Top of the Mark restaurant and lounge is on one of the upper floors in the hotel and also has amazing views of the San Francisco skyline
Amenities include a business center, fitness center, room service, and free Wifi
Rooms here start at around $200 a night
>> Book rooms here for the InterContinental Mark Hopkins San Francisco, an IHG Hotel
In addition to the luxury hotels, you can also find a number of mid-range hotels in or near this great neighborhood.
Steinhart: 952 Sutter Street, 3 Stars (CLOSED)
A great place for extended stay that offers fully furnished studios and apartments
Free Wifi and cable TV, shared outdoor patio for BBQs
Rooms here start at around $200 a night
Nob Hill Hotel: 835 Hyde Street, 2.5 Stars
Historic hotel with a lot of character
Small rooms, but great area with the cable car just two blocks away
Each room has Victorian decor with satin bedding
Amenities include a business center, free high speed internet, free breakfast, restaurant on site, room service
Rooms start at around $160 a night
Nob Hill Motor Inn: 1630 Pacific Avenue, 2 Stars
This hotel is on the northern side of Nob Hill, just a few blocks from Fisherman's Wharf and Pacific Heights
Amenities include free breakfast, free parking (a huge money saver!), free high speed internet access, and microwave and refrigerator in room
Rooms here start at around $155 a night
>> Read recent guest reviews and discover great hotel prices.

How to Get Here

You will find plenty of public transportation options to get to and around Nob Hill San Francisco. You will also find a few ideas for parking.

From Fisherman's Wharf to Nob Hill San Francisco

Cable Car: As I mentioned above, this option is the most fun. You want to take the Hyde/Powell cable car from the western side of Fisherman's Wharf over to the these neighborhoods.
Taxi/Lyft: Another option to get to Nob Hill San Francisco is to take a taxi. It's a quick 10-minute ride and costs around $20 to $25. You will get better deals on the prices by using Lyft.
From Union Square to Nob Hill San Francisco

Cable Car: You can also take the cable car from Union Square. You'll want to look for the Hyde/Powell or the California cable car lines. Either ride takes only about 10 minutes and is a fun way to climb to the top of the hill.
Bus: The 1 California bus will also run you up the hill. It drops off only a block or so from most of the major sites listed above. It picks up passengers on Sacramento Street, just a few blocks from Union Square. This option takes about 15 to 20 minutes depending on the time of day.
Taxi/Lyft: Taking a taxi is also an option. This is the fastest method and should only take about 5 or 10 minutes. Expect to pay around $15 to $20 for the ride from Union Square to Nob Hill. The price should be less for Lyft.
Where to Park in Nob Hill San Francisco

Parking on the street in Nob Hill San Francisco can be difficult. The good news is that you will find several parking garages so you don't have to waste time finding a spot. Rates for these lots range from $3 for 20 minutes up to $45 for the day.
Hyde Park: Close to the cable car museum and activities on the northern end of the district, 1320 Washington St.
Crocker Garage: Best parking for the Nob Hill Masonic Center, Grace Cathedral and the high-end hotels at the top of the hill, 1045 California St.
Old First Garage: Great for those exploring Polk Street, 1776 Sacramento Street
Holiday Inn Golden Gateway: Parking in the Holiday Inn Golden Gate, perfect for those heading to Polk Street, 1500 Van Ness Street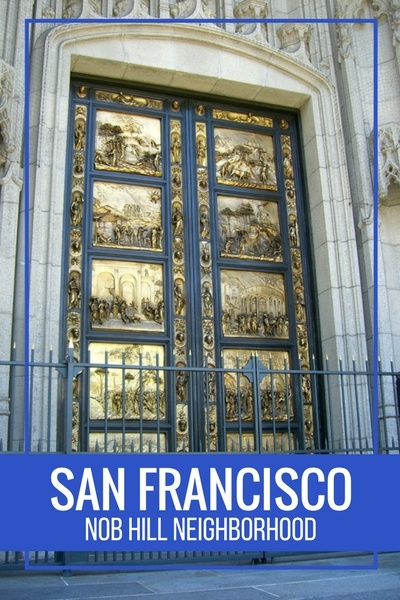 Comments? Questions? Suggestions?
I would love for you to join me in my private Facebook group! 
It's a great place to interact with me and others who know the area well.
You can ask questions, get advice for your upcoming stay, and then share your photos and advice with others when you return home. It's a great community and the fastest way to get answers to those nagging questions about your visit!