Free Walking Tours: Daily Walks by SF City Guides & the SF Public Library

by Jill Loeffler  •

Updated: January 20, 2023
Every day SF City Guides (part of the SF Public Library) offers a number of free walking tours. They range from the popular Golden Gate Bridge tour to one dedicated to the impact of the 1906 Earthquake and Fire.

All guides are volunteers. Many of them have amazing stories. They are typically either from San Francisco or have been in the city for a very long time. They each know their tour and its route better than anyone else. 
I take these often. They offer an amazing look into SF's past as well as what the local communities are up to now. It's one of the best ways to get an 'insider's look' at the real San Francisco.
Some of them offer you access into places that you are not able to enter on your own. They also point out hidden gems and other lesser known attractions or locations throughout the city.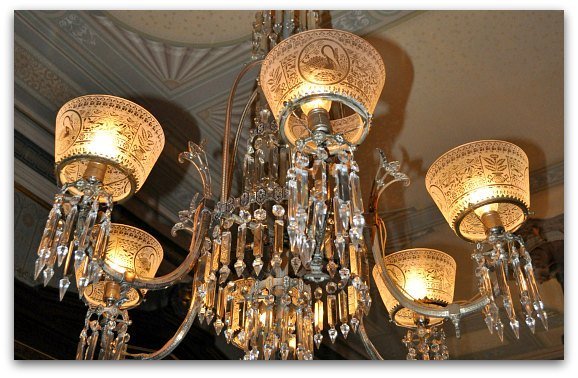 This beautiful antique Chandelier was inside an Alamo Square Victorian. We were able to get an inside look at this private home on the Alamo Square walking tour.
Joining a Tour

You will need to make reservations to join most of these free walking tours. You will find the times and dates on their website.
They will show if you can sign up or you can be put on a wait list if the tour is already full. Your time and date tour will be blacked out if the waitlist is already full.
Therefore, you will want to try to plan your walk as far out as possible to get the exact one you want to go on. You will also want to show up about 10 to 15 minutes before they start. 
The guide is usually there by this time. They are easy to find and are looking for tour participants. They often have a clipboard in their hands.
Check in with them so they know you are on the right tour and have already reserved a spot. They also use this to measure the success of each tour and to determine what they should offer in the future. 

All tours start on time, so please do not be late. If you find yourself running a little late, you are welcome to join the tour. However, do your best to not interrupt if it is already in progress.

Donations

Even though these tours are free, they do ask for a donation at the end. The donations do not go to the tour guide, but to the SF Public Library in order to keep this operation running.
They have one full time staff member that helps manage the volunteers, the website and other organization details.
How much should you donate? That's up to you. I typically donate $15 per person per tour as that is the suggested amount according to the SF City Guides website.
You are welcome to donate more or less depending on your experience with the tour and your personal budget.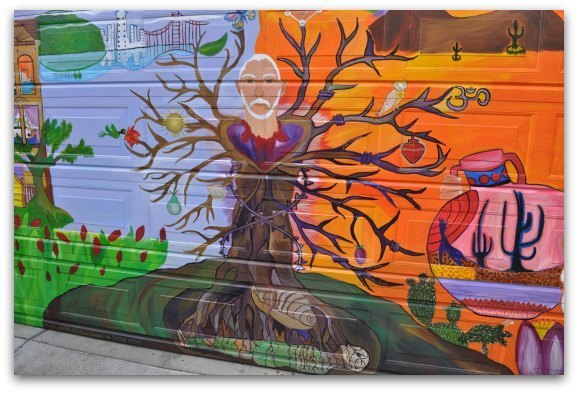 This is one of more than a couple dozen colorful murals we learned about on the Mission District Murals walking tour.
My Experience on These Tours

Since all guides are volunteers, you might be asking yourself about their reliability. Believe me when I tell you that these guides LOVE giving these tour and teaching others about the city. 
The SF Public Library has a strict policy for their volunteers. It's also a privilege to be accepted as a tour volunteer. Each one has to go on several other walks before they train to give one of these free walking tours on their own.
Many of them have also had to develop and submit a new tour idea before they are able to give a tour. These are some of the most reliable volunteers you will find. They are super friendly and helpful too!

I've done dozens of these tours and only had one guide not show up. We later found out they had a family emergency and didn't have time to cancel the tour before we arrived. This is a rare occasion and doubt it will happen to you.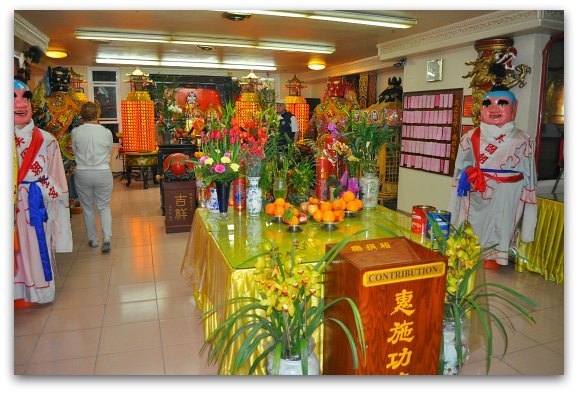 We had the chance to step inside and learn more about this temple during the Chinatown walking tour.
The only other issues I've had on these tours is when the group size is too large or when we walk down a really busy street and can't hear the guide as well (as they don't have sophisticated equipment).
If you are not enjoying the tour or it's something different than you expected, you can quietly walk away in the middle of it. 

Disclaimer: I receive a small commission from some of the links on this page.

Most Popular Free Walking Tours

They try to keep a very consistent schedule for their free walking tours from one month to the next. They do add and cancel these free walking tours at times, but this is rare.
The Public Library updates their list every Spring and Fall. In addition, they offer specialty tours in May and October as well as when they test out new tour ideas.
Here are just a few of their most popular tours.

Golden Gate Bridge Walking Tour

This tour will tell you all about one of our most famous attractions, the Golden Gate Bridge. On this two-hour tour, you will learn about its history and interesting facts (how long it took to build and how much it cost). You will also walk part of the way across the bridge to the southern tower, which is where the tour ends.
Tour Schedule: Every Thursday and Sunday at 11 am (plus a few other select dates throughout the month), visit their site to confirm for your date
Meeting Location: Strauss Statue at the Golden Gate Bridge Visitors Plaza (the San Francisco south side of the bridge)

>> Cruise under the bridge on one of these cruises 

Chinatown

Chinatown is often known as a city within a city. It's the most densely populated portion of San Francisco. This two-hour tour will take you through this interested community and the largest Chinatown outside of Asia. You will learn about its history and more about the daily lives of its current residents.
Tour Schedule: This one doesn't have a consistent date or time, there are tours most Saturdays and Mondays. You will also find some tours Tuesdays - Thursdays as well. It's best to visit their site to confirm your date. 
Meeting Location: Portsmouth Square in Chinatown at the parking garage elevators on the park level

>> More about visiting Chinatown
>> Other fun tours about this colorful district
Fisherman's Wharf, A Hidden History

The Fisherman's Wharf tour is another two-hour tour that starts at Ghirardelli Square. The tour starts with the history of this former chocolate factory. You will then walk through Aquatic Park and down to Jefferson Street.
Along the way, you will learn all about the original settlers to this part of San Francisco, what their life was like and more about the fisherman that call this area home today.
Tour Schedule: This tours schedule changes somewhat often. Some are on Mondays at 10:30 am. Others are on Fridays at 11 am. Visit their site to confirm your date
Meeting Location: Main courtyard of Ghirardelli Square at the Mermaid Fountain

>> 50 of the best things to do in Fisherman's Wharf

Castro, Tales of the Village

The Castro District is the heart of the LGBT community. It was the home to one of SF's most famous residents, Harvey Milk. On this two-hour tour, you will learn about Milk and how this district became a meeting place for the LGBT community.
Tour Schedule: Most Tuesday, Saturday, and Sunday mornings at 11 am. Visit their site to confirm your date
Meeting Location: The giant rainbow flag in Harvey Milk Plaza at Market & Castro Streets

>> Discover the best things to do in the Castro

Coit Tower Murals

Many visitors don't realize the extend of the murals inside Coit Tower and the history behind them. On this tour, you will walk along the first floor of the tower to learn more about the murals and what San Francisco was like in the 1930s. You will also learn about why they were controversial at the time.
In addition to seeing those open to the public on the first floor, you might also get a sneak peek at some very different looking murals in the private stairwells. These are not open to the public and will give you an even better idea why this SF attraction is such an important work of art.
Tour Schedule: Wednesdays and Saturdays at 10 am, visit their site to confirm the date of your tour

Meeting Location: At the entrance to Coit Tower

>> Pictures from my tour and what else there is to see at Coit Tower

Nob Hill

Nob Hills sits high above the downtown area and features some of the city's most distinguished hotels. When it was first developed, it was home to San Francisco's wealthiest families and the Big Four. 
Learn all about how this area was developed, why they installed cable cars here first, and what the district is like today. This two-hour tour starts at the entrance to the Stanford Hotel and does include some uphill walking (you will walk slowly).
Tour Schedule: Thursdays and Sundays at either 1 pm or 2 pm, they have a tour on Monday or Tuesday about once a month, visit their site to confirm your dates.

Meeting Location: Outside the entrance of the Stanford Court Hotel at 905 California Street between Powell and Mason

>> More about visiting Nob Hill

North Beach

North Beach is another interesting district to explore during your visit. On this tour, you will learn about the Beat Generation and the Italians that initially settled this area. You will get some great recommendations on the best places to eat and some of the locals favorite places to go. 
Tour Schedule: This tour is only offering a few days and times, visit their site to confirm your date
Meeting Location: Steps of Saints Peter and Paul Church at 666 Filbert Street between Powell/Columbus and Stockton

>> Details on visiting North Beach

Full Schedule: You will find additional tours on the SFCityGuides website at www.sfcityguides.org. Also, please use this link to confirm that the tours above are still running on the day you plan to go. They don't cancel often, but it does happen at times and I would hate for you to show up and have it be cancelled that day. 

Monthly Events in SF

Are you interested in finding additional events to attend during your stay? Click the links below to check out the fun events planned that month!

Comments? Questions? Suggestions?
I would love for you join me in my private Facebook group! 
It's a great place to interact with me and others that know the area well.
You can ask questions, get advice for your upcoming stay, and then share your photos and advice with others when you return home. It's a great community and the fastest way to get answers to those nagging questions about your visit!