San Francisco Bay Tours: My 10 Favorite Boat Cruises on the SF Bay

by Jill Loeffler  •

Updated: April 7, 2023
There are so many great San Francisco bay tours and boat cruises that it can be hard to find the perfect one. I've been on almost all of them and have a few thoughts on all of them. I hope it will help you decide which one is right for you.

Some of the most popular picks by visitors include the standard 60-minute bay cruise as well as some of our sunset cruises. If you are looking for something a little fancier, you will find a wonderful Dinner Dance Cruise offered by Hornblower. 
You can also head out past the Golden Gate Bridge to get in some whale watching while you are here or take a special cruise to watch the fireworks on Fourth of July or New Year's Eve.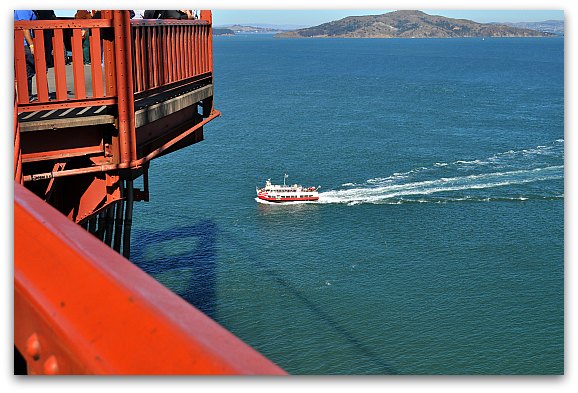 One of the San Francisco bay cruises heading under the Golden Gate Bridge
Disclaimer: I receive a small commission from some of the links on this page.

1. Golden Gate Bay Cruise

Tour Length: 60 minutes
Tickets: Book your tickets
As I mentioned in my intro, this is by far the most popular cruise and a go to for many first-time visitors. It offers a great overview of the SF Bay both from a sightseeing and history perspective. 
These San Francisco boat cruises leave from Fisherman's Wharf several times a day. It's another reason why they are so popular--because they run the most often.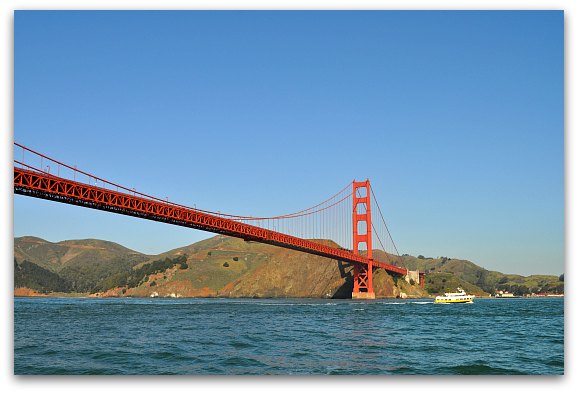 These San Francisco bay tours are offered by both the Gold and Blue Fleet and the Red and White Fleet. I've been on the water with both companies several times and they both offer great service.
The only difference is that the Gold and Blue Fleet provides their narration over loudspeakers on the boat while Red and White Fleet hands out individual headsets. 
One benefit to the headsets with Red and White is that they offer narration in several languages, so this is something to consider if English is your second language.
Both SF cruise companies follow almost the same route. The boat cruise leaves from Fisherman's Wharf and starts out along the northern waterfront. You head west past several SF sights including Fort Mason, the Marina District and the Palace of Fine Arts.

You will then ride by Fort Point National Historic Site as you head to the main attraction - the Golden Gate Bridge. After you float under the Golden Gate Bridge, you turn around for a second time under the bridge. You will head to the northern side of the bay. You'll pass Sausalito, Angel Island and take some time cruising past Alcatraz Island.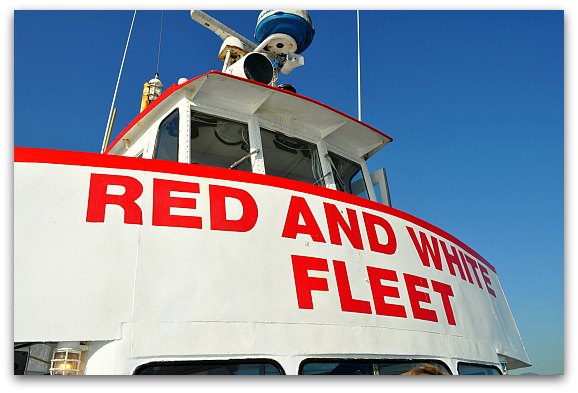 You can catch one of these San Francisco bay tours several times a day. In the summer, each company offers about a dozen boat cruises. In the winter, it's about 7 to 9 (more on the weekends). 
Your ticket is good for any cruise for that day. When you arrive, you will line up for the cruise and those in front will board first. However, don't stress too much (unless it's a really busy holiday weekend) as they don't often fill up all the way. People also move around the boat quite a bit, so you don't really need to be first in line.
You can buy tickets for these cruises either online or in person.
>> Find tickets for this cruise on GetYourGuide
If you want a full write up of what to expect on this tour, you can also visit this page. It's my overview with more pictures and what to expect. In this case, I reviewed my time with the Red and White Fleet.

2. San Francisco Bridge to Bridge Cruise

Tour Length: 90 minutes
My second recommend for San Francisco bay tours is the Bridge to Bridge Cruise. This one is run by the Red and White Fleet. It's a popular option, but only runs a few times a day. 
They are also usually flexible with timing too on which San Francisco boat tour you can board unless it's a really busy day. You can stop by their dock at any time to confirm which tour you can go on for the day of your ticket.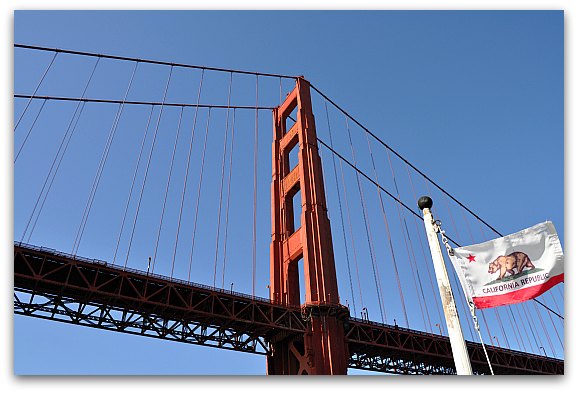 It's slightly different from the SF Bay Cruise as this one offers 30 additional minutes on the water. It will follow the same route as above. However, instead of heading back after circling Alcatraz, you will head on for a trip under the Bay Bridge.
You will also cruise past Treasure Island and the Ferry Building. So, it offers a little more fun on the water for just a few more bucks per ticket.
As with the Bay Cruise, the narration for the Bridge to Bridge Cruise is on personal headsets. You can choose from one of 16 languages on their headsets too.

>> Find tickets
3. San Francisco Champagne Brunch Cruise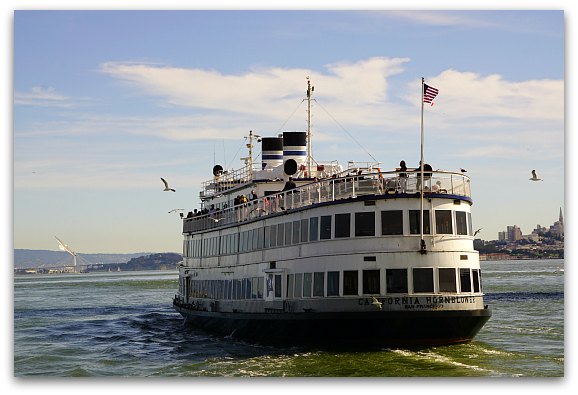 Tour Length: 2 hours
The San Francisco Champagne Brunch Cruise is another option from Hornblower. This one is more casual than the one mentioned above, so you don't have to worry as much about the dress code.
What makes this one of my favorite San Francisco bay tours is the combination of the food/champagne and the cruise around the bay in the morning. The buffet varies a bit throughout the year to allow for seasonal changes.
Some of the items you will find include fresh baked breads, a variety of salads, French toast, scrambled eggs, bacon, home fries, herb crusted beef, ham with country mustards, and SO much more.
And, of course, their house champagne (as well as coffee, tea, water and soda). 
You will cruise along a similar route to what was mentioned in the descriptions above including heading under the Golden Gate Bridge, near Alcatraz, near the Bay Bridge and past other top sights along the water. 
This is a really fun cruise and worth the extra money for a delightful experience.

This San Francisco boat cruise also picks up at Pier 3, which is NOT in Fisherman's Wharf, but instead close to the Ferry Building on the Embarcadero.

>> Find tickets for all cruises on Viator
4. Twilight OR Sunset Cruise (Depending on the Season)

Tour Length: 2 hours
The Twilight or Sunset Cruise is offered by the Red and White Fleet. The difference between the two cruises is the time of year. 
The Twilight Cruise is offered during the winter months (roughly early November through mid-March). It's called a Twilight Cruise since the sun will already be down by the time the cruise is underway.
However, you do get amazing views of the lights on the Golden Gate Bridge, the Bay Bridge, San Francisco, and all around the SF Bay.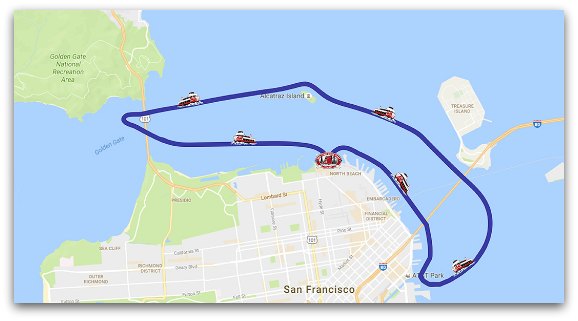 The Sunset Cruise is offered the rest of the year (roughly from mid-March through early November). They change the time this San Francisco boat cruise leaves in order to have you on the water during the sunset.
You will get some great views of the sunset as long as the fog has not decided to make its way into the bay before the sun goes down.
Both cruises follow the same route. They first head along the northern shoreline, then under the Golden Gate Bridge, around Alcatraz, past Treasure Island, under the Bay Bridge and then back to Fisherman's Wharf.
These cruises only leave once a day (and only Thursday through Sunday during the winter months), so your ticket will be for a specific time.

I love this evening cruise as they also serve a nice buffet of appetizers. You can also enjoy a drink or two on board (available for purchase at the bar). There is also a musician on board playing some light music in the background. 

It makes for a really nice evening on the water with family, friends or your romantic partner.
>> Find tickets for this fun cruise
5. Escape from the Rock
Tour Length: 90-minute tour
The Escape from the Rock cruise follows the same path as the SF Bay Cruises for the first 60 minutes. The difference with this one is that it offers an additional loop around Alcatraz as well as more stories about this famous island and its inmates.
In addition to hearing about SF's history, you will also hear more about Al Capone, Robert Stroud "The Birdman of Alcatraz," and those who tried to escape.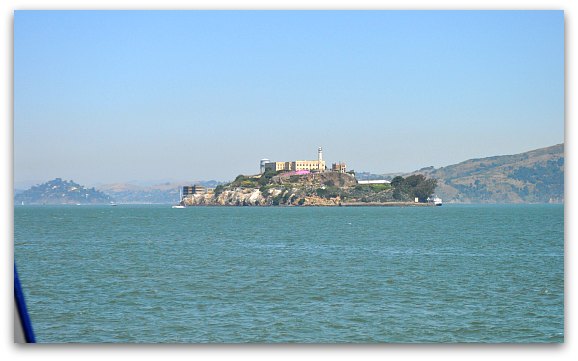 This one is very popular, but it only runs a couple of times a day. Some people get confused by the name and think that it will stop on Alcatraz for a visit. It does not. It simply cruises around the island a couple of times, so you get some great views and photos.
This one is a good one if you missed your chance to get tickets to Alcatraz or if you want to see it closer up from the water. If the timing of this cruise works for you, I would select this one over the standard 60-minute bay cruise as it gives you some great insight into Alcatraz.
>> Find tickets for this cruise on GetYourGuide
6. Wine Tasting on the Bay

Tour Length: 90 Minutes
This awesome cruise is aboard Wine Therapy. This floating wine bar is a blast and allows you to sip on your local wine as you soak in the views from around the SF Bay.
The boat is a 45-foot classic yacht with seating both indoors and out. 
Your cruise starts and ends at Pier 39. You'll then head toward the Golden Gate Bridge, circle close to Alcatraz, enjoy the downtown San Francisco skyline, and then head back to where it all began.
The cruise is 90 minutes. The wine is by the glass and is not included in the price of the cruise.
>> Find out more and check for availability
7. Dinner Dance Cruise
Length: 2.5 to 3 hours
The Dinner Dance Cruise is the first on my list from Hornblower. This company features San Francisco boat tours that I would consider are more for special occasions.
They have larger boats in order to accommodate tables for their dinner dance cruises and they also have a higher price tag because so much more is included with this ticket.

The Dinner Dance Cruise is one of their most popular cruises and it runs a few nights a week (usually around the weekends in the winter and most nights in the summer). It features a four-course seated meal with a choice of options within some of the courses.

After dinner, you can head outside for views of the SF Bay, enjoy a little dancing on one of their upper decks, or just sit back to listen to the music. As for drinks, tea, coffee, water, and soda are included with your ticket. Their bar is open the entire tour and you can buy beer, wine and cocktails here.

What I love about these San Francisco boat cruises is that you get some decent views of the bay from almost all of the seats in the dining room. 

The other thing to note about these bay cruises is they do require that you dress up a little bit. No jeans are allowed, and they require business casual dress. 

It's the perfect pick for a romantic date night or upscale dinner.

One of the things to keep in mind with the Hornblower cruises is that they pick up at Pier 3, which is closer to the Ferry Building and NOT near Fisherman's Wharf.

There usually aren't discounts for these San Francisco bay tours, but I do highly recommend booking your tickets early. They do sell out during the busier travel seasons and holidays. 

>> Visit GetYourGuide for more details and to check for ticket availability
8. Whale Watching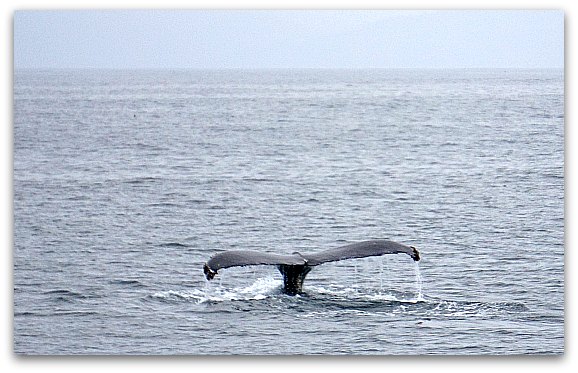 Tour Length: Varies from about 2.5 hours to around 6 hours
The next on my list of the 10 top San Francisco bay tours is our fun whale watching tours. I'm cheating a little by adding it to this list because most of the time you will be on the Pacific Ocean for this boat tour. However, you will cruise through the bay to get to and from the ocean.
I also wanted to add this one because these are some of my favorite San Francisco boat tours. The waters right outside the bay are very active all year long with migrating whales, dolphins, dozens of birds and other sea animals.
These boat cruises are so much fun that it would be a shame to miss your chance to head out for some whale watching.
The Golden Gate Whale Watching tour runs from late April to October. This is the standard summer whale watching tour and leaves from Pier 39 up to 4 times a day. In 2.5 hours, you will keep an eye out for whale activity and sightings. 
In the winter months, gray whales are migrating through this area and there is a special Gray Whale Sightseeing Cruise. This one runs December - March. It only heads out once a day and only a few days a week. Even though there are fewer people around at this time, I find this one of my favorite times to head out whale watching. 
The great thing is all of the boat companies work together (you will hear them on the radio) to ensure passengers on all of the boats get the chance to see whales during the cruise.
9. Sunset Catamaran
Tour Length: 90 minutes
This is the second sunset boat cruise on my list of the 10 best San Francisco Bay Tours. I offer this one as an alternative to the Twilight/Sunset Cruise for a couple of reasons.
First, this bay cruise is smaller and offers a more intimate experience. This one is better if you are looking for a more romantic evening on the water. There are also fewer people on this boat, so you can get to know people a little better.

Second, this one is more casual. They do offer some light appetizers and a couple of drinks (1 included with your ticket), but it isn't as big of a spread as the other one. This is perfect if you have already eaten or plan to eat once you return to San Francisco.

The catamaran is smaller, but still has plenty of space. They also have both indoor and outdoor seating. Soft-soled shoes are also recommended so you can easily walk around the catamaran. 

If you love the water and want to spend a relaxing evening cruising around the bay, then this is the tour for you! 

It follows the typical path with two trips under the Golden Gate Bridge, a cruise around Alcatraz, and a chance to see all of the wonderful sights along the water. 

It only runs once a night and the time changes by season to give you the best chance to catch the sunset. The tour does runs from mid-February through to the end of November.
>> Find tickets to this fun catamaran tour
>> Find some additional night tours on both land and on the water
10. Special Event Cruises

Tour Length: Varies
My final entry for my list of the best San Francisco bay tours is all of the special event cruises. There are several throughout the year for holidays, but three dates offer an extra special experience.
The first two are cruises for our amazing fireworks shows. On New Year's Eve and Fourth of July, dozens of San Francisco boat tours head out on the water to watch the fireworks shows. Some of them offer dinner and dancing, while others head out just for the show.
If you are around on either of these dates, I highly recommend one of these cruises.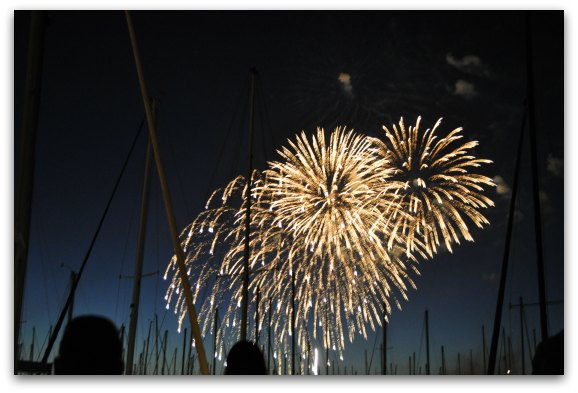 Find out more about the NYE Cruises here and more on Fourth of July on this page.
Fleet Week is another time of the year when you will find some special San Francisco cruises. They head out on the water for the very popular airshow that features the Blue Angels. They offer cruises usually on Friday, Saturday and Sunday during the shows and some also offer cruises during the Blue Angels practice runs. 
Learn more about Fleet Week on this page.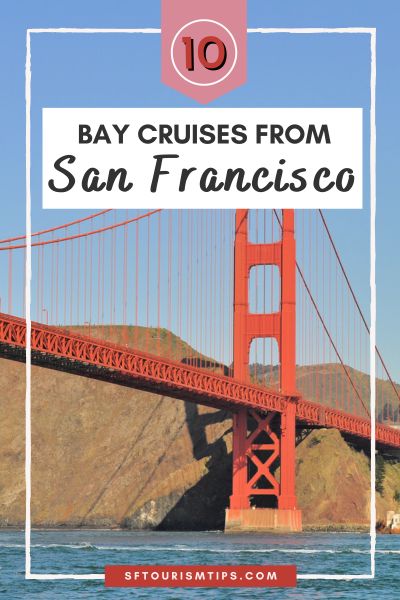 Comments? Questions? Suggestions?
I would love for you to join me in my private Facebook group! 
It's a great place to interact with me and others who know the area well.
You can ask questions, get advice for your upcoming stay, and then share your photos and advice with others when you return home. It's a great community and the fastest way to get answers to those nagging questions about your visit!