Alcatraz Prison Tours
Insider's Tips to Help You Book Your Trip
Every visitor to San Francisco knows their trip is not complete without taking one of the Alcatraz prison tours. With over one million visitors every year, it's one of the most popular SF attractions.
Due to the flexibility of the trips offered, the day tour is the most popular. However, because of its popularity, it needs to be booked in advance. You don't want to miss your chance, so make sure to plan ahead.
The ferries leave San Francisco for the island about every 30 minutes, beginning around 9am. The last ferry leaves just before 4pm. When booking, you'll need to select the exact time you'd like to depart.
A map of Alcatraz Island in the ferry waiting area.
It shows all the main places to see on the island.
The day trip is mostly a self-guided tour. When you hop off the boat, you'll get a quick overview of how to make the most of your visit and then you are on your own.
They recommend that you start with the audio walk. It's a self-paced tour that lasts around 45 minutes.
The audio guide walks you through a pre-determined route in the main building on the island. It includes some history for several locations within the main cell block along with descriptions about life on the island from ex-inmates and guards.
Once you complete the audio portion, you are free to roam the open areas on your own. You can visit the gift shop, where you can purchase T-shirts, books and other Alcatraz items, or join one of the scheduled, guided walks or discussions.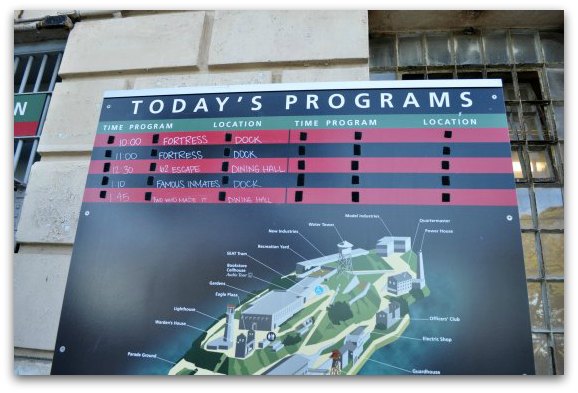 You will find a list of the special programs on this board as you enter the building (shown in the picture above) before you start your visit. This helps you decide what you'd like to see first to plan the rest of your tour.
Unfortunately, you can't get a schedule of these when you book, since all are offered by volunteers. However, this is another great benefit of the Alcatraz prison tours and a great way to learn more about this site's history.
The day tour is great since you can spend as much time as you want. You can also take any ferry back to San Francisco, so there is no rush during your tour.
There is also a night tour option—this is my personal favorite. It's a smaller, more focused group of people. The challenge is the timing for the tour: it only runs a few days a week. On top of that there is also only one or two of these a day. Tickets for these trips sell out early. Here you can discover even more details about the night tour.
More History: Infamous Prisoners | Escape Attempts
Prices and Other Booking Tips
The price for your day tour includes the round trip ferry ride and the self-paced audio headset.
You'll get the best experience from the trip if you take the audio walk. However, if you decide you don't want to do it, you can ask for a refund for this portion once you get there.
Tickets go on sale about 90 days prior to departure. I highly recommend you book as soon as you have locked down the details of your trip to San Francisco. This gives you the option to select the time that works best for you and your group.
To give you an idea, most people book their Alcatraz prison tours about three to four weeks in advance. If you plan to visit on a weekend or holiday, it is best to book even earlier.
Alcatraz prison tours run every day except Christmas and New Year's Day.
More on its Infamous Prisoners: Al Capone | Robert Stroud, The Birdman
Best Times to Visit
There are a few considerations you'll want to look at when booking your tickets. The warmest months in San Francisco are September and October. This is the best time to visit the island as the main cell block is cool most of the year.
That being said, this is San Francisco, so make sure you plan accordingly and bring long pants and a jacket. It can get mighty foggy and windy on the island and you don't want to be caught out there without some way to keep warm.
January and February are a little cooler as it's rainy season. However, tourism is quieter during that time of the year. This is a great time to visit if you don't want to battle the crowds as much. There is covered seating on the ferry, so they won't cancel them due to rain.
Visit the San Francisco weather section for a month-to-month look at the weather.
I also highly recommend booking the earliest ferry possible in the morning. Fewer people are on the island at the time so you'll be able to roam around with a smaller crowd of people around.
Also, many of the additional programs run during the morning. If you head out on a later ferry, you will most likely miss out on this wonderful experience.
Learn more about what to expect during your visit.
Top Tours
You can either book just a ticket to Alcatraz or book it in combination with a city tour. The benefit of the combined tours is that you will save money on each one versus purchasing them separately. If you plan to visit Alcatraz AND go on a city tour, then I recommend purchasing a combination package up front.
Many people are looking for discounted tickets. These don't really exist. Alcatraz prison tours sell out almost every day, so there is no reason for them to go on sale. The best way to get the best deal on your Alcatraz ticket is to buy it in combination with other tours.
For some of the links on this page, I receive a small commission when you purchase. You don't pay more when you buy through me and it gives me the chance to offer you all this great content for free!
Here are some of the most popular Alcatraz prison tours available.
Alcatraz Tour & Two-Day Hop On/Hop Off Bus Tour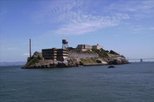 This is another one of the popular Alcatraz prison tours. It includes both a ticket to visit the island and a 48-hour ticket to the Hop On/Hop Off tour bus. This bus tour allows you to see San Francisco at your own pace. It also includes a stop near Alcatraz Landing, where you will pick up your ferry over to the island.
Learn More: Alcatraz & Hop On/Hop Off
---
Prison Tour Only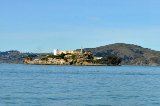 The only place to book a standard ticket—which includes only a visit to the island—is directly through Alcatraz Cruises. These tickets are the same as the ones mentioned above and include the ferry ride to and from, in addition to the self-guided audio tour.
Learn More: Standard Tickets
---
Tickets for Sold Out Days
Many of you have reached out about tickets for sold out days. Once individual tickets are sold out for the day, the next best option is to buy a combo ticket that includes Alcatraz plus another activity or tour. This is the only way to ensure you are getting a legitimate ticket. The ones below are sold through Get Your Guide and are all through reputable agencies.
Other Fun Activities
Top Places to Stay
Are you looking for some great places to stay during your visit? Here are some recommendations by neighborhood, budget, and amenities.