Visit Alcatraz
Tips To Prepare For Your Trip
Before you visit Alcatraz, there are a few things you need to know. Here you will discover some insider's tips to help you make the most of your visit to the island.

All ferries leave from Alcatraz Landing
How to Get to the Ferry
Let's start with the basics. Where is the Alcatraz ferry located and how do I get there?
The ferry is currently operated by a company called Alcatraz Cruises. They operate all of their ferries out of Pier 33. This is a change from previous years, when the ferry to Alcatraz left from Pier 42.
Pier 33 is located on Embarcadero Street near Pier 39 and Fisherman's Wharf. The odd numbered piers are north of Pier 1 (now called the Ferry Building). The even numbered piers are south of Pier 1.
One option to get to Pier 33 is to take the F street car line from Union Square. This street car runs about every 15 minutes up and down Market Street.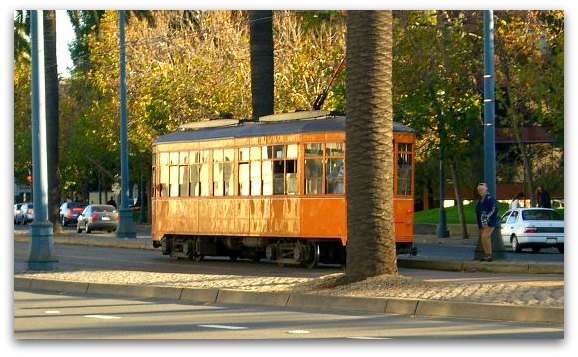 The F Streetcar pulling into the stop in front of Alcatraz Landing
The cost is only $2 and you'll get off right in front of Pier 33. You'll see the Pier numbers from the windows, hop off when you see Pier 33 or another odd numbered pier that is close to that.
You can also take a cab. You can pick up a cab anywhere in the city.
The cost starts at just over $3 and usually costs between $10 and $15 depending on your pick up location.
Driving is another option. However, there is no parking right at Pier 33 so you'll have to find a lot and walk over to Pier 33 for your ferry to visit Alcatraz. There are several lots within just a few blocks of Pier 33.
One is located just across the street on the Embarcadero at Bay Street. If that one is full, there is another one at 80 Francisco Street, the cross street is Kearny Street. This is a larger parking garage and is just a couple of blocks away.
Here is a map showing Pier 33, the street car drop off point and some of the parking available. The blue "P"s on the map mark the parking areas. The red "F"s on the map mark the stops for the F street car.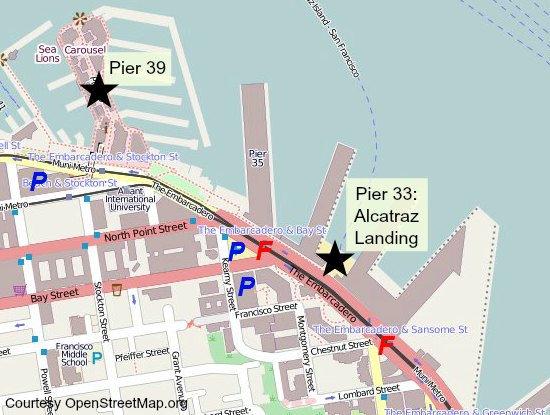 Visit Alcatraz: Ferry Ride Tips
Okay, you found Pier 33. Now it's time to prepare for the ferry ride to Alcatraz. Well, you'll actually want to prepare before you arrive. First, make sure you wear layers of clothing.
You'll find it nice and warm while in San Francisco and then it will get chilly on the ferry ride over to visit Alcatraz. Bring along a warm jacket or sweater for the ride.
I recommend that you sit on the top level of the ferry. It's the perfect spot to get some great pictures of the Golden Gate Bridge, the San Francisco skyline and the island.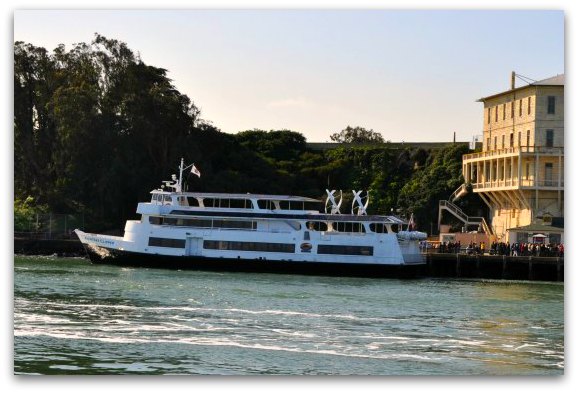 The Alcatraz ferry sitting at the island waiting
for visitors to board and head back to San Francisco.
However, it's also usually really chilly. For more details on the weather by month in San Francisco, visit the San Francisco weather page. It will give you some additional information on the weather and some clothing tips for your trip depending on the month you visit.
The time on your ticket is the time the ferry leaves the Pier, so make sure you arrive no later than 20 to 25 minutes before the ferry departs. This sign at Alcatraz Landing shows which ferry is currently boarding.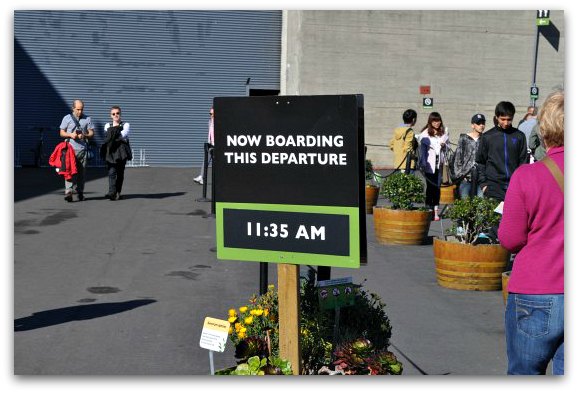 As long as you have a ticket in hand, you are guaranteed a spot to get on that ferry. You are welcome to line up, but you can also sit back and hang out in the waiting area until the ferry starts to board.
The ferry ride lasts about 20 minutes.
Before you head over to visit Alcatraz, you might also want to plan for which return ferry you want to take. You will find this sign in a number of places. They are strict about leaving on time, so arrive at least 10 to 15 minutes in advance to secure your place on your return ferry.
If you haven't booked your tickets yet, head over to the prison tours page for booking tips and ticket information.
What to Expect from the Day Tour
When you arrive to visit Alcatraz, your entire ferry will get off at the one and only stop.
You will receive a short briefing as a group and then head up the hill to the main building to visit Alcatraz. It's not a race, so feel free to take your time getting up the hill.
The hill is about a fourth of a mile long. The hill is step and is broken up into four, football size sections with flat landings in between.
Within the fourth of a mile walk, you will climb the equivalent of 13 stories. Don't hesitate to stop along the way, take some photos and look around at the buildings you see during your walk.
There are also a few benches along the way for you to stop and catch your breath.
If you need additional assistance, you can request a seat on the shuttle (shown in the picture below). It will take you from the ferry up to the entrance to the cell house. Once you arrive, ask a ranger about the shuttle and they will help you find the pick up point.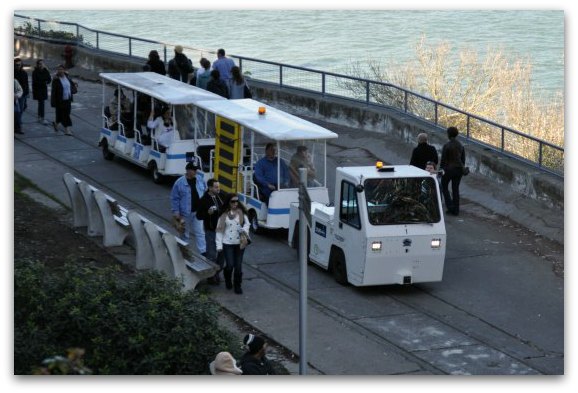 Self Guided Audio Tour
When you get to the top of the hill, you'll head into the doorway in the picture below.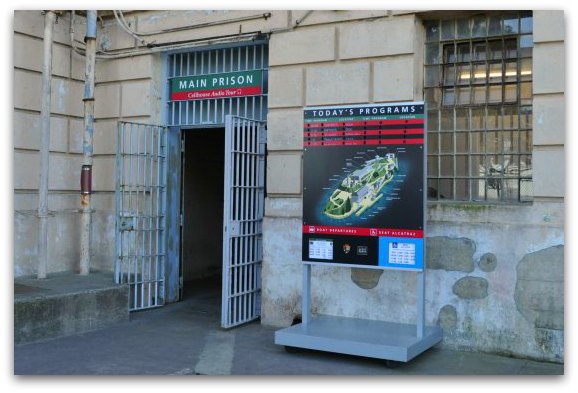 You'll receive an audio player for your self guided tour of the main cell house. The audio is really well done and it's always one of my favorite parts.

The audio player you will use during your self-guided tour of Alcatraz.
After climbing one more set of steep stairs (the largest one on the tour), you'll look for this sign to start your audio tour.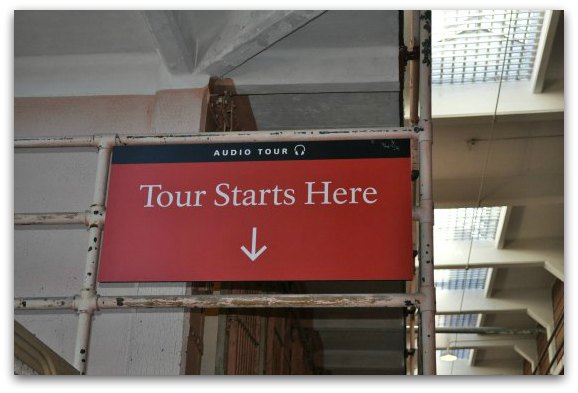 For the next 45 minutes, you will walk along the predetermined audio tour route. During the tour, you will hear from guards and prisoners that spend years in this prison.
You will learn all about the history of the island including information on its most infamous prisoners (find out more about these prisoners including Al Capone and Machine Gun Kelly). You'll also learn about the escapes from Alcatraz (discover details on the most famous escape attempts here).
With your headphones on, it can be hard to hear others around you. All of the areas you stop at are pretty crowded, so be cautious of those around you during the self-guided tour.
At any point along the way, you can pause your audio player to spend a little more time in a certain area. This is perfect when it's crowded and you want to get a closer look at something.
I also put mine on pause if there is a talk or special tour going on. You will just want to remember where you were, so you can head back to that location. Your audio player also shows which section you were in, so ask a ranger for help if you can't find your way back.
At the end of the tour, you'll turn in your audio player. At this point, you are on your own to explore Alcatraz.
Walking Around Alcatraz Island
Depending on the time of year you visit, you will find different areas open. Anytime of year, you can head out to take pictures near the lighthouse (it's also on the audio tour, so you should have no problems finding it when you are done).
From this area, you get some great views of San Francisco, the Golden Gate Bridge and the San Francisco Bay.
I also recommend that you visit the gardens, which are beautiful. Some of the plants and flowers have been growing for years. Recently, they increased their efforts to care for the plants and flowers in the garden, so it's a great stop.
I also recommend that you head out to the old prisoner yard. It's also a short stop on your audio tour, so just ask if you can't find it again. It's a fun place to hang out and take a look up close at the outside of the cell house.
From here, you can also get some great photos of the Golden Gate Bridge and Sausalito.
Either on your way in or out, make sure you stop by the theater for a short Alcatraz Island history film. This free film covers the history of the island from the beginning to some of the current projects going on to restore it.
You will also find two gift shops on the island. This is where you can find a large selection of Alcatraz related books, movies and other items.
The first one is located next to the area where you drop off you audio tour. The second is next to the theater (this is also where you can get a warm cup of coffee on those cold winter days).
If you want to learn more before you visit Alcatraz, you will also find a great selection of Alcatraz books and movies online. Some of my favorites include the book Letters from Alcatraz,
with personal letters from a number of inmates on the island from Al Capone to Machine Gun Kelly, and the National Geographic documentary called Vanished from Alcatraz,
which includes recent information on the famous 1962 escape attempt from the island.
More on Alcatraz & its Prisoners: Al Capone | Robert Stroud | Alcatraz History
Ferry Back to San Francisco
Most people spend about 2.5 to 3 hours when they visit Alcatraz, so plan for at least that amount of time. Once you are done walking around, you can catch any ferry back to San Francisco.
You don't have to sign up and you don't need your ticket to get on the ferry back.
You can walk around as long as you like, just make sure you are on that last ferry back to San Francisco. You don't want to have to spend the night!
Other Attractions Near Alcatraz Landing
Other Fun Things to Do in SF