San Francisco Weather in September: Tips to Prepare & Pack for Your Stay

While the rest of the US is cooling down, the San Francisco weather in September is warming up. It's the warmest and sunniest month and it's one of my favorite times of the year.

If you have a trip planned here this month, you are in luck. You will get to see SF at its best with warm and sunny days and cool evenings.
On this page, you will find helpful details on how to prepare including more information on the weather and what to pack for your stay. I've also included some of the best things to do this month, as well as a few tips on how to save money during your visit.
The picture above was a fun shot we took as we cruised back in under the Golden Gate Bridge at the end of a whale watching tour. This was in early in the month and it shows a typical day for the San Francisco weather in September.
The days start out cool and warm up to around the mid-60s or lower 70s. The afternoons are nice and sunny. At dusk, it starts to cool down with temperatures dipping down into the mid-50s.
We get very little, if any, rain this time of year.
There is little fog in SF in September too. This means it will cool down at night, but you won't have overcast skies as during the summer months.
We do get wind all year around. It typically isn't too windy this time of year, but it does keep the San Francisco weather in September nice and comfortable.
Here are some average for us this time of year.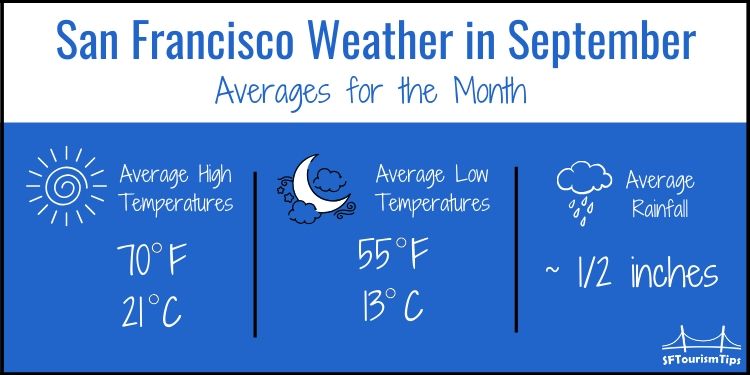 Average High in September: 70° F/21° C
Average Low in September: 55° F/13° C
Average Monthly Rainfall: 0.6 inches
Record High: 101° F/ 38° C (9/14/1971)
Record Low: 48° F/9° C (9/27/1955)
Disclaimer: I receive a small commission from some of the links on this page.

What to Wear for the San Francisco Weather in September

The San Francisco weather in September offers you a chance to break out shorts or skirts during the day. I often pair them with a short sleeve shirt. I never leave home without a light jacket as some parts of the city are cooler than others.
At night, I will swap out my shorts or my skirt for pants or jeans. I also switch out my sandals to closed toe shoes to keep my toes warm. I will also grab a heavier jacket or sweater as it does get cool here at night.
Make sure to bring along several items that you can mix and match with layers. This will allow you to add and remove items as the temperature changes throughout the day.
Most places in San Francisco are casual so jeans and casual tops are fine. A few higher end restaurants and dinner cruises require nicer attire. They often tell their guests if this is required since everything else here is so casual.
>> More tips on what to pack for your stay
5 Fun Things to Do in SF in September

1. Visit a Diego Rivera fresco: We have three Diego Rivera frescos in San Francisco. All three are open to the public at designated times. They are amazing pieces and well worth your time to visit them. Find details to visit here.
2. Head out on a cruise: The San Francisco weather in September makes it the perfect time to head out on a cruise. Several leave Fisherman's Wharf every day and all of them cruise under the Golden Gate Bridge. Find details on my 5 favorites.
3. Explore Alcatraz Island: This small island is about a mile off the coast of San Francisco. It was home to a military prison which turned into a maximum-security prison. Inmates such as Al Capone and Robert "The Birdman" Stroud called it home for several years. It's a must see. More about visiting and getting tickets here.
4. See the SF Giants in action: The SF Giants baseball team has almost a dozen games at home every September. They take on teams such as the LA Dodgers and Arizona Diamondbacks at Oracle Park. Get their schedule for this year here.
5. Attend a festival: Since the San Francisco weather in September is gorgeous, you will find a wide variety of festivals this month. My top picks include Comedy Day in Golden Gate Park, Chinatown Mid-Autumn Moon Festival, and A Taste of Greece. Discover details for this year's event.
>> Tips to find more of our street art here
>> My recommendations to tour Napa Valley
Getting Around SF in September

With the moderate San Francisco weather in September, you will probably end up doing quite a bit of walking. However, if you need a break, here are a few other ways to easily get around town.
Buses & Cable Cars: Both our buses and cable cars offer you the chance to get from one attraction to the next with ease. They run from early in the morning to late at night. You can either pay as you board or buy a multi-day pass through SF Muni. Learn more about how to get around SF.
Hop On Hop Off Bus Tour: Another popular and easy option to get around is to take a hop on hop off bus tour. These large open-air buses allow you to see the sights as they drive you from one attraction to the next. Each one has more than a dozen stops, and many offer a few different routes. Find out more about my favorite option.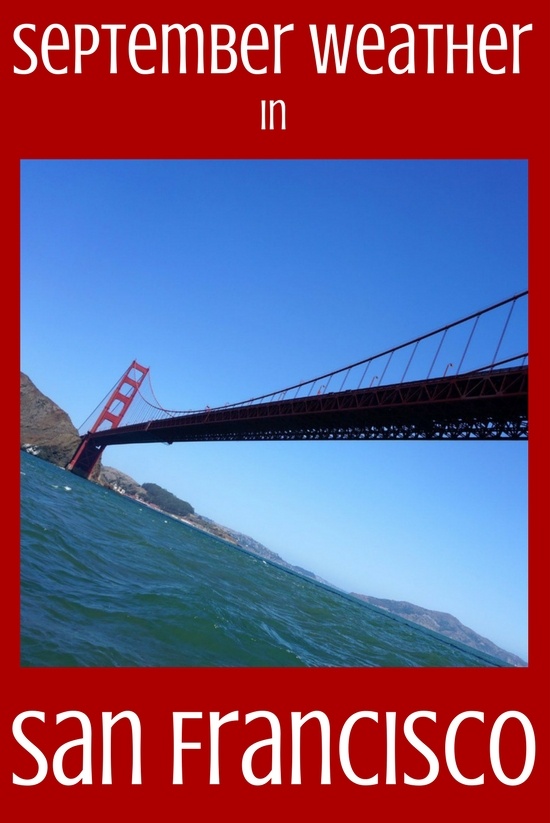 Comments? Questions? Suggestions?
I would love for you join me in my private Facebook group! 
It's a great place to interact with me and others that know the area well.
You can ask questions, get advice for your upcoming stay, and then share your photos and advice with others when you return home. It's a great community and the fastest way to get answers to those nagging questions about your visit!