Best Wine Tours from San Francisco to Napa & Sonoma


by Jill Loeffler  •

Updated: April 6, 2023
Taking one of the wine tours from San Francisco to Napa or Sonoma is a great way to spend the day. You have several options to visit these regions, ranging from a half-day bus tour to a helicopter tour over the beautiful Napa Valley vineyards. 

These two popular wine tasting regions are just over an hour north of the Golden Gate Bridge. Many tours pick you up at your hotel in San Francisco, stop at two to four wineries, and drop you back off at your pickup location.
During each tour, you will sample local wines as you learn more about each one from your knowledgeable guide and a staff member of the winery. 
You will often get the chance to take a behind-the-scenes tour of at least one winery and a walk through their vineyard. Most tours will also stop so you can pick up lunch and enjoy it on the grounds of a selected winery. 

Disclaimer: I receive a small commission from some of the links on this page.

What to Expect Each Season

My favorite time to go wine tasting is during harvest, which is from mid-August to mid-October. The vineyards are gorgeous during this time of year, with both the leaves and grapes vibrant in color. In addition, the entire region is bustling with harvest-related activities.

Though Napa and Sonoma are most colorful and active during harvest, there are advantages of taking one of the wine tours from San Francisco at other times of the year. This gives you some pros and cons of visiting during each season.

Spring
Pros: The vines are in bloom, which gives you the chance to see the early stages of the cultivation.
Cons: It's not a great time to take photos of the vineyards as the leaves are small and the grapes are not yet on the vines.
Summer
Pros: The weather is warm and it's sunny almost every day. It's the perfect time to walk around the vineyards and spend some time outside sampling your wines.
Cons: This is the busy season for visitors. The tasting rooms get crowded (especially on the weekends) and it's harder to move around (although most wine tours from San Francisco do their tastings in a private room, so this may not be a big issue).
Fall
Pros: It's harvest time! The leaves and grapes are mature and colorful. It's the best time to take photos of the vineyards. You will also get the chance to see part of the wine-making process.
Cons: This is the second busiest season for visitors and it's extra busy all around the region due to harvest. You may have to wait longer in line to sample wines and/or buy goodies in the stores.
Winter
Pros: This is the perfect time to go if you don't want to battle the crowds. It's my second favorite time to visit since the tasting rooms are empty and most wineries offer a more personalized visit. Some even offer wine specials during this time to clear the way for their new releases.
Cons: It's cool and rainy. The vines are brown with no leaves or grapes. It's not a great time to take photos or walk around the vineyards.
Now that you know a little about what to expect each season, are you ready to sample some great California wines? Read on to find out about the best wine tours from San Francisco.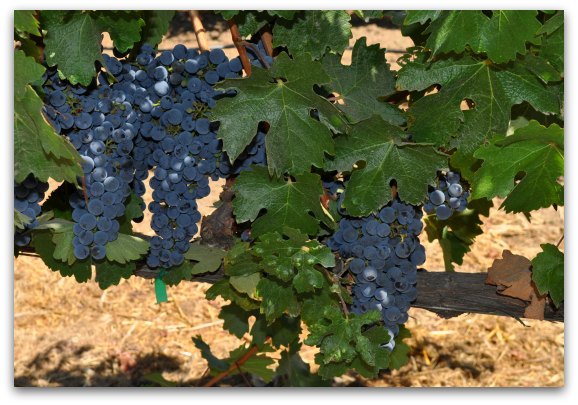 These are Merlot grapes from Napa Valley. I took this photo during a recent visit to the region in mid-September. By this time of the year, most of the red grapes are purple and blue and the white grapes are yellow or white. It's one of the best times of the year to photograph the vineyards.
Six Most Popular Wine Tours from San Francisco

Taking one of these wine tours from San Francisco offers you the chance to sit back, relax and enjoy the experience. All include transportation to and from San Francisco as well as the chance to learn more about the popular Northern California wine tasting regions.
For each below, I've estimated the length and price for each of these San Francisco wine tours. The time may change based on traffic, so plan for a little extra time for your return trip.
1. A Visit to Both Napa and Sonoma

Length: 8 hours
Estimated Price: $160*
# of Tastings: 3 wineries, fees included in price
This is a visitor favorite! This San Francisco wine tour takes you to both Napa Valley and Sonoma County wineries, so you get the chance to learn about both regions. This full-day trip includes a guided tour and tasting at three popular wineries.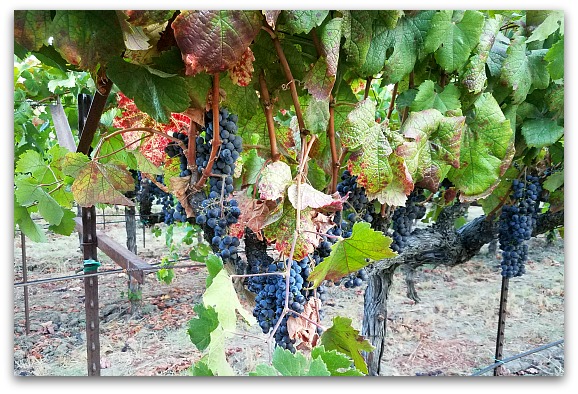 You will also have some time for lunch (not included in the price) and a walk around the beautiful town of Yountville in Napa or the Sonoma Plaza.
>> Find availability for this tour and book your spot
2. Combined Tour of Muir Woods & Wine Tasting

Length: 9 hours
Estimated Price: $169*
# of Tastings: 3 winery visits, fees included in price
This is another one of the most popular wine tours from San Francisco. You start your day with a visit to Muir Woods, where you can walk around and see the only Coastal Redwoods still left in the Bay Area. 
You will then continue north to visit three boutique Napa or Sonoma wineries. On this tour, you will have lunch on your own, usually in the historic Sonoma Plaza.
The price to visit Muir Woods is not included, which is $10 per person.
>> Find availability and book your spot
3. Half-Day Wine Country Excursion with Tastings

Length: 5.5 hours
Estimated Price: $109*
# of Tastings: 2 wineries, with tasting fees included
If you're a little short on time, or on a budget, this half-day tour is a great option. Lunch is not included in this tour, but you'll still get the full experience of the scenic ride over the Golden Gate Bridge, a drive through the quaint Mediterranean-like town of Sausalito, and visits to two of the Sonoma region's favorite wineries.
You'll not only get to enjoy up to 3-5 tastings of the signature blends at each winery, but you'll also get an exclusive estate tour in which your host will walk you through the vintner's fermentation, barrel-aging, and bottling process.
You'll return to San Francisco with gorgeous views as the sun sets over the Pacific Ocean, concluding a lovely afternoon getaway to the valley.
>> Find out more about this tour including ticketing information
4. Painted Ladies Wine Country Tour

Length: 8 hours
Estimated Price: $169*
# of Tastings: 3 wineries, with tasting fees not included
This small group, full-day tour will give you a personal look at the charming wineries and historic downtown plaza of Sonoma. Your ride is a funky Vintage VW bus with a small group of other wine lovers. 
Enjoy learning about the sights from your friendly and knowledgeable guide, who will first stop at the Golden Gate Bridge for amazing views of Alcatraz and the city skyline. 
You'll continue on to Sonoma Valley, where you'll get a chance to sample wines at three select wineries. 
Your gourmet Italian-style lunch will be at a winery restaurant (price not included, but usually about $10 to $20 per person). 
>> More information about this fun tour
*The price per person may change without prior notification. Please confirm pricing details before booking.

5. Small Group Tour from San Francisco to Napa Valley

Length: 10 hours
Estimated Price: $299*
# of Tastings: Up to 3 stops and wine tastings included in the price
This small group tour takes you from San Francisco to the famed Napa Valley. You'll tour three of the regions noteworthy wineries with a stop for lunch in Calistoga (lunch not included in the price).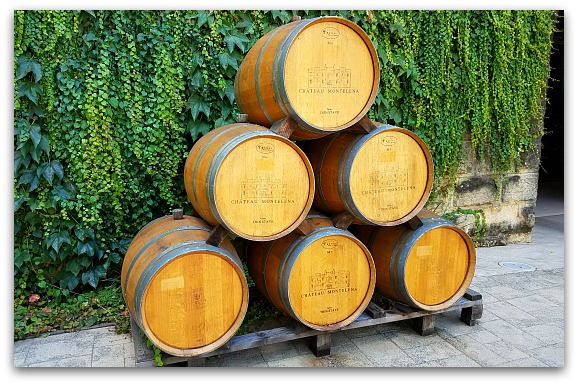 Wine Barrels in Napa at Chateau Montelena
In addition to tastings at three wineries, you will also tour  the medieval castle at Castello di Amorosa and stop for a photo of the Golden Gate Bridge.
With a small group, you will get a more personalized experience and fully enjoy your day! 
>> Find tickets for this small group tour
6. Small Group Tour to Sonoma Valley

Length: 9 hours
Estimated Price: $169*
# of Tastings: 3 stops, wine tasting included
Head off the beaten path to the Sonoma Valley wine region. This region sits to the west of Napa and offers a wonderful, low key tasting experience.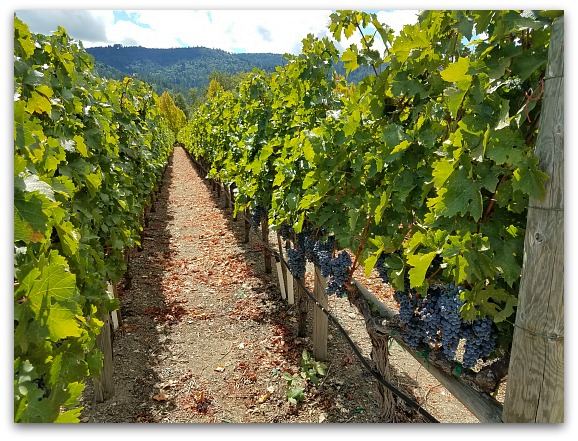 On this small group tour, you will experience three of the regions boutique wineries. You'll also stop for lunch at the historic Sonoma Square (lunch not included) and learn all about the region throughout the day.
On your way to your first tasting, you'll stop for a photo opportunity at the Golden Gate Bridge. On the way home, the tour stops in Sausalito, where you can choose to take the ferry back to San Francisco (ferry ticket not included in the price) or continue on via the bus. 
It's a full day of fun and a great way to experience all that Sonoma Valley has to offer. 
>> Find more details and availability for this tour

Upcoming Monthly Events in Napa Valley

Should You Buy Wine Directly from the Winery?

Many people believe that they get the best deal when they buy directly from the winery. This is not always true.
Most wineries distribute all over the US and some even ship their wines around the world. The prices at your local wine shop are often comparable to what you will find at the winery itself. 
However, most wineries feature wines in their tasting room that you cannot buy anywhere else. These sell at a higher price point, as they are typically a higher quality.

If you love a certain wine, ask the winery a few questions before buying, including where you could find that particular wine in your local area. If they happen to sell it locally, it will save you the hassle of carrying or shipping your wine home.

Should You Sign Up for Their Wine Club?

If you really enjoy the wines from a specific winery and the wines are hard to find, then I recommend signing up for their wine club. This automates the process so you can receive more of their delicious wines each month or quarter.
As a member, you are also often the first to receive new releases or limited production wines. Most memberships include free tastings in their tasting rooms and discounts when you buy more wines online or in person. You will also receive invitations to their exclusive parties.
Another great thing about these clubs is you can usually opt out after the first delivery. If you regret signing up after your visit, then simply call and tell them to cancel your membership.

If you don't drink much wine or you don't have a great place to store it, then skip the wine club membership. You can always buy their wines online or contact them directly for a shipment. 

A Few Additional Wine Tasting Tips...

Is this your first trip to wine country? No problem, here are a few helpful hints to help you prepare. 
Eat Before Tasting: Eat a good breakfast before you leave your hotel, so you are ready for a full day of tasting. 
Don't Wear Perfume: Leave the scent of your perfume and lotions at your hotel. This allows your nose (and others' noses!) to fully experience the beauty of each wine.
Taste Like a Pro: Swirl, sniff, sip, and repeat to savor all of the aromas and flavors.
Ask Questions: Don't be afraid to ask questions as the wineries LOVE talking about their wines.
Enjoy Your Day: Wine tasting is a slow process so you can remember every moment, flavor, and wine. Take your time as you taste and savor the experience.
Don't feel intimidated at all in wine country. People in Napa and Sonoma are very friendly and welcome both newcomers and seasoned tasters. They want to help with the process and love to give information to all tasters, so they become more familiar with their wines.

Wine Tours from San Francisco: Create Your Own Tour

Are the guided wine tours from San Francisco not right for you? Would you rather set out on your own? It is easy to get to Napa or Sonoma for the day from San Francisco. Here are just a few tips if you plan on going on your own.
Rent a Car in SF: Don't rent a car from the airport, wait until you get into San Francisco and rent your car there, just for the day. You really don't need a car in the city but will need it if you head to up to Napa or Sonoma on your own. Just make sure you check how late the rental car company is open, since some close early certain nights of the week. 
Pick a Region: There are hundreds of wineries in northern California and it's not possible to visit all of them in one day. Select only one region--Napa, Sonoma Valley, Dry Creek Valley, etc.--and plan on visiting around four or five wineries during your trip.
Schedule Appointments: Set up tasting tour appointments in advance. Most wineries have open tasting hours, but it's fun to learn a little more by setting up a tour. You can simply call a few wineries ahead of time or look on their sites to see if they have regularly scheduled visits.
Get Recommendations: Ask others in the tasting room for recommendations. This is a fun way to learn about special tastings, winery events, and other wineries in a specific region that you must see.
Return via the Golden Gate Bridge: Take the Golden Gate Bridge back to San Francisco. No matter which region you visit, you will want to plan your return trip to San Francisco using the Golden Gate Bridge. You will most likely hit rush hour traffic on the way home, and the best option is the Golden Gate Bridge.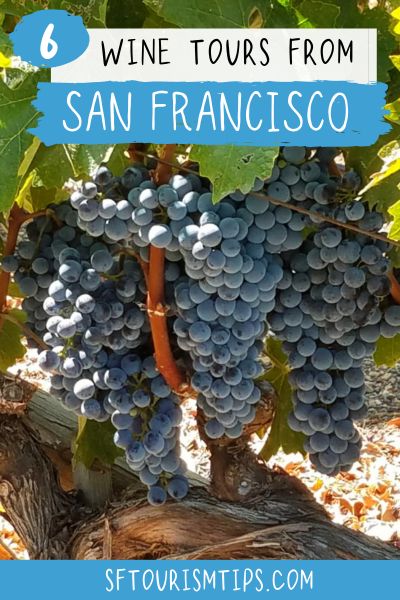 Comments? Questions? Suggestions?
I would love for you to join me in my private Facebook group! 
It's a great place to interact with me and others who know the area well.
You can ask questions, get advice for your upcoming stay, and then share your photos and advice with others when you return home. It's a great community and the fastest way to get answers to those nagging questions about your visit!