San Francisco Lodging: Find the Best Options in SF by Budget & Neighborhood

by Jill Loeffler  •

Updated: May 20, 2023
There are hundreds of San Francisco lodging options. Here you will find recommendations for budget-friendly hotels as well as those in the most popular districts of Fisherman's Wharf and Union Square.

Disclaimer: I receive a small commission from some of the links on this page.

Union Square

A heart on display in Union Square, three corners have rotating hearts, and the fourth corner has a permanent one
Union Square is one of the most popular places to stay in San Francisco. It's home to dozens of hotels from high end, five-star options to small, no frills ones with two stars.
Another great reason to stay here is that it's centrally located. You can easily get from this district to locations all around SF. Many tours also pick up at several of the hotels here. 
San Francisco hotels here include big names such as Marriott, Hyatt, and the Four Seasons. You'll also find some great boutique hotels.
It's in the heart of the city, so it's busier and louder than some of the other options. No matter where you are staying, you'll most likely hear some street noise at night. If you are a light sleeper, bring along ear plugs or ask to stay in a quieter room in the back.
Parking is tight here, so you will pay quite a bit in parking if you rent a car or drive into SF for the night. 
Here are a few of my top recommendations:
The Westin St. Francis on Union Square: 4-star hotel, right on the square, amazing views from many of the rooms, right on the cable car line, more about this hotel
Orchard Hotel: 4-star hotel and a Travel Sustainable property, highly rated and just 2 blocks from the square, close to Chinatown, dining on site, reviews and more about booking here
Handlery Union Square: 3-star, highly rated, outdoor pool, gym, and a great location, more details on the Handlery here
>> Find additional recommendations and tips for staying in Union Square
>> Tips on how to get here from SFO
House, Apartment, and Vacation Rentals Around San Francisco
Fisherman's Wharf Hotels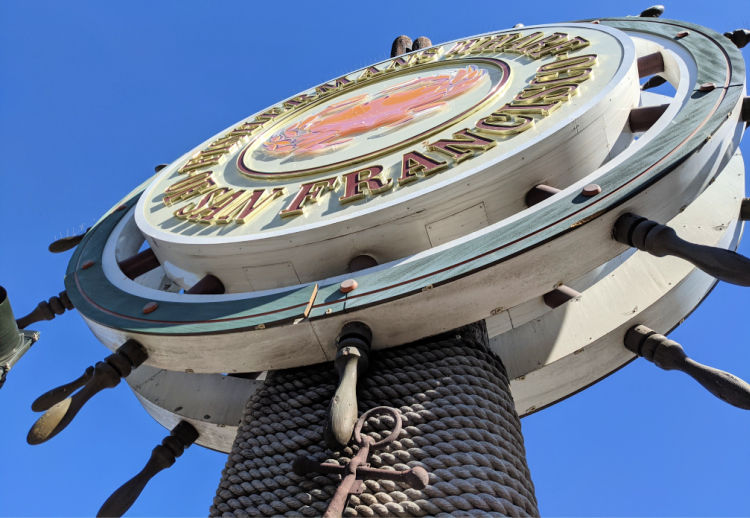 Looking up at the famous sign in Fisherman's Wharf
Another popular neighborhood for visitors is Fisherman's Wharf. Staying here keeps you close to many of the attractions such as Pier 39 and Ghirardelli Square.
You are also close to the ferries for Alcatraz, Angel Island and for the bay cruises. Most options here are just two to three blocks away from the water.
You will find this area of San Francisco is very touristy. There is very little housing here, so you won't find many locals here at all. 
There is some nightlife, but it's pretty quiet at night. There are some wonderful restaurants and bars all around this small district, so you'll have plenty of options to choose from.
It's great for those traveling with kids as you can easily walk to all attractions in the district.
It's close to North Beach and not too far away from Chinatown.
Here are a few of my top picks here:
Argonaut Hotel, A Noble House Hotel: 4-star right near the water, nautically-themed rooms, western end of Fisherman's Wharf, perfect for couples, find more details here
Riu Plaza Fisherman's Wharf: 4-star hotel that is perfect for families, outdoor pool, close to all activities in the district, outdoor firepits, restaurant and bar on-site, find out reviews and more
The Suites at Fisherman's Wharf: 3-star, small, locally owned option with huge rooms, kitchenettes and dishwashers in rooms, budget-friendly option for those traveling with kids, fills up early so book as soon as you have your dates, more information here
>> More recommendations in Fisherman's Wharf
House, Home, and Boat Rentals Near Fisherman's Wharf
Downtown SF Lodging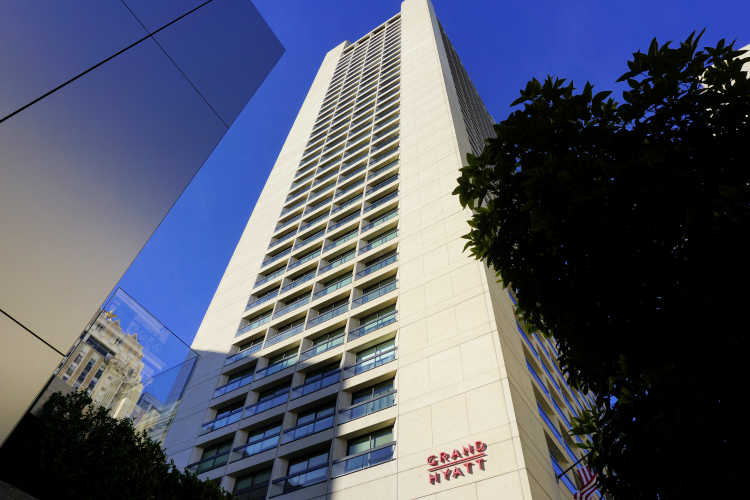 One of the many tall hotel buildings in downtown San Francisco
Downtown San Francisco is an area that includes the Financial District, Union Square and parts of the South of Market (SoMa) neighborhood. The lodging here is varied and you'll find dozens of great options. 
The location is good for either business or leisure travel. All are also within easy access to public transportation so you can easily make your way around the city.
This is where you will find several large and tall hotels. They include big names such as the Omni, Hyatt, and Marriott brands.
This area is easy to get to from SFO as you can take BART to one of a couple of stops. 
Here are just a few of my favorites here: 
Grand Hyatt: 4-star hotel, great views from many of the upper rooms, restaurant/bar on site, in the heart of the action, find out more about this hotel
Palace Hotel:  5-star historic gem in the SoMa district right off Market Street, wonderful decor, glass dome indoor pool, check for prices and availability
Inn at Union Square: 3-star, highly rated property, clean rooms, friendly staff, read reviews and check out availability
>> Find out more about what it's like to stay downtown and several more San Francisco hotel recommendations
Luxury Hotel Recommendations

San Francisco is home to many high-end hotels. They range from wonderful 4-star gems to 5-star beauties with every amenity imaginable. 
Several of them sit high above SF on Nob Hill. This is where you will find the historic Fairmont and the InterContinental Mark Hopkins. You will also find two Four Seasons hotels, a Ritz-Carlton, and the luxurious St. Regis.
Staying at a luxury San Francisco accommodation is a treat. Many offer more than one or more restaurants on site and a bar. You'll also find room service, high quality bedding and towels, and so much more.
Here are just a few of my top picks:
Four Seasons Hotel at the Embarcadero: 5-star downtown SF hotel, gourmet dining on-site, rooms on the top 11 floors of a 48 story building so you get amazing views from every room, find pricing and availability
San Francisco Marriott Marquis Union Square: 4-star just south of Market Street, clean, friendly staff, wonderful views from certain rooms, and amazing views from their top floor bar, find pricing and availability
Beacon Grand (formerly the Sir Francis Drake): 4-star close to the action, right on the cable car line, newly remodeled, great staff, check for pricing and availability
>> Find luxury options all around SF
Five Star Hotels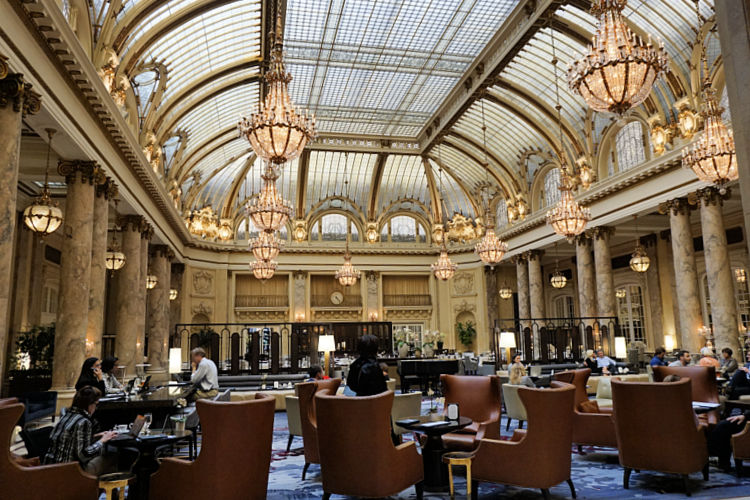 San Francisco is home to several five star hotels. These include places such as the historic Palace Hotel, the Four Seasons, and the Hotel Nikko. 
All five star hotels include the following amenities: 
Standalone concierge desk
A high staff to room ratio for more personalized service
24-hour room service, reception, etc.
Medical team and other resources on call
At least one fine dining restaurant
Stand alone bar or lounge
All of these create a very high-end and personalized experience. You will find these San Francisco lodging options mostly in the downtown and Nob Hill districts. 
The service at these places is high-class and you will see that in their nightly rates. Most of these places start at around $500 a night and run up to $1,000 or more per room. 
>> Read more about SF's top five star beauties
Cheap Hotels

You will find a wide range of San Francisco accommodations. While most people think that all hotels in San Francisco is expensive, you will find some great places to stay that are budget-friendly.
They are often places with smaller rooms, very few amenities, or they are located a little further from the action. However, those on my list are clean and comfortable.
If you don't spend much time in your room, these are a great option to help you save a little while you are here. 
Most are around $150 or less a night. 
>> Check out my recommendation for cheap and budget-friendly hotels
SF Motels

In addition to our budget-friendly hotels, you will also find a number of motels in certain areas in the city. The difference at a motel is that your room door faces outside instead of in an indoor hallway.
A large number of these motels line up along Lombard Street in the Marina District. You'll also find a few in the South of Market District.
The other great thing about motels is they often have parking that is free with your room. These are great if you are driving in and want an affordable place to stay and park your car.
Most places charge up to $75 a night to park so this is a budget changer for those with a car that don't want to pay those types of prices.
>> Check out the best SF motels
SFO Airport Hotels

The San Francisco airport is about 20 to 25-minutes outside the city. 
You will find the San Francisco hotels near the airport are quite a bit less than staying in the city. It's a budget-friendly option for those that don't want to pay the high prices of accommodations in SF. 
One thing to keep in mind though is that you will need to pay to get in and out of SF daily. It can be a bit of a hassle. You'll need to either rent a car (and park it which will cost quite a bit of money) or take public transit, which can also add up. 
The other thing to remember is that there isn't any nightlife and not many restaurants or shops nearby these hotels. You will need a car or will need to use Uber/Lyft to get around. 
It's a great option for those needing to get to the airport early in the morning for a flight. You'll need to weight the pros and cons of staying here if you plan to stay near SFO for your entire visit.
>> SFO Airport Hotel Recommendations
Boutique Hotels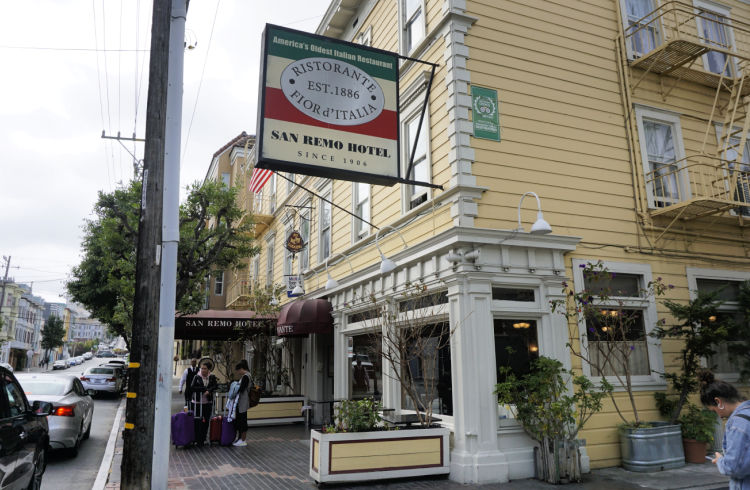 If you are looking for a small hotel with a lot of character - then these recommendations are for you! Here you will find the top San Francisco bed and breakfasts as well as smaller, locally owned accommodations.
Since many of these are small with fewer amenities, they also tend to cost a little less than a three or four star hotel. Make sure to read through the amenities before booking to ensure it has everything you need for your stay. 
My recommendations range from those with only 5 to around 50 rooms.
>> Boutique Hotel Recommendations
Youth Hostels

If you are on a really tight budget, a youth hostel might be the right San Francisco lodging option for you. Each hostel offers dorm room sleeping accommodations as well as a community experience.
Some also offer private rooms and/or private bathrooms.
You'll find that some offer female and male only dorms. Others offer coed dorms and you'll find some that offer all three. 
Make sure you check the number of beds in the room with you so you know you'll be comfortable with the accommodations when you arrive.
The community experience in many of these places includes a lounge area for you to read and hang out. They also often offer access to their kitchen so you can make your own food and save a little on going out to eat. 
Most of the options are in North Beach and downtown San Francisco. 
>> Find details about SF's best youth hostels
Best Pet Friendly Accommodations

If you are traveling with your dog, there are a number of great places that allow pets. They range from five-star accommodations to small, budget friendly two star ones.
Many of these are centrally located and have pet specific amenities.
Many will charge an additional pet fee per night for your four legged friend. Many also limit the size and type of pets you are able to have with you in your room. 
Make sure to check all of these details closely before booking.
>> Check out my list of pet friendly accommodations
Extended Stay Lodging

Are you staying for a few weeks, a month, or more? Are you looking for a San Francisco lodging option such as a condo or apartment? This page offers you the best places to stay if you are planning on a longer trip to San Francisco.
All of these hotels include small kitchens, living space that is separate from the sleeping area, and other long term stay amenities.
Many of these are centrally located, so you'll still be close to the action.
>> Check out my recommendations for extended stay lodging in SF
Best Places to Stay

If you are trying to decide between staying in Union Square or Fisherman's Wharf, then this is the page for you.
On this page, you will find a little about each district and where you should stay based on your plan during your stay.
>> Tips to Select the Best Place to Stay
More Hotel Ideas to Explore
Other Options by Neighborhood

Individual Hotel Reviews

Places to Stay Beyond SF

Sausalito
Are you looking for a quiet, slower paced place to stay near San Francisco? Do you love small, locally owned hotels? If so, then you will want to look into staying at one of the hotels in Sausalito CA.
There are only a handful of hotels here, but many are either along the waterfront or on small, serene streets just blocks from its downtown area.
Monterey Accommodations

Another popular place for visitors to spend a few days is south of San Francisco in Monterey. This small waterfront town features a number of key attractions including the Monterey Bay Aquarium, Cannery Row and Old Fisherman's Wharf.
Click the link below to find some of the best places to stay during your visit.
>> Monterey, CA
Carmel Hotels & Other Accommodations

Just to the south of Monterey, you will find another cute waterfront town by the name of Carmel-by-the-Sea. Here you will find a charming business district with art galleries, shops and several mouth-watering restaurants.
Click the link below for several places to stay in the heart of the action.
>> Carmel-By-The-Sea Accommodations
Pacific Grove Hotels and B&Bs

Pacific Grove is a cute waterfront town south of San Francisco. It borders Monterey and is just a few minutes away from Carmel. The town itself offers a handful of interesting attractions and activities including museums, golfing and beaches.
Click the link below for information on finding the best place to stay in Pacific Grove.
>> Pacific Grove Hotels and B&Bs
More San Francisco Lodging Options
Comments? Questions? Suggestions?
I would love for you to join me in my private Facebook group! 
It's a great place to interact with me and others who know the area well.
You can ask questions, get advice for your upcoming stay, and then share your photos and advice with others when you return home. It's a great community and the fastest way to get answers to those nagging questions about your visit!