San Francisco Financial District: 12 Things to See & Do in this Busy SF Neighborhood

The San Francisco Financial District is where you will find offices for some of our largest businesses. Known locally as "FiDi," this neighborhood also has quite a few fun things to do and some historic restaurants that you won't want to miss.

It's also a great place to stay if you are on business or for travel.
The official borders for this district also include parts of North Beach and Chinatown. The western border is along Grant Avenue, on the south is Market Street, on the west is the Embarcadero and on then north is Broadway Street.
Read on for some of my favorites places to visit, grab dinner, and enjoy live entertainment.
Disclaimer: I receive a small commission from some of the links on this page.

12 Fun Things to See & Do

1. California Cable Car

SF is home to three fully operating cable car lines, and you will find one of them in the San Francisco Financial District. The California cable car line runs east and west from Drumm and California all the way to Van Ness and California in the Nob Hill District.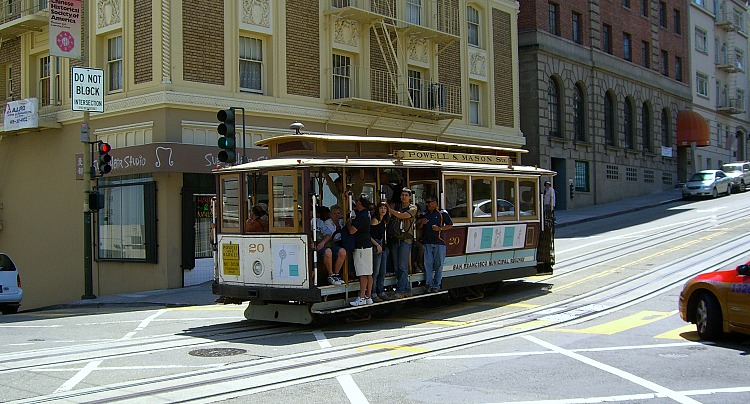 As you head from east to west, you will be awed by the wonderful views from the hill of this district. Something I love about this line is that the lines to ride it are not very long.
Make sure to sit in the back of the cable car, so you get the best views as you are pulled up the steep California hill.
I like to sit facing north too, so I can see the historic Fairmont Hotel as well as Grace Cathedral as the car drives by.
You can pick it up at its first stop at Drumm and California or anywhere along California Street where you see the cable car pick up signs.
2. Wells Fargo Museum

The Wells Fargo Museum is also located in the heart of the San Francisco Financial District. Located at 420 Montgomery Street, this small, yet interesting museum is a fun place for those wanting to learn more about Wells Fargo and SF history.
Inside, you will see an original stagecoach, a great exhibit on the 1906 Earthquake and Fire, some original mail sent through the Pony Express, and some fun interactive activities.
The museum is free to visit and open during the week until around 8 pm.
3. San Francisco Wine Society

The San Francisco Wine Society is one of my favorite wine bars in the city. It's hidden in the alley on Merchant Street.
They have a wonderful selection of both local wines, from places such as Napa and Sonoma, as well as from regions from around the world. You can also grab some small bites or enjoy some bocce ball in their courtyard.
You will find them at 408 Merchant Street.
>> Find more top wine bars around San Francisco
4. Embarcadero Center

Head over to the Embarcadero Center for shopping, to catch a movie or for lunch or dinner. This large outdoor mall spans four full city blocks. Each building is two levels and they are named One Embarcadero, Two Embarcadero, Three Embarcadero and Four Embarcadero (this becomes important when looking for a specific place).
You will find name brands such as The Gap, Ann Taylor, and SEPHORA among many others. You can also pick up some SF Giants gear or grab a quick bite to eat. If you are in the mood to just mellow out and relax, you can catch a show at their large Landmark's Cinema in One Embarcadero.
All four buildings are located between Clay and Sacramento Streets and Battery and the Embarcadero.
5. Transamerica Pyramid

The Transamerica Pyramid is one of the most famous buildings in SF's gorgeous skyline. Even though they no longer allow visitors inside, you can still get a great view of this amazing structure from the outside.

However, the reason you want to visit is to check out the Transamerica Redwood Park. It is located on the east side of the building, where you will find a serene park with costal redwoods. It's a nice quick step away from the business of the street.
Grab a take-away lunch and use the park benches to enjoy your meal and admire the trees. Make sure to also head over to the fountain that honors Mark Twain.
The Transamerica Pyramid is at 600 Montgomery Street.
6. Unfolding the Financial District: A San Francisco Chronicle Self-Guided Tour

This fun tour allows you to explore the Financial District at your own pace. 
You'll hear all about the popular sites and several hidden gems. The audio guide takes you through the history of the district, what happened here during the 1906 Earthquake, and other important events.
The tour runs about 1-hour, but you can start and stop at anytime. 
>> Find out more about this inexpensive self-guided tour
7. Portsmouth Square

Portsmouth Square is a thriving park that I love to visit when I'm in the area. You can grab a bench and watch the local Chinese men play mahjong. If you arrive at the right time, you will also see other locals practicing their tai chi.
It's also the location where the free Chinatown walking tour begins. You will find this interesting and lively park near Kearny and Clay Streets.
8. The Punch Line Comedy Club

One of the best nightlife options in the San Francisco Financial District is The Punchline Comedy Club. This highly regarded venue features comedians on stage several nights a week.
They feature well known comedians and up-and-comers. The types of comedians that perform here include Will Durst, Greg Proops, and Arj Barker. This comedy club is located at 444 Battery Street.Here is a list of upcoming shows.
>> Find additional tips to attend a show

9. Tadich Grill

One of the best old school restaurants in the San Francisco Financial District is the Tadich Grill. It's not only the longest running restaurant in SF, but also in California too.
After opening in 1849 as a coffee stand, it was purchased by John Tadich. In 1887, he renamed it the Tadich Grill and the name has remained after all these years.
Today, this popular lunch and dinner spot serves up fresh seafood, steak, and other specialties. My favorite dishes here include the Mesquite Broiled Salmon, Seafood Saute, and Filet Mignon.
They are open from 11 am to 9:30 pm six days a week. They close on Sundays. You will find them at 240 California Street.
10. History and Architecture Walking Tour of San Francisco Financial District

If you really want to dig into the history of the San Francisco Financial District, then I highly recommend this History and Architecture Walking Tour. It's a 2-hour tour that will tell you all about this district that was once called the Barbary Coast.
Back in the day, this was a rowdy, crazy and somewhat prosperous time for SF. The city was full of bars, brothels, and other seedy activities. You'll hear the best stories from this time and how this area turned into the high-tech and banking area it is today.
This tour runs twice a day, most days of the week. Visit Viator to learn more and check for tour availability.
11. Vesuvio & City Lights Booksellers

Want to walk in the path of the Beat Generation? In the 1950s, this avant guard generation called part of the San Francisco Financial District and North Beach home.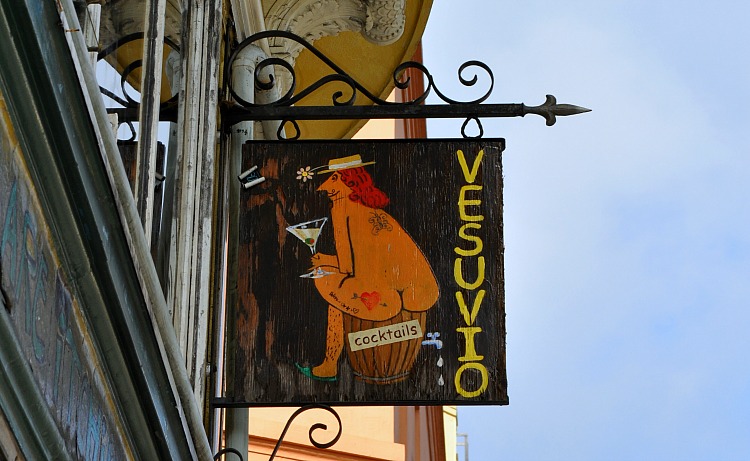 They were writers, poets and artists who were willing to live outside the normal society and didn't follow mainstream thinking.
On the northern tip of this neighborhood, you will find two places highly relevant to this generation. City Lights Booksellers is an independent bookstore founded by one of the Beats, Lawrence Ferlinghetti.
A writer, poet, and activist, Ferlinghetti opened City Lights in 1953 as a place for Beat writers to showcase and sell their works. Today, this wonderful store focuses on an array of books you won't find anywhere else.
Right next door, you will find the Vesuvio Cafe. This was a popular haunt for writers such as Jack Kerouac, Allen Ginsberg, Ferlinghetti, and Neal Cassady.
They have memorabilia on the wall and it's a fun place to grab a drink as you soak in the history of those that sat here before you. The Vesuvio Cafe is at 255 Columbus Avenue.
Also, don't miss the colorful murals in the Jack Kerouac alley in between these two spots.
>> More about the Vesuvio Cafe
12. Belden Place

The last item on my list is one of the best places to grab dinner in the San Francisco Financial District. This small area is home to a variety of restaurants. Many of them offer outdoor seating away from the sidewalks and streets of this busy area.
Sam's Grill and Seafood is another SF establishment that is a fun place to visit and it opened in 1867. You can eat a full meal inside or sit outside and enjoy something from their alley menu. You will find Sam's at 374 Bush St.
If you love French food, you are going to have to visit Cafe Bastille. Come for lunch, dinner or even happy hour. Grab a seat in their outdoor area to enhance your Parisian experience. You will find them at 22 Belden Place.
Where to Stay in the San Francisco Financial District

If you plan to stay in the San Francisco Financial District, you will find several great options. Here are just a few of the most popular picks.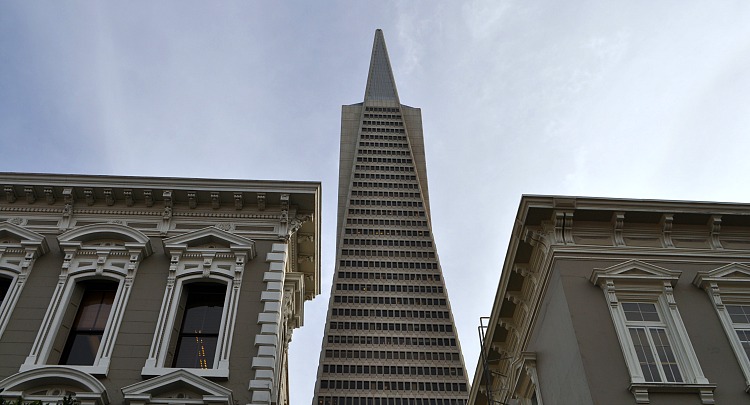 Hyatt Regency: 4-star, 805 room hotel along the Embarcadero, great location, close to public transit and near the first California cable car stop, 5 Embarcadero Center, find out more and check for room availability for the Hyatt Regency.
Hilton San Francisco Financial District: 4-star, 27 story hotel with easy access to Chinatown, North Beach and the San Francisco Financial District, find out more and check for rooms for the Hilton.
Le Meridien: 4-star hotel connected to the Embarcadero Center by a pedestrian bridge, European style luxury hotel, check out more details and to check current prices for Le Meridien.
You will also find other great places to stay in these nearby districts.
How to Get to the San Francisco Financial District

With its central location, you will find it easy to get to from many districts around SF.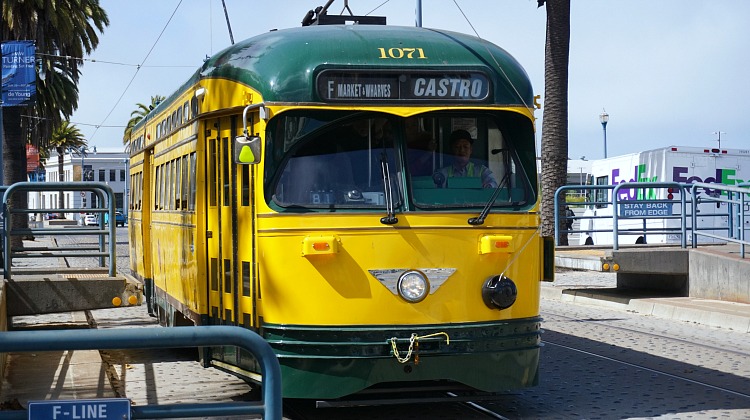 Street Cars: The best way to get here from Fisherman's Wharf is to take the street car. The F drops off within a few blocks of the district and this is your best bet from Fisherman's Wharf.
SF Light Rail: All of the light rail trains come to the Montgomery and Embarcadero Stations. These are the two best stations for this district.
BART: You can also take BART to either the Montgomery or Embarcadero Stations. This takes you from SFO or the East Bay to SF.
Buses: You will find dozens of buses in and around the San Francisco Financial District. Many of these will bring you to the neighborhood or take you to another one in a short period of time.
>> More about getting around SF
Comments? Questions? Suggestions?
I would love for you to join me in my private Facebook group! 
It's a great place to interact with me and others who know the area well.
You can ask questions, get advice for your upcoming stay, and then share your photos and advice with others when you return home. It's a great community and the fastest way to get answers to those nagging questions about your visit!