Redwoods Near San Francisco: 14 Places to See Coastal Redwoods in Northern California

by Jill Loeffler  •

Updated: October 6, 2022
Which parks are home to the best Coastal Redwoods near San Francisco? You will find more than 30 parks in California with Coastal Redwoods trees. Some are close by and others are hours away.

To help you decide, I've created a list of the 14 best parks to visit in Northern California. I've included their distance from SF so you can decide how far you want to drive to find them. 
The closer parks are at the top of my list. I've also include four parks within SF, although the redwoods there are not as old or impressive.
At the bottom of the page, you'll find more parks that are a little further away, but are quite famous. This way you can decide if you want to spend just the day or a couple of days admiring these gigantic beauties.
Disclaimer: I receive a small commission from some of the links on this page.

Coastal Redwoods and Giant Sequoias: What's the Difference?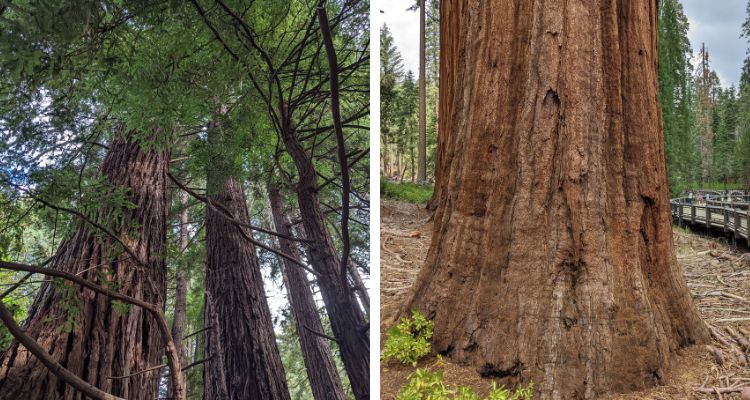 The group on the left is from Muir Woods. These are Coastal Redwoods. The one on the right is a giant Sequoia in Yosemite.
What is the difference between redwoods and sequoias? Even though many people confuse them, they are closely related and yet not the same.
Coastal redwoods are only found near the coast in California between the northern border of the state and then south to the Big Sur area. They are the tallest trees in the world and live to be several hundred years old.
Sequoias are the biggest trees in the world, which means they have a large diameter. Sequoias also do best at altitudes of around 4,000 to 8,000 feet. You will find them in California in the Sierra Nevada Mountains in places such as Yosemite National Park, Sequoia National Park and Kings Canyon National Park.
One other difference between the two is that the pinecones of the sequoias are nearly three times the size of the pine cones from redwoods. Use my guide to find out where you can find giant sequoias.
Many people mix and match these two types of trees as they both have a red coloring. However, redwoods are taller and thinner, and sequoias are wider and shorter.
Here are fourteen great places to find redwoods near San Francisco! 
1. Muir Woods National Monument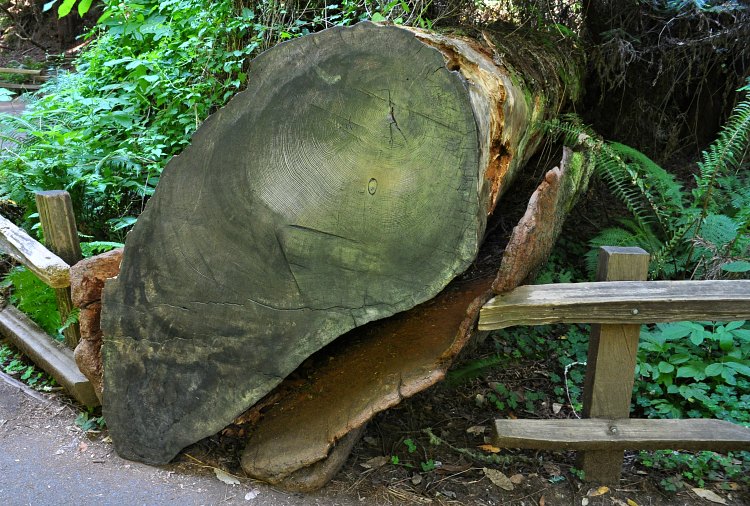 Distance from San Francisco: 45 minutes north
Muir Woods National Monument is the most popular option for redwoods near San Francisco. This park opened in 1908 and is the closest option near SF.
You can stroll beside trees that age from 400 to 800 years old and enjoy a few exhibits to learn more about them. The main trail is mostly flat and there is a visitor's center, which is why this one is most visitors' first choice.
You will also find several other great hiking trails throughout these California redwoods.
It's open 365 days a year; however, you will need to make a parking or Muir Woods shuttle reservation, as they are attempting to relieve overcrowding. Learn more about visiting, how to book a tour, and where to reserve a parking/shuttle spot if you plan to go on your own.
>> Additional National Parks near San Francisco
2. Pacific Union College Forest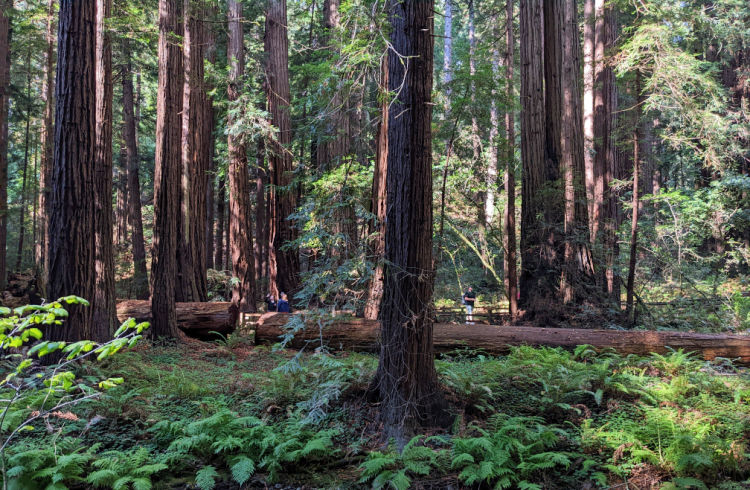 Distance from San Francisco: 1 hour and 40 minutes north
The PUC Demonstration and Experimental Forest is truly a hidden gem. This thousand-acre paradise is tucked away and only recently opened to the public as part of a conservation agreement with the state. 
The 35 miles of trails wind through California redwoods, Douglas firs, ponderosa firs, and rare endemic species like the Napa False Indigo. You can hike, bike, or horseback ride through this beautiful forest. 

Make sure to stop at Inspiration Point for the breathtaking views. You might even get lucky and spot the nesting Northern Spotted Owls. 

To get off the beaten path and discover this oasis, head to Angwin, just a few miles north of the quaint Napa Valley wine-producing town of St. Helena.
3. Henry Cowell Redwoods State Park

Distance from San Francisco: 1 hour and 30 minutes south
Henry Cowell Redwoods State Park is another place to admire the gorgeous redwoods near San Francisco. This park is famous for its old-growth redwood trees. This grove is 40-acres and the entire park is more than 4,600-acres.
The tallest tree in Henry Cowell State Park is 277 feet tall and about 1,500 years old. While you are here, make sure to step inside the famous Fremont Tree (it can fit an entire family!) and take a photo.
One of the unique features of this park is you can see a Coastal Redwood, Giant Sequoia, and a Dawn Redwood planned side by side near the entrance. The second two are not native to the park, but it will give you a great idea on the different among these three living giants.
In addition to the trees, you can also do a little hiking, swimming or cycling here. The visitors center is also open most of the year.
>> Find additional redwood parks near Monterey
4. Armstrong Redwood State Natural Reserve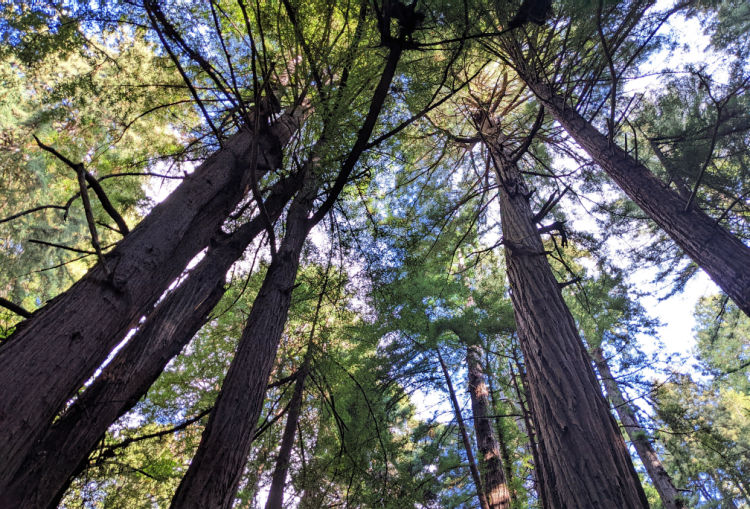 Distance from San Francisco: 1 hour and 45 minutes north
Armstrong Redwood State Natural Reserve is north of San Francisco in Sonoma County. Here you will find 805 acres of redwood trees.
Armstrong Woods reserve has a small visitor's center, places to have a picnic among the trees and several self-guided hiking trails. There are also several roads for you to drive among the trees.
It's free to visit, but they do ask for donations at the visitor's center.

5. Big Basin Redwoods State Park

Distance from San Francisco: 1 hour and 30 minutes south
Big Basin Redwoods State Park is another great option for those wanting to see redwoods near San Francisco. It originally opened in 1902 and is California's oldest state park.
Some of the giants in this park are more than 50 feet in circumference. The oldest trees here are anywhere from 1,000 to 1,800 years old.
This park has more than 80 miles of hiking and some gorgeous waterfalls.

If you just want to do a short hike and check out the trees, then take the Redwood Loop Trail. It's a 0.6-mile loop that is mostly flat and you will stroll by some of the best redwoods in the park.
If you have a bit more time and want to do a little more hiking, then check out the Sequoia and Skyline to the Sea trails. This is a 4-mile loop that will show you even more of these beauties.
This gorgeous park was hit with a big fire in August 2020. They are slowly reopening and at times require a reservation to visit, so make sure to check their current status before you arrive.
6. Portola Redwoods State Park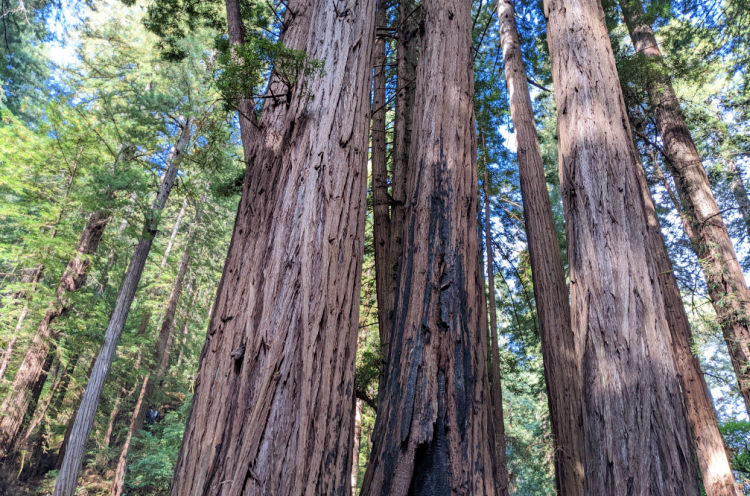 Distance from San Francisco: 1 hour and 20 minutes south
Just to the north of Big Basin Redwoods State Park is the Portola Redwoods State Park. This park is about 2,800-acres and offers a great look at some of the best redwoods near San Francisco.
You will find more than 18 miles of trails inside the park.
The most walked path is the Old Tree Trail. This trail offers a 1.2-miles round trip through these ancient giants. At the end of this trail, you will find a single tree called the Old Tree.
It's one of the tallest in this area--standing at around 300 feet tall. It's about 1,200 years old and is an amazing sight to see.
7. Dr. Aurelia Henry Reinhardt Redwood Regional Park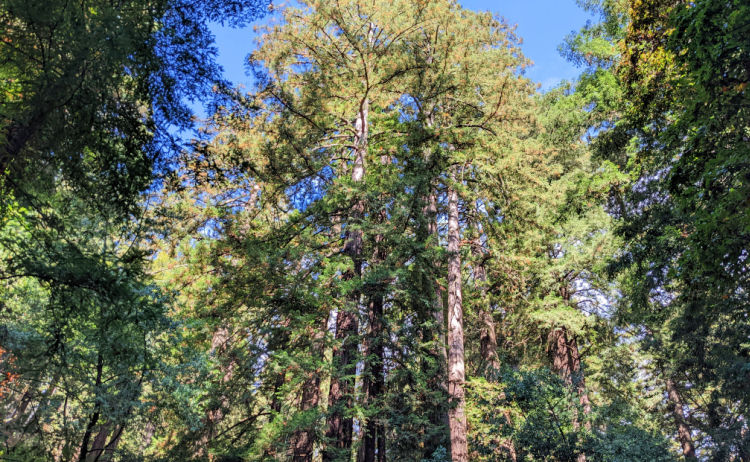 Distance from San Francisco: 30 minutes east
Just a short drive uphill from downtown Oakland, you would never guess that this gorgeous, peaceful, 1,833-acre park used to be a popular logging site for the Gold Rush settlers of the mid-1800s.
Impressive 150-foot-tall coastal redwoods have since filled in the area. Now full of beautiful groves, picnic areas, fantastic views of the bay, and a variety of wildlife, this park is a popular spot for easy day hikes.
The extensive area offers several meandering trails to choose from. If you're not into the rigorous up-and-downs, you can take the wide, flat, shaded Stream Trail from one end of the park to the other.
Formerly known as Redwood Regional Park, this gem was renamed in 2019 in honor of Dr. Aurelia Henry Reinhardt, a founding member of the East Bay Regional Parks District.
She was also president of Mills College in the Oakland Hills, where she encouraged her students to get in touch with nature everyday.
4 Small Redwoods Parks in San Francisco
If you don't have time to venture outside of San Francisco to visit one of these amazing parks, you can get a small idea on what these giants look like in a few parks within the city limits. These trees are not as large, old, or impressive as those mentioned above, but it's a great way to see them if you don't have time to visit one of the older forests mentioned above.
8. Transamerica Redwood Park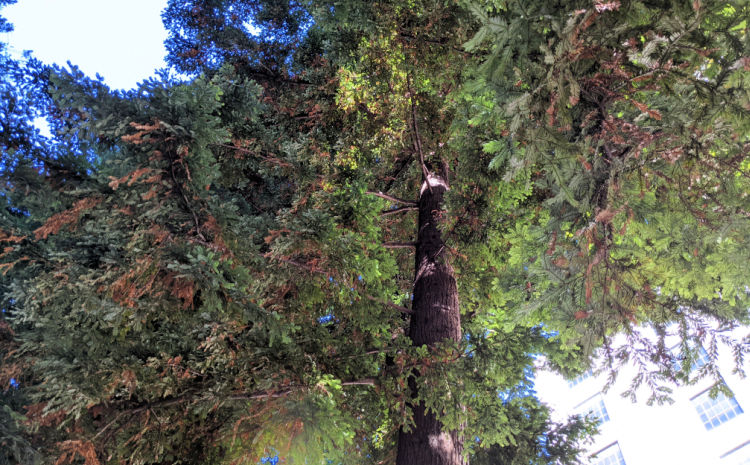 Redwoods near the Transamerican Building in San Francisco's Financial District
At the base of the iconic Transamerica Pyramid, which used to be San Francisco's tallest skyscraper, the redwoods in this small grove may not seem as towering as those you'll find in the huge nature reserves outside the city. However, they do provide some perspective, some green, and a nice shady oasis in a sea of concrete.
They were transplanted here from the Santa Cruz Mountains when the tower was built in 1972. This is one of the city's many privately owned public spaces where anyone is welcome to enjoy the benches and tables and take in the vertical views.
Location: the east side of the Transamerica building at 600 Montgomery St., between Washington and Clay
9. Hero's Grove in Golden Gate Park
There is so much to see in the extensive Golden Gate Park that most people miss the small redwood grove along its northern edge. Known as Heroes Grove, it's actually a memorial for the local soldiers who gave their lives in WWI and II.
This lovely, quiet, reflective spot is nestled behind the de Young Museum and can be accessed through trails from JFK Drive, or from the east side of the Rose Garden.
Location: The closest entrance to the park from the surrounding streets is at Fulton St. and 10th Ave.
10. Wayburn Redwood Grove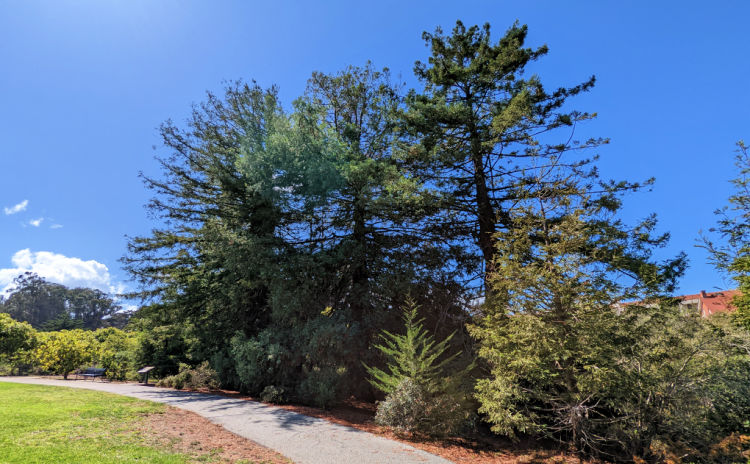 If you're driving on Highway 101 toward the Golden Gate Bridge, you will go through an area of newer parks that are the result of years spent restoring the Presidio area's watershed and vibrant bird life. The serene, open Wayburn Redwood Grove is part of that.
Lined with paths and benches, this coastal redwood grove is named after Dr. Edgar Wayburn, who earned the Presidential Medal of Freedom for his lifelong conservation work.
Location: Lincoln Blvd. and Girard Rd. (If you're exploring the Presidio on foot or by bike, you'll find the grove where the Presidio Promenade intersects with the Tennessee Hollow Trail)
11. National AIDS Memorial Grove
This is another redwood grove within Golden Gate Park, specifically within the 7-acre area that comprises the AIDS Memorial Grove near the eastern end.
The redwood circle contains ten large boulders with inscriptions, dedications, and remembrances for all those whose lives have been touched by the disease. While this is usually a quiet spot, it's not unusual to see weddings and ceremonies take place in this awe-inspiring setting.
Location: Nancy Pelosi Dr. and Bowling Green Dr., across from the Lily Pond and the Tennis Center
Other Top Places to See Redwoods in Northern California

You will also find some other great redwoods along the coast when visiting Northern California. These are a few additional places that are highly rated.

12. Humboldt Redwoods State Park

Distance from SF: 4 hours north
My favorite of all of the parks with redwoods near San Francisco is Humboldt Redwoods State Park. It's home to the largest forest of old growth Coastal Redwoods which is called Rockefeller Forest.
This old growth forest covers about 17,000 acres or about one-third of this state park (out of a total 53,000 acres).
Another area here that has made the park famous is the Avenue of the Giants. It's a 32-mile stretch of trees and is best place to see these giant redwoods by car. There are also a few places to stop along the way to see them up close.
Along this route, you can also check out Founder's Grove. You can visit it via a short trail. It's about half-mile, self guided, and you will find some materials to help you on your visit at the entrance. You'll find some great old-growth redwoods here including the Founder's Tree which is more than 300 feet tall! 
You will also find some great places to camp and hike here too.
13. Redwood National & State Parks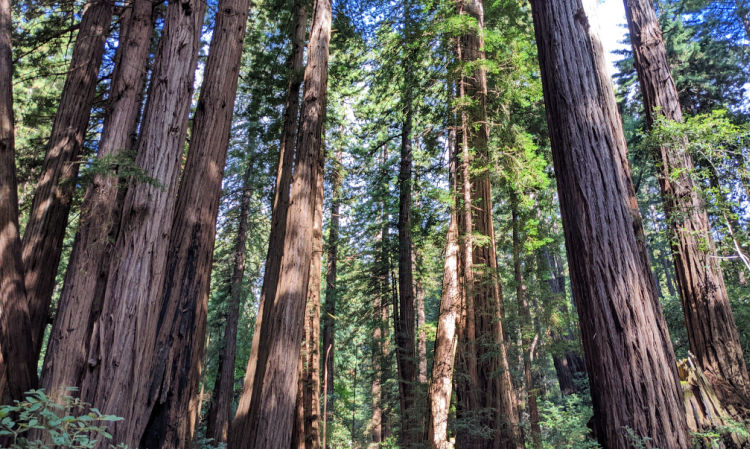 Distance from SF: 5.5 hours
Another wonderful place to see redwoods near San Francisco is at Redwood National & State Park. This is a group of four parks right near each other that are managed together by the National Parks Service and the California State Parks Service.
They include the Redwoods National Park, Del Norte Coast, Jedediah Smith, and Prairie Creek Redwoods State Parks.
Highlights here include both the old growth forest and the Roosevelt elk in the prairies between the redwoods in Prairie Creek Redwoods State Park. Jedediah Smith Redwoods State Park is home to the largest (not tallest) Coastal Redwood tree. Del Norte Coast has a large population of old growth redwoods as well as a stunning coastline.
You can drive through several sections of the trees, go hiking, spend the night camping or learn more about the parks in the visitor's center. You could spend a full day or even a weekend exploring this area.
14. Hendy Woods State Park

Distance from SF: 3 hours
Something that I love about Hendy Woods State Park is that it is a little warmer than all of the other redwood parks as it's further inland. It's also home to two old growth sections of trees. One is called Big Hendy, which covers 80 acres. The second is called Little Hendy, which covers about 20 acres.
It includes around 5-miles of trails. Some of the trees here are estimated to be more than 1,000 years old. Several are more than 300 feet tall.
It's the only redwood forest in the gorgeous Anderson Valley and is the perfect stop for those wine tasting in this up-and-coming wine country region.
Where Can I Find the Drive-Thru Trees

You won't find any of the drive-through redwoods trees within the 2-hour driving time from San Francisco. Most of them are much further north.
Here are a few to look out for on your visit to the area. All of these are along US Route 101 and are privately owned. You will need to pay to drive through each one.
Chandelier Tree

The Chandelier Tree is located in Leggett in Mendocino County which is just over three hours north of San Francisco. The tree is part of a privately owned redwood forest.
Most cars are able to fit through the tree except motor homes or cars pulling trailers.
You can visit the park and/or just pay the entry to drive thru the tree. You will find the park at 67402 Drive Thru Tree Rd, Leggett, CA 95585.
Shrine Drive-Thru Tree

The oldest of the three drive-thru redwood trees is the Shine Drive-Thru Tree. It's just to the south of Humboldt Redwood State Park, which is about 4 hours north of San Francisco.
It was hollowed out by a lightning storm and then left as is by loggers that didn't think it was valuable enough to cut down.
As it's aged, the tree has leaned to the side a bit and is now supported by some metal cables. However, you can still drive through it.
The opening to this tree is about 7 feet by 7 feet, which will allow a variety of cars to get through. There is a small cost to drive through this tree.
You will find it at Shrine Drive Thru Tree, 13708 Avenue of the Giants, Myers Flat, CA 95554.
Klamath Tour Thru Tree

The Klamath Tree, also referred to as Tour Thru Tree, is located 6 hours north of San Francisco. It's the second most popular drive-thru tree tour.
It's open all year long and nearby you will find a gift shop, restrooms and a place for a picnic.
Although it isn't the most popular drive-thru tree, it's the largest and can accommodate larger vehicles. It's over 7 feet wide and is about 9 and a half feet tall.
You will find this one at 430 CA-169, Klamath, CA 95548.
Comments? Questions? Suggestions?
I would love for you to join me in my private Facebook group! 
It's a great place to interact with me and others who know the area well.
You can ask questions, get advice for your upcoming stay, and then share your photos and advice with others when you return home. It's a great community and the fastest way to get answers to those nagging questions about your visit!