Day Trips from San Francisco
The Best Places to Visit Near the City by the Bay
Day trips from San Francisco range from wine tasting in Napa or Sonoma to hiking in the gorgeous Yosemite National Park. Other top one-day tours include exploring the amazing Redwoods in Muir Woods, cruising across the bay to discover Sausalito, and driving down 101 to the quaint waterfront towns of Monterey and Carmel.
You can sample wines, visit their museums, or learn more about their history. You can also join the locals at one of their annual events.
You will always discover something to see and do in these places just beyond San Francisco.
Although I love spending time in the city, it's so fun having a variety of places for a quick get away.
Most are are easy to get to, either on your own or with a tour, and offer you an experience you will remember for a lifetime.
Disclaimer: I recieve a small commission from some of the links on this page.
Northern California Wine Country
One of my personal favorites is heading north to sample some Napa and Sonoma wines. Both are so close and you can visit them in just one day. You can also stop by both on the same day.
Napa Valley
This wine region is the most well known in Northern California. Napa houses more than 400 wineries. Many of them open their doors to the public daily for wine tasting.

A view from above of several Napa Valley vineyards
Cabernet Sauvignon is the red of choice from Napa. However, wine makers here also do an amazing job with Syrah, Pinot Noir and Merlot.
If you love whites, check out this region's Chardonnays. I've also tasted some great Sauvignon Blanc wines and some lovely sparkling white wines.
Here are some additional pages to check out about visiting Napa.
My 15 Favorite Wineries in Napa | Napa B&Bs | Other Places to Stay in Napa
Napa Events by Month
January | February | March | April | May | June | July | August
Sonoma County
Napa's next door neighbor is Sonoma. Throughout this county, you will find several wine regions with a diverse selection of wines.
If you love Pinot Noir, check out the Russian River Valley or Carneros.

Grapes at different stages of ripening on a vine in Sonoma County
Zinfandel lovers should head north to Dry Creek Valley. This region also offers some of the best Syrah in the area.
If you want just a sampling of the wines from this region, then head to Sonoma Valley, which is an easy drive from both San Francisco and Napa Valley.
Click the links below for more details about visiting Sonoma.
My 15 Favorite Wineries in Sonoma | My Sonoma Valley Favorites
Event Calendars by Month
January | February | April | May | June | July
Are you interested in taking a day trip from SF to wine country? If so, then visit this page to find the best tours to Northern California Wine Country from San Francisco.
Sausalito
The closest place for a day trip from San Francisco is Sausalito. This is a common place for people to visit as it's only a 35 minute ferry ride away.
In this cute seaside village, you can shop at boutique stores, enjoy fresh seafood as you gaze out at the SF Bay, or visit Sausalito's museums.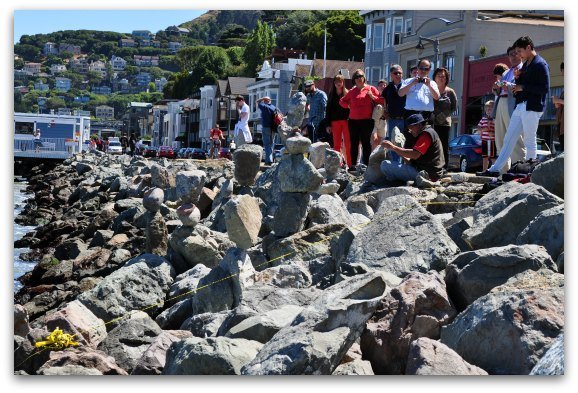 Visitors watching a local artist balance rocks
Outside of sampling salt water taffy along Bridgeway, my favorite thing to do here is to visit the Bay Model Visitor Center. Here you can check out a three-dimensional hydraulic model of the SF Bay. It might sound strange, but believe me, it is really cool!
If you are traveling with kids, you will all enjoy a visit to the Bay Area Discover Museum. It's full of fun kids activities, games and exploration.
Sausalito's Attractions | Sausalito Arts Festival | Sausalito Ferry | Sausalito's Fantastic Hotels
Angel Island
Angel Island is also a nearby day trip from San Francisco. While it sits in the SF Bay, I consider it a day trip as the ferries to and from only run a couple of times a day.
If you head over in the morning, you will have to stay until the late afternoon. That's okay though because it is an amazing place to see.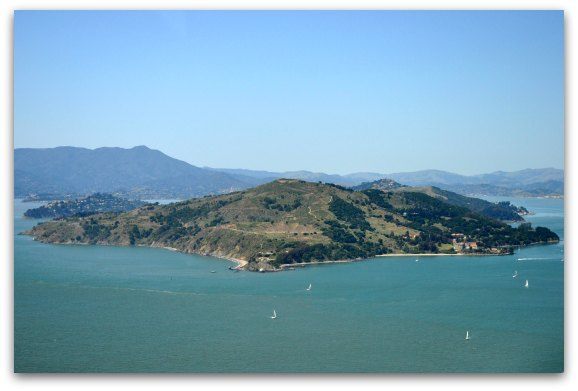 On the island, you can hike, bike, or take a Segway Tour. You can also visit a couple of museums or spend sometime outside in one of its cafes.
My favorite thing to do is hike to the top of the mountain in the picture shown above. From this point, you get an amazing view of the Golden Gate Bridge, Alcatraz and the SF skyline.
Muir Woods
The closest place to see some of Northern California's huge redwoods trees is in Muir Woods. This national park is only about a 30 minute drive north of San Francisco.
The trees you find here are Coastal Redwoods. They are a close relative to the larger Giant Sequoias. Most are between 600 and 800 years old.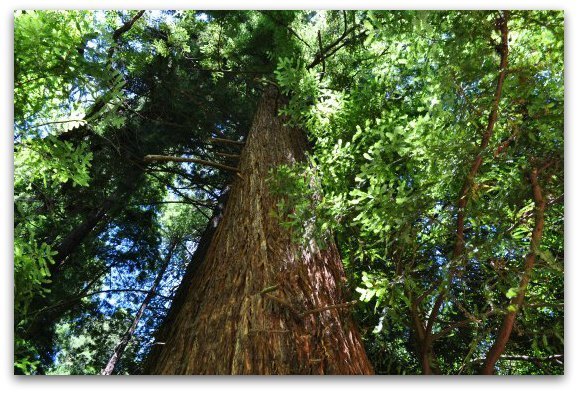 One of the tall redwoods in Muir Woods
In the park, you can walk along a wooden path which is flat and perfect for those that don't want to exert themselves too much. You can also set off on one of the dirt paths for a moderately challenging hike.
It's also one of my favorite places to take nature photographs.
Tiburon
Another cute seaside town just to the north of SF is Tiburon. On this day trip from the city, you can do a little shopping and enjoy one of its waterfront restaurants.
It's not as large or as popular as Sausalito, but still a fun way to spend an afternoon away from the chaos of the city.
Monterey
Another one of the popular day trips from San Francisco is Monterey. This small village sits on the gorgeous Monterey Bay. It is just over an hour south of San Francisco.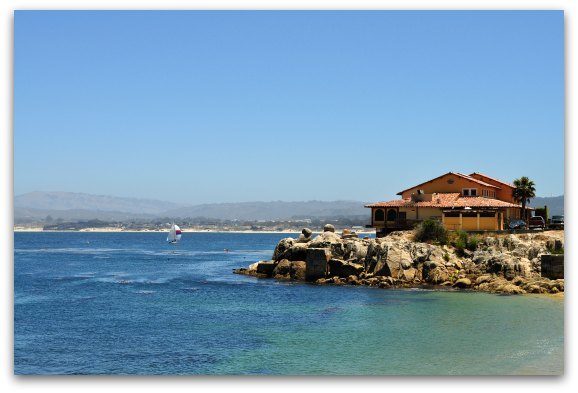 Part of the Monterey Bay coastline
Monterey is home to the world famous Monterey Bay Aquarium. It's a must see during your visit.
You can also shop on Cannery Row, sample some of the local wines, or go golfing.
It's mild weather makes it the perfect place to visit all year long.
You will also find a lot of fun events each month. Check out my calendars of all of the top upcoming events in the Monterey Bay Area.
Carmel
About 30 minutes south of Monterey is another quaint town, Carmel. This village offers shopping at dozens of high end shops, a beautiful beach for sunbathing, and several places to go wine tasting.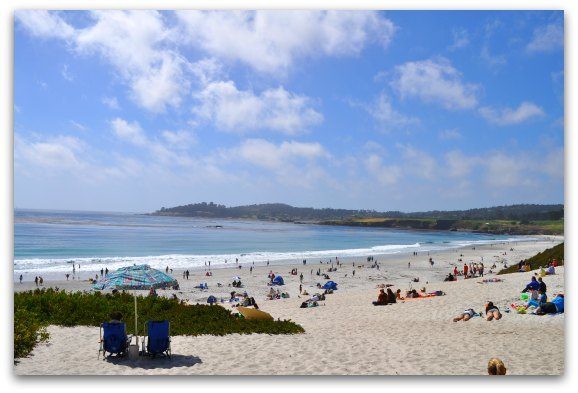 The beautiful beach in Carmel
It's smaller than Monterey, but just as cute and friendly. It's one of my favorite places to go in order to escape the city.
Yosemite National Park
Yosemite is a beautiful national park about three and a half hours from San Francisco. It's home to El Capitan, where you can watch climbers make a straight up ascent from the floor of the valley; Half Dome, which offers you the chance to scale a rock to see Yosemite from above; and Yosemite Falls, a set of three falls with hiking trails and amazing views.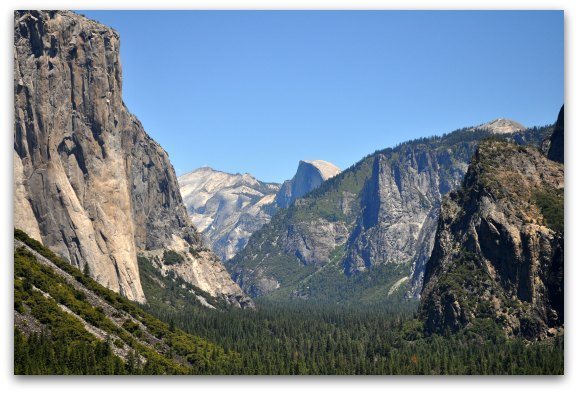 The gorgeous landscape of Yosemite National Park with Half Dome in the background
While in Yosemite, you can also visit their museum, spend the night at one of their campsites or ride horses all afternoon. It's an amazing place and the main subject of Ansel Adams black and white photographs.
Although you can get here in one day, if you have more time, I recommend booking a hotel and exploring for an additional day or two. If you love the outdoors, this place will amaze you!
Other Pages You Might Enjoy
Home

>
Day Trips from San Francisco