Yosemite Mountain Sugar Pine Railroad: Tips to Prepare for Your Visit

by Jill Loeffler  •

Published: March 22, 2023
The Yosemite Mountain Sugar Pine Railroad is a steam train ride near the southern entrance of Yosemite National Park in Fish Camp. This narrated tour rolls through the Sierra National Forest in open-air cars that give you a great view of this pine forest.
The most popular tour option is the Logger Steam Train. This one-hour tour takes you through the forest and offers two types of seating.
The first type uses covered, historic cars with seats that face forward, backward, and sideways. These are open-air, on the sides, as there are no windows, so you can just enjoy the view and relax.
The second type of car is made out of massive tree trunks. These seats do not have a covering so that you can easily look out and straight up into the canopy of the trees.
You will also find a couple of other tour options. These include the Jenny Railcar Tour, a shorter, faster ride on a smaller railcar. They also offer a couple of evening tours with dinner which could include a show depending on your choice.
The Sugar Pine Railroad is seasonal and is closed from November through April.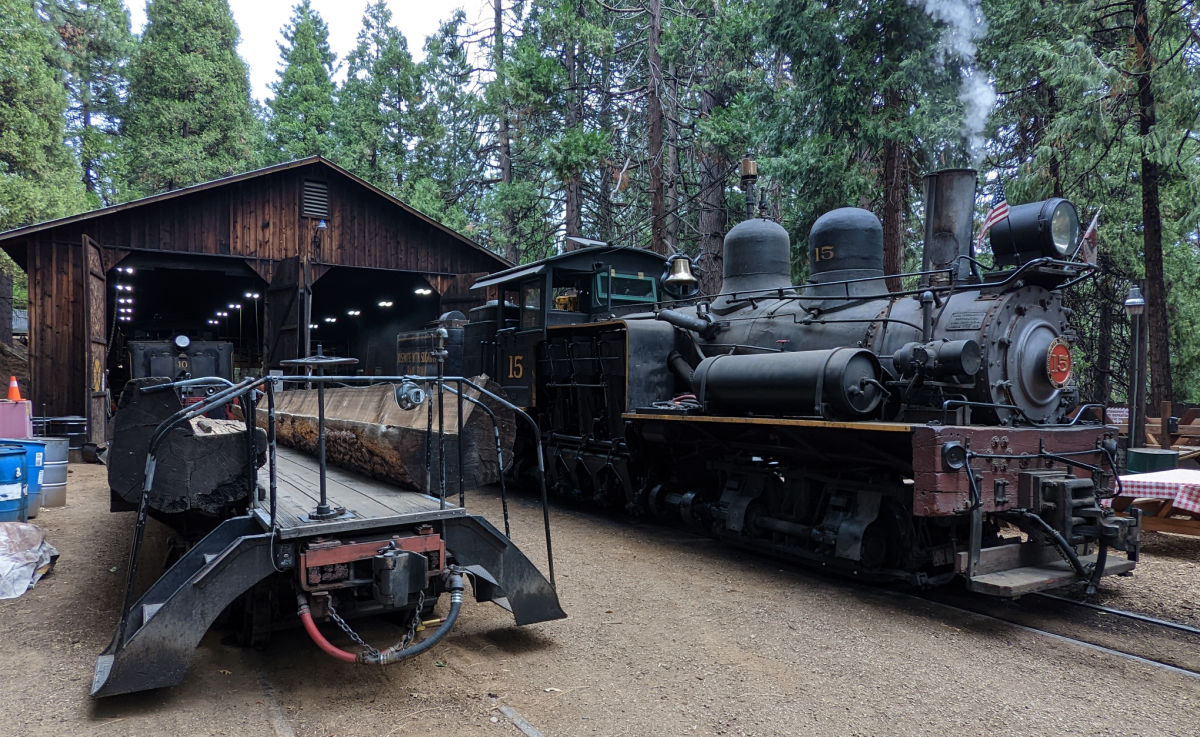 Disclaimer: I receive a small commission from some of the links on this page.

History of the Yosemite Mountain Sugar Pine Railroad
The Yosemite Mountain Sugar Pine Railroad ran its first train rides in 1967. Rudy Stauffer and his family, who owned the nearby Swiss Melody Inn, purchased their original locomotive in 1965.
After that, they then worked to relay 2 miles of tracks that were originally used by the Madera Sugar Pine Lumber Company for their new train tour attraction.
At the same time, they built an engine house, a ticket office, and a museum. The following year, they sold the Swiss Melody Inn (currently known as the Narrow Guage Inn) to focus full-time on their entertainment railroad business.
The sons took over the business in 1981, and more than 40 years later, is still run by the family today!
What It's Like on the Logger Steam Train Ride
The most popular train ride is their Logger Steam Train. This one-hour narrated ride takes you on a journey through the beautiful Sierra National Forest.
It's narrated by their conductors with tidbits about the history of the railroad, information about scenic spots along the ride that they don't want you to miss, and so much more.
You will stop about midway through the tour at Lewis Creek Canyon. This is where they also offer performances for some of their other tours.
However, there is no performance included in this one-hour tour, but this stop offers bathrooms and about 10 minutes to stretch your legs before returning to your seat for the ride back.
When my husband and I took this journey, we moved seats at the halfway point so we could experience both types of cars. We enjoyed the open-air feel of the cut-out log cars, but the historic cars with coverage were a little more comfortable since they had more normal seats.
One thing to also note about the open-air log cars is that the train will touch the pine tree branches above. This means you will get a bit of dirt or leaves from the trees on you a couple of times during the ride.
It's not too bad, but something to be aware of as you decide which seats you want to sit in. Either way, don't worry, as it isn't dangerous.
Here is a look at the different seating options.
This is a photo of the log seating on the Yosemite Mountain Sugar Pine Railroad.
This is a photo of the covered, historic train cars.
This photo shows you the leaves and the small amount of debris that fell on my pants while riding on the log car.
I had a little on my pants and jacket and some in my hair, but as you can see, it doesn't take much to clean it off.
Here are some additional photos from our journey.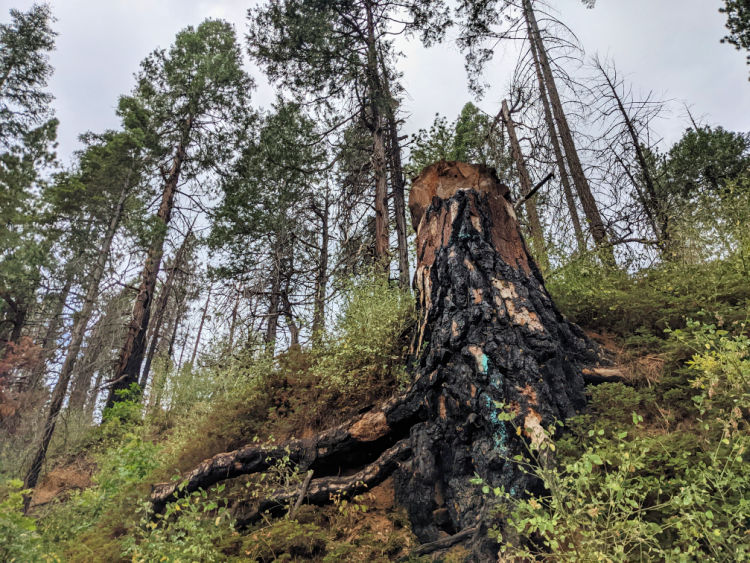 Here are a few photos of the bathrooms and their performance venue. This is where you stop halfway through and return to where you started.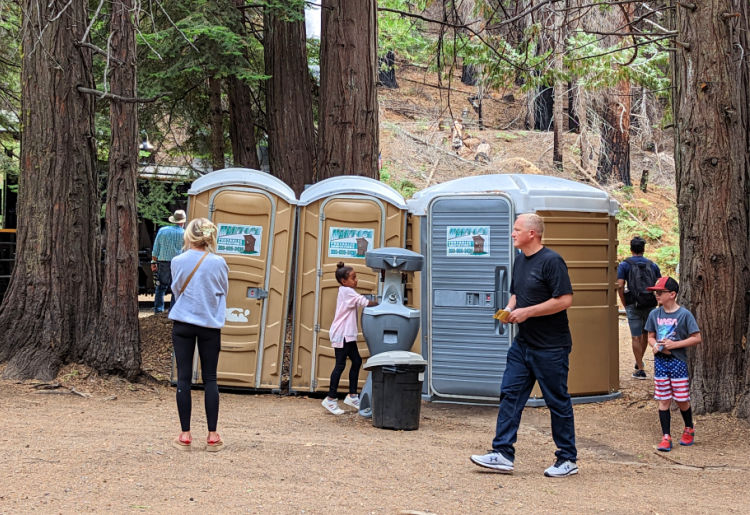 More Fun Ideas for Yosemite
Yosemite Mountain Sugar Pine Railroad Train Rides
Logger Steam Train
The Logger Steam Train is the one we took on the day of our visit. It's a one-hour ride that runs one to two times a day from April 1 to October 31.
>> More fun things to do with kids in and around Yosemite
Jenny Railcar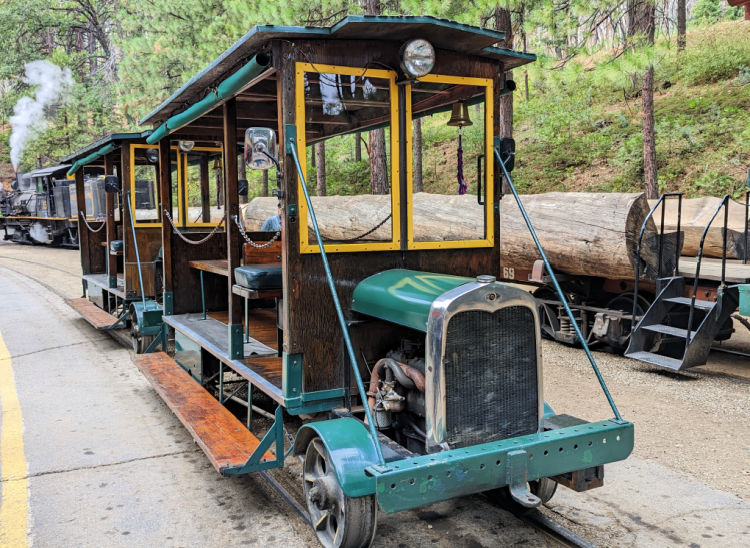 Another option that we didn't know about until we arrived is the speedier, smaller Jenny Railcar. This little train car runs twice as fast as the steam train ride and only fits a small group of people.
It doesn't run every day, so if you prefer this ride, I recommend contacting them in advance to find out what days they plan to run it.
Moonlight Special
The Moonlight Special includes a ride on the steamer train, dinner at the station before you leave, and either live music or some type of performance at Lewis Creek Canyon.
These rides run once a month from May to October. Even though it's titled The Moonlight Special, only the second half is a moonlight train ride. It leaves at around 6:30 pm from May to July. It leaves at 6 pm in August, 5:30 pm in September, and 5 pm in October.
The entire ride with dinner and entertainment is around 3 hours, so you will return as it gets dark in the Sierra National Forest.
Moonlight Melodrama
The Moonlight Melodrama is similar to the Moonlight Special. However, it's only offered three times a year. Once each month in June, July, and August.
The entertainment for this tour is a short melodrama by the local Golden Chain Theatre. It's a fun show that really gets the audience laughing and having a great time.
It includes a NY Steak or chicken BBQ dinner at the station, a train ride to their Lewis Creek Canyon Amphitheatre for the Melodrama, and a return ride to the station. This one will also return as it's getting dark.
Yosemite Jazz Train
The final option is their special Yosemite Jazz Train. This one includes a special unplugged performance by a featured artist.
Some artists that have performed in the past include Peter White, Keiko Matsui, and Steve Oliver. They usually announce their upcoming performers each spring, so you can quickly book your tickets for this event. Being that some of these musicians can be quite famous, you'll want to try to book as early as possible.
These events start at around 3 pm with some seasonal appetizers. You can also purchase beer or wine. During this time, you will mingle and have an informal meet and greet with the performer.
You will then all hop aboard the train and head to the amphitheater for the unplugged performance. This one ends with the train ride back to the station.
They offer two to three performances every month from May through October.
Other Things to See and Do at the Yosemite Mountain Sugar Pine Railroad
In addition to the Yosemite Mountain Sugar Pine Railroad rides, there are a few other fun things to do on this property.
Ticket Office and Gift Shop
You will find the ticket office and gift shop near the entrance, and it offers a variety of souvenirs. This is also where you will purchase your tickets if you didn't buy them before your visit.
To the left of the main entrance to the gift shop is where you can order food from their menu. You'll find quick grab-and-go options such as chili dogs, hot dogs, a Frito Boat, a bagel, and even ice cream.
If you are thirsty, you will also find water, sodas, and other beverages such as beer and wine.
Here is the menu for the day of our visit.
The Kids' Depot
Another fun place to check out is The Kids' Depot. This spot is down the steps behind the gift shop. It's a second gift shop for younger kids.
The thing I love about this little space is the train that runs continually on a track above your head inside the store. Even if you don't plan to buy anything, it's fun to watch the train for a few minutes.
Thornberry Museum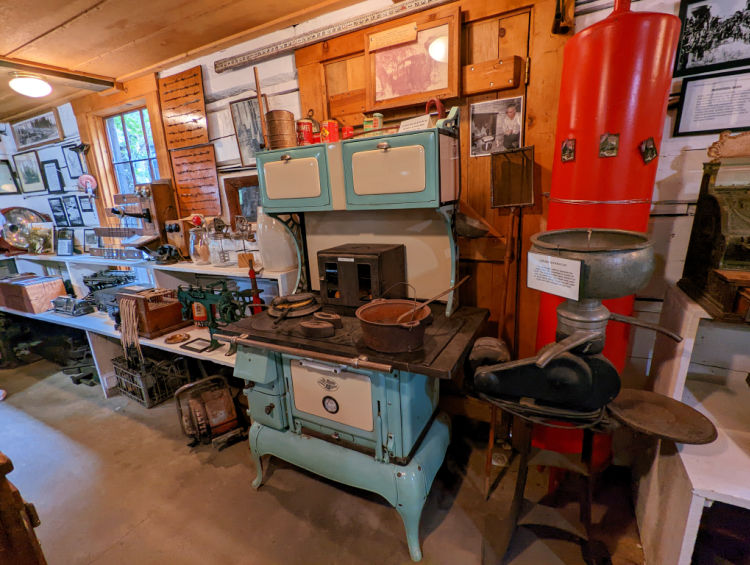 The Thornberry Museum is an on-site rail museum between the parking lot and the ticket office. It's a great way to learn more about the local history.
It includes historical artifacts, photos, and stories about the people and the logging companies that called this area home for decades.
Gold Rush City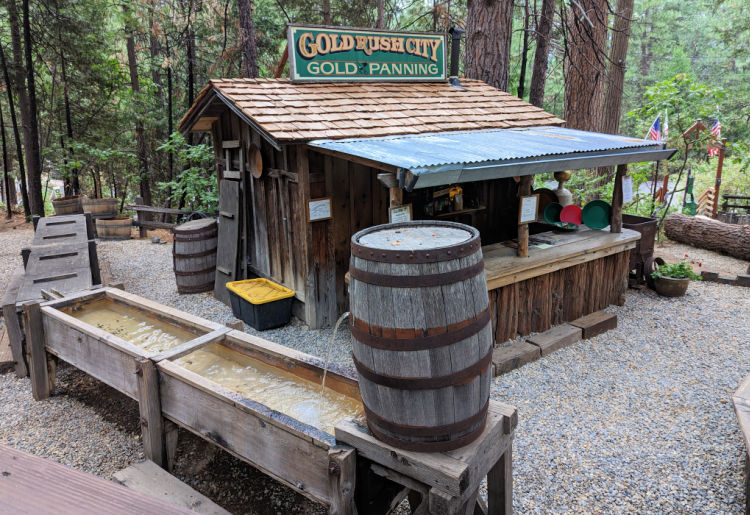 This is a fun, interactive experience for your kids! They can pan for gold just like they did during the Gold Rush. The cost is $10 per person.
How to Get to the Sugar Pine Railroad
The Sugar Pine Railroad is along Highway 41 between Oakhurst and the south gate to Yosemite National Park in Fish Camp.
The map above shows where you will find it.
It's about four and a half miles or 8 minutes south of the Yosemite gate.
It's about 20 minutes north of Oakhurst.
>> More things to do in Yosemite
>> More things to do near Yosemite
Comments? Questions? Suggestions?
I would love for you join me in my private Facebook group! 
It's a great place to interact with me and others that know the area well.
You can ask questions, get advice for your upcoming stay, and then share your photos and advice with others when you return home. It's a great community and the fastest way to get answers to those nagging questions about your visit!