San Francisco with Kids
The 25 Best Family Friendly Activities & Attractions in SF
With so many attractions, it's sometimes hard to determine the best things to do in San Francisco with kids. Here you will find a list of the activities and attractions that both your kids and your entire family will enjoy.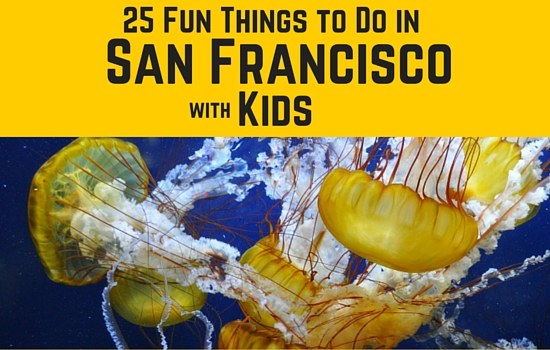 Disclaimer: I receive a small commission from some of the links on this page.
1. Aquarium of the Bay
The Aquarium of the Bay is a popular option for those visiting San Francisco with kids. The aquarium is in the heart of Pier 39 and easy to access from anywhere in the city.
Here you will learn more about the plants and animals in the SF Bay. It's a fun experience for kids of all ages. You can watch the jelly fish float around, stroll through their large walk through aquarium tunnel, and admire their large Pacific octopus.
Other fun things to do at the aquarium include the hands on lab where you can touch a star fish, a baby shark or a stingray.
Learn More: Aquarium of the Bay
2. California Academy of Sciences
The most visited museum in San Francisco is the California Academy of Sciences. It's one of my personal favorites too. There are several fun activities for both kids and adults.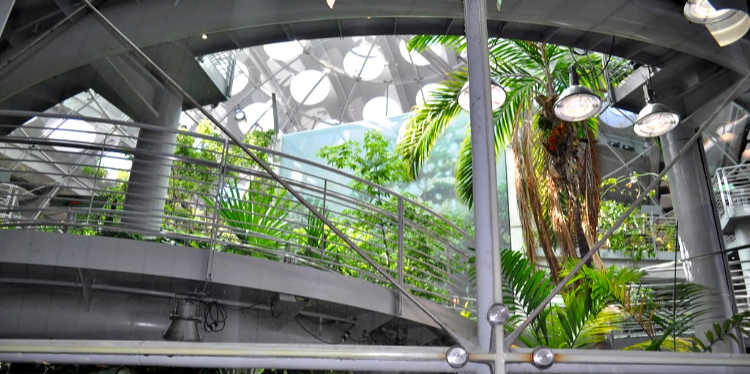 Looking into the 4-story rainforest from the outside the glass
Walk through the four-story rain forest and watch the butterflies opening fly around the rainforest. Grab tickets to see a show at the Morrison Planetarium. You can also head down into the large and colorful Steinhart Aquarium.
Make sure to also head up to the top where you can check out their living roof.
It's the perfect kids museum in San Francisco that is fun for the entire family too! Plan to spend at least 3 to 4 hours here to see everything.
Tickets: Buy your tickets in advance online for skip the line privileges
Learn More: California Academy of Sciences
3. Exploratorium
The Exploratorium is a hands-on, educational museum for kids of all ages. Here you can visit hundreds of exhibits where you will learn things such as how electricity works, what causes earthquakes and how important everyday things are made.
Other top stops include the weather area where you can see temperatures and weather patterns all around the world, their tornado exhibit, and the sounds and colors areas.
It's a great way to spend the day in San Francisco with kids.
Learn More: Exploratorium
More: 10 of the best family-friendly museums in SF
4. San Francisco Zoo
This SF attraction is often overlooked, but is the perfect activity for kids. This family activity in San Francisco is just steps from the Pacific Ocean on the western side of the city.
Here you can see tigers, penguins and gorillas.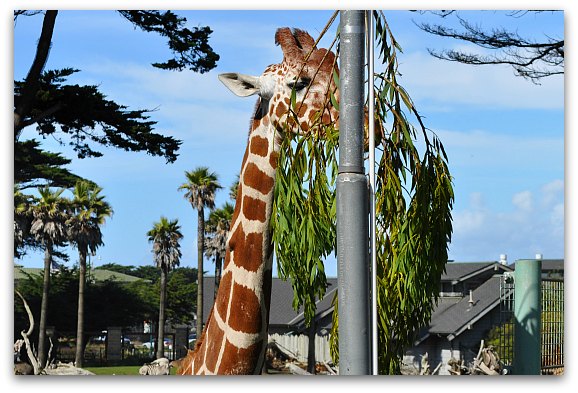 You can also see a few rare animals such as a snow leopard, a black rhinoceros and two polar bears. Make sure you check out the animal feeding schedule too.
Learn More: SF Zoo
5. Cable Car Museum
The Cable Car Museum is a free museum in SF's Nob Hill neighborhood and another one of my favorite family activities in San Francisco. While it covers the history of the cable cars, the most interesting thing for kids is the large wheels pulling the cables.
There are currently four cables running in the city for the three cable car lines.
Learn More: Cable Car Museum
More: Find a list of 20 free things to do with kids
Save with Half Priced Tickets on Goldstar
If you are looking to save a little money on your trip, make sure you check out the current selection of discounted tickets on Goldstar. Here you will find a variety of tickets from tours to the theater.
The best part about Goldstar is that you can often find tickets at up to 50% off! Here are just a few of the best tickets currently offered on their site.
*Small service fee at checkout.
7. USS Pampanito
Have you ever been on a real submarine? The USS Pampanito is one of two historic ships docked at Pier 45 in Fisherman's Wharf. This WWII sub went on six missions. The intact vessel was slightly modified and is now a floating San Francisco museum.
It's one of the best things to do with families in San Francisco as it will keep every entertained for at least an hour or two.
Learn More: USS Pampanito
6. Cruise Around the SF Bay
The San Francisco Bay Cruise is a 60-minute trip around the bay. On this tour, you will ride under the Golden Gate Bridge, past Alcatraz Island and get some great views of the SF skyline.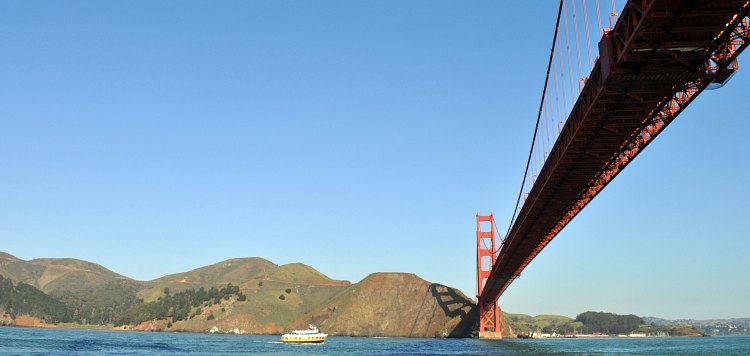 A view from under the Golden Gate Bridge on the San Francisco Bay cruise
It's a great activity for anyone visiting San Francisco for the first time.
Learn More: My experience on the Bay Cruise
Tickets: Buy your tickets at up to 50% off on Goldstar
More Fun Bay Cruises
8. Angel Island
Angel Island is a small, national park in the middle of the San Francisco Bay. The only way to get here is by ferry. On the island, you can hike, bike or spend some time admiring the views around the bay. Angel Island is a great way to spend a sunny afternoon in the city.
Learn More: Angel Island
9. Musee Mechanique
Right next to Pier 45 in Fishermans Wharf, you will find the Musee Mechanique. This is a fun stop for anyone that loves antique music boxes or 80s video games such as PacMan.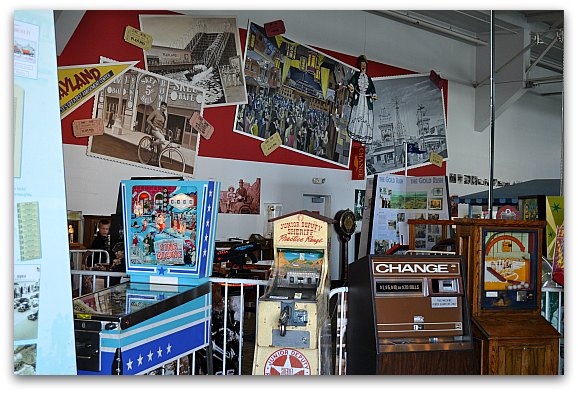 It's free to enter, but does cost money to play. It's the perfect kid friendly stop.
Learn More: Musee Mechanique
10. Randall Museum
The Randall Museum is a kid-friendly museum in the heart of San Francisco. They have a handful of animals that live in the city including a Brown Pelican, a Gopher Snake and Honey Bees. They also have several other hands on exhibits including Riding the Rails, the Tree House Toddler Exploration Zone and the Creativity & Discovery Hand in Hand area. The Randall Museum is free and at 199 Museum Way.
More: Find additional fun activities for toddlers in SF
More: Visit their website for additional details
11. Golden Gate Bridge
Another fun thing to do in San Francisco with kids is tour the Golden Gate Bridge. Walk through the outdoor museum and learn how the suspension bridge works. You can then spend some time walking across the bridge to get a better feel for its size.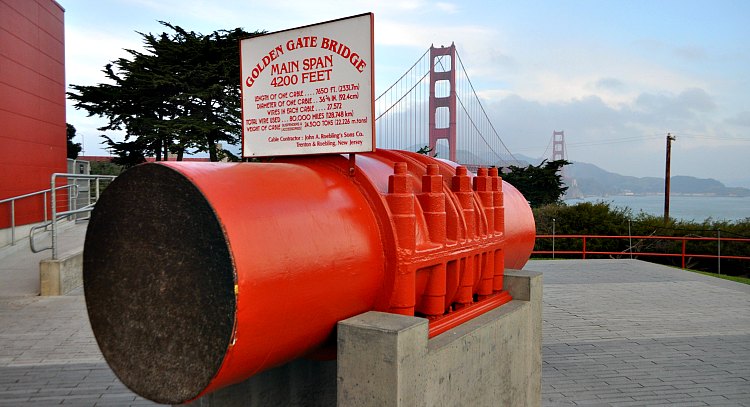 If your kids and you like biking, you can also rent a bike for the day in Fisherman's Wharf and bike over the bridge.
Learn More: Golden Gate Bridge
Hotel Deals for Your Family in SF
Are you looking for a great hotel for your stay? Check out the great deals below.
Booking: Find great deals all around San Francisco for your upcoming stay!
TripAdvisor: What's the #1 hotel in San Francisco? Read reviews & find hotel deals on TripAdvisor!
12. Red Fire Engine Tour
What kid doesn't want to ride around SF in a fire engine? This 75-minute tour takes you through SF's Fisherman's Wharf, the Presidio, and over the Golden Gate Bridge.
You will also get the chance to stop for photos at the bridge and ride through the lovely waterfront town of Sausalito. Your ride for the day is a Big Mack Shiny Red Fire Engine! How cool is that!
Tickets: Buy your tickets today on Viator
13. 7D Experience
The 7D Experience is actually two activities in one. The first activity is the Dark Ride, which is part theater, part video game, and a whole lot of fun. After you strap into your seat, you will be taken on the ride of your life as your seat moves to the action.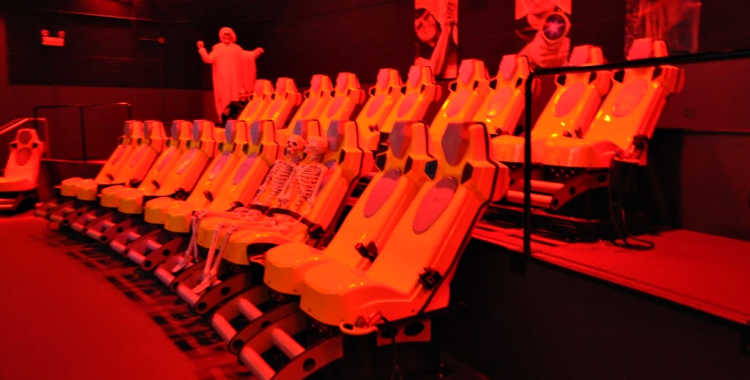 You use your laser gun to get rid of the bad guys and score points along the way. There are different Dark Ride games, so everyone in the family can join along.
At the 7D Experience, you will also find the LaZer Challenge. You can play in teams or on your own. You compete by stepping inside the laser room then twisting and turning in an effort to avoid hitting any lasers as you cross the room several times. Both activities are at the 7D Experience on SF's Pier 39. Tickets are available in person or, at times, for a discount on Groupon.
Tickets: Find discounts on Groupon today
More: Find additional fun things to do with your entire family
14. Coastal Trail
Another great activity in San Francisco for kids is to hike the Coastal Trail. This trail starts in the SF Presidio and takes you all the way to Ocean Beach. You can start or end anywhere along the way. It's one of the best places to get amazing shots of the Golden Gate Bridge and the beautiful waterfront below.
More: SF Presidio activities
15. Muir Woods
Muir Woods is one of my favorite places to visit. It's amazing seeing the true size of these Coastal Redwood trees. It's also the perfect place for kids. You can stroll in the popular areas where you will find educational information about the trees.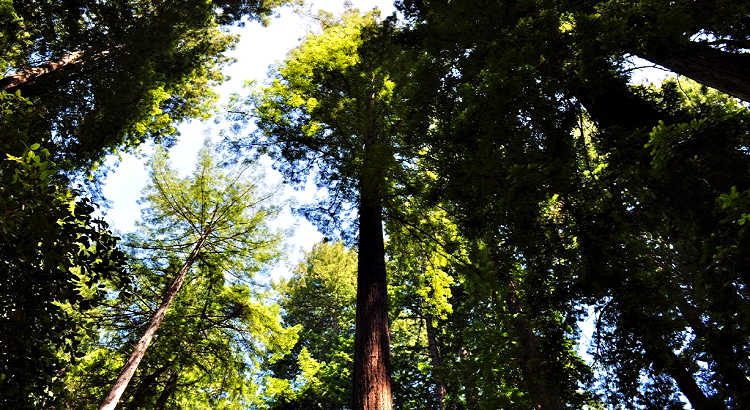 You can also head off the beaten path for a longer hike in the woods. Children under 15 get in free.
They also require reservations for both those visiting by car and shuttle. Make sure to read through my page before you visit to find out how to book your spot today.
More: Muir Woods visiting tips
16. Local Sports Teams
Kids of all ages will enjoy heading to a game in the SF Bay Area. We are home to more than half a dozen professional teams including baseball, football, soccer, and hockey.
Sporting events run all year long in the SF Bay and it's a great way to spend a few hours during your visit.
The SF Giants are in action during the summer and they are a popular choice. The Golden State Warriors are one of the most popular picks in the cool winter months. Here are a few upcoming games.
Sports: Find a list of all sporting events year around in the SF Bay Area
17. Cable Cars
Earlier on my list, I included a visit to the Cable Car Museum. Once you learn more about how they run, it's fun to hop aboard for a ride around the city. My favorite line is the Powell/Hyde line that runs from Union Square to the western side of Fisherman's Wharf.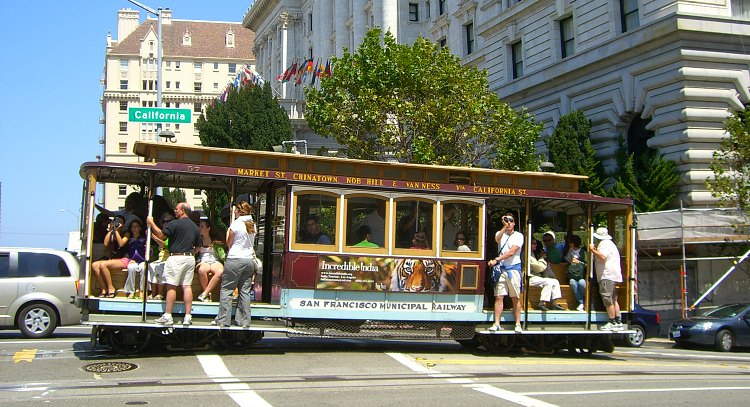 It has some of the best views in addition to an amazing ride down one of the steepest streets in the city.
More: Tips to ride the cable cars
18. Children's Creativity Museum
The Children's Creativity Museum is a hands-on adventure for kids of all ages. Their Animation Studio allows kids 5+ to create their own clay characters and bring them to life on screen. Kids 3-6 will enjoy the Imagination Lab where they can imagine, create and share. The musically inclined children 3+ will also enjoy the Music Studio.
The museum is in the SOMA district at 221 Fourth Street. Visit their website at https://creativity.org/.
19. Family Friendly Activities at Pier 39
In addition to the Aquarium of the Bay, you will also find several other family friendly activities on Pier 39. You can ride the carousel or walk through the Mirror Maze.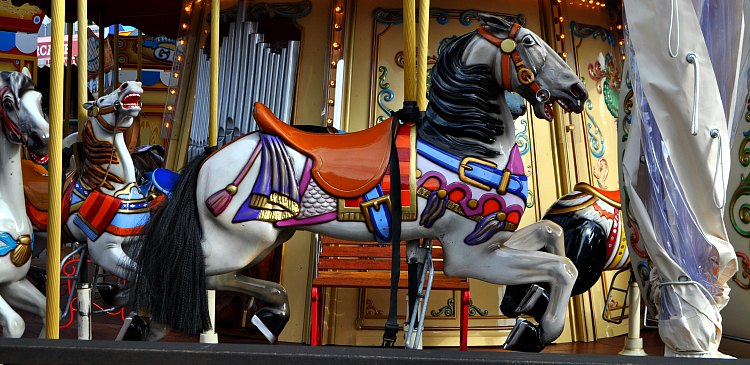 You can even go on a 7D Experience that includes a roller coaster type ride that moves in sync with the activities on the large, movie screen in front of you.
More: Pier 39 in San Francisco's Fisherman's Wharf
20. Disney Movie at the Disney Museum
Every day of the week (except Tuesdays), the Walt Disney Museum shows a classic Disney movie in their Fantasia Theater. These films range from Bambi to Mary Poppins. Although the schedule varies slightly, you will usually find at least one show in the morning and a couple showings in the afternoon. Tickets are free with admission into the museum.
More: Tips to visit the museum
21. Golden Gate Fortune Cookie Factory
While in Chinatown with the kids admiring the many colors, shops, and flavors, take them to the Golden Gate Fortune Cookie Factory to delve a little deeper into the culture, have a sample, and see first-hand how these treats are made.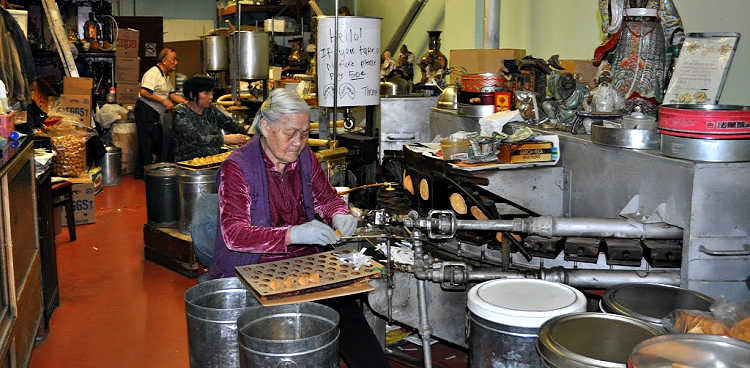 It's a fun and educational experience for everyone.
More: Plan your visit to the fortune cookie factory
22. Paddle Boat on Stow Lake
For those that love the outdoors, another fun activity is to take a paddle boat ride on Stow Lake. This man-made lake is in the heart of Golden Gate Park. It is just steps from other popular attractions such as the California Academy of Sciences and de Young Museum.
More: Stow Lake in Golden Gate Park
23. Whale Watching Tour
All year long, different species of whales migrate through the waters of the Pacific Ocean near San Francisco. Between June and November, you get the chance to see blue and humpback whales.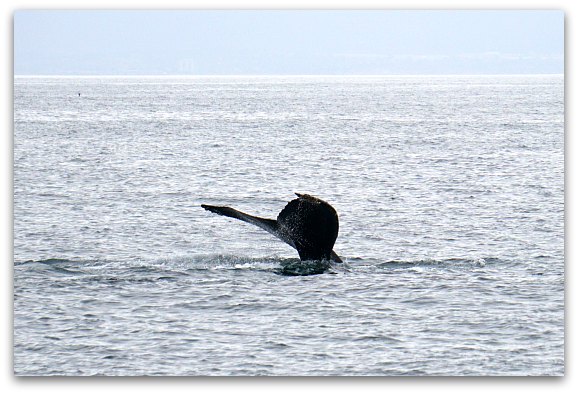 From December to May, spot gray, sperm and killer whales can be seen swimming around. On these whale watching adventures, you will also get the chance to see other animals such as dolphins, large turtles and sea birds.
More Info: Find additional information on whale watching adventures in SF
24. Urban Scavenger Hunt with City Clues Adventures
Keep your kids guessing with City Clues Adventure's Urban Scavenger Hunt. Each weekend day (and daily from early June to August 31) from 10am to noon, they offer a treasure hunt and tour designed specifically for families with children.
During the 2-hour journey, you will make your way through popular SF neighborhoods including North Beach, Chinatown and Fisherman's Wharf. Each hunt includes a guide to ensure you don't get lost along the way!
More: City Clues Adventures website
More: Additional fun things to do with teenagers in SF
25. Parrots of Telegraph Hill
Head to the Telegraph Hill District in the search for the famous parrots of Telegraph Hill. These green and red parrots have been flying around this district for decades. They are not native to SF, but instead a few were let go into the wild many years ago and the flock grew from there.
You can either head over on your own or search for them with an expert. Most Saturdays and Sundays, you can join a guided tour of the area to learn more about it and increase your chances of finding these loud, yet playful parrots.
On this 3-hour tour, your expert guide will tell you about the history of the parrots, interesting historical spots in the area, and will lead you to the areas where the parrots often hang out. It's a fun way to spend a few hours in San Francisco with kids.
>> Find out more about this tour and pick up your tickets today
Events by Month
Are you looking for additional fun activities for your stay? Check out all of the best events by month by clicking the links below.
Pin this post to use for your trip!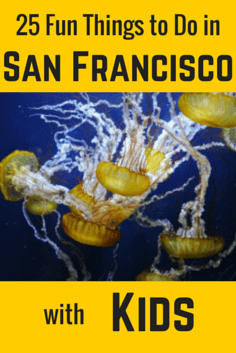 Other Pages You Might Enjoy