Telegraph Hill San Francisco: Coit Tower, Parrots, and Other Things to Do
Telegraph Hill San Francisco is a small district on the northeastern side of the city. Its most famous residents are a flock of parrots that have called this neighborhood home for years.

Coit Tower is the most popular attraction in this district and sits at the top of the hill. Other popular options in this district include the Filbert Street stairs, bars and restaurants.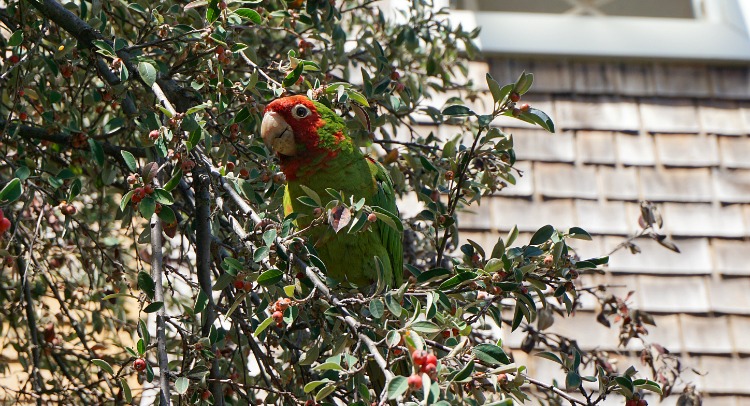 It's one of the original seven hills of SF. They were the first named hills in the city and the list now includes almost 50.
The outline of this district varies some based on who you ask. Its borders are roughly Stockton to the west, Sansome to the east, Francisco to the north and Broadway to the south.
North Beach and Telegraph Hill San Francisco partially overlap. Its northern neighbor is Fisherman's Wharf. On its eastern side you will find the Embarcadero. To the south is the Financial District. On the western side is Russian Hill.

Disclaimer: I receive a small commission from some of the links on this page.

Parrots of Telegraph Hill San Francisco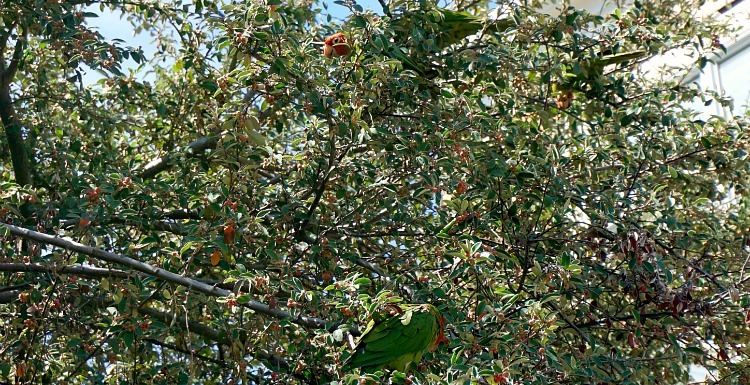 One of the more unusual things about Telegraph Hill San Francisco is a flock of feral parrots. The flock consists of mostly red-masked parakeets and they have called this area of SF home for years.
Why are there parrots of Telegraph Hill and where did they come from? That's a great question and no one has a full answer to the question. These birds are native to Peru and Ecuador and were popular household pets. 
It's thought that they escaped or were released from a local household as they are noisy birds. It's possible that more than one household released them, they mated and created the flocks around SF we see today.

They became famous after a book and documentary came out about them. Both are called The Wild Parrots of Telegraph Hill.

Where will you find the parrots of Telegraph Hill? This is always a tricky question. Even though most people talk about these birds living in this neighborhood, they actually move around San Francisco quite a bit.

Your best bet in this district is along the Filbert Street or Greenwich Street steps. There are several gardens along this set up staircases that draw the parrots in during certain times of the year.

You will find them along the northern waterfront, around the Presidio, in the Mission, and along the Saturn Street Stairs. However, since they move around so often, it can be difficult to track them down.
I've run into them several times, but I've never seen them in the same place twice.
Also, as you can see from my pictures, they are often hidden in trees, sometime too far away to get a great look at them.

However, if they happen to be nearby, you will not miss their loud screeching and squawking. While you may not get an up-close look at them, you will know they are nearby, so keep your ears open for them if you are in the area. 

No one knows how many of them call San Francisco home. The current estimate is around 200. 

Guided Tour: Telegraph Hill & The Old Waterfront Tour

If you really want to get a chance to see these birds, your best chance is to head out on a guided tour with someone that knows where to spot them. On this 3-hour tour, you will cover quite a bit of this district as well as portions of North Beach and the Embarcadero. 
You will climb steep streets and stairs as you learn all about the history of this area. Your guide will also point out these colorful parrots along the way. Since it includes quite a bit of walking make sure to wear comfortable shoes. 
The tour runs a couple of times a week.
>> Find out more about this tour
Coit Tower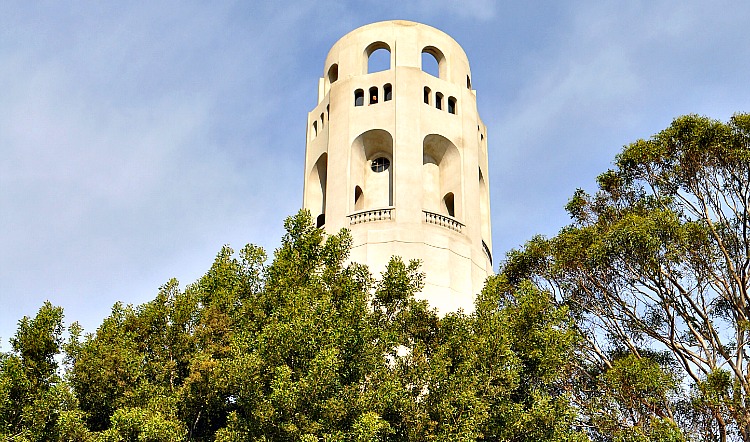 Coit Tower is a popular attraction in Telegraph Hill San Francisco. This gem welcomes visitors every day of the year except Thanksgiving Day, Christmas Day, and New Year's Day.
There are a few things to do here. You can get some amazing views from around the bay from its parking lot. I always jump up on the concrete risers around the lot to get the best views. Looking west, you get a cool view of Lombard Street and the Golden Gate Bridge. To the north is Alcatraz Island, Angel Island and Fisherman's Wharf.
To the east, you will see Treasure Island, the East Bay and the Embarcadero. The southern view is covered by the tower, the trees and park surrounding it.

Inside, you will find some colorful murals. Entrance to the first floor is free and you can explore these works for as long as you like. 

You can also pay a small fee to take an elevator to check out the 360-degree views from the top. The elevator does not go all the way to the top, so you will have about two flights of stairs to climb once you get off the elevator.

>> See pictures and discover additional tips for visiting Coit Tower

Parking for Telegraph Hill & Coit Tower

You will find a small parking lot in front of Coit Tower in Telegraph Hill San Francisco. However, on busier days, it can take an hour or more to get a spot. The parking here is metered which encourages more turnover within the lot.
If you don't want to wait in line for a spot, you have a few additional options.
The first option is to park at the parking garage at 501 Filbert St. From this lot, you can walk up Filbert Street four blocks to visit Coit Tower. It's only about three blocks (0.2 miles), but it's a steep climb so take your time.

Your second option is to park in the lot, walk south on Grant Avenue to Union Street (about a block) and take the 39 bus up the hill. The walk along Grant Avenue is flat, so it's an easier walk for those that don't want to climb a steep hill.

The bus heading up to Coit Tower will be heading west (not east toward the tower). It will then turn and make it's way through Telegraph Hill San Francisco before it turns east again and makes its way up the hill. Confirm with the driver that you are headed the right way.

Make sure to get a transfer as you can then hop on the bus again (as long as it's within 90 minutes) to get back to your car without paying a second time.

Filbert Street Steps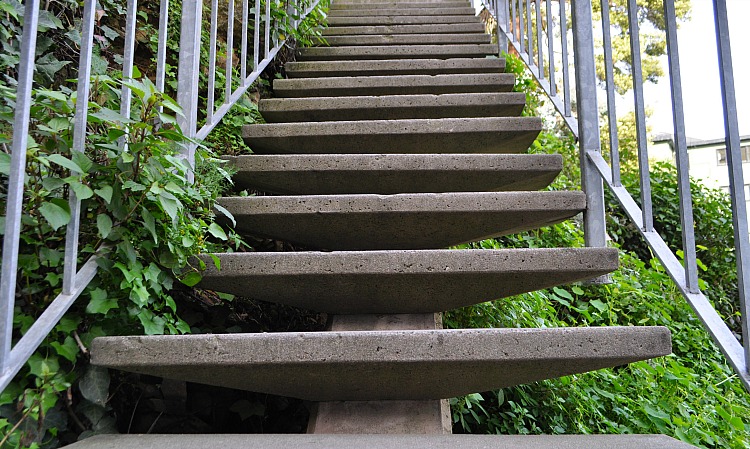 You can also access Coit Tower and Telegraph Hill San Francisco from the Filbert Street steps. You will find a small set leading up to the tower on the western side (as described above in the parking section).
If you are looking to really get your heart pumping, then pick up the stairs on the eastern side and make the steep climb up to the top. Again, the route is only 0.2 miles, but it will get your heart pumping.
The photo above shows you how steep certain sections are of the staircase.

You will pick the steps up on Filbert Street at Sansome. You can't miss them! 

Along the way, make sure to spend a little time checking out the views as you climb. You will get great shots of the Bay Bridge as well as a cute section along Napier Lane. 

When you get to Montgomery Street, you can either keep heading straight or take a right, walk about a block and pick up the hike up again where it dead ends.

There are usually plenty of people around to help if you aren't sure you are headed the right way. However, as long as you keep climbing UP the stairs, you are headed toward Coit Tower.

Guided Walking Tour: Coit Tower, Lombard Street, & North Beach

If you love urban hikes and want to learn more about this area, then I recommend heading out on this hike. It covers not only Coit Tower, but also Lombard Street and part of North Beach.
This heart pumping 3-hour journey covers 5 miles. Your tour begins with a climb up Telegraph Hill San Francisco to see the views from Coit Tower. You will then head back down the hill to explore part of North Beach. 
You will then cross Columbus Street and head into Russian Hill. The climbing continues as you climb to the top of Russian Hill as you admire the beauty of Lombard Street. You will then head back through Telegraph Hill San Francisco and return to the starting point in Levi's Plaza.

It runs several days a week.

>> Learn more about this tour and check for availability on Viator 

More Tours that Include Coit Tower & Telegraph Hill

You will find several tours that include a stop, drive or a walk through this district. Here are a few to check out. 
Hop On Hop Off Bus Tour: This tour will drop you in North Beach, within a few blocks of Telegraph Hill San Francisco. If you plan to head up the hill to see Coit Tower, you can either walk and climb the stairs (as I mentioned above) or you can take the 39 bus which take less than 10 minutes. This tour also stops at more than 20 other spots around town and is the perfect way to see and do quite a bit during your visit. Find details here.
City Tour: Head out on a 3.5-hour tour in a funky VW van. Due to its size, it's able to climb to the top of Telegraph Hill San Francisco for some fantastic views of the SF Bay and surrounding areas. On this tour, you will drive through 14 unique SF districts. In addition to stopping here, you will also make photo stops at the Palace of Fine Arts, Sutro Baths, Twin Peaks, and the Painted Ladies of Alamo Square. Visit Viator to learn more and get your tickets today.

Top Restaurants & Bars

Part of the Telegraph Hill and North Beach district overlap, which is where you will find some great places to grab a bite to eat or a drink. Here are just a few of my favorites in this area.
Golden Boy Pizza: If you want to grab a quick slice of pizza and a beer or soda, then head to Golden Boy Pizza. You will order as you enter and then they will deliver your piece of pie when it's ready. If you see a line out the door when you arrive, don't worry, most people grab and go. Also, since you order right inside the front door, you will find it doesn't take long to get to the front of the line. 542 Green Street
Tony's Pizza Napoletana: Tony's is another great stop for pizza here. It's a more upscale restaurant with dozens of options to choose from. Tony's has several pizza ovens, so you can get a variety of different styles of pizza. Tony is well known around the world for his pizzas and also has an international pizza making school in the back. You will also find grab and go slices in his business next door. 1570 Stockton Street

Park Tavern: You will find mostly American dishes at this higher-end bistro across from Washington Square Park. It's on the western side of Telegraph Hill San Francisco and offers dinner every night of the week. They also offer brunch and lunch on Saturday and Sunday. 1652 Stockton Street

Columbus Cafe: If you are looking to just grab a drink, then head over to the Columbus Cafe. This casual drinking spot has cocktails and a great selection of micro-brews on tap. It's old school and a favorite with the locals. They also have some great happy hour specials which are available from 4pm to 8pm daily. 562 Green Street

More Great San Francisco Tours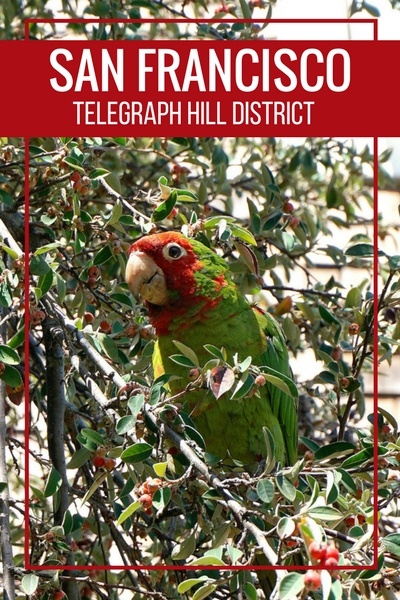 Comments? Questions? Suggestions?
I would love for you to join me in my private Facebook group! 
It's a great place to interact with me and others who know the area well.
You can ask questions, get advice for your upcoming stay, and then share your photos and advice with others when you return home. It's a great community and the fastest way to get answers to those nagging questions about your visit!