Russian Hill in San Francisco: Top Things to Do in This Interesting District

by Jill Loeffler  •

Updated: June 27, 2023
Russian Hill in San Francisco is home to a variety of things to do. Its most popular attraction is Lombard Street, one of the crookedest streets in the world! The neighborhood is also home to a Diego Rivera fresco, comedy clubs, restaurants, and nightlife.

You will find it on the northeastern side of SF. The boundaries of the district are North Point on the north, Broadway on the south, Columbus Street on the east and Van Ness Street on the west.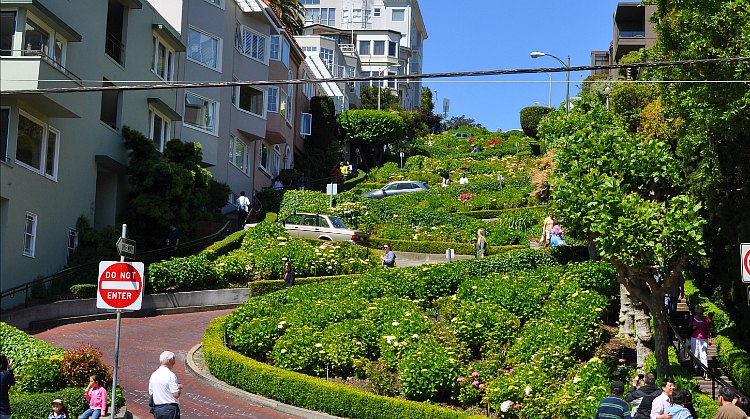 A busy day on Lombard Street
Neighboring districts include Nob Hill to the south, North Beach to the east, Fisherman's Wharf to the north, and both the Marina and Cow Hollow to the west.
Russian Hill is considered one of the first original Seven Hills of San Francisco. 
Disclaimer: I receive a small commission from some of the links on this page.

Russian Hill San Francisco Things to Do

You will find a variety of things to do in Russian Hill San Francisco. Here are just ten of my favorites and some I think you might enjoy too.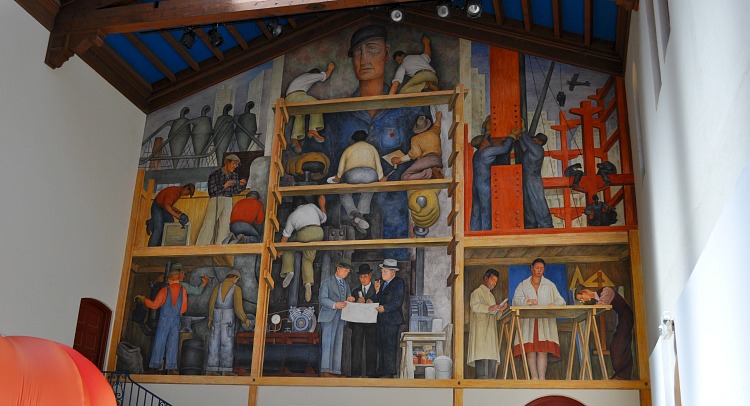 1. Ride the Cable Cars

My favorite cable car route runs through Russian Hill San Francisco. The Hyde Powell route runs between Union Square and Fisherman's Wharf with a popular stop at Lombard Street.
The reason I love this route is because of the views it offers on its ascent (or decent) up a large hill on Hyde Street. The views are unmatched and finding the perfect seat will offer you a ride you will never forget.
>> Learn more about this ride and other cable car rides in SF

2. Admire the Diego Rivera Fresco (Temporarily Closed)

Note: The San Francisco Art Institute closed in the Summer of 2022, which is where this piece is located. Right now, you can't access it but local groups are trying to find a way to reopen this gallery and this piece of art to the public.
One of the little-known attractions in Russian Hill San Francisco is a Diego Rivera fresco inside the San Francisco Art Institute. Rivera was a controversial artist that came to San Francisco several times in the 1930s and 1940s.
It's called The Making of a Fresco Showing the Building of a City and was completed in 1931. Even though it's inside the San Francisco Art Institute, the fresco is open to the public. 
This is just one of three frescos still on display in SF by Rivera. 

>> Learn more about this fresco and others you can visit around SF

3. Stroll or Drive Down Lombard Street

You will find one of the most visited attractions in Russian Hill San Francisco, Lombard Street. This crooked street was first built in the 1930s to allow easier access up and down the steep street for its residents. Today, this one-block street with eight tight turns draws visitors from around the world.
You can either walk down the street or drive. I prefer to walk as it's fun to get a close up look at this amazing street. Plus, I love to check out the beautiful flowers and plants surrounding it.
>> Learn more about visiting Lombard Street

4. Go Shopping

You will also find some fun boutique shopping in Russian Hill San Francisco. There are two main business areas in this neighborhood.
The first is along Polk Street between Broadway and Filbert. Along this street, you will find about a dozen boutique shops. The other is along Columbus Street. Here you will find another dozen shops with items such as gourmet food, clothing, jewelry and more.
5. Visit Russian Hill Park

One of the things that I love about Russian Hill San Francisco is all of its gorgeous parks. They offer some amazing views. One of the best is Russian Hill Park. It's a steep park that sits on the corner of Hyde and Bay Streets.
At the top of the park, you will find some amazing views of the SF Bay, the Golden Gate Bridge, Alcatraz Island, and Sausalito. 
It's can be a quick stop for some photos, or you can bring along lunch to soak in the views for an hour or more.
6. Explore the Macondray Lane Historic District

Another hidden gem in this SF district is the Macondray Lane Historic District. This small district (just 1.6 acres!) was added to the list of National Historic Places in 1988. It includes about a dozen buildings and the famous Macondray Lane.
Why is it so famous? This small pedestrian lane is featured in Armistead Maupin's Tales of the City. He used this lane in his book but renamed it as Barbary Lane.
This two-block long lane is found between Leavenworth and Taylor Streets. It runs from east to west and you will find this pedestrian walking lane between Green and Union streets.

It's a quick stop, but a fun one to see while you are in Russian Hill San Francisco.

7. Check Out the Vallejo Street Crest Historic District

Another cool historic district in Russian Hill San Francisco is the Vallejo Street Crest Historic District. This area offers two blocks of stairs, historic views, and-you guessed it-amazing views!
This historic district also includes a small park called Ina Coolbrith Park.
From this historic district and its park, you will get great views of the SF Bay, Treasure Island, North Beach, and Coit Tower. 
You will find it along Vallejo Street and Taylor. The district is about a half block east and west of Taylor Street.

8. Enjoy a Concert at Bimbo's 365

As you continue to head down the hill toward North Beach, you will find Bimbo's 365. This concert hall offers several concerts a month. It's usually local favorites including Super Diamond (a Neil Diamond cover band) and Tainted Love (an 80's music cover band).
You will find Bimbo's 365 on the corner of Columbus Avenue and Chestnut Street. It's address is 1025 Columbus.
9. Laugh the Night Away at Cobb's Comedy Club

Cobb's Comedy Club also calls Russian Hill San Francisco home. It's one of the top comedy clubs in SF. It features both internationally recognized stars as well as local favorites. They offer shows several times a week.
They also host several of the events during SF Sketchfest, one of the largest comedy festivals in the US every January.
Here are just a few of their top upcoming shows.

10. Learn on a Free Walking Tour

You can also learn about the district on a free walking tour offered by SFCityGuides. Their regularly scheduled tour runs for about two hours and will take you to the best spots throughout the district. You will learn about its history, its most famous residents, and more.
>> Visit the SFCityGuides page for dates and times for the next tours
Things to Do Nearby

You will find plenty of things to do nearby Russian Hill San Francisco. The links below have ideas for you in each of its neighboring districts.
The Best Russian Hill Restaurants

There are two main areas where you will find restaurants in Russian Hill. The first one is along Polk Street between Broadway and Filbert. You will also find some great restaurant along Columbus Avenue. You will also find some great spots along Hyde Street between Broadway and Union.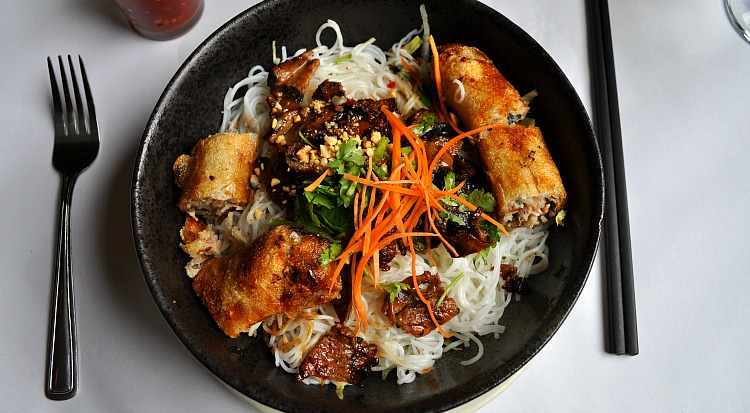 Street Restaurant and Bar: This busy restaurant serves new and traditional American cuisine. The menu changes daily and the food is always fresh and delicious. It is located at 2141 Polk Street between Vallejo and Broadway. Dinner only. $$

Trattoria Contadina: If you are in the mood for Italian, then head over to Trattoria Contadina. It's on the eastern side of the district and one of the top Italian restaurants in the district. They are only open for dinner and serve up classic dishes such as meatballs, gnocchi, ravioli, and picatta. Don't forget to leave room for dessert too! 1800 Mason St, $$

Abrazo: This dinner option offers Spanish dishes including as paella (which usually takes some time, so be prepared for a wait), Charred octopus, and ricotta "churros". They are open from daily for dinner. 2000 Hyde St, $$

Top Bars in Russian Hill San Francisco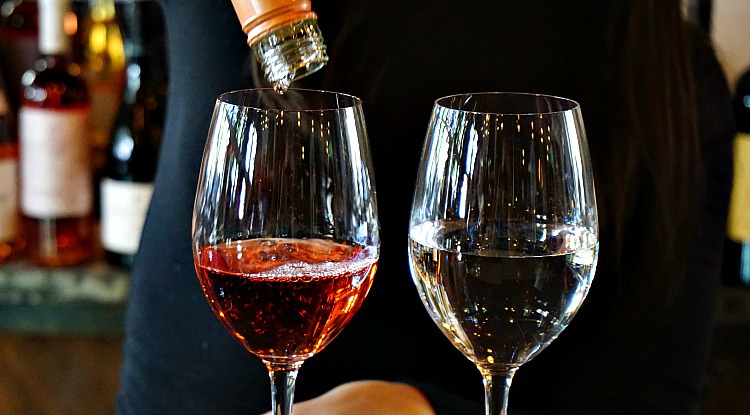 The Greens Sports Bar: If you want to catch a game, head over to The Greens Sports Bar. This large bar has several TVs, quite a few beers on tap, and is usually pretty happening during any major sporting event. It's located in Russian Hill on Polk Street near Green Street. 2239 Polk St
The Boardroom: Another great sports bar in Russian Hill San Francisco on the eastern end is The Boardroom. This open nightly at around 4pm. They have a great happy hour during the week with discounts on their tasty nachos and draft beers. My favorite night here is on Tuesday when it's Taco, Tequila and Trivia night. They have a variety of drinks on their menu as well as some of the best bar food around. 1609 Powell St

Bacchus Wine Bar: My favorite wine bar in the district is Bacchus. It's a small place with a great selection. It opens at 5:30pm every day and I usually like to head over early to beat the crowd. It's a cute neighborhood bar on a gorgeous tree-lined street. I never tire of watching the cable cars roll by as I sip my tasty wines here. 1954 Hyde Street

The Buccaneer: One of the best dive bars in the Russian Hill San Francisco district is The Buccaneer. This old school bar isn't fancy but has a lively atmosphere and the locals love it. They have a decent selection of beers and some tasty cocktails. It usually doesn't get too crazy busy, so you can often have a decent conversation with your friends even on weekend nights. 2155 Polk Street
>> Find a list of some of my favorite happy hour spots
Where to Stay

You will find plenty of places to stay nearby. I recommend looking at the options in Fisherman's Wharf and Union Square. They are both close by and offer a huge selection from budget friendly options to high-end luxury hotels.
How to Get to Russian Hill San Francisco

You will find plenty of options to get to Russian Hill San Francisco for a visit. 
Hyde Powell Cable Car: As I mentioned above, my favorite option to get here is on the cable car. It will drop you at the top of Lombard Street, so you can slowly make your way down to explore this attraction and this gorgeous neighborhood.
Hop On Hop Off Bus Tour: Another great option to get here is on the Hop On Hop Off Bus Tour. This option will drop you off at 20+ places around town including Russian Hill San Francisco. Find out more and check for tickets here!

45 Bus: If you are looking to get over here from Union Square, another option is the 45 bus. It will take you through Chinatown and to the top of Russian Hill San Francisco. 

Comments? Questions? Suggestions?
I would love for you to join me in my private Facebook group! 
It's a great place to interact with me and others who know the area well.
You can ask questions, get advice for your upcoming stay, and then share your photos and advice with others when you return home. It's a great community and the fastest way to get answers to those nagging questions about your visit!