Richmond District in San Francisco
10 Fun Things to Do & See in the Western Neighborhood
NOTE: On December 6, San Francisco (and a few surrounding counties) will once again be on a stay-at-home order. This will last indefinitely. Click here for more information.
The Richmond District in San Francisco is a large neighborhood on the western side of the city. On the eastern end, it starts at Arguello and Masonic. It then runs all the way to Ocean Beach.
On the northern end, you will find Land's End and the Presidio. It borders Golden Gate Park on the southern side.
This local district is not as well traveled as many other SF districts. However, you will find lots of fun things to see and do here.
The weather is often cool and a bit windy, so make sure to bring along a jacket for your visit.
Read on to learn more about what it's like to visit.
Disclaimer: I receive a small commission from some of the links on this page.
10 Things to See & Do in the Richmond District in San Francisco
The Richmond District in San Francisco is a large neighborhood. It's made up of a few sub-districts including the Outer Richmond, the Inner Richmond, Central Richmond, Little Russia, Lake Street, and Vista del Mar.
Here are the top things to do and see here.
1. Golden Gate Park: The southern border of the Richmond District in San Francisco is Golden Gate Park. This 1,000+ man-made park houses several large museums, outdoor activities, and trails.
Some of the best stops include the California Academy of Sciences (our most visited museum), the Japanese Tea Garden, and the deYoung. You can also rent bikes for the day or head out on a Segway tour. You could spend all day (or all week) in the park exploring its numerous activities.
Here are a few of my favorites.
Learn more about visiting Golden Gate Park.
2. Presidio: The Presidio is another fun place to visit. It's an old army base with lots of outdoors activities. You can do some hiking, soak in the views from its hilltop vistas, or visit one of its museums.
The Presidio is home to the Walt Disney Museum, the National Cemetery, and four works from Andy Goldsworthy There are also some great places to eat and drink here. Learn more about visiting the Presidio.
3. Lincoln Park Golf Course: If you love to golf, then you will love this course. It's inexpensive (for local standards) and has gorgeous views of the Golden Gate Bridge and the surrounding area. It's a par 68 course that opened in 1928. This public course is open to all golfers.
4. Lincoln Park Steps: Another fun stop in the Richmond District in San Francisco is the Lincoln Park Steps. These colorful mosaic steps are at the end of California Street near 32nd Avenue.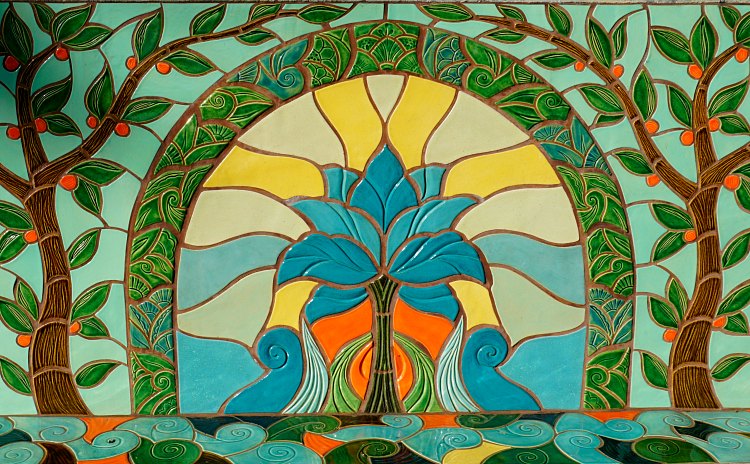 The red, orange, blue and yellow stairs attract visitors from around the world. It's a great stop for that perfect Instagram picture. Learn more about what it's like to visit.
5. Ocean Beach: At the far western end of the Richmond District in San Francisco, you will find Ocean Beach. This flat beach is where SF meets the Pacific Ocean. It's a low-key spot where surfers hang out to catch some waves (the waves are small, so it's perfect for beginners) and locals come for some peace and quiet. It's cool here most of the year, so make sure to bundle up a little before you arrive. Learn more about visiting Ocean Beach.
6. Columbarium: The Columbarium is the resting place for thousands of San Francisco residents. It was built in the late 1800s and was well maintained for a number of years. However, it was abandoned in 1934 and fell into disrepair after the surrounding cemetery was moved south of the city.
The Neptune Society took it over in 1980 and did a great job fixing it up. Today, this gorgeous building is a wonderful place to visit. It's beautiful both inside and out with a Neoclassical design, colorful stained-glass windows, and interesting displays for those that have been laid to rest here. Learn more about visiting.
7. Neck of the Woods: Head over to one of the hottest live music spots in the Richmond District in San Francisco, Neck of the Woods. This small venue offers live music most nights of the week.
It has a capacity of around 450 and most of it is standing room only. These are just a few of the top upcoming performances.
8. Holy Virgin Cathedral: This Russian Orthodox Church is a beauty. The outside features gold covered domes with richly colored murals.
Inside, you can get a better look at its multicolored stained-glass windows. You can also take a look at its various pieces of art including the frescos depicting the Stations of the Cross. It's open to the public as long as there isn't a mass in session.
9. University of San Francisco: This small, but gorgeous campus is another fun visit in the Richmond District in San Francisco. This private university (not to be confused with the larger public institute, the University of California at San Francisco or UCSF) sits on a hill with views all around.
It's a Jesuit school with around 6,000. One of the highlights on this 55-acre campus is St. Ignatius Church.
10. Land's End: If you love the outdoors, you will love this cliff side hiking trail. Set high above the water, this trail is about a mile and a half from the Eagles Point trail head to the Sutro Baths ruins.
The trail has some great heart-pumping ups and downs. You can also stop at several attractions along the trail including the labyrinth, several war memorials, and Mile Rock Beach. There is also a new visitors center near Sutro Baths that tells you more about the history of the area. Discover more urban hikes around SF.
More Fun SF Activities
Best Restaurants
You will find dozens of great restaurants in the Richmond District in San Francisco. Here are just a few of my favorites.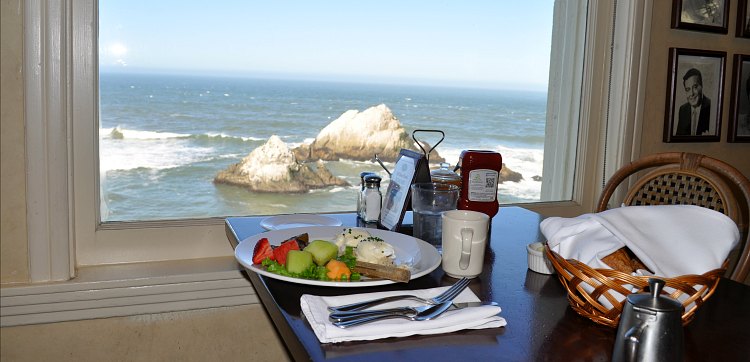 Cliff House: This is one of the most popular spots in this district. The Cliff House sits on the cliff and features a couple of restaurants with amazing views of the Pacific Ocean. Bistro is their more casual option with brunch, lunch and dinner. Sutro's is a more upscale option with lunch and dinner. There is also a bar and an outdoor deck where you can grab a drink and some appetizers as you soak in the experience.
Due to its popularity, you will find that all options are quite expensive. However, the food and drinks are wonderful and it's worth the money. 1090 Point Lobos Ave.
Beach Chalet: On the western edge of Golden Gate Park is another trendy spot, the Beach Chalet. This American restaurant offers views of the water and the beach. They have their own brewery, so you can also sample locally crafted brews.
You can also visit the Park Chalet, which offers views of the park. It's on the first level of the Beach Chalet building and it's often easier to get a spot here when the Beach Chalet has a long waiting list. Learn more about what to expect at both locations and details on the historic murals on the first floor of the building. 1000 Great Hwy.
Hard Knox Cafe: If you love fried chicken and Southern cuisine, then head over to the Hard Knox Cafe. They also have some amazing blacked catfish and tasty side dishes. They are open for lunch and dinner daily. 2448 Clement St.
Red Tavern: Eastern European cuisine is what you will find at the Red Tavern. They've made a name for themselves in the Richmond District in San Francisco with traditional dishes such as Beef Stroganoff, Golubtzy, and Viennese Schnitzel. They are open from 1 p.m. to 10 p.m. daily. 2229 Clement Street.
Burma Superstar: Open for lunch and dinner daily, this small Burmese restaurant is a must. They have become famous for their tea-leaf salad, but this isn't the only superstar on their menu. I also love their Burmese chicken & shrimp casserole (baked in a clay pot), basil chili pork belly, and Burmese style curry. They don't take reservations, so be prepared for a wait. 309 Clement St.
Good Luck Dim Sum: The Inner Richmond District in San Francisco is often referred to as "New Chinatown" due to its abundance of wonderful dim sum and traditional Chinese restaurants. One of my favorites here is Good Luck Dim Sum.
It's a walk-up counter where you select the items from what's available. Dim sum is a combination of small plates with dishes such as steamed buns, BBQ pork puffs, and pork-and-shrimp dumplings. They are inexpensive and you can try a variety of things in one sitting.
If this is your first time, don't hesitate to ask some questions. They are friendly and will help you find something you will enjoy. 736 Clement Street.
Find more great dim sum restaurants around SF.
Best Bars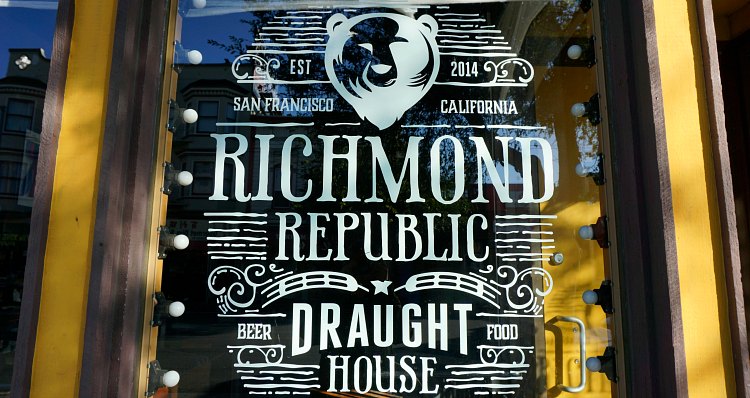 The Plough and the Stars: Irish bar with Celtic music most nights of the week, good beers and tasty cocktails, 116 Clement St
Richmond Republic Draught House: Bar and restaurant with a great selection of beers on tap, American comfort food on the menu, 642 Clement St
540 Club: Very local bar with trivia nights, TVs, and a low-key atmosphere, 540 Clement St
Trad'r Sam: Rum-inspired drinks in this lively Tiki bar, 6150 Geary Blvd
Natives Bar: Another local neighborhood bar with beers on tap, TVs, and friendly staff, 5320 Geary Blvd
The Blarney Stone Bar: Irish bar and restaurant with good Irish and comfort food, 5625 Geary Blvd.
>> Find additional fun bars around SF
>> Find more nightlife options
Weather in the Richmond District in San Francisco
The weather in the Richmond District in San Francisco is cool and windy most of the year. It's foggy and has the benefit of the cool ocean breezes. You will find it's a little cooler than the neighborhoods to the east.
I recommend bringing along an extra jacket and to wear pants or long dresses. This will help keep you warm as you explore this interesting district.
Click the links below for more details on what to expect from the weather. Here you will find it about 5 or so degrees cooler than what is mentioned for the averages.
January | February | March | April
How to Get to the Richmond District in San Francisco
You will find three great bus lines that will take you into the heart of the Richmond District in San Francisco.
1-California: If you plan to head to the northern end to visit places like the Presidio or Land's End, then the 1-California is the best option for you. It runs along California Street and stops every few blocks. It ends near the Lincoln Park Steps at 32nd Avenue.
38-Geary: This is a good route for those wanting to end up in the heart of the district. The 38-Geary runs along Geary Street and will get you almost anywhere you need to go in this district. It ends near the Land's End Visitors Center and Louis' at 48th Avenue.
5-Fulton: The 5-Fulton runs along the southern end of the Richmond District in San Francisco. It's the perfect pick if you plan to head to Golden Gate Park, the Beach Chalet, or Ocean Beach. It's also the best options for those heading to the University of San Francisco.
>> Find additional tips for getting around SF
Things to See & Do Nearby
Haight-Ashbury: I'm sure you've heard of the Summer of Love in San Francisco in 1967. The Haight-Ashbury district was the heart of this movement. Here you can learn more about its history, walk past the houses where many famous artists lived, and do some shopping. Learn more about what there is to see and do in the Haight.
Botanical Gardens: Another gem in Golden Gate Park is the Botanical Gardens. It's home to more than 50,000 plants from around the world. Each season, you will find something new in bloom. Learn more about visiting and what you can expect each season.
Conservatory of Flowers: This is another fun stop in Golden Gate Park. The conservatory offers a closer look at plants and flowers from different climates around the world. There are five areas and four of them offer a permanent collection of plants. The fifth is a fun area with rotating exhibits. See pictures and learn more about visiting here.

Follow SFTourismTips on Facebook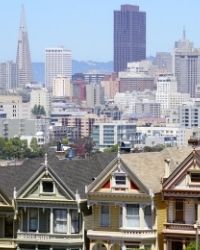 On my Facebook page, you will find more great information about planning your San Francisco vacation.
It includes tips, must see attractions, and other fun details.
Click the link below to check it out. If you enjoy the page, give us a like.

More Off the Beaten Path Districts Around SF