Urban Hikes in San Francisco: 15 Perfect Finds Plus One New Addition
These are just a few of my favorite urban hikes in San Francisco. I've includes a variety of options from those with great views to some with miles of trails and some that offer both.

These are my go-to options when I don't have time to get out of the city for a nice, long hike.
Most of these include steep trails. Because many of them are close to each other, you can often do two or three in one day as you explore the city.
Disclaimer: I receive a small commission from some of the links on this page.

1. Twin Peaks

My first recommendation for urban hikes in San Francisco is also one of our top attractions, Twin Peaks. The reason I love this hike is that it's short, steep, but offers some amazing views at the top.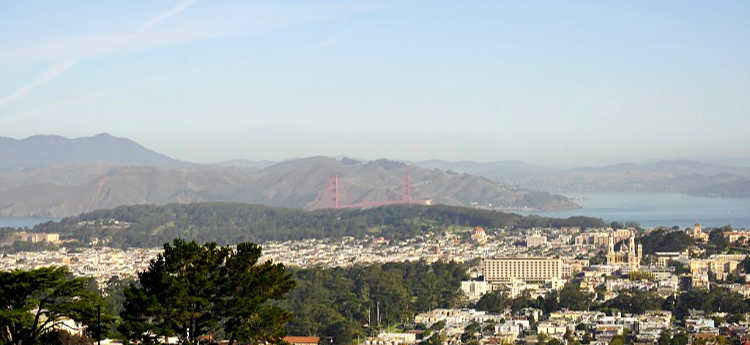 You can also climb to the top of both peaks to increase the distance of your hike.
The trail up and down the summits at Twin Peaks is just over half a mile. However, if you hike from the neighborhood below you can double or even triple that distance. Again, it isn't a long hike, but it will get your heart pumping.
>> Learn more about visiting Twin Peaks
You can also explore Twin Peaks and other fun parks nearby with a guide. On this tour, you will learn all about these locations, find the best places for great views, and see additional parks nearby. Find out more about this guided tour here.
2. Mount Davidson

Mount Davidson is another one of the wonderful urban hikes in San Francisco. This hill is more off the beaten path, so you will find fewer people on the trails.
The hike to the summit is not long, less than a mile. At the summit, you will find a large concrete cross with tall trees all around it. Head east on the summit and you will find a nice clearing with views of downtown SF.
Mount Davidson is about 40-acres, so you will find additional trails that will help you increase your mileage during your visit.
The trails are not well marked, but since the area is small, it's impossible to get lost. There are eight entrances/exits to the neighborhoods surrounding Mount Davidson, so you can easily find your way out.
>> Get more details on how to get to Mount Davidson and what to expect when you arrive
3. Buena Vista Park

This is another wonderful park with views all around SF and the Bay. This hike is a great option for those visiting the Haight-Ashbury or Lower Haight areas. It's a nice climb to the top (takes about 15 to 20 minutes) and will give you a nice workout as you are exploring these areas.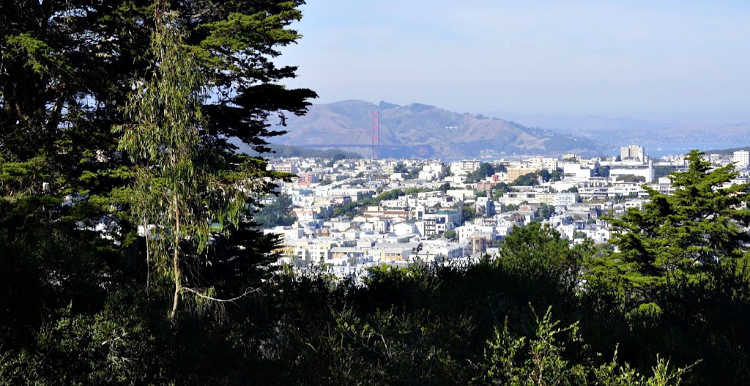 This 36-acre park is the oldest park in San Francisco. The view from above is not at the summit, but from one of the trails that leads up to the top.
The trees you see in the picture above are part of this parks coast live oak groves. They are some of the few remaining within the city limits.
In total, the trails here will only get you a mile or two of hiking. I love to combine the climb to the summit of Buena Vista Park with the one in Corona Heights.
4. Lands End

The Land's End trail is another local favorite. This trail is along the cliffs at Lands End and offers some amazing views of the Golden Gate Bridge, and Pacific Ocean, and the Marin Headlands.
You can start the trail in one of two areas. Ones of the ways is from the Welcome Center near Ocean Beach. There is plenty of parking here. The trail will take you past the Sutro Baths, along the coastline, and will end at the trailhead at Lands End Eagles Point.
There are also a few stops off along the way including the Labyrinth, Mile Rock Beach, and the Memorial for Peace.
The second place to start is at the trailhead at Lands End Eagles Point. This will take you to the Welcome Center.
The trail is one way, so no matter how far you go, you would need to do the entire trail again if you parked on one side. I often take the 1-California Bus to the Lincoln Street Steps. From here the Eagles Point Trail head is less than half a mile.
I'll then walk the entire trail and grab the 38-Geary bus on the other end.
>> More about hiking at Lands End
5. Tank Hill

Another one of the short, but fun urban hikes in San Francisco is Tank Hill. This small and steep hill offers amazing views all around San Francisco and beyond. As you can see from the picture above, on a clear day, you can see for miles.

I love combining this hike with #7 on my list. They are less than a mile away from each other and you can do some great exploring in between.
The hike to the top is less than a mile and will only take about 10 to 15 minutes. Near the top, you will also find an Instagram worthy swing that you will want to check out.
6. Glen Canyon Park

Glen Canyon Park is another one of the wonderful urban hikes in San Francisco. This hike will take you through some wonderful shaded areas as well as open space. What I love about this area is the wonderful rock formations.
If you love steps, these trails will also appeal to you. Each entrance includes a downward walk into the canyon, so you will have quite a climb back out too.
I love the view of the stairs up the side of the canyon in every direction. The entire park is about 77-acres with 60 acres of wilderness. The park is full of birds and other wildlife.
You can combine your hike with a visit to Noe Valley, Glen Park, Sunnyside, or even the Mission.
7. Mount Sutro Open Space Reserve

If you want to get in a longer hike, head over to the Mount Sutro Open Space Reserve. This public space has more than 5 miles of trails.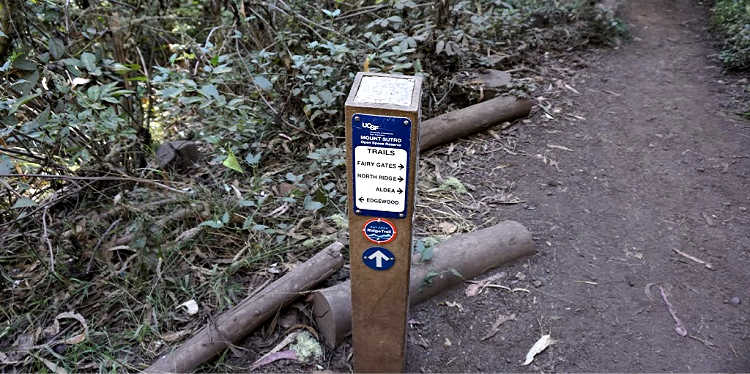 The trails are well paved and surrounded by trees, plants and flowers. The reserve is owned and operated by UCSF and is a favorite for those visiting loved ones in the hospital.
However, even though it is close the hospital, the trails are not very busy. When I hike here, I will often only see a couple of other people.
If you climb to the summit, it's about a 900-foot elevation change. There isn't much to see at the summit, but it does allow you to head off in another direction for additional hiking.
Because of the dense vegetation here, there aren't any views. However, it's a wonderful place to escape the city for an hour or so.
8. Presidio

The Presidio is very different from the other urban hikes in San Francisco. This area is large, and you could hike all day long. This old army base is about 1,500-acres and has hiking along the coast (Coastal Trail) on tree lined trails and through old army barracks.
You can start and end in any location. During your journey, you can also visit the Disney Museum, the National Cemetery, Baker Beach, and other attraction.
You will find lookout points with amazing views as well as quiet well-maintained trails with very few other people.
Andy Goldsworthy is a British artist and many of his pieces work with the landscape. All of his pieces use trees, plants and other natural products, so while they will be here for some time, they will not be around forever. I love to hike from one Andy Goldsworthy sculpture to the next.
>> Find out more about visiting the Presidio
>> Explore additional National Parks in and near SF
Other Fun Walking Tours

If you'd love to learn even more about San Francisco on foot, here are some great walking tours that I recommend. Some include stops for food, and all will give you some great insight into SF's attractions, food scene, neighborhoods and history.

9. Colorful Stairways

Our colorful stairways are also fun to explore. These urban hikes in San Francisco can be combined with some others on the list, and you will not want to miss them.

The Filbert Street and Greenwich Street stairs take you from the flats near the water to the top of Telegraph Hill where you will find Coit Tower. The 16th Avenue Stairs and the Hidden Garden Steps are colorful, mosaic steps that are only a few blocks away from each other in the Golden Gate Heights District.
You will also find others throughout the city. They are all unique and offer you the chance for some heart-pumping fun.
>> Find a list of my favorites including details on how to find them
10. Golden Gate Park

Golden Gate Park is another place for those looking for some urban hikes in San Francisco. This lovely park covers more than 1,000-acres and offers miles of trails, paved streets, and attractions to admire.
An urban hike here is a wonderful addition after you visit the California Academy of Sciences, the Japanese Tea Garden or the de Young. You can also explore Stow Lake on foot and climb to the top of Strawberry Hill.
You can also walk all the way to Ocean Beach for lunch, dinner or a drink at the Beach or Garden Chalet.
There is a lot of explore in Golden Gate Park.
>> Find out more about what there is to see and do in Golden Gate Park
11. Golden Gate Bridge

The Golden Gate Bridge is another popular urban hiking option. The bridge is 1.7 miles long, so it is a fun trip over to Marin and back if you want a good workout.

The bridge sits high above the water with amazing views all around including Alcatraz, downtown SF, and the Marin Headlands. It's cool and windy up here all year long, so make sure to wear something warm to make this hike.
You can also walk part of the way or continue on and walk all the way into the small town of Sausalito.
>> Find my tips for walking the Golden Gate Bridge
12. Mission Murals

Another one of my favorite urban hikes in San Francisco is around the Mission. This colorful district is home to almost half of the city's street murals. You will find them all over the district with large concentrations at Clarion Alley, Balmy Alley, and along 24th Street.
You can spend the day wandering around the district, checking out the murals, sampling authentic Latin and Caribbean treats, and getting some amazing photos.
Visit my Mission murals page for more information and pictures of some of my favorite murals around.
>> Check out this great guided tour about the Mission District foods and its famous murals
13. Embarcadero

If you love the hustle and bustle of the city, this might be one of the best urban hikes in San Francisco for you. The Embarcadero is the street right along SF's eastern waterfront. It runs from Pier 39 in Fisherman's Wharf all the way to Oracle Park (where the SF Giants play baseball).

Along the street, you will find a wide walking, hiking and biking path. It's highly trafficked between Pier 39 and the Ferry Building. You will find fewer people on the southern half from the Ferry Building to Oracle Park.
The reason I love this urban hike is that it's flat and has plenty of things to see and do along the way.
14. Crissy Field

Another flat hike along the waterfront is at Crissy Field. This well-traveled path leads you from the Marina District to the Fort Point National Historic Site. You can also head up a flight of stairs to get to the Golden Gate Bridge.
This wide dirt path attracts people from all over the world. As you hike west, you will have unobstructed views of the Golden Gate Bridge. The trip east offers lovely views of the Palace of Fine Arts and the city.
15. Fisherman's Wharf to Marina Green

Another one of the fun urban hikes in San Francisco is the trail from Fisherman's Wharf to the Marina Green. This hike starts at the end of Jefferson Street near Aquatic Park. You will head west and follow the trail toward Fort Mason.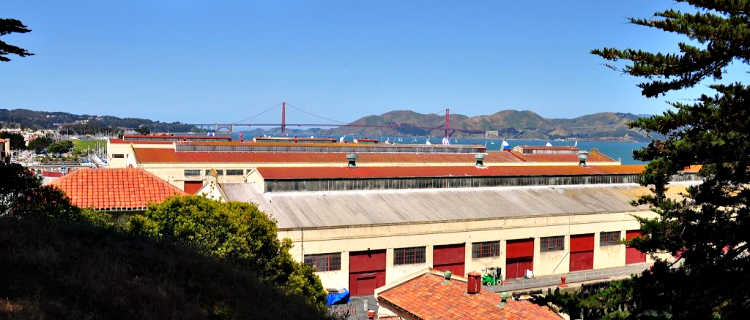 You will then climb a decent hill into Fort Mason, walk through its lovely park, and then onto the Marina Green. This wide concrete path runs right along the waterfront.
If you decide you want to continue, you can walk on to Crissy Field, to the Golden Gate Bridge and over to Sausalito.
These additional pieces to this hike make for a LONG walk, but it's a great workout!
New Crosstown Trail

If you want to REALLY explore San Francisco on foot, don't miss the new Crosstown Trail. It starts at Candlestick Point (on the southeastern side of SF) and ends at Land's End (on the northwestern end) and is 17 miles long.
The route is a diagonal line across the city and shows you how to easily get from one neighborhood to the next as you venture through beautiful parks and along already planned out trails.
This all-day urban hike through San Francisco hits some of the places I mentioned above. It also brings you to many other cool spots around town.
The trail is not marked, so you must download one of their maps to follow their specific route. You can visit their site here.
You can also enter and leave the trail at any location. They have created five sections that allow you quite a bit of hiking, but also offer wonderful transit options on both sides.
It's one of the best urban hikes in San Francisco!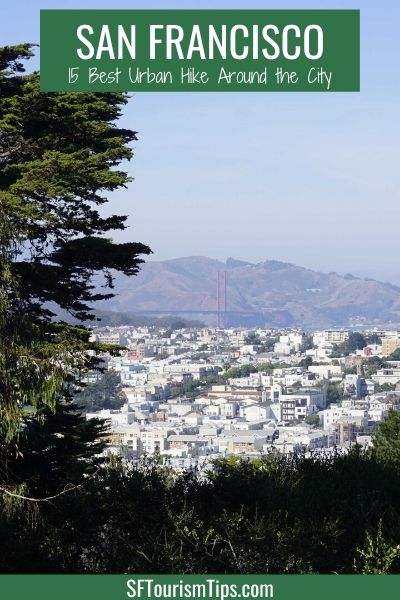 Comments? Questions? Suggestions?
I would love for you to join me in my private Facebook group! 
It's a great place to interact with me and others who know the area well.
You can ask questions, get advice for your upcoming stay, and then share your photos and advice with others when you return home. It's a great community and the fastest way to get answers to those nagging questions about your visit!