San Francisco Marina & Cow Hollow Neighborhoods
Discover the Top Attractions in These SF Neighborhoods
The San Francisco Marina is a beautiful neighborhood along the bay. Here you will find popular attractions such as access to the Golden Gate Bridge, Crissy Field, and the Palace of Fine Arts. It also offers some great shopping and a wide variety of restaurants.
The history of this neighborhood is fascinating. For years, it was just marsh or swamp land, until it was selected as the site for the 1915 Panama Pacific International Exposition. Shortly after its selection, they built several temporary buildings in the neighborhood to create a large exposition for the world fair.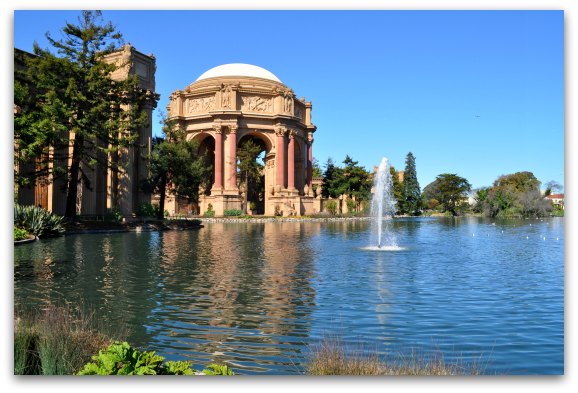 The picture above is of the Palace of Fine Arts, the only building still standing from the exposition. It too was slated to be torn down, but the city decided to keep it because it was so beautiful. The expo team did some work on it to extend its life which is why it still stands today.
Because most of the San Francisco Marina is on landfill, it received quite a bit of damage during the 1989 earthquake. If you've seen the pictures of collapsed buildings from this earthquake, they were probably of buildings in this neighborhood.
After the earthquake, the neighborhood was rebuilt and today is as strong as ever. This is one of my favorite neighborhoods because of its beauty and proximity to the water.
Top Activities and Attractions
Crissy Field: Soak in the Views Along the Waterfront
Along the northern side of the San Francisco Marina is Crissy Field. Here you will find one of the largest beaches in San Francisco. You will also find a running/walking trail and a large grassy area that is perfect for a game of football or to throw around a frisbee with friends. This is also where you can find some of the best views of the Golden Gate Bridge and Sausalito.
---
Fort Mason Center: Enjoy Local Festivals & Other Events
Fort Mason is an old army base that was remodeled in 1977 to host large events. The center is the perfect venue for some of the biggest events in the city, like the annual San Francisco Chronicle Wine Competition. They also hold local events, such as OctoberFest and the Annual Public Library Book Sale. There is something fun and interesting almost every weekend at the Fort Mason Center.
Learn More: Fort Mason Event Calendar
---
Fort Point: Discover this Little Known, Important Historical Site
Fort Point is another old army base along the shores of the San Francisco Bay. It's also one of the oldest buildings in San Francisco, and it has an interesting history due to its location right under the Golden Gate Bridge. This free site is a must see for history buffs, especially those who love military history.
Learn More: Fort Point National Historic Site
---
Golden Gate Bridge: Stroll Along One of the Most Famous Attractions
The Golden Gate Bridge is one of the most visited San Francisco attractions. You can walk, bike, or drive over this beloved international icon. You will find lookout points on both the northern and southern ends of the bridge for that picture-perfect view.
Learn More: Golden Gate Bridge History & Visiting Tips
Another way to see the Golden Gate Bridge is by taking a city tour. The San Francisco Deluxe Half Day Tour gives you a chance to ride over the bridge. You will also get a photo opportunity of the bridge at Vista Point. In addition, you will ride through Golden Gate Park and get amazing views of the city from Twin Peaks.
More Details & Booking Info: SF Deluxe Half Day Tour
---
Octagon House: See This Uniquely Shaped Historical House
The Octagon House is another quick stop in the San Francisco Marina. This old eight-sided house was built in 1861. It fell into disrepair over the years, but a local non-profit bought and restored it. You can now visit the house and its extensive collection of colonial and federal decorative arts three times a month.
More: Tips to Visit the Octagon House
---
Palace of Fine Arts: Visit a Piece of History
One of my favorite attractions in the San Francisco Marina is the Palace of Fine Arts. This free attraction is the only building still standing from the Panama Pacific Exposition in 1915. Stop by to see the detail on the outside of this building and learn more about its history.
Learn More: Panama Pacific Exposition & Palace of Fine Arts
---
Union Street: Shop 'Til You Drop
If you plan on spending some of your time shopping, then I recommend heading over to Union Street in the San Francisco Marina. Dozens of small, unique shops line up on both sides of the street. In addition to local shops, you will find your favorite brand names here, such as Sephora, Z Gallerie, and Nine West. You'll find most of the shops between Franklin Street and Steiner Street.
Learn More: Additional Shopping Options in SF
---
Union Street Festival: Mingle with the Locals
The Union Street Festival is one of the largest street festivals in San Francisco. This event is held the first weekend in June each year. Over two days, you will find hundreds of arts and crafts booths. In addition, there are over a dozen different food vendors and a couple of stages with live music. The event also has a large eco-friendly area with green exhibitors, businesses, and other educational materials. It's a fun way to spend a few hours while visiting the San Francisco Marina District.
Learn More: San Francisco Festivals
---
Walking Tours: Explore the Neighborhood on Foot
Another great way to learn about this neighborhood is by joining one of the free walking tours. The San Francisco public library gives several guided walking tours in the neighborhood. They range from a tour of the Palace of Fine Arts to a historic tour of the Art Deco buildings in the neighborhood.
Tours & Schedules: San Francisco Marina Walking Tours
Best Restaurants
The majority of the restaurants in the San Francisco Marina are on or near Union and Chestnut Streets. You will find everything from grab-and-go options to higher end, sit-down restaurants. Here are just some of my favorites.
A16: An Italian restaurant with amazing food and a great wine list, dinner only, $$$, 2355 Chestnut Street


Causwells: Casual American restaurant and bar with great shareable items on their menu, $$, 2346 Chestnut Street


Pacific Catch: Casual seafood restaurant with a Pacific Rim twist, perfect for lunch or dinner, $$, 2027 Chestnut Street
Best Bars
You will also find a high concentration of bars along Union Street between Franklin and Steiner, and on Chestnut Street between Fillmore and Divisadero. Most of the bars in the San Francisco Marina draw a young crowd that likes to live it up on the weekends.
Balboa Cafe: Young crowd, usually packed on weekend nights, great drink specials, 3199 Fillmore Street


Bus Stop: Young crowd and a fun place to grab a drink, 1901 Union Street


The Final Final: An old sports pub, the perfect place to catch a game, 2990 Baker Street


Horseshoe Tavern: A small dive bar in the heart of the Marina, 2024 Chestnut Street


Nectar Wine Lounge: One of the best wine bars in the neighborhood, 3330 Steiner Street


The Blue Light: Great drinks and a lively atmosphere, 1979 Union Street
Hotels & Motels
Many of the hotels in this neighborhood are two-star hotels or motels. Although most people opt to stay in either Fisherman's Wharf or Union Square, here the advantage is that many of the hotels include parking. Although the hotels here don't have a lot of amenities, they are worth a look if you are on a tight budget and/or have a car.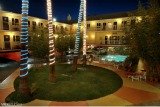 Hotel Del Sol, a Joie de Vivre Hotel
3100 Webster Street, San Francisco


The Hotel Del Sol is one of the best hotel/motels in this neighborhood. It is bright and cheery inside and out with its vibrant, almost beachy decor.
You will find some very basic amenities at this family-oriented hotel including a heated outdoor pool, a simple breakfast, and free Wifi. It's a great value because the parking is included.
High Season Average: $395 | Low Season Average: $210
Find the best deal on this hotel on Booking.com: Hotel Del Sol
---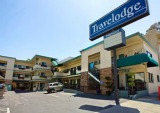 Travelodge at the Presidio San Francisco
2755 Lombard Street, San Francisco


Another great value in this neighborhood is the Travelodge at the Presidio. This two-star hotel/motel is on the western side of the San Francisco Marina District, just a few blocks from the Presidio park.
Their amenities include a simple breakfast and a business center with printing and internet access. They allow pets with a small deposit and parking is free.
High Season Average: $265 | Low Season Average: $170
Find the best deals on this hotel on Booking.com: Travelodge
More Recommendations: San Francisco Motels | Other Budget Friendly Hotels
How to Get Here
From Fisherman's Wharf: Fisherman's Wharf is about a mile away from the eastern side of the San Francisco Marina. There are quite a few options for getting between these two neighborhoods.
Bus: The 30 Stockton takes you directly to the San Francisco Marina. Pick it up at North Point and Hyde Streets in Fisherman's Wharf. This bus drives along Chestnut Street, so you can exit at or any stop after the Fillmore Street stop. This will take you about 10 minutes.


Car: If you are driving, it's an easy 5 to 10-minute drive from Fisherman's Wharf. Find parking garages in Fisherman's Wharf.


Taxi: A taxi will cost around $10 and take about 5 to 10 minutes.


Walk: My favorite option is to walk along the water from Fisherman's Wharf to the San Francisco Marina. It isn't the most direct route, but is the most beautiful. There is a sidewalk the entire way, with a small, but steep uphill section right before you get to the Fort Mason Center. For fewer hills, take Bay Street to Fillmore Street; from there you can turn right and head to the waterfront or turn left to head deeper into the neighborhood.
From Union Square: It takes a little longer to get from the Union Square neighborhood over to the San Francisco Marina. However, you will find several options.
Bus: You can take either the 45 Union or the 30 Stockton. Both pick up at a stop on Stockton Street between Bush and Sutter. Both will take you just under 30 minutes. The 45 drops all along Union Street (the northern end of the neighborhood), while the 30 drops all along Chestnut Street (the southern end of the neighborhood).


Car: This is another option, but parking here is hit or miss. You can try a few garages, or you can look for a spot on the street. It should only take about 20 minutes to get to the Marina from Union Square.



Taxi: A taxi will also take about 15 minutes and will cost anywhere from $15 to $25, depending on your pick-up and drop-off point. This is an easy option, but also the most expensive.
Hop On/Hop Off: You will also find a pick-up/drop-off point in the San Francisco Marina on the Hop On/Hop Off Bus Tour. You can purchase a tour pass for either one or two days (sometimes you can get the two-day pass for the price of the one-day!). The tour offers 20 stops around San Francisco and it's a great way to get to know the city on one of your first days here. Stop 2 is the best stop to use to explore the Marina neighborhood. Learn more about how to book the Hop On/Hop Off Tour.