San Francisco Fine DiningFourteen of SF's Finest Restaurants
Enjoy top dishes from some of the best San Francisco fine dining restaurants. My list of the 14 best includes French, American, and Italian cuisines. You will also find some of our luxury steakhouses and those with Japanese inspired dishes.

Most of these high-end restaurants are in Union Square, the South of Market neighborhood and the Financial District. I also added in a few of my top picks in some of our more local areas.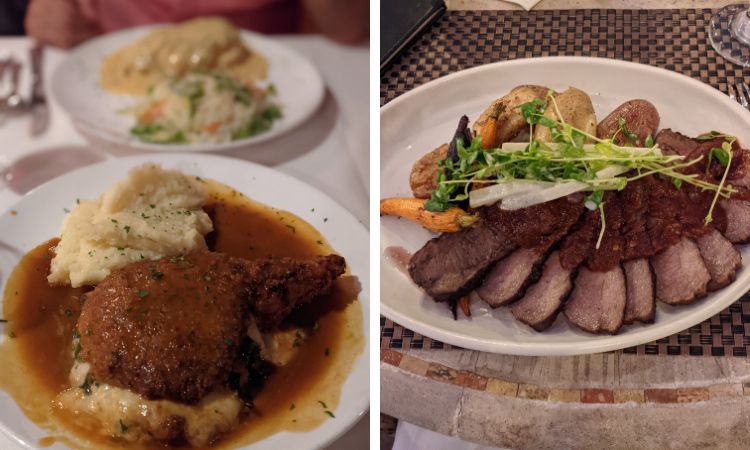 Disclaimer: I receive a small commission from some of the links on this page.

1. Michael Mina

Michael Mina offer one of the best San Francisco fine dining experiences. This lovely place is in the heart of the Financial District and it never disappoints. Their menu is amazing, but I always point people to the chef's menu. It's a nice sample of the best of everything they are currently serving. The only difficulty is that everyone at the table has to participate with this menu.
If that doesn't work for you, you can also order from the 4-course dinner menu, which has plenty of options for each course. If you plan to come to Michael Mina for dinner, make sure you come hungry!
Average Price: Tasting Menu is around $195 per person (not including drinks), 4-course menu starts at around $145 per person (it also does not include drinks)
Address: 252 California Street
District: Financial District
2. Boulevard

Boulevard opened in 1993. It's a San Francisco institution and one of the most popular San Francisco fine dining restaurants in the city. It combines both French and New American Cuisine. I recommend trying their Angus Filet Mignon or the Pork Prime Rib Chop. Both are wood oven roasted and have incredible flavor.
In addition to their dishes, you will also find that they have an extensive wine menu. You will find several great options from Napa, Sonoma and other local wine regions. You will also find a large selection of wines from Italy, Spain, and France. They also have a nice selection of wines by the glass.
Average Price: Main dishes range from around $35 to $55 per person
Address: 1 Mission Street
District: SOMA/Financial District
3. Atelier Crenn

Atelier Crenn is truly a dining experience like no other. The chef, Dominque Crenn, takes great pride in every dish she serves to her patrons.
Something I love about this restaurant is instead of having a standard menu, they have a single tasting menu that is explained as a written poem. Each line describes the dish you will be served that evening. This tasting "menu" includes up to 20+ courses in one sitting.
As of the writing of this page, it has two Michelin stars.
Average Price: The tasting menu is $325+ per person, the wine pairing menu is an additional $175 per person
Address: 3127 Fillmore
District: Cow Hollow
4. Gary Danko

Gary Danko is a San Francisco fine dining experience that is hard to match. They pay special attention to every single detail and you will notice this from the moment you walk through their doors. If I have a special occasion dinner, Gary Danko is usually first on my list.
They use fresh, local ingredients and change their menu frequently. They offer several wonderful fish dishes as well as meat and game birds. They also have a wonderful selection of cheeses and some of the best desserts in the city. Make sure to check out their wine list too.
Just be warned, you will need to call several weeks in advance to book a table.
Average Price: Usually a minimum of around $80 to $110 per person
Address: 800 North Point Street
District: Fisherman's Wharf
5. Spruce

Spruce has been one of my favorite San Francisco fine dining places for a long time. The first time I ate here, the entire neighborhood lost power, but Spruce was still able to serve up an amazing meal and they served it by candlelight! That takes some serious talent and a lot of skill.
They focus on California inspired American cuisine. Some of my favorites include the Wild Pacific Halibut, 14-Day Aged New York Strip, and the Sonoma Chicken.
They are located off the tourist path in the Presidio Heights District, but it is more than worth the effort to get here.
Average Price: Main dishes range from around $30 to $55 a person
Address: 3640 Sacramento Street
District: Presidio Heights
More Great San Francisco Fine Dining Options

6. Eight Tables: This restaurant is like no other and is winning award after award. Even though the address is located down an alley, you can enter the restaurant through the gold door inside China Live. They offer a nightly tasting menu with seasonal items. It starts at around $225. They also offer one seating for their Chef's table each night, so call early for this option. This one starts at $325. The final option is only available a couple of nights a week and this is their 7-course tasting menu. If you are here on a special occasion or are looking for a unique dining experience, then head over to Eight Tables. 8 Kenneth Rexroth Place (although I recommend entering through China Live at 644 Broadway). Reservations only.
7. Acquerello: This San Francisco fine dining restaurant is a two-star Michelin pick. Located in the Nob Hill district, they serve up tasty Italian dishes with hand-made pastas and other favorites. You can order either from the prix fixe menu or dive right in with their seasonal tasting menu. 1722 Sacramento Street
8. Quince: Located in the Financial District, Quince is a great pick for a special evening on the town. They serve up both French & Italian dishes. Their menu frequently changes and offers dishes with cod, lobster and other fresh, local ingredients. 470 Pacific Avenue
9. Californios: The only restaurant on my list of San Francisco fine dining options serving up Mexican dishes is Californios. It's a two-star Michelin restaurant that creates classic Mexican dishes with a special touch. Meals run from around $100 to $200 a person plus drinks. 3115 22nd Street
10. Kokkari Estiatorio: This Financial District restaurant serves up high-end Greek cuisine for dinner every night of the week. They are also open during the week for lunch. You will find traditional dishes with a twist. They accept reservations up to two months in advance and I recommend calling them to book your table as early as possible. 200 Jackson Street
11. La Folie: The next San Francisco fine dining option on my list focuses on French dishes. This intimate restaurant in the Russian Hill district offers a prix fixe menu for dinner every Tuesday - Saturday night. 2316 Polk Street
12. Harris' Steakhouse: This steakhouse offers a lively night out on the town and serves up some of the best Midwestern steaks. Their most popular menu items include Filet Mignon, the Porterhouse Steak, and their Prime Rib. They serve dinner every night of the week. 2100 Van Ness Avenue
13. Kusakabe: This high-end spot is the best San Francisco fine dining Japanese spot in town. They serve a multi-course "Omakase" prix fixe menu. You can select from their standard menu or their Petite Omakase. They have two seatings a night, every Monday - Saturday. 584 Washington St.
14. Alexander's Steakhouse: Another San Francisco fine dining steakhouse is Alexander's. What I love about this steak house is that they focus on bringing in the highest quality meats from small producers in the US, Australia and Japan. Their menu includes classic steaks as well as top of the line Japanese cuisines. 448 Brannan St.