San Francisco Tours
Get to Know SF Like a Local on One of These Tours
Even though I've lived in the city for years, I still love taking San Francisco tours. The variety of tours available allows me to continue to learn more about the city every time.
Some of my favorites include the bay cruises, walking tours and night tours. Some other tours I've been on recently that I also enjoyed include the SF movie tour, the waterfront Segway tour (in Fisherman's Wharf) and the Magic Bus tour.
You can also take one of several day tours including a trip to either Napa or Sonoma (or both), an adventure down to Monterey and Carmel or even a helicopter ride over the city.
Below you will find recommendations for the top tours in the city. You will also find recaps from some of my most recent trips.
If you love getting to know the city (like I do!), then taking a tour is a perfect way to learn more and understand the city like a local!
My Experiences on Individual Tours
Tours at Up to 50% Off
Before booking any of your tours, take a minute to check out Goldstar's list of discounted tickets. I love this online retailer as they offer amazing prices (usually up to half off) for some of the best tours in the city.
These are just some of the tour tickets that you can find at up to 50% off on Goldstar right now.
*Small service fee at checkout.
Alcatraz Prison Tours
You can visit Alcatraz either during the day or at night. Both times of day offer you an amazing experience. The day tour allows you to cruise through on your own with your audio tour. During the day, you can also attend other special tours and talks to learn more about this old prison. At night, you will find it's less crowded and a few additional rooms are open for you to explore.
Learn More: Alcatraz Day Tours
Learn More: Alcatraz Night Tours
SF Bus Tour Options
One of the easiest ways to see the city is on a San Francisco bus tour. Here you will discover the five best city cruises of SF.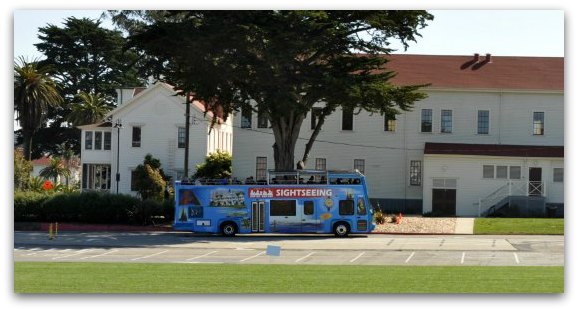 The popular Hop On/Hop Off Bus Tour allows you to explore the city at your own pace.
Here you can find everything you need to know about each tour including the SF attractions you will see, how long each one lasts, and the estimated price per person. In addition, find a few tips on how you might be able to save money on these and other San Francisco tours.
Learn More: See the city by bus
More: Read about my 5 favorite city tours
More: Additional Hop On/Hop Off Tour options
Whale Watching Tours
One of my favorite things to do in SF is to go whale watching. These thrilling adventures take you out into the cool Pacific Ocean waters for the chance to see a variety of whales and other wildlife. Click the link below for more details on which whales you will see each season and tips to prepare for your journey.
Learn More: Whale Watching Details
Guided and Self Guided Bicycle Rides
Bicycle rides are a popular way to see the city. You can either head out with a group or rent one on your own. Check out this list of the top five bicycle trips in SF. They range from a ride across the Golden Gate Bridge to a fun craft brews tour.
You can also find a few tips if you decide to venture out for a self-guided tour of the city.
Learn More: Bicycle Rides Around the City
San Francisco Walks
There are so many great walking tours of San Francisco. This is one of my favorite ways to see the city, since you can get up close to see the details of each SF attraction or neighborhood.
Helicopter Adventures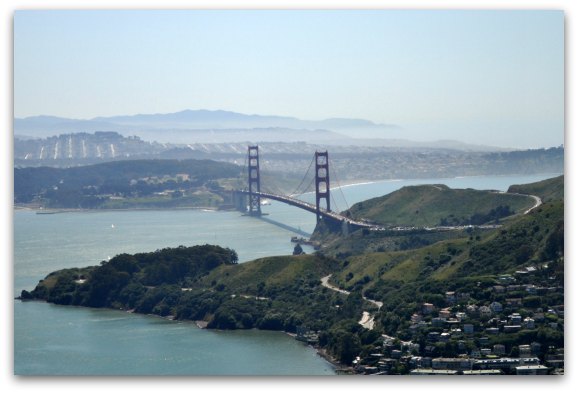 A view of the Golden Gate Bridge from above is an experience you will NEVER forget!
Do you love adventure? Are you looking for a unique way to experience San Francisco? If so, then you might enjoy one of these helicopter rides. Each one offers shuttle service to and from the helicopter landing area - along with an unforgettable ride above the city and it's gorgeous bay. Head to the San Francisco Helicopter Tours page to learn more about each one, what to expect during your flight and more.
Learn More: Helicopter Adventures
Wine Tasting in Napa or Sonoma
It's an easy drive to both Sonoma and Napa Valley wine countries. It takes only around an hour to an hour and thirty minutes to get to each one. This makes for the perfect day trip. Find a list of the top options and what to expect during a visit to each of these regions. You will also find a few tips on getting discounted tickets for your tour.
Learn More: Wine Tasting in Napa or Sonoma
San Francisco Bay Cruises
Are you interested in seeing the Golden Gate Bridge from the water? Do you want to learn more about all of the famous attractions in or near the San Francisco Bay? If so, then check out this list of the five most popular San Francisco Bay Cruises. Here you will learn a little about each cruise, how long they last and what you need to know about each one before you book.
Learn More: Bay Cruises
Want to rent a yacht to cruise the bay instead? It's a great option for special occasions such as proposals, small birthday celebrations, vow renewals, etc. One of my favorites is Golden Gate Yacht Charters. Find details about our experience with them and what it's like to spend a few hours on their yacht.
See the Golden Gate Bridge by Foot, Bike & Boat
The Golden Gate Bridge is an iconic attraction sitting high above the San Francisco Bay. You can either walk, bike or drive over the bridge for a closer look at this amazing structure. Are you looking for something more adventurous? How about a cruise under it or a helicopter ride over it? Click through to find out more about these and other popular ways to see the Golden Gate Bridge.
Learn More: Guided Visited of the Golden Gate Bridge
San Francisco Water Activities
Are you excited to spend some time on the SF Bay? If so, then check out my list of the 12 best water activities around the bay. You can choose from whale watching to a wine tasting cruise. Some last for just an hour while others last all day long.
>> Best water activities in SF
SF Segway Cruises
Are you looking to cruise around the city on an eco-friendly Segway? If you haven't had the chance to try one of these, now is the time. Here you will discover the four best Segway trips of the city. Novices are welcome as most of these offer a training session before they begin.
Learn More: Segway Cruises
Anchor Brewing Company Tours
Step inside the first and oldest craft brewing company in the US. The Anchor Brewing Company offers you a chance to look at their current production facility and sample some of their award winning brews. The tour runs daily, except holidays.
Learn More: Anchor Brewing Tour Details
Pedicab Tours
Have you always wondered what it would be like to cruise through the city streets on a Pedicab? I was too, which is why I recently went on a tour with Golden Gate Pedicab. These open air taxis are a combination of transportation and entertainment. Discover details about my journey and what you can expect on your own Pedicab tour.
Learn More: Golden Gate Pedicab Tours
Day Trip to Monterey & Carmel
Monterey and Carmel are cute, waterfront towns about two hours south of San Francisco. Find out what it's like to take the most popular day tour down to these two villages. Highlights of this journey include Monterey's Cannery Row, the 17-Mile Drive and Pebble Beach.
Learn More: Day Trip to Monterey & Carmel
Whale Watching in Monterey Bay
If you decide to head south to Monterey for a few days, then I highly recommend going whale watching. This area of the Pacific Ocean offers the perfect feeding ground for several whales such as gray, blue and humpbacks. Many others swim through on their annual trek north.
Learn More: Whale Watching in Monterey Bay
Kayaking in Monterey
Another fun activity in Monterey is kayaking. The calm waters of this bay offer the perfect place for those just starting out and those wanting to improve their kayaking skills. Tours and rentals are available most days of the week and run all year long.
Learn More: Tips to Go Kayaking in Monterey
Ghost Tours
San Francisco is said to be one of the most haunted cities in the US. SF's dark and lengthy past fuels the stories told in our popular Ghost Tours. It's cool, foggy, and mysterious nights also create the perfect setting for these chilling stories to be told. Most run all year long with a few special tours added around the Halloween holiday.
Learn More: SF's Ghost Tours
Sport Fishing on the SF Bay
If you love sport fishing, then head out on the SF Bay with Executive Fishing Charters. They offer half and full day fishing trips all year long. They also offer several additional speciality trips during the summer months.
Learn More: Find More Details & Book Your Trip Today
Other Pages You Might Enjoy