San Francisco Tours: 20 Best


by Jill Loeffler  •

Updated: July 22, 2023
Even though I've lived in the city for years, I still love taking San Francisco tours. The variety of tours available allows me to continue to learn more about the city every time.

Some of my favorites include the bay cruises, walking tours and night tours. Some other tours I've been on recently that I also enjoyed including the SF movie tour, the waterfront Segway tour (in Fisherman's Wharf) and the all day city tour.
You can also take one of several day tours including a trip to either Napa or Sonoma (or both), an adventure down to Monterey and Carmel or even a helicopter ride over the city.
Below you will find recommendations for the top San Francisco tours in the city. You will also find recaps from some of my most recent trips.

If you love getting to know the city (like I do!), then taking a tour is a perfect way to learn more and understand the city like a local! 

Disclaimer: I receive a small commission from some of the links on this page.

1. Alcatraz Prison Tours

More than one million people visit Alcatraz Prison every year. This small island is just a couple of miles off the coast and it makes for one of the most popular San Francisco tours each year.
You will find options to visit Alcatraz either during the day or at night. Several boats leave every day of the week to take visitors to the island. When booking, you will select the specific time you want to leave and then you can take any boat back to SF.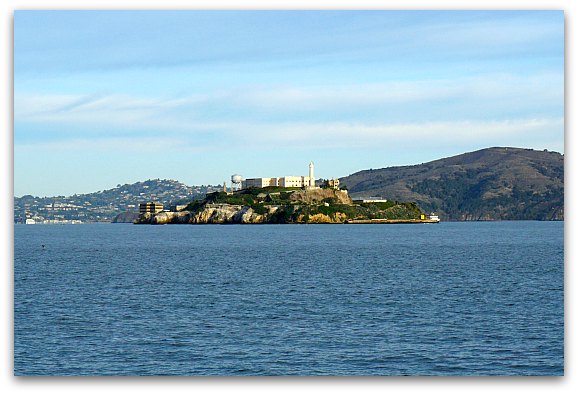 Both options include a ferry ride to the island, a self-guided audio tour, and a chance to stroll around for a while after your audio tour. During the day, there are additional free talks offered by the park rangers. This is also where you can find tips to buy tickets for sold out days. Learn more about the day tours.
You will find fewer people on the island during the night tours, which allows them to open up a few more doors for public access. The park rangers also offer a more personalized touch with some guided narration as you walk up the hill to the prison entrance. Learn more about the night tours.
>> Buy a combo pass which includes both Alcatraz and a 24-hour Hop On Hop Off bus pass

Additional Combo Tours You Will Enjoy
2. San Francisco Tours: Guided Walks

One of the best ways to get to know San Francisco is on foot. They offer you the opportunity to step inside hidden gems, stroll down historic alleys and get a great feel for the stories that each district offers.
Some of my favorites include the guided walks around Chinatown. This colorful district is interesting with quite a bit of little-known history. North Beach is another fun place to explore as it was home to the Beat Generation of the 50s and 60s. 
I've created a list of my 10 favorites, so you can easily find one that works for you. Some of my other favorites include strolling around learning about our street art and searching for the parrots of Telegraph Hill. Find my 10 favorites here.

You will also find a great set of free walks through SF City Guides (part of the SF Public Library) and a few wonderful self-guided options.

3. San Francisco Bay Cruises

Cruise around the bay on one of these San Francisco boat tours. You will find a wide variety of options every day of the week.
The most popular is the SF Bay or Golden Gate Cruise. This one is offered several times a day by two companies. It's a 60-minute cruise that follows the SF shoreline, goes under the Golden Gate Bridge, back around Alcatraz, and returns to Fisherman's Wharf. 
I've also created a list of the 10 best cruises, so you can find some additional options for your visit. These include the Bridge to Bridge cruise that offers you a chance to ride under the Bay Bridge as well. Other top picks include dinner & dancing and special fireworks cruises.
4. Wine Tasting in Napa or Sonoma

San Francisco tours to Northern California wine country are also very popular. It's a great way to get an overview of one or both of the top areas just north of SF.
Napa Valley is the most famous. It takes just over an hour to reach this beautiful wine growing region. It's well known for its Cabernet Sauvignon, but it isn't the only grape grown here. You will also find plenty of Merlot, Chardonnay, Pinot Noir, Sauvignon Blanc, and dozens of others.
Sonoma County is becoming more popular and is home to more than 400 wineries. This region also offers a wide variety of wines from Zinfandel to Chardonnay.

The San Francisco tours to these regions will offer transit from your hotel in SF to wine country and back. They will also include visits of up to 3 to 4 wineries. Some include the tasting fees, and some do not. Most include at least one walk through a winery's wine production facility so you can learn all about how they make their wine. 

There are more than a dozen options from San Francisco. To make it easier for you to select the best one, I've created a list of my favorites with a few important details for each one. This way, you can find the right one for your visit.

Ready to book? These are two of the most popular San Francisco tours to wine country.

Full Day Wine Tour: Visits three or four wineries in Napa and/or Sonoma and is a 9 to 10-hour tour. Check for availability and more details here. 

Wine Country + Redwoods: On this one, you visit Napa and Sonoma as well as spending some time in Muir Woods. It's a full day of fun! Find out more about this tour and get ticketing information.

5. Guided and Self-Guided Bicycle Rides

Bike tours around San Francisco offer you the chance to go a little further while still being able to check out some of SF's top attractions. The most popular pick is the bike ride over the Golden Gate Bridge, which you can read more about here.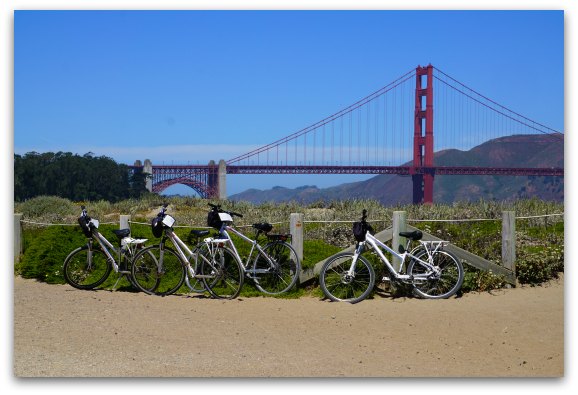 Most start in or near Fisherman's Wharf. You ride along the coast, up and over the bridge, and then make your way into Sausalito. From there, you can either ride back or hop the ferry back to Fisherman's Wharf. 
Recently, the tour companies have expanded their biking tours and you can now find several fun options around SF. Some of my favorites include the beer cruises and cruises through Golden Gate Park. 
If you prefer to head out on your own, there are several companies that offer rentals. 

To find the right tour for you, take a look at my list of the best bicycle tours around SF.

6. Muir Woods

Have you heard about the amazing redwoods all around California? Your trip to San Francisco gives you the chance to see some of these hundred+ year old beauties up close. 
Muir Woods is home to dozens of coastal redwoods trees and it's an easy trip to get here. It takes about an hour and each guided tour offers you the chance to see them for yourself. Parking is difficult here (and requires a reservation), so these guided San Francisco tours offer you an easier way to visit.
These half-day tours leave in the morning or the afternoon. You will get about an hour to stroll along the redwoods. You will also be picked up and dropped off from your hotel. Some offer additional time in Sausalito or a trip up to wine country.

Here are a couple of the most popular options.

Muir Woods Half Day Tour: 3 to 4-hour tour with about an hour in the park, included pick up from your hotel and drop off in Sausalito or back at your hotel, check for more details and availability.

Redwoods + Wine Country: You can see both in one day! Spend about an hour in the redwoods and then head north to wine country where you will stop at around 3 wineries. This full day tour is about 9 to 10 hours long. Check for availability.
>> Find additional redwoods around San Francisco
7. Helicopter Adventures

Do you love adventure? Are you looking for a unique way to experience San Francisco? If so, then you might enjoy one of these helicopter rides.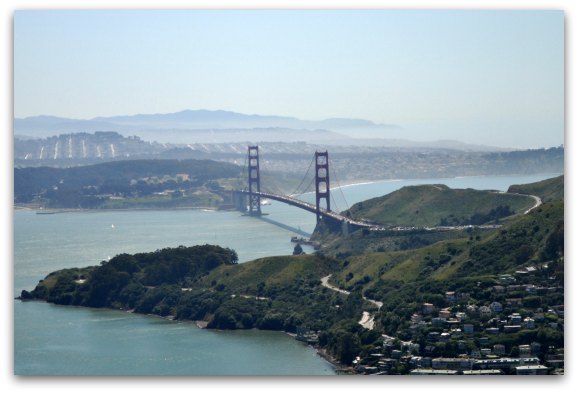 A view of the Golden Gate Bridge from above is an experience you will NEVER forget!
Each one offers shuttle service to and from the helicopter landing area - along with an unforgettable ride above the city and its gorgeous bay. Head to the San Francisco Helicopter Tours page to learn more about each one, what to expect during your flight and more.

8. See the Golden Gate Bridge by Foot, Bike & Boat

The Golden Gate Bridge is an iconic attraction sitting high above the San Francisco Bay. You can either walk, bike or drive over the bridge for a closer look at this amazing structure. 
Are you looking for something more adventurous? How about a cruise under it or a helicopter ride over it? Click through here to find out more about these and other popular ways to see the Golden Gate Bridge.
9. Hop-On Hop-Off

The best way to get a layout of San Francisco and quickly get from one attraction to another is on a Hop-On Hop-Off bus tour. These San Francisco tours offer tickets for 24-, or 48-hours where you can hop on and off as many times during those hours as you want.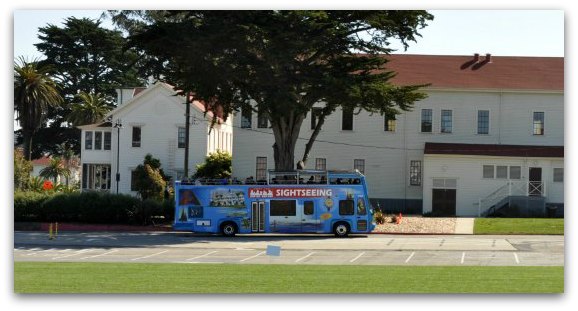 The popular Hop On/Hop Off Bus Tour allows you to explore the city at your own pace.
All run just during the day, so each ticket is valid for 24-hours from the time you hop on the first time. If you don't hop on until noon, then you have until noon the next day to use these buses. 
These San Francisco tours stop at more than 30 locations around SF. They ride through Fisherman's Wharf, Chinatown and Golden Gate Park. They will also take you to the Golden Gate Bridge, the Painted Ladies of Alamo Square, and Union Square.
>> Hop On/Hop Off Tour options

10. Other SF Bus & City Tour Options

One of the easiest ways to see the city is on a San Francisco bus tour. These San Francisco tours offer you the chance to sit back, relax, and see some of SF's top spots.
Many of these tours run for about 3 to 4 hours and offer you the chance to learn all about our top attractions, districts, and history. You will see the Golden Gate Bridge, visit the Presidio, and see Lombard Street--one of the crookedest streets in the world--with your own eyes. Find out more about my favorite city tours.
In addition to the standard city tours, you will also find some fun themed tours. One of my favorites is the Movie Tour. This one takes you around SF and past many of the top spots seen in famous movies. 

11. SF Segway Cruises

Segway tours are a unique and wonderful way to see the sights around San Francisco. Top picks include the Waterfront Segway Tour, the Golden Gate Park Segway Tour, and the Night Tour.
Each one offer about a 45-minute training session before you begin. Your guide will help you during the training and make sure everyone is comfortable before setting off.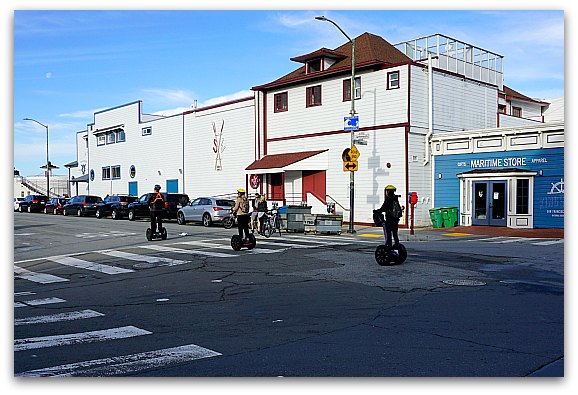 I was really nervous my first time trying a Segway, but with the help of the staff and guide, it was much easier to pick up on than I thought. 
After the training session, you will then spend about 2 to 2.5 hours riding around. Each helmet is equipped with a headset, so you can easily hear what your guide is saying. All of the routes (except the more advanced ones) are mostly flat, so it makes for a really easy ride around town.
Find my top picks including some details including how old you need to be to go and how you should prepare before your tour.

12. Ghost Tours

San Francisco is said to be one of the most haunted cities in the US, which is why you will find a variety of ghost tours around town. On these San Francisco tours, you will learn all about a certain neighborhood or districts dark and spooky past. 
Some will take you past our historic theaters, while others will let you step inside our famous hotels where someone didn't make it out alive. All of them are at night and the stories will give you the chills.
Most run all year long with a few special options for the Halloween holiday. 

Discover a list of my favorites here.

13. Other Night Tours

In addition to our ghost tours, you will also find some other cool night tours around town. Of course, the Alcatraz night tour is the most popular. Others include the double decker, open-air night tour where you get to see lights on SF's beautiful buildings. 
You will also find quite a few sunset and dinner cruises. These are popular throughout the year including for special occasions or the holidays.
You might also enjoy our evening pub crawls, food walks, or craft cocktail adventures. Find a list of all of my favorite night tours here.

14. Food Tours

San Francisco is one of the best places to sample delicious cuisines from around the world. You will find an amazing variety of options all around the city and each neighborhood offers a unique experience.

The best way to get sampling is on a guided food tour. These fun San Francisco tours take you around a specific area to try out several dishes. The Mission tours offer you a great selection of Latin and South American goodies. In North Beach, you will sample mostly Italian delights.
Many people love our Chinatown food tours as you can try some foods you never knew existed as you learn about this district's interesting history.
You will also find some fun San Francisco tours dedicated to a certain type of food such as our chocolate and wine + cheese trips. 

Not sure where to start? Check out a list of my favorite food tours including the types of places you will visit and some of the dishes you will most likely taste. 
15. Whale Watching Tours

The Pacific Ocean just off the coast of San Francisco is teaming with migrating whales. Every year, thousands of whales are migrating either north or south along our shoreline.
Each season, you can expect a slightly different type of whale coming through from the grays to the humpback or blue whales. On these San Francisco tours, you will also see a variety of other wildlife from dolphins to turtles to all kinds of birds.
These tours start in Fisherman's Wharf and you will spend about 30 minutes getting out to the Pacific Ocean. Once you arrive, everyone on the boat will keep their eyes out for whales in the area.
All of the boats also work together, so there are plenty of people searching for whales all the time.

These trips usually last about 3 to 5 hours. Make sure to dress warm as it's cool all year long on the water around SF.

>> Here is where you can learn more about going whale watching near SF

16. Drinking Tours

Craft beer, wine, distilled spirits—we have it all here! You also have lots of options to sample all three. You can head out on your own or go on a guided tour to several locations. Some of our wineries and breweries also offer tours of their production facilities.
For beer lovers, the company SF on Tap offers walking tours in different areas around town that last about 4 hours each, including various stops with beer and snacks at local breweries and bars. You can do one of these in Fisherman's Wharf and another in SOMA.
For foodies, there are some tours that include drinks and bites in trendy districts like the Mission, where the diversity of colorful bars and eateries is always expanding and attracting more nightlife. The city's proximity to world-class Napa and Sonoma Valleys also means that there are a range of urban wineries and wine venues you can check out with a guide.
Other fun San Francisco tours will take you to do several breweries or wineries. You can select to go by bike or bus. 

>> Top breweries and pub tours to check out on your own
17. Day Trip to Monterey & Carmel 

Monterey and Carmel are cute, waterfront towns about two hours south of San Francisco. Both are easy to reach on a day trip. You will also find a few fun San Francisco tours that will take you to both locations for a visit.
The day trip offers transportation from your hotel to Monterey, through the 17-Mile Drive and continuing on to Carmel. You will then get transportation back to your hotel that evening. It's a long day, but so much fun.
After you leave San Francisco, you will then take the scenic route along Highway 1 to Monterey. You will stop for a wonderful photo along the way and get to see some amazing views from the bus. 

In Monterey, you will have some time to walk around Cannery Row with plenty of time for lunch on your own. The last time I was on this tour, I got tickets for the Monterey Aquarium. I had plenty of time to visit plus time for a nice lunch before we departed for the 17-mile drive. 

You will make a couple of stops along 17-mile drive including one stop in Pebble Beach. You will then continue on to Carmel where you will also have some time to shop, sip some wine, and just enjoy this cute waterfront town.

You can learn more about this tour by reading my trip review here. 

Ready to book? Visit GetYourGuide for more details and booking information for this tour.

18. Yosemite National Park

Yosemite is a gorgeous national park on the eastern side of California. It's about a 3.5 to 4-hour drive here from San Francisco. It's famous for its landmarks including Half Dome, El Capitan, and Yosemite Falls. It has thousands of miles of trails and dozens of amazing waterfalls.

If you have a full day free and want a great overview of Yosemite, then check out the day tour from San Francisco. In one day, you will drive to Yosemite with a 1.5 hour driving tour of the park when you arrive with a chance to take pictures at Inspiration Point. You will then get 3 to 4 hours on your own to explore this amazing place. You can go for a little hike, do some shopping, or spend some time in its museum. Learn more about this tour and get booking options.
You will also find some great San Francisco tours to Yosemite that will give you more of a chance to relax and enjoy the park. These 2 to 3-day tours offer you additional time to explore the park. You can camp during your stay or spend the night at a hotel inside or near the park. Here are a few options. 
2-Day Yosemite Tour: This small group tour includes one night at Yosemite Lodge at the Falls, you will have time on both the first day after you arrive and the second day before you leave to explore this beauty, includes the chance to see all of its wonders including Half Dome, El Capitan, Glacier Point, and the Giant Sequoias. Find out more here.

3-Day Camping Tour: If you want to spend all of your time in nature, then check out this three-day camping adventure, tents and camping equipment are provided (except sleeping bags), home cooked meals by the campfire will make you want to never leave, go hiking, explore the park and more on this 3-day adventure. Learn more about this tour here.

19. Pedicabs

Have you always wondered what it would be like to cruise through the city streets on a Pedicab? I was too, which is why I recently went on a tour with Golden Gate Pedicab.
These open-air taxis are a combination of transportation and entertainment. Discover details about my journey and what you can expect on your own Pedicab tour.
20. Whale Watching in Monterey Bay

If you decide to head south to Monterey for a few days, then I highly recommend going whale watching. This area of the Pacific Ocean offers the perfect feeding ground for several whales such as gray, blue and humpbacks. Many others swim through on their annual trek north.
Learn More: Whale Watching in Monterey Bay
Other Fun Tour Ideas

San Francisco Water Activities

Are you excited to spend some time on the SF Bay? If so, then check out my list of the 12 best water activities around the bay. You can choose from whale watching to a wine tasting cruise. Some last for just an hour while others last all day long.
>> Best water activities in SF
Kayaking in Monterey

Another fun activity in Monterey is kayaking. The calm waters of this bay offer the perfect place for those just starting out and those wanting to improve their kayaking skills. Tours and rentals are available most days of the week and run all year long.
Learn More: Tips to Go Kayaking in Monterey
Comments? Questions? Suggestions?
I would love for you to join me in my private Facebook group! 
It's a great place to interact with me and others who know the area well.
You can ask questions, get advice for your upcoming stay, and then share your photos and advice with others when you return home. It's a great community and the fastest way to get answers to those nagging questions about your visit!