North Beach San Francisco
8 Things to See & Do In this Popular SF Neighborhood
Plan to visit the North Beach San Francisco neighborhood at least once during your stay. This vibrant and colorful district is where you will find Coit Tower, Washington Square Park, and dozens of Italian restaurants.
In addition, you can catch a performance of the musical comedy Beach Blanket Babylon, laugh at internationally recognized comedians at the local comedy clubs and grab a drink at one of Jack Kerouac's hangouts. Once you are done with all of that, you can do a little shopping in its great boutique shops and spend some time in its other fun cafes, bars, and restaurants.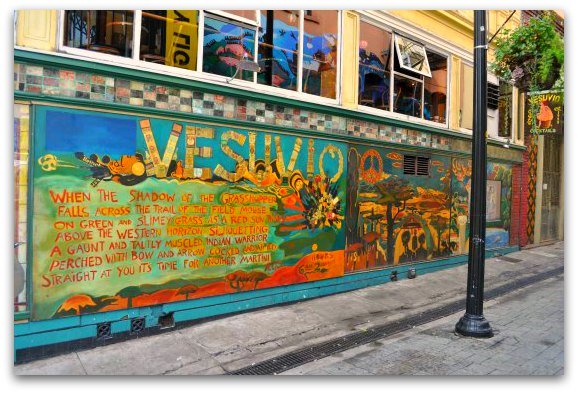 If it's not on the waterfront, why is it called North Beach? Back in the 1800s, this part of the city was on the waterfront. Since it was the northernmost district in SF, locals named it North Beach.
Over the years, the shoreline of San Francisco filled in quite a bit, extending the city out a few blocks. Even though the name stuck, you will no longer find a 'beach' anywhere in this neighborhood.
For some of the links on this page, I receive a small commission when you purchase. You don't pay more when you buy through me and it gives me the chance to offer you all this great content for free!
Top Things to See & Do In North Beach San Francisco
1. Enjoy the Silly Humor of a 'Beach Blanket Babylon' Performance
Big hats are the norm in this long-running comedic musical satire. These sold-out performances keep the audience laughing as the actors poke fun at pop culture.
You will never see the same show twice as they are frequently updated to get a laugh on current events. It's a fun and unique experience that is truly San Francisco.
Learn More: Beach Blanket Babylon
---
2. Get a Taste of Italy on this North Beach San Francisco Walking Tour
Would you love to sample great treats and cheeses while walking around this Italian neighborhood? This walking tour combines both food and culture in the North Beach San Francisco neighborhood.
Your guide will give you an overview of the culinary history of San Francisco while you stroll the streets of North Beach and try some of its delicious goodies.
Learn More: Additional Information & Booking Details
Other North Beach Tours: North Beach Walking Tours
---
3. Admire the Murals & Great Views of the City at Coit Tower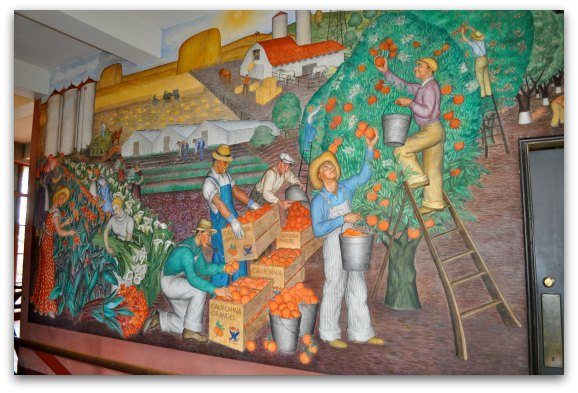 Coit Tower is a San Francisco attraction that sits atop Telegraph Hill. It's a famous landmark in this district that is easy to spot from any of the nearby districts.
You can either climb to the top of the hill for your visit or take the #39 bus. Once you arrive, step inside to admire the gorgeous murals on the first floor (one shown in the picture above). You can then pay to take the elevator to the top floor for 360-degree views of the city.
The tower is open every day except major holidays.
Learn More: Coit Tower
---
4. Laugh Until It Hurts at a Comedy Show or Festival
North Beach San Francisco is also home to most of the comedy clubs in San Francisco. You will find big name acts as well as large comedy festivals. Most of them take place right here in North Beach. You'll want to get your tickets in advance, though, since most shows sell out quickly.
Find the top comedy shows and festivals by month: Comedy Club Schedule
---
5. Celebrate with the Locals at the North Beach Festival
If you are lucky enough to travel to San Francisco in June, you should check out this street fair. This festival is one of the largest in San Francisco and a local favorite.
The event showcases arts and crafts from hundreds of artists, gourmet food, three stages with live entertainment, beer gardens, and more. The festival is spread out on many of the main streets in North Beach San Francisco.
This internationally recognized event is one you won't want to miss!
Learn More: Festivals & Street Fairs
---
6. Learn About the Beat Generation at the Beat Museum
San Francisco was the heart of the Beat Generation in the mid- to late-1950s. Members of this generation were famous writers that created and publicized information about their unique culture. It included everything from experimental drugs and sex to an overly expressive way of living life.
The three most famous of the group include Jack Kerouac, Allen Ginsberg, and Lawrence Ferlinghetti. All three spent quite a bit of time in North Beach San Francisco. This museum is dedicated to their legacy and is a great way to learn more about their movement.
Learn More: Beat Museum
---
7. Soak In the Sunshine in Washington Square Park
One of the cornerstones of this neighborhood is the large and beautiful Washington Square Park. This historic park is one of the three oldest parks in the city. It is right on Columbus Avenue between Union and Filbert Streets.
On a nice sunny day, this park is full of activity. It's fun to grab a coffee and spend a little time here. There are several restaurants and cafes that line the park too.
---
8. Visit Saints Peter and Paul Church
Just a little over a block east of Columbus Avenue on Filbert Street is Saints Peter and Paul Church. It's a large Italian cathedral that was built in 1924.
North Beach San Francisco is the home of the famous baseball player, Joe DiMaggio. When he and Marilyn Monroe eloped, they were married at the San Francisco Courthouse, but afterward they headed here for their wedding photos.
It's a beautiful church and worth a visit if you are in the neighborhood.
Self-Guided Tour: To make your planning process easier, I created a self-guided tour for this district called "The Perfect Day in North Beach San Francisco." It's the best way to hit all the highlights, including the top attractions, shopping on Columbus Avenue, and eating lots and lots of Italian goodies!
Things to Do in North Beach at Up to 50% Off
You will find a variety of North Beach San Francisco tours. They range from food tours to historic walking tours all around the district. The best part is that many of them offer a certain amount of tickets at up to 50% off on Goldstar. Here are some of the top ones.
North Beach Food Tour: 3-hour tour with samples at up to 6 local restaurants. Runs most Saturdays at 11am. Full price $60, Goldstar price $39*


Wine & Cheese Walk: Sample up to 8 wines at up to 3 local wine tasting rooms and restaurants. Includes cheese pairings. Most Saturday afternoons at 2pm. Full price $100, Goldstar price $40*


Pizza Parade: Sample of variety of pizzas from deep dish to hand-tossed. Tour ends with a signature dessert. Full price $50, Goldstar price $19*
*Small fee applies at checkout.
Places to Shop
Another popular activity in North Beach San Francisco is shopping. You will find more than a dozen cute boutique shops side by side on Columbus Avenue.
They sell everything from jewelry to famous Italian delights. Most are little shops owned by locals, so you will find many unique gifts and San Francisco souvenirs.
You can start your adventure around Columbus and Union Street. This is where you will find some of the best shopping in the neighborhood.
Best Restaurants
North Beach San Francisco is known for its great Italian food, but you will also find some other great restaurants with a broad array of cuisines. Below is a list of some of my favorites in this San Francisco neighborhood.
North Beach Restaurant: This is one of the most popular and well known restaurants in North Beach. It sits right on the corner of Stockton at Columbus Avenue. They serve authentic Tuscan cuisine. It's always busy, so I recommend making a reservation. $$$, 1512 Stockton Street
The Stinking Rose: This is a famous hot spot for anyone that likes a little Italian food with their garlic. The name says it all and I highly recommend going only with your closest friends, since there it a LOT of garlic in the food. The atmosphere is fun and the food is good. It's located right on Columbus Avenue near Broadway Street. It's a lot more casual and budget friendly than the North Beach Restaurant. See pictures & learn more about what to expect when you stop by here for lunch or dinner. $$, 325 Columbus Avenue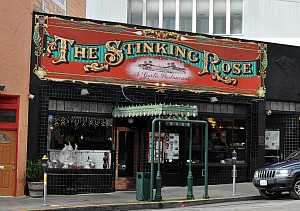 The House: This is a great small restaurant offering delicious Asian Fusion cuisine. They have an eclectic menu that is updated frequently. I recommend this restaurant for anyone looking for something a little different. Make a reservation ahead of time, since it only has a handful of tables. $$$, 1230 Grant Street

Golden Boy Pizza: If you are looking for something really casual and laid back, then you should stop by Golden Boy Pizza on Green Street. The menu is simple (pizza and beer only) and the price is right. Don't get discouraged if you see a long line outside; most of the locals like to pop in for a quick slice and then head home. It's a fun way to experience North Beach San Francisco without the high bill. $, 542 Green Street

Tony's Pizza: Golden Boy Pizza is great for a quick slice on the run, but if you are looking for an experience, then head to Tony's Pizza. The owner is an 11-time winner of the World Pizza Championship in Italy. It's even more impressive that he is the only non-Italian to win the competition. He takes pride in the fact that he can offer you almost any type of pizza you desire. He equipped his kitchen with four types of ovens to be able to offer the largest and best selection of pizzas in town. $$, 1570 Stockton Street
Savings Tip: Are you looking for the best way to save on your tour and event tickets in San Francisco? If so, then check out Goldstar.com. They offer tickets at up to 50% off on walking tours, bay cruises, theater performances, and more. I use them all the time to save big! Click here to check out their current ticket selection.
Best Places to Stay
Staying in North Beach San Francisco puts you in the heart of the action. There are only a handful of hotels in this area, and most are locally owned and operated.
SW Hotel
615 Broadway Street
The SW Hotel is a three-star hotel just steps from North Beach. It's a smaller hotel with only 81 rooms. Amenities include:
Free coffee, tea, and continental breakfast each morning
Free wireless internet
Cable TV
Air conditioning
A standard room here ranges from about $170 to $345 per night. Find additional reviews of the SW Hotel on TripAdvisor.com.
---
Here are a few other options:
Hotel Boheme: 444 Columbus Avenue, 3 stars

This hotel is on the northern end of North Beach, just a few blocks away from Fisherman's Wharf
It's a small, local, historic hotel with a lot of character and in a great location
You will want to be aware that there are no elevators, so you will have to carry your luggage up the stairs
Amenities include free wireless internet, use of a nearby fitness center for a small fee, safe deposit box at front desk, cable TV and daily housekeeping
Rooms start at around $215 to $300 a night



Columbus Motor Inn: 1075 Columbus Avenue

Another highly rated hotel at a great price and location, right between North Beach and Fisherman's Wharf
Simple, yet clean
On a busy street, so make sure to request a room in the back
Amenities include free parking and free wireless internet
Rooms range from about $170 to $300 per night



Hotel North Beach: 935 Kearny Street, 2 stars

Fantastic location in the heart of North Beach, just a few minutes walk away from Chinatown. You can easily catch a bus and head to Fisherman's Wharf and other parts of the city
Downside is that the street noise can be loud at times
Overall, it's a great value for the money and the perfect place if you don't mind the street noise and are not in your room that often during your visit
Amenities include free Wifi in public areas, microwave and refrigerator in room, secure baggage storage
Rooms start at around $45 to $120 a night



Royal Pacific Motor Inn: 661 Broadway Street, 2 stars

This is another great option, also in the heart of the action, but on a busy street
Amenities include free parking (huge plus!), free wireless internet, coffee maker and TV in every room
Rooms start at around $140 to $235 a night



Green Tortoise Hostel - San Francisco: 494 Broadway Street

If you are looking to save money and don't mind a 'community' sleeping experience, then this is a great option. It's one of my top five youth hostels in San Francisco
Amenities include breakfast, free high speed internet, laundry facilities, and linens and towels available for a small fee
Beds here start at around $50 a night per person
Find the best deals on these and other SF hotels on TripAdvisor.
Best Bars in North Beach San Francisco
Vesuvio Cafe: This is a bar with a history. It's a fun, old bar right in the heart of North Beach San Francisco. It was a popular hangout for Jack Kerouac and others from the Beat Generation in the 1950s. The clientele here is quite diverse and it's a great place to grab a beer or two. See pictures and learn more about what to expect when you stop by here for a drink. 255 Columbus Avenue at Jack Kerouac Alley
Northstar Cafe: Another fun place to hang out is Northstar Cafe. This bar has been in the neighborhood since the late 1880s. It's an institution in San Francisco and a great stop if you are visiting North Beach San Francisco. 1560 Powell Street
Tony Nik's Cafe: This was the first official bar to open in North Beach after the prohibition. It's a fun dive bar with great beers and a lively atmosphere. You will also find a great mix of other visitors and locals. 1534 Stockton Street
How to Get Here
Your best option is to take public transportation in and around San Francisco. This is especially true if you are heading to North Beach San Francisco. Parking in the neighborhood is quite difficult or really expensive.
Bus: Your best bet is to take the bus, which is $2.50 for adults. The 20, 30, and 45 run through North Beach and drop off at a variety of locations in the neighborhood.
Taxi: Another option is to take a cab. A cab from Union Square is around $10 plus tip and should take only around 10 minutes or so. It's an easy way to get around without having to worry about driving.
Cable Car: From Union Square, you can also take the Powell/Mason Cable Car. You can pick up the cable car just a few blocks from Union Square. Hop off once you get to Columbus Street, since you will then be in the heart of North Beach San Francisco.
Other Fun Attractions