Fishermans Wharf San Francisco
Discover the Top Attractions & Activities in this SF District
Fishermans Wharf San Francisco is a popular neighborhood on the northern side of the city. This neighborhood is home to some of SF's most famous attractions such as Pier 39, the ferries to Alcatraz Island and dozens of interesting and original shops and restaurants.
In addition, you will find a number of museums such as the Maritime Museum, the Aquarium of the Bay and the Hyde Street Pier. You will also find the popular Wax Museum, Ghirardelli Square and the Cannery.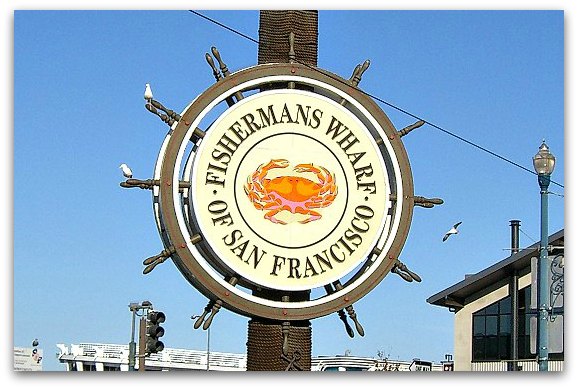 Not surprisingly, this neighborhood originally got its name from some of its first inhabitants - the fishing community. They lived and worked here for a number of years.
Today, you will still find remnants of the fishing community around the neighborhood. However, tourism is now the key to this thriving San Francisco neighborhood.
For some of the links on this page, I receive a small commission when you purchase. You don't pay more when you buy through me and it gives me the chance to offer you all this great content for free!
Top Fishermans Wharf Attractions
1. Alcatraz Island Tour: Grab a Ferry to the Island
Spend the morning or afternoon enjoying the most visited San Francisco attraction - Alcatraz Island! This is a must see on your first trip to the city. During your visit, you will learn more about the history of the island, its infamous prisoners and what life was like on the "Rock". #1 on the map shows you where to pick up the ferry.
Learn More: Alcatraz Prison Tours
---
2. Angel Island San Francisco: Hike or Bike the Day Away
Take the ferry to Angel Island for a fun day of hiking or biking. Along the way, stop in and visit some of its famous historical sites. It is a great get away for those needing a small break from the hustle and bustle of the city.
#2 on the map above shows where you hop on the Angel Island ferry.
Learn More: Angel Island
---
3. Boudin Bakery: Watch the Talented Bakers in Action
Boudin Bakery has some of the best sourdough bread in Fishermans Wharf San Francisco. This popular bakery sits right on the main street in the neighborhood.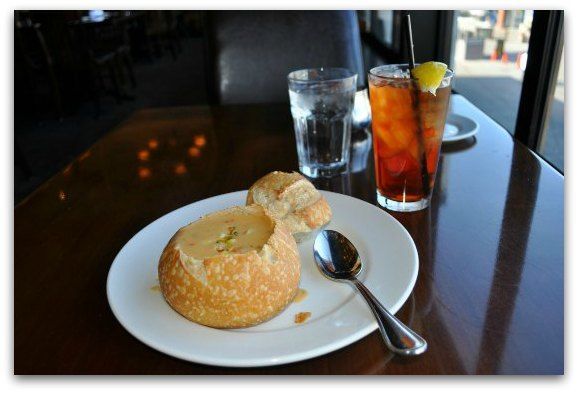 You can stop in for lunch, watch the bakers perform their magic or learn even more about the bakery in their history museum. It makes my mouth water just thinking, and writing, about it!
Learn More: Boudin Bakery
---
4. The Cannery: Relax in Its Large Courtyard
The Cannery is another historical marker in Fishermans Wharf San Francisco. It originally housed one of the largest canning factories on the west coast. You can still see signs of the old factory in its courtyard. This beautiful old building is now a place where you can grab some lunch, do a little shopping or sit outside and enjoy a drink or two in the large courtyard with 100+ year old olive trees.
Learn More: The Cannery
---
5. Ghirardelli Square: Sample Its Famous Chocolates
Ghirardelli Square is a small shopping area on the western side of Fishermans Wharf. Its buildings housed one of the first chocolate factories for Ghirardelli in San Francisco. Stop by to sample a sweet treat from Ghirardelli, get in some shopping or spend the afternoon tasting some local wines.
Learn More: Ghirardelli Square
---
6. Hyde Street Pier: Hop Aboard an Historic Ship
The Hyde Street Pier is another great stop in the neighborhood. There are five historic ships here. You can walk along the pier and see the outside of these famous ships. You can also pay a small fee to step aboard three of the most important ones.
Learn More: Hyde Street Pier
---
7. Maritime Museum: Discover the History of the Shores of San Francisco
My favorite museum in Fishermans Wharf San Francisco is the Maritime Museum. The free museum recently moved to a new location on the corner of Jefferson and Hyde Streets.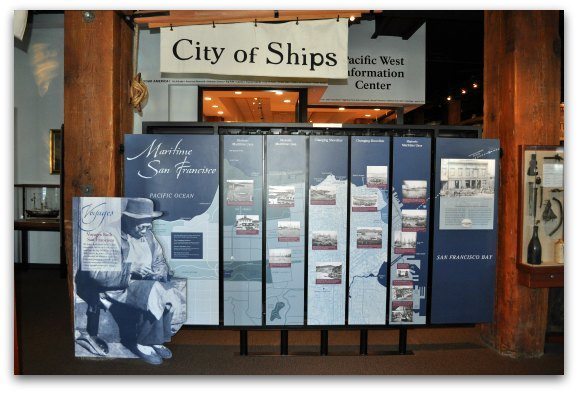 The museum chronicles the history of the waterfront in San Francisco. They did an amazing job with this museum and its full of interesting stories, videos and memorabilia.
Learn More: Maritime Museum
---
8. Pier 39: Shop, Eat & Play
Most people come to Fishermans Wharf San Francisco to check out Pier 39. Here you will find activities for kids of all ages including the Aquarium by the Bay and the giant carousel. You will also find dozens of places to eat and shop. Many people enjoy watching the sea lions on the wooden docks on the western side of the pier.
Learn More: Pier 39
---
9. Wax Museum: Visit the Famed Wax Statues
The Wax Museum in San Francisco recently renovated and is now a Madame Tussaud's Wax Museum. It includes dozens of amazing statues. If you haven't stopped by yet, now is the time!
Learn More: Wax Museum
---
10. Historic Pier 45: Visit Two More WWII Vessels
The historic Pier 45 is home to two World War II vessels. The Jeremiah O'Brien is a liberty ship used for several missions during the war. The other floating museum at this pier is the USS Pampanito. This submarine spent most of its time in the Pacific during the war. You can visit both or walk along the pier and learn more about each one for free.
Learn More: Pier 45
More Things to Do: Find my list of 50+ things to do in Fisherman's Wharf here.
Six Top Fishermans Wharf Activities
1. Bay Cruise: Spend the Afternoon on the Water
One of the activities you must do is take one of the hour-long bay cruises. You'll ride past Alcatraz Island and learn more about its history. You'll sail under the Golden Gate Bridge and get a unique look at this awe-inspiring attraction. These are open tickets, so you can jump on your cruise during any day of your visit.
Learn More: Top 5 Cruises on the Bay
Tickets: Find tickets to this cruise at up to 50% off on Goldstar
---
2. Bike the City: Tour the City by Bike
Cruise the city by bike with an all-day bike rental. It's a fast and cheap way to get to all of the famed San Francisco attractions. Included in the day-long rental is the bike, a biking helmet, and a map of the city. You will also receive a bike lock, so you can do some site seeing on foot when you arrive at each destination.
Find Tours: Best Biking Tours
---
3. Musee Mechanique: Play Games Both New & Old
Do you love antique music boxes and old arcade games? If so, then you will enjoy spending some time in the Musee Mechanique. This funky arcade sits in the warehouse of an old pier. It has coin operated machines from the late 1800s & early 1900s, video games from the late 80s and everything in between.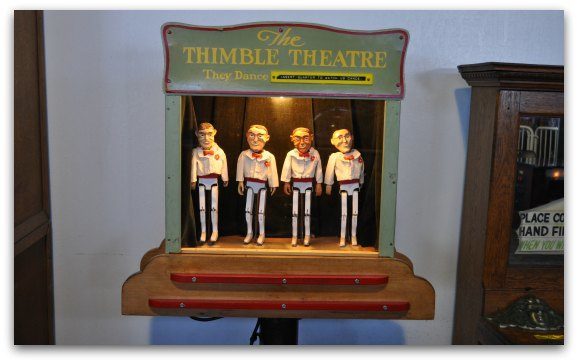 It's free to enter, but you have to pay to play. Test your strength and see if you can beat the muscle machine. Play Ms. Pacman with a friend. How about slipping a penny into that old dancing music box? You can do it all here.
This eclectic collection of games is a must see. It sits a block north of Jefferson Street at Pier 45 Shed A at the end of Taylor Street.
---
4. Segway Tour: Enjoy the Waterfront on a Segway
If you are looking for a little more adventure, then check out one of the Segway Waterfront Tours. The tour begins with a 30-minute demonstration on how to use the Segway. Once everyone is ready, you set off for a two-hour cruise along the waterfront. You will see views of the Golden Gate Bridge, Fishermans Wharf San Francisco and more.
>> Read about my experience on this tour and more details on what you can expect
Tickets: Find tickets for select dates at up to 50% off
---
5. Street Performers of San Francisco
Another fun thing about Fishermans Wharf and Pier 39 San Francisco are the street performers. Every day there is a new mix of people from those creating artwork to those dressed up ready for pictures.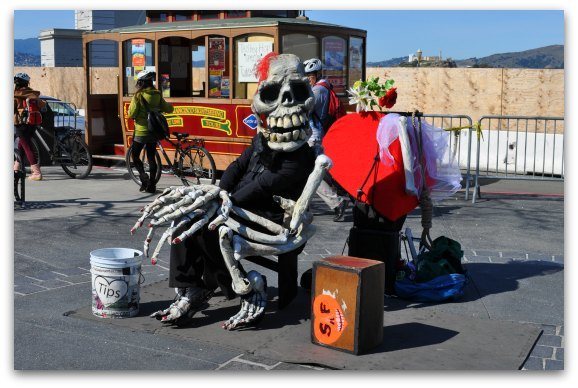 You will find them all along Jefferson Street.
---
6. Whale Watching: Set off for a Whale Watching Adventure
Another one of my favorite activities from Fishermans Wharf San Francisco is taking a boat out for whale watching. From June to November, you'll search for blue or humpback whales. From December to May, you'll look for gray, sperm and killer whales. You might even run into a few dolphins and other sea animals along the way!
Learn More: Trip Details & Tips to Prepare
Tickets: Book Your Tickets for a Whale Watching Cruise Today
For the Kids: Are you looking for the best activities for kids? Check out my list of fun things to do from the SF Bay Cruises to the 7D Experience.
More Fisherman's Wharf Deals at Up to 50% Off
In addition to the discounted mentioned above, here are a few additional savings on Goldstar for tours and activities in Fishermans Wharf San Francisco.
California Sunset Cruise: Leaves every evening from Fishermans Wharf, 2-hour cruise that includes a light appetizer buffet and one drink per ticket, Full price $64, Goldstar price $32*


Champagne & Mimosa Weekend Morning Cruise: Runs on Saturday and Sunday mornings at 10am most of the year, 2 hour cruise that includes two drinks with your ticket (white wine, beer, soda, coffee, or water), Full price $60, Goldstar price $36*


Bridge to Bridge: 90 minute cruise around the Bay, includes a ride under the Golden Gate and the Bay Bridge, Full price $38, Goldstar price $19*
*Small fee applies at checkout.
Fishermans Wharf Hotels
If you are spending most of your time at Pier 39 or in the Fishermans Wharf San Francisco neighborhood, then your best bet is to book a hotel nearby. There are hundreds to choose from including big name hotels such as the Marriott or the Sheridan. There are also other great hotels such as the Argonaut or the Wharf Inn.
Learn More: Fishermans Wharf Hotels
Tip to Save: Before you book your hotel, make sure to search for the best deals on TripAdvisor.com. They offer dozens of deals for places all throughout San Francisco. Browse their deals today!
San Francisco Ferry To & From Sausalito
The Sausalito Ferry will take you to and from San Francisco and Sausalito. You can pick it up in Fishermans Wharf San Francisco at Pier 41. The cruise runs several times a day and drops you off on the northern end of Sausalito's downtown area.
>> Click here to learn more about taking the ferry to and from SF & Sausalito
Fishermans Wharf Restaurants
There are dozens of restaurants in the Fishermans Wharf San Francisco neighborhood. You will find everything from grab and go places to nicer sit down restaurants. Here are just some of the great places to check out during your visit.
Buena Vista Cafe: This cafe is an institution in San Francisco. It's known for bringing Irish Coffee to the US. In addition, stop by for some amazing American food served for breakfast, lunch and dinner. See pictures and a recap from my most recent visit. It might even look familiar, as it was featured in the movie "When a Man Loves a Woman" starring Meg Ryan and Andy Garcia.


Fresh Fish Stands: If you are looking for something quick, I recommend heading over to the open air stands near the Fishermans Wharf sign on Jefferson Street. Here you will find a line of stands with fresh seafood including crab, chowder and other seasonal specialties.


In-N-Out Burger: If a burger and fries is your favorite, then you have to stop by In-N-Out Burger. It is a California fast food chain that serves fresh burgers, fries and shakes. It is packed all day long, but their food is amazing and the service is fast.


Scomas: On the other end of the spectrum is Scomas. This is a higher end seafood place tucked away near the water on Pier 47. Their menu is almost all seafood, but they do have some great steaks and other specialties for those looking for something different. Some of their tables also have great views of the bay.


Boudin Bakery: I know I mentioned this above, but wanted to add it again. If you are looking for some great New England style clam chowder in the best sourdough bread bowl you've ever had, then head over to Boudin Bakery on Jefferson Street. It's a lively environment and you can watch the bakers make the bread!


The Crab Station at Fishermans Wharf: Another great grab and go seafood place is The Crab Station at Fishermans Wharf. This small place is set right along the water and is very affordable. I recommend trying the crab sandwich or the crab strips.


Ghirardelli Square: If you head over to Ghirardelli Square, you will find a number of great places to eat. My favorites are The Pub - medium priced, casual restaurant with great 'pub' food -- and McCormick and Kuleto's Seafood Restaurant - a higher end restaurant with some great views of the San Francisco bay.
How to Get to Fisherman's Wharf San Francisco
There are a number of transportation options to get to Fishermans Wharf San Francisco. Here is a map to show you some of the main stops for most of the options below. The star on the map is Pier 39. The heart is where the ferry picks you up for Alcatraz Island.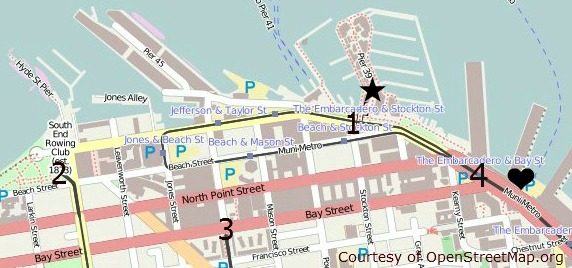 Street Car from Union Square
The F Street car is a popular option to get from Union Square to Fishermans Wharf. #1 and #4 on the map above show you two of the most used stops along this line.
#1 (Embarcadero and Stockton Streets) is almost directly in front of Pier 39.


#4 is just about a block north of where the ferry picks you up for Alcatraz.
This street car picks up all the way along Market Street and runs about every 15 minutes. The cost is only $2 and it will take you about 20 to 25 minutes to get here.
Cable Cars from Union Square
Both the Hyde-Powell and the Mason-Powell cable car lines end in Fishermans Wharf. #2 is the end of the line for the Hyde-Powell line (my favorite since you get some of the best views from the steep SF hills along the way!). #3 is the end of the Mason-Powell line. Find out more about each
Find out more about the both of these lines and the history of these
historic cable cars
. You'll also find some tips on where to hop on, how much they cost and simple route information for each one.
San Francisco Taxi
You can also take a cab to Fisherman's Wharf. You can pick up a cab anywhere in the city. The cost starts at just over $3. From Union Square, it will cost you about $10 to $15. Learn more about taking one of the taxis.
By Car
If you drive, there is a parking garage across the street from Pier 39. Find out more about the main Pier 39 parking garage. There are also several other smaller lots in Fisherman's Wharf. All of them are quite pricey, so I would only drive as a last option.
You can see all of these on the map above marked with a blue "P".
From SFO Airport
Many of you will come directly to this neighborhood from the airport to check into your hotel. Here are your best options to get here from SFO.
Airport Shuttle: An airport shuttle is a shared ride with up to 8 other passengers. It's one of the best (and cheapest) ways to get from the airport to this neighborhood. The cost is around $17 per person (+ tip) which includes door-to-door service. You can either book one in advance online here or find one once you reach the airport.
Note: If you are heading here from the Oakland airport, you are required to book your shuttle in advance. Since this airport is smaller, they don't have shuttles waiting around for passengers. A shuttle from OAK to this neighborhood is around $21 per person (+ tip). Book this shuttle online here.
Taxi: Another option is to take a taxi. This is the best option if you have a lot of luggage, are in a hurry or aren't on a budget. Taking a taxi costs around $50 (+ tip). This will vary based on the time of day you arrive, but is a good average estimate.
Home

>
Fishermans Wharf & Pier 39