Whale Watching San Francisco: What to Expect on Your Adventure on the Waters of the Pacific Ocean

by Jill Loeffler  •

Updated: May 23, 2022
San Francisco is a great place to go whale watching. Just a few miles off the shore are cool waters that offer the perfect feeding ground for several varieties of whales including grays, blues, and humpbacks.

Different whales migrate through this area at different times of the year. Many stop here for a while on their way up north for even richer feeding areas.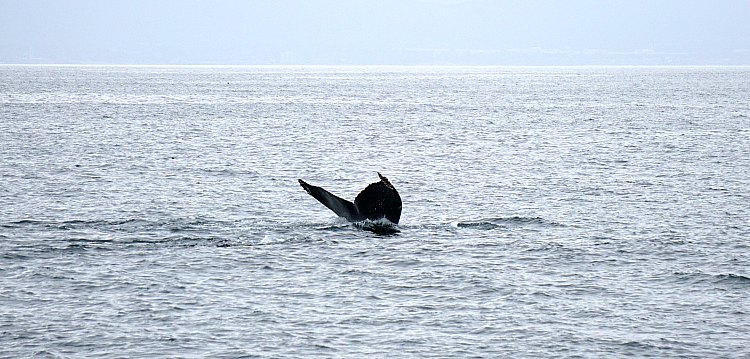 On your whale watching journey, you also get the chance to see schools of dolphins, leatherback turtles, and sea lions. Almost a hundred bird species and more than 300 types of fish call this area home, too.
So, grab your camera and head out on the water for an unforgettable whale watching adventure!
Whale Watching San Francisco by Season

The great thing about whale watching in San Francisco is you have the chance to admire the marine wildlife almost all year long. My favorite time to go is during the warmest time of the year, from September to October. During this time, the sun is shining, and the water is calm.
Alternatively, January to February is a fantastic time to see a variety of whales, even though the weather is cool and rainy, and the water can get rough.
Here is a little on what you can expect each season. 
May to November: Humpbacks
December to May: Gray, Sperm, and Killer (Orcas)
July to October: Blue
All Year Round
Dolphins: Bottlenose, Northern Right Whale, Pacific White-Sided, Risso's, Common
Porpoises: Dall's, Harbor

Other Animals: Sea Otters, California Sea Lions, Harbor Seals

The only time of year that isn't great for whale watching is between mid-November and mid-December. As you will see from the chart above, it's the tail end of the season for the humpback and blue whales, and just the start of the migrating season for the gray, killer, and sperm whales.
If you are visiting during this time, you can still go out and explore. The ride itself is worth it and you will most likely see other sea creatures. Another plus is that many tours offer a second trip out if you do not see whales during your ride.
Disclaimer: I receive a small commission from some of the links on this page.

San Francisco Whale Watching Tour Details

Depending on what time of year you decide to go whale watching in San Francisco, you have different options for tours. All of them start from Pier 39 in the Fisherman's Wharf District.
From there, you will sail along SF's northern waterfront, under the Golden Gate Bridge, and out to the Pacific Ocean, looking to spot not only whales, but frolicking seals, sea lions, dolphins, and a variety of seabirds. Each tour includes a professional guide and live commentary on board.
March - October

The first tour runs from March - October. This is the busy travel season in San Francisco and when plenty of people are on the water whale watching. During this time of year, you can expect to see Humpbacks and Blues. From March to May, you might even catch a glimpse of a Gray, Sperm, or Killer (Orcas) whale.
This tour lasts for about 2.5 hours and runs several times a day: 9am, 12pm, 3pm, and 6pm. There is no food on board, but you are welcome to bring some along. Beer and wine are welcome on board (no hard alcohol allowed).
Gray Whale Watching Cruise (December - March)

This is the time of year when you get the chance to see the mighty Gray Whale. They are only found in the Pacific Ocean and their numbers have dwindled down to about 26,000 in total. Seeing on on a whale watching adventure is a treat!
This 3 to 4-hour tour will depart from Pier 39. The route changes each time based on Gray Whale activity in the ocean. Make sure to bring along your camera and your binoculars (if you have them) to help spot these mighty whales during their migration.
There is no food on board, but you are allowed to bring your own. They welcome beer and wine, but no hard alcohol.
This tour runs mostly on the weekends.
Tips for Your Journey

1. Take Seasickness Pills: If you are like me and get seasick, then make sure you prepare for this adventure ahead of time. There is little room to lie down on the boat, so it can be miserable if you aren't feeling well. The boat can get especially rocky at the Farallon Islands. My new favorite seasickness medication is Bonine. It works well without the drowsy feeling. However, it isn't as widely distributed, so if you have problems finding it, then head to Amazon and pick it up before your trip.
2. Protect Yourself from the Sun: Even if it's cold and windy when you leave, the clouds can burn off quickly on the waters outside San Francisco. Make sure you are prepared with sunscreen, sunglasses, and/or a hat.
3. Bring Your Camera: It is safe to bring your camera with you on this journey. I recommend bringing something along that you can use to cover it up, since at times it gets choppy and the ocean water splashes onto the boat. You don't want to ruin your nice camera with salty ocean water.
4. Wear Comfortable Shoes: Whale watching in San Francisco is not the time for high fashion. Wear flat-soled, non-slip shoes for the journey. You will be on your feet most of the time looking for whales, so plan for comfort.
5. Pack Warm Clothing: It may be warm and sunny on the day you leave for your whale watching adventure, but make sure you bring along warm clothes. The minute the boat leaves the dock you will start to feel the cool ocean breeze on your skin. I always wear pants and bring along an extra jacket to stay warm.
6. Bring Snacks: There isn't really much food on the boat, so bring along your own snacks. I like to pack some simple crackers or peanuts in addition to water. For the all-day journeys, you might want to take along something a little heartier.
7. Use Binoculars: Be one of the first people on the boat to spot the whales with your binoculars. Again, I recommend bringing something to cover them up so you don't have to fight off the ocean water marks once you return to shore.
Seeing Whales from the Shoreline in SF

One question I'm often asked is if you can see whales from the shore in San Francisco.
It is very rare for people to see whales from the coast in San Francisco. Most of the local and migrating whales are at least 3 miles out from Ocean Beach, which is on the western side of San Francisco.
If you really want to see whales, your best bet is to take one of the tours mentioned above. The naturalists on the boat will have the best ideas on where to find the whales and you will almost always see one during your cruise.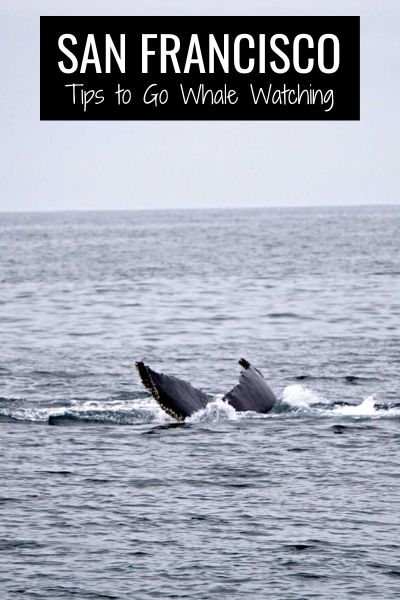 Comments? Questions? Suggestions?
I would love for you to join me in my private Facebook group! 
It's a great place to interact with me and others who know the area well.
You can ask questions, get advice for your upcoming stay, and then share your photos and advice with others when you return home. It's a great community and the fastest way to get answers to those nagging questions about your visit!