Things to Do in Half Moon Bay: 13 Fun Ideas for Your Stay

by Jill Loeffler  •

Published: April 25, 2023
The best things to do in Half Moon Bay include hanging out at the beach, spending time around Pillar Point Harbor, and checking out the local hiking trails.
This cute coastal town sits about an hour south of San Francisco along the Pacific Coast Highway. It's right along the Pacific Ocean, which offers tons of fun water activities.
You will also find great places to eat, go shopping, and explore the great outdoors.
To help you plan your stay, I've included some great places to eat and stay and a few fun things to do nearby.
It's a fun place to spend a few hours or an entire day. Make sure you add this to your list when visiting Northern California.
Disclaimer: I receive a small commission from some of the links on this page.

1. Half Moon Bay Beaches
Half Moon Bay is more akin to a waterfront village than a town, giving access to smaller but beautiful beaches.
This town is a charming place that still exudes some old-world style, and at the same time, this stretch of California coastline is hard to beat for sun, sea, and sand. Here are some of the best beaches in the vicinity.
Half Moon Bay State Beach
Easily accessible from the town, Half Moon Bay State Beach is a selection of smaller beaches stretching along the bay coast.
Francis Beach is the main and most popular part of the State Beach and offers a lovely wide sandy beach with picnic and BBQ areas, plus restrooms. The beach is perfect for a family day by the ocean.
Mavericks Beach
Mavericks Beach is close to Pillar Point Harbor, which remains world-famous as a big wave surfing destination. The beach is small and secluded and is famously named after a dog that belonged to a man who was among the earliest surfers.
Watch for the big waves and the surfers enjoying them from the bluff above the beach.
Venice Beach
The middle of the five beaches that make up Half Moon Bay State Beach, Venice Beach, is easily accessed from the parking lots via various trails.
A popular and often busy stretch of glorious sand, it is worth arriving early to ensure you get a parking spot and a place on the beach because it is so close to downtown Half Moon Bay. Be aware there is a daily fee for the use of the beach.
2. Brunch or Lunch at The Ritz Carlton Half Moon Bay
The famous Ritz Carlton Half Moon Bay is the place to be seen. Be aware that the evening menu is quite expensive, but we strongly recommend you book for brunch, lunch, or even dinner at sunset, as this is fine dining at its very best and an experience you will never forget.
Eating at the Ritz Carlton Half Moon Bay is always a pleasure, and you will be treated to service of this highest order and food cooked to perfection.
The Ocean Terrace bar is a beautiful place to relax and take in the spectacular views of the rocky cliffs and out over the bay.
Navio is the recommended restaurant within the Ritz Carlton for seafood lovers and is highly acclaimed.
The traditional Californian fare is the order of the day in The Conservatory, a light and relaxed place to enjoy cocktails and food in wonderful surroundings. Be sure to book ahead and enjoy a special place while looking out over one of the most beautiful views of Northern California.
The golf course and Ritz Carlton are at 2 Miramontes Point Road in Half Moon Bay.
3. Whale Watching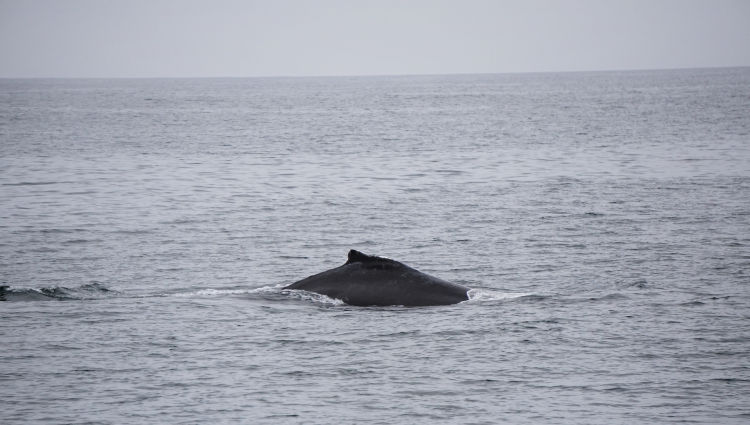 Among the most exciting Half Moon Bay things to do is whale watching, a pursuit that many thousand visitors enjoy during the early part of the year.
Some 15,000 Gray whales make their way along the bay as part of their 10,000-mile migration along the California coast to their breeding grounds in the warmer waters of Magdalena Bay, Mexico.
This spectacular sight is not to be missed, and the whales can be seen between January and the end of March from many bluffs, beaches, and coves along Half Moon Bay.
I highly recommend taking a boat trip with a local guide - there are plenty of options - which will allow you to see plenty of other marine mammals and sea life, such as sea lions, porpoises, harbor seals, and dolphins of several types, and it's a delightful experience for both adults and children.
Trust me, you don't want to miss the opportunity to witness this spectacle of nature.
>> Tips for whale watching around Monterey Bay
4. Golfing at Half Moon Bay Golf Links
Half Moon Golf Links is just a short drive from San Francisco, a fine and well-managed course featuring 36 holes. A links course with stunning views of the bay, there are some challenging holes at this welcoming and friendly club.
Occupying more than a mile of coastline and overlooking glorious beaches, this is a wonderful opportunity to enjoy a round.
Spend a pleasant evening in Mullins Bar and Grill within the facility, and enjoy a range of good food served with a smile. Easily reached from SF and San Jose, Half Moon Bay Golf Link is among the region's more enjoyable and picturesque courses.
Booking a tee time ahead is essential, thanks to the club's popularity.
For golf lovers, the combination of a beautiful Half Moon Bay vacation and access to such a quality golf course could not be better.
5. Sport Fishing
Half Moon Bay is a popular sport fishing destination, with charter boats like Mooch Better Fishing providing exciting and educational fishing excursions for both young and old.
Guided by a captain with more than 30 years of fishing experience, the "Mooch Better" is a 37-foot boat and can take six people at once, so is an excellent choice for a family fishing trip.
Whether you are experienced at sport fishing or want to enjoy a trip out into Half Moon Bay, this is the way to do it.
You can fish for tuna, salmon, and rock cod - just a few of the species in the bay. They also offer crabbing, whale-watching tours, birding tours, and other types of trips on the Pacific Ocean.
This is a great opportunity to get close to nature and spot the various marine mammals, fish, and birds that live in Half Moon Bay, and a fun trip for all the family.
6. Fitzgerald Marine Reserve
For lovers of nature, the Fitzgerald Marine Reserve is a beautiful opportunity to explore the unusual habitat 0f the inter-tidal area. This is the space between low and high tides, where tide pools form and provide a home for many exciting and little-see creatures and plants.
A protected area within the Montara State Marine Reserve, this rocky natural landscape presents many wonders of nature.
The landscape here is naturally wet and slippery, so adults and children should dress appropriately and take care when navigating the rocks. The tide pools are simply fascinating, and the variety of life here will amaze you.
Be aware that while dogs are permitted, they must be on a leash and are only allowed on the designated trails, which take you on a great journey through the reserve. Please check that the reserve is open in advance, as storms and inclement weather may lead to it being closed.
It is located about 10 or 15 minutes north of Half Moon Bay at 200 Nevada Ave in Moss Beach.
7. Half Moon Bay Brewing Company
A favorite of mine when in the region, Half Moon Bay Brewing Company is a beautiful place to enjoy some fine food and locally brewed ale when visiting Half Moon Bay. Visitors are welcomed to a friendly and comfortable place run by two brothers, who have been on this site and brewing their ales and beers since 2010.
When you visit here, you'll get a wide variety of beers to choose from, including ones such as Kolsch, IPAs, and Saisons, and depending on when you visit, maybe something fun like their "Pumpkin Harvest Ale." With a choice menu offering various dishes made from locally sourced ingredients, Half Moon Bay Brewing Company is popular with locals thanks to its friendly atmosphere.
It is a great place to meet up with friends or for a family meal. Sensibly priced small plates make an excellent light lunch, washed down with one of their beers or a glass of wine.
The outdoor terrace area is the place to be for the finest ocean views, and we strongly recommend you note this excellent place.
8. Burleigh H. Murray Ranch State Park
Occupying a secluded valley to the south of Half Moon Bay is the Burleigh H. Murray Ranch State Park. A fascinating historic ranch featuring many vintage buildings, the park is home to a beautiful array of flora and fauna and is a delightful place to spend some time.
There is a nice range of activities possible, which include hiking, cycling, and horse riding, but be aware that dogs are not permitted.
The Ranch is sheltered from the wind and tends to be slightly warmer than the town of Half Moon Bay. A major attraction is a rare example of an English Lake District Bank Barn, a particular design built against a hillside. Originally 200ft long, the barn is considered one of only two in California.
The park is popular for bird watching, and there are several endangered species of amphibians and fish, including the very rare Californian Red-Legged Frog. So make sure to keep an eye out for them and have your phone or camera ready!
It is located at 305 Higgins Canyon Road, just outside Half Moon Bay.
More Fun Things to Do Nearby
9. Half Moon Bay Distillery
The Half Moon Bay Distillery is a small-batch operation that offers hand-crafted gin and highly regarded vodka. Many of the best bars and restaurants sell their products, but it is here - at the distillery itself - that you get a full picture of the dedication to the craft. A master distiller oversees the operation and guarantees a personal touch.
The range's flagship is HMB Vodka, and 80-proof vodka is made entirely from organic wheat grain and is a fine example of the growing art of craft distilling in California.
If vodka isn't your thing, then check out the HMB Gin. They use a carefully chosen selection of 12 botanicals to deliver a unique and smooth taste that comes out at 90 proof.
Look out for special editions such as the HMB Lavender Vodka, which is unique and drinkable with its added flavor. If you are heading to the Half Moon Bay area, I recommend you check out this charming and friendly place.
It is located at 103 Harvard Avenue in Half Moon Bay and is open only on Saturday and Sunday from 11 am to 3 pm.
10. Annual Pumpkin Festival and Competition
Visit Half Moon Bay in mid-October, and you can attend an event held here for more than 50 years. The annual Half Moon Bay Art and Pumpkin Festival presents a variety of exciting and enjoyable things to see and do. Central to the event is the famous Safeway World Championship Pumpkin Weigh-Off.
Last year's winning entry was a gourd weighing 2560 pounds and the size of a rhinoceros!
There is more to the event than big vegetables as the festival also showcases some 275 of the best craft producers in the USA, with products such as glass, ceramics, jewelry, leather, metalwork, and gifts, with sensibly sized booths on historic Main Street.
Other events include the Pumpkin Run, DJs, and plenty of entertainment for children and adults, all in downtown Half Moon Bay's quaint and pleasant setting. It's a fun and original family day out.
It is located on Main Street in downtown Half Moon Bay and runs for one weekend every year in October from 9 am to 5 pm.
11. Lemos Farm
Lemos Farm is a popular attraction in Half Moon Bay, a perfect choice for a family day out with smaller children. With everything from pony rides to traditional fairground rides, animal feeding, games, and a funfair, this is a great place to give the kids something to keep them occupied.
The farm has also become famous for its Goat Yoga Sessions, which routinely get rave reviews and are worth trying as a unique experience. The Pumpkin Patch is famous in season - many visitors stop by the farm on the way to the Pumpkin Festival - and you can buy various farm-grown produce in the farm shop.
With friendly staff who go out of their way to help, this is one of the premier kid Half Moon Bay attractions, so be aware it is popular and may be busy.
It is located at 12320 San Mateo Road in Half Moon Bay. The farm hours are Saturday and Sunday from 10 am to 5 pm. They are also open on some holidays, so check ahead to be sure.
12. Purisima Creek Redwoods Open Space Preserve
Purisima Creek Redwoods Open Space Reserve is a beautiful place to hike. With smaller second-growth Redwood trees and a wide range of trails for horse riding, walking, and cycling, this is the place to go for stunning scenery in a lush valley.
The greenery is spectacular, and the trails vary in difficulty. Outside Half Moon Bay, the reserve gives a beautiful idea of the typical redwood forest. Here are three trails I enjoy when I visit. They cover all levels of difficulty and experience.
The Cowell-Purisima Trail: Easy
The Cowell-Purisima trail is an easy hike of 3.6 miles with a light gradient and well-laid paths. Most of this trail is wheelchair accessible. Enjoy the spectacular bluffs with ocean views when taking a relaxed walk in the Purisima Creek reserve at your own pace, but be aware it can get busy.
The Craig Britton and Harkins Ridge Trails: Moderate
I love the combined Craig Britton and Harkins Ridge Trails. A 7.6-mile loop through wonderful redwood creeks featuring a pretty river and into oak woodland, this is considered a moderate trail suitable for mountain bikes and horses. However, they are not suitable for wheelchair users as they feature steep gradients in places.
The Whitmore Gulch and North Ridge Trails: Hard
The Whitmore Gulch and North Ridge Trails require experience of more difficult walks and are extremely popular with mountain bikers. The trail descends through a pine forest that slowly becomes redwood and offers spectacular views of the hillside above and its many exciting features. It is an amazing hike, but you will want to make sure you are ready for it.
13. Other Great Hiking Trails Near Half Moon Bay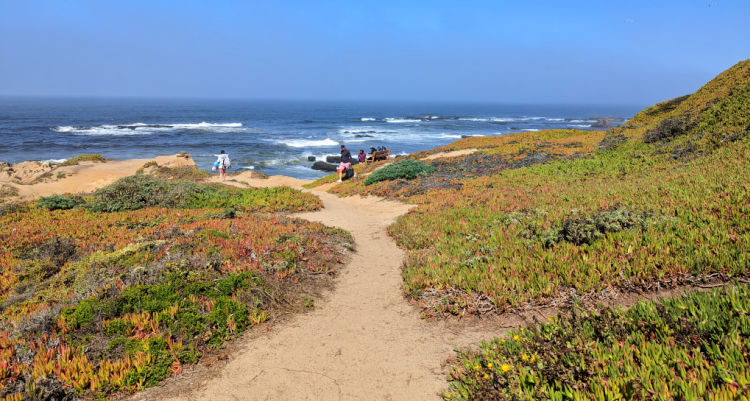 The Half Moon Bay coast side is home to many trails that attract walkers, cyclists, and horse riders. With magnificent scenery, including the famous redwood trees and a wealth of wildlife to look out for, I have three trails close to Half Moon Bay, each with a different level of difficulty, that I think you will enjoy.
Easy Hike Near Half Moon Bay: Coastal Trail
There are several small loops that make up part of the 1200-mile California coastal trail, including many that are easily accessible from Half Moon Bay. Look for sections that are wheelchair friendly and offer disabled access, as these tend to be the easiest hikes of the lot. Most trails are also mountain bike friendly.
Moderate Hike Near Half Moon Bay: Clipper Ridge and French Trail Loop
At 3.3 miles long, this route is ideal for walkers and cyclists who can handle a moderate trail with some gradients. Famous for its colorful variety of wildflowers and many animal species, it is easy to reach from Half Moon Bay and is open year-round. Dogs are welcome on the trail if kept on a leash.
Hard Hike Near Half Moon Bay: South Ridge, Middle Ridge, and Meadow Trail Loop
Considered among the more difficult trails, thanks to varied and often rugged and steep terrain, this beautiful route takes visitors through some of the most spectacular landscapes in the region. Not suitable for wheelchair users, it is popular with mountain bikers and more experienced hikers.
Where to Eat in Half Moon Bay
The choice of places to dine in Half Moon Bay is surprisingly varied, given the town's size. The location naturally makes fresh seafood popular, and there are also pizza and other outlets to choose from. Here are some of my favorite places to eat in Half Moon Bay.
Barbara's Fish Trap
Barbara's Fish Trap has been serving locals and visitors in Half Moon Bay since 1971 and is among the most popular eateries in the town. It is usually busy, but don't be put off if there is a line outside, as it is worth the wait!
Enjoy traditional all kinds of fresh fish specialties, crab and lobster dishes, or many more locally sourced seafood, and then enjoy the beach behind the restaurant.
Barbara's Fish Trap is located at 281 Capistrano Rd, Half Moon Bay. They are open from 11 am to 7 pm weekdays and 11 am to 7:30 pm on Saturdays and Sundays.
Sam's Chowder House
Regularly voted the "Best Seafood Restaurant in the Bay Area," Sam's Chowder House majors in authentic New England cuisine, and the menu features many favorites and fish classics. Their dog-friendly patio with views over Pillar Point Harbor out to Mavericks is simply spectacular, and the family-friendly and relaxed atmosphere adds to the appeal.
Sam's is located at 4210 CA-1 in Half Moon Bay. They are open Sunday thru Thursday from 11 am to 8:30 pm and Fridays and Saturdays from 11 am to 9 pm.
Dad's Luncheonette
Located in a historic railway caboose, the simple yet satisfying menu offered at Dad's Luncheonette is centered around burgers, mushrooms, chips, and mac and cheese - classic American comfort food! It's a famous venue that sells merchandise and draws people to Half Moon Bay from afar, so make sure you get a table!
Dad's is located at 225 Cabrillo Highway South at Kelly Avenue. They are only open Thursdays thru Sundays from 11 am to 4 pm.
The Barn
The Barn HMB is a well-known and loved spot for locals and visitors and serves a menu of classic burgers, chicken, and pork dishes. There is a good range of vegetarian and vegan dishes, and a friendly and welcoming atmosphere makes it a relaxed place to enjoy a family meal in Half Moon Bay. I love that all the ingredients come from local farms.
So, if you've had your fill of fresh seafood, then you'll definitely want to check out The Barn.
The Barn is located at 3068 North Cabrillo Highway, just north of Half Moon Bay in Cabrillo. They are open Wednesdays to Sundays from 11 am to 4 pm.
Pizza Pie
Specializing in traditional pizza dishes and offering a few with a twist, Pizza Pie is a great choice for a meal in Half Moon Bay. As you'd imagine, they have loads of interesting and imaginative pizzas here, as well as some other Italian dishes.
After you eat those, or if you want to skip them, you will want to check out the menu for their incredible pies. I have to say that the Key Lime pie and the Chocolate Cream pie are among my favorites.
Again, if this sort of food is your choice, then I recommend Pizza Pie.
Where to Stay in Half Moon Bay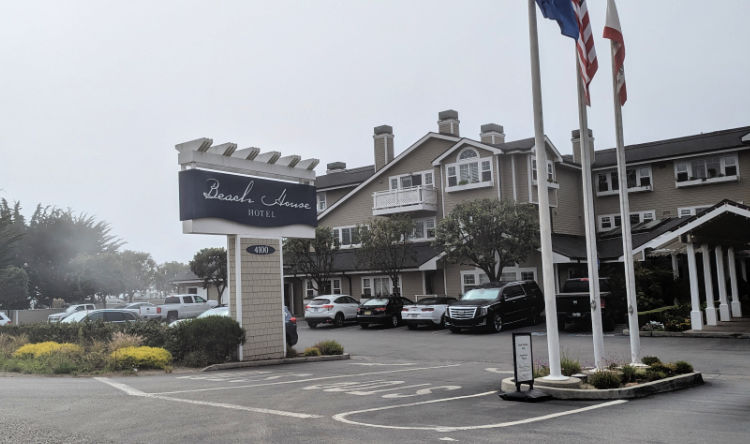 You will find a variety of places to stay in and around Half Moon Bay, including budget-friendly options all the way up to high-end luxury hotels.
Here are just a few recommendations.
Beach House Hotel
The Beach House Hotel is one of my favorites in Half Moon Bay. This luxury hotel sits right along the Pacific Ocean near Pillar Point Harbor.
They offer junior suites, and you can pay extra for a partial or full ocean view. They also offer a few Penthouse suites with views of the water and Pillar Point Harbor.
You'll find it at 4100 Cabrillo Highway on the northern edge of Half Moon Bay.
Oceano Hotel and Spa Half Moon Bay Harbor
A wonderful four-star beauty across the street from Pillar Point Harbor is the highly-rated Oceano Hotel and Spa Half Moon Bay Harbor.
It features rooms with ocean views and larger options with two separate bedrooms. It's a great find on the northern end of Half Moon Bay.
Cypress Inn
Heading south about a mile, you will find the Cypress Inn. Located near Miramar Beach, this three-star hotel offers oceanfront views in a charming, low-key location.
All rooms have a maximum occupancy of two people, and prices range from $350 to more than $600 a night.
It's the perfect romantic getaway along the Pacific Coast Highway.
The Ritz-Carlton, Half Moon Bay
The crown gem in Half Moon Bay is the five-star Ritz Carlton. It sits along the cliffs near Three Rocks Beach.
It's the perfect pick for those interested in golfing at Half Moon Bay Golf Links or just needing a few days away from the chaos of everyday life.
Mill Rose Inn
If you prefer to be away from the water's edge and closer to downtown Half Moon Bay, then I'd recommend the Mill Rose Inn.
This historic, luxury option features both rooms and suites. It's surrounded by gardens and just a few minutes drive from the region's top attractions and beaches.
It's also within walking distance of more than a dozen restaurants, bars, and shops.
You'll find it at 615 Mill Street.
The Miramar Inn & Suites
My final recommendation is a great option for those looking for more budget-friendly accommodations. This two-star accommodation is clean with large rooms.
Some of the rooms are a bit dated, and this is why it's a bit more budget-friendly than most of the other options around Half Moon Bay.
You'll find it right along Highway 1 at 3020 Cabrillo Highway N.
More Fun Things to See and Do Near Half Moon Bay
In addition to all of the fun Half Moon Bay things to do on my list, you will also find some other fun things to check out nearby.
Pacifica
The cute coastal town of Pacifica is just a 30-minute drive north of Half Moon Bay. Here you will find some great places to eat, shop, and go for a hike. You'll also find a great golf course with sweeping views of the Pacific Ocean.
Pigeon Point Light Station State Park
Just thirty minutes south of Half Moon Bay is Piegeon Point Light Station State Park. It offers you the chance to learn more about this historic lighthouse, how it works, and what's being done to revitalize it so they can open it back up.
Ano Nuevo State Park
About thirty-five minutes south of Half Moon Bay is Ano Nuevo State Park. This famous park is one of the largest breeding grounds for elephant seals. These large sea creatures can weigh up to 8,000 pounds!
You'll have to hike the paths to see them, and in the busier months, you will need to make a reservation. It's one of the few places to look at these huge, social animals.
Comments? Questions? Suggestions?
I would love for you to join me in my private Facebook group! 
It's a great place to interact with me and others who know the area well.
You can ask questions, get advice for your upcoming stay, and then share your photos and advice with others when you return home. It's a great community and the fastest way to get answers to those nagging questions about your visit!