31 Exciting Things to Do in Santa Cruz

by Jill Loeffler  •

Published:  April 24, 2023
You will find dozens of entertaining things to do in Santa Cruz, California, including wine tasting, hanging out at the beach, and having fun at their famous Santa Cruz Beach Boardwalk.
Other popular options include surfing, visiting local museums, and exploring the outdoors on a hike.
Santa Cruz sits along the Pacific Ocean. It's about an hour and a half south of San Francisco and an hour north of Monterey.
Santa Cruz is also home to the UC Santa Cruz campus and is a fun place to stop along Highway 1.
Here is more information about some of the best things to do here!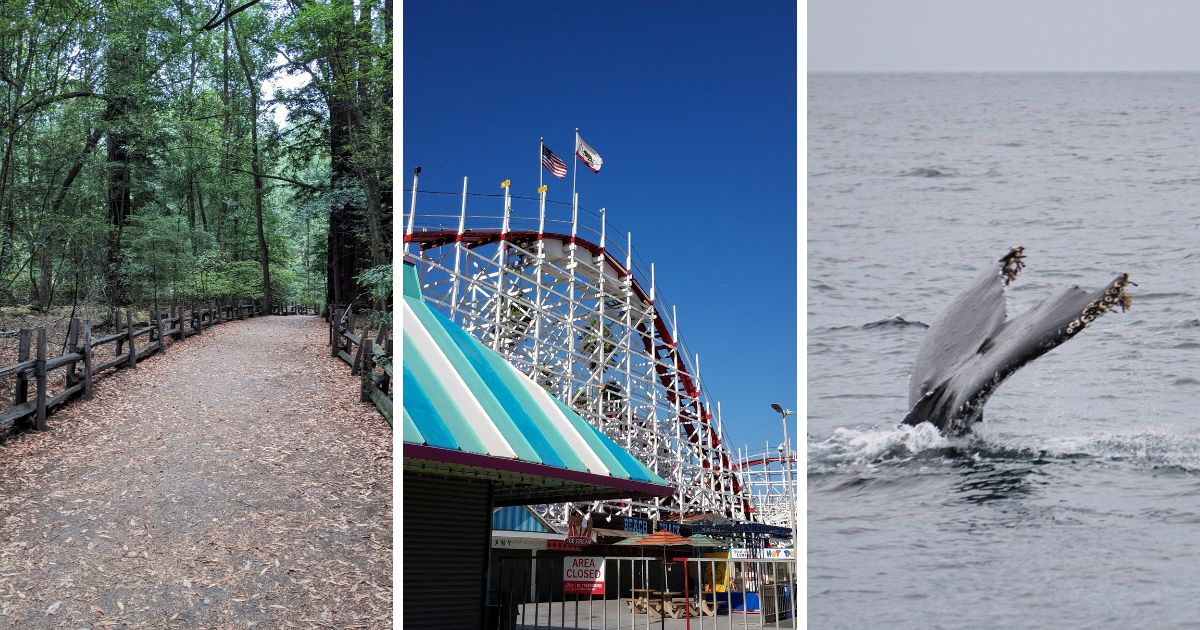 Disclaimer: I receive a small commission from some of the links on this page.

1. Santa Cruz Beach Boardwalk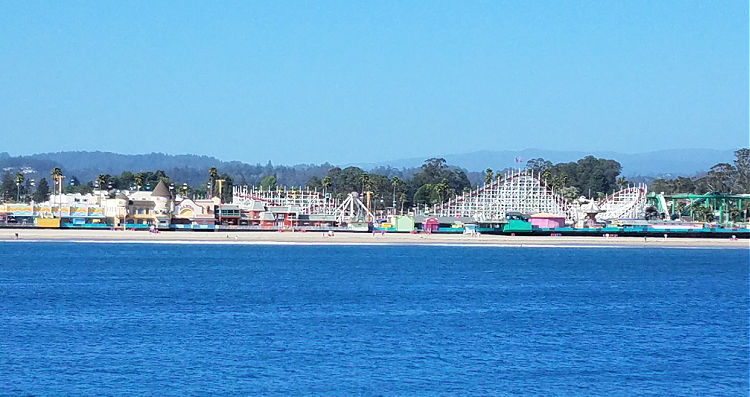 A view of the Beach Boardwalk from the Wharf
One of the biggest draws to this area is the famed beachside amusement park, the Santa Cruz Beach Boardwalk. This fun attraction includes an iconic wooden roller coaster called the Giant Dipper, sand beach volleyball courts, and a mini-golf course.
You'll also find great restaurants, shops, and an indoor arcade inside the Santa Cruz Beach Boardwalk.
The outdoor rides are usually open daily from the end of March through Labor Day Weekend. Sometimes there are only limited rides (about 8 to 10) open, or they have limited hours, so please check ahead for details.
The rest of the year, the rides are usually only open on weekends, weather permitting.
Indoor activities at the Santa Cruz Beach Boardwalk are open daily most of the year.
The Santa Cruz Beach Boardwalk also has special events throughout the year, such as LGBTQI+ PRIDE Day, fun runs, holiday events, and more. So, you will want to check out and see what is going on at this amusement park during your visit.
>> Find some great places to stay nearby
2. Wine Tasting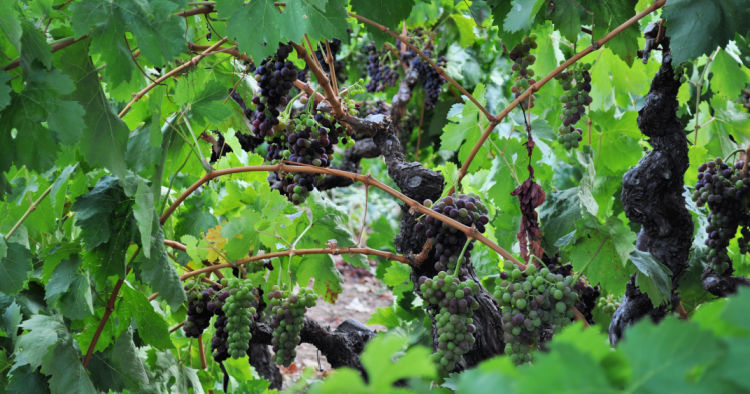 You will find dozens of spots for wine tasting in and around Santa Cruz. My favorite spots offer tasting rooms right in town. Some of them are near or in downtown Santa Cruz, so you can easily get to them. They include Big Basin Vineyards, Bottle Jack Winery, and Birichino Winery.
If you prefer an onsite winery experience, you will find some great places in the nearby Santa Cruz Mountains. My favorites include Hallcrest Vineyards, Soquel Vineyards, and Beauregard Vineyards.
This region features a wide variety of wines, including Cabernet Sauvignon, Chardonnay, and Zinfandel.
>> More great spots to taste new Santa Cruz
>> Find out more about our great Northern CA wine regions
3. Santa Cruz Wharf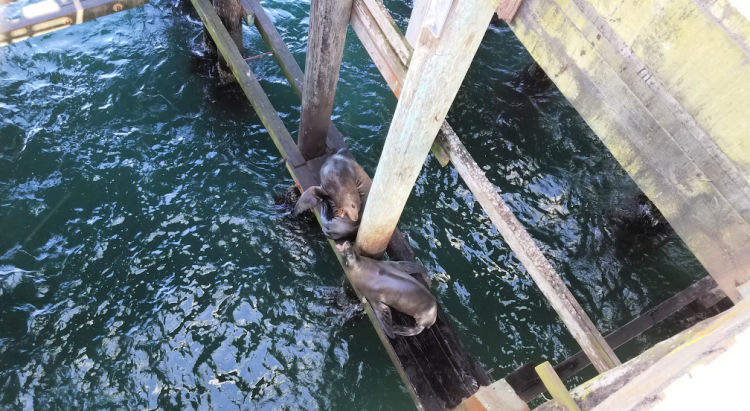 A few sea lions playing around under the Santa Cruz Wharf
The Santa Cruz Wharf is another one of the fun things to do in Santa Cruz. This small but fun pier sits over the waters of Monterey Bay.
It's home to a handful of restaurants, shops, and one of my favorite Santa Cruz bars, Vino by the Sea. It is a perfect place to grab a bite to eat or a drink and just relax on your vacation.
You can stroll along the Santa Cruz Wharf to check out the views and watch some of the local sea lions play around below.
The Santa Cruz trolley picks up here, so you can easily get to downtown Santa Cruz and back.
It's also a great place to get a full view of the Santa Cruz Beach Boardwalk and take some selfies.
4. Festivals and Events
The Santa Cruz area offers dozens of fun annual festivals and events. Some of these are in and around the Santa Cruz Beach Boardwalk, including their annual Clam Chowder Cook-Off in February, the Fiesta in La Playa in September, and the Santa Cruz Band Review in October.
Other fun festivals and events in Santa Cruz every year include their First Friday Art Walk, the Santa Cruz County Fair, and the Santa Cruz Mountain Art & Wine Festival.
Depending on the season and time you visit, you will probably find some free concerts and events in downtown Santa Cruz and other parts of the city.
Find all of the top upcoming events by month below.
5. Surfing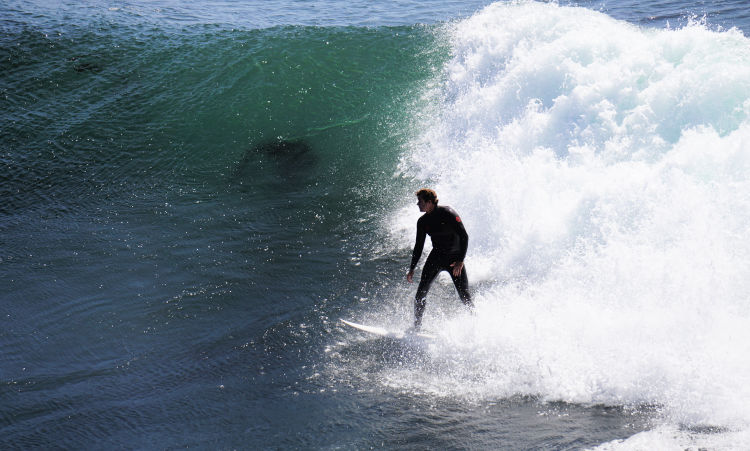 Another one of the best things to do in Santa Cruz is the classic California sport of surfing. This region offers a variety of places to go surfing, with the most popular spot off Lighthouse Point called Steamer Lane.
On any day of the week, you'll find dozens of surfers in this area taking turns as each new wave approaches the shore.
Some other top surfing spots in Santa Cruz include Cowell's and Pleasure Point. There are lots of beaches that are perfect for beginners, intermediates, and all the way up to the professional level. So, if you've always wanted to check out this sport, this is the perfect place.
If you don't want to surf, you'll find a great viewing spot to watch right near the surfing museum.
6. Santa Cruz Surfing Museum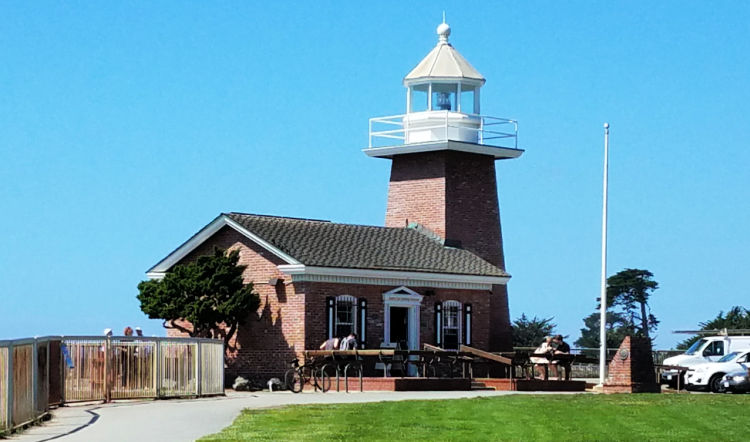 If you are a local, you know that Santa Cruz and surfing belong together, and you can't visit this part of California without checking out the Santa Cruz Surfing Museum.
The museum has a great collection of boards and other surfing memorabilia, and the shop is full of exciting books on surfing and other items to take away.
Nothing else covers more than 100 years of surfing history like this charming and engaging museum. The beauty of this surfing museum is that it is a fascinating trip through this classic Californian institution that manages to keep even the most ardent surfing fan entertained.
The lighthouse is an important historical landmark, and donations to the museum go towards the upkeep and running of the building, which I think is a worthwhile cause.
Located on Lighthouse Point and within the lighthouse itself, the museum overlooks the world-famous Steamer Lane, one of the most incredible surfing spots.
>> More great museums around Santa Cruz
7. Santa Cruz Breweries
The Santa Cruz Brewery scene has also taken off in the last few years. Some of my favorites include the Santa Cruz Mountain Brewery, Humble Sea Brewing Company, and Greater Purpose Brewing Company which supports local non-profits.
You'll find everything from West Coast IPAs to Sours to Coffee Stouts. Many breweries offer indoor and outdoor seating so you can enjoy a little sun as you sample these local brews.
If you want to check out an incredible selection of top local brews from Santa Cruz and the Bay Area, make sure to head down to the Santa Cruz Beach Boardwalk and grab a brew or two at Neptune's Kingdom.
8. The Mystery Spot
One of the most curious and popular Santa Cruz attractions is the Mystery Spot. A designated landmark, this odd and seemingly gravity-defying place is both amusing and educational.
It is known as a 'gravity hill' where balls appear to roll uphill, and other fascinating illusions can be experienced.
First opened in 1939, the wonderful wooden house is tilted to the degree that disorientates visitors. Hence the perception of unusual effects is exaggerated.
Children will enjoy the Mystery Spot as much as adults, and it is one of the fascinating attractions in or around Santa Cruz. If you're into the weird and wonderful, you cannot miss this truly magical place.
This is a great attraction and is quite popular. Therefore you'll want to arrive early as the car park is often full by midday, especially in nice weather. It is only about a 10 to 15-minute drive from downtown Santa Cruz.
9. Henry Cowell Redwoods State Park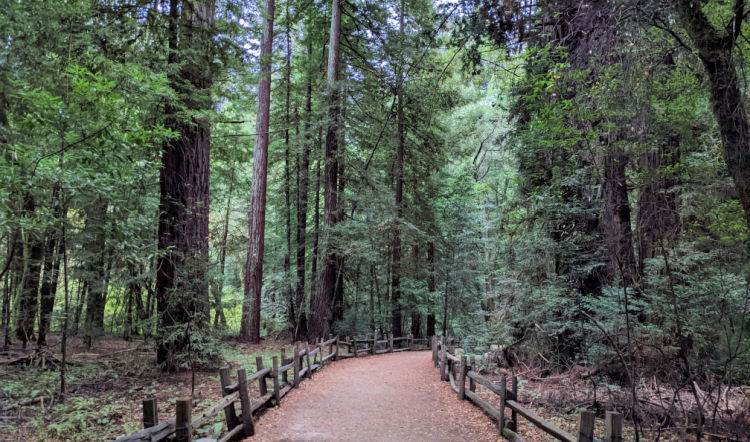 Trail inside Henry Cowell Redwoods State Park
One of my favorite places to go hiking is Henry Cowell Redwoods State Park. Only about 30 minutes outside of Santa Cruz, this park features beautiful redwoods, well-maintained trails, and a chance to escape the chaos of the city.
The most popular trail is the Redwood Loop. It's less than a mile long and offers a self-guided tour of some of the best redwoods in the park. You can scan a QR code with your phone at the trailhead to get the guide and information for free.
Make sure to step inside the "The Fremont Tree" when you visit here. It has an opening in the base of the tree where you can go inside it. It is a great place to take a photo or two.
Even though the entrance has closed over quite a bit in the last few decades, you can still step inside for a close-up view of these massive trees.
This is a tree lover's wonderland since some are almost 300 feet tall and around 20 feet wide!
>> More redwood parks in and around the Monterey Bay Area
10. Santa Cruz Museum of Art and History
Step into the cultural heart of Santa Cruz at the Museum of Art and History, where the city's and surrounding areas' past and formative years are brought to life.
I love visiting here since I know I'll always see something new. That is because the museum works with Californian artists and artisans with a program to have both changing exhibitions and permanent collections.
You will find pretty much any type of artistic medium you can imagine and learn something new whenever you visit here. As you'd expect from the name of the museum, there is a lot of history, but much of the art is extremely cutting-edge and very original.
One of my favorite pieces is the rooftop sculpture display, in which art becomes a 3D form that is tactile and wonderful.
I know many parents worry that teens or kids might get bored, which is unlikely here since there is so much diversity. It is a fascinating museum that I highly recommended.
11. Seymour Marine Discovery Center
The Seymour Marine Discovery Center is a very special place. One of Santa Cruz's top attractions, it brings the science of marine life to visitors through an exciting and interactive selection of displays and engaging exhibits.
A favorite of mine is the recently launched "Water's Extreme Journey," in which the visitor becomes a raindrop and experiences the journey such a drop of water is subjected to on its way to the ocean. It is unlike anything else I've experienced before.
Other exhibits include the majestic skeletons of blue and gray whales, plus fabulous marine exhibits, including octopuses, sharks, and many more examples of local marine life.
This highly rated and recommended visitor attraction will leave you with a greater understanding of life in and around the Bay Area and offers a great day out for the entire family.
More Things to Do Nearby
12. Mission Santa Cruz 1791
The rich history of the Bay Area and Santa Cruz is fascinating, and if you're interested in the city's historical side, Mission Santa Cruz is a must-see site. This historic Spanish Mission was founded in 1791, and today the Holy Cross Church occupies the site of the original Santa Cruz Mission.
The site's history is engaging and tells the story of how the Mission was involved in the conversion of the local indigenous people - known as the Amah Mutsun - and, later, the Yokuts people brought into the region from the east.
There are some ancient and historic headstones to be seen, and an essential visit is to the Museum, which occupies an original Santa Cruz Mission building that has been restored to its original condition.
Few places tell as powerful a story as Mission Santa Cruz, which is a beautiful experience for lovers of history.
Open for visitors on Friday, Saturday, and Sunday. If you want to go to a specific service, it is best to check their website for their hours.
13. UC Santa Cruz Arboretum and Botanical Gardens
The UC Santa Cruz Arboretum and Botanical Gardens will delight anyone who enjoys plants and nature with its over 135 acres of beauty.
Its spectacular collections showcase not only Californian native plants - including endangered and rare species but also plants from Australia, New Zealand, and South Africa.
Visitors can enjoy the fascinating Eucalyptus Grove, an unusual attraction in the region. I also have no question that you will find The Butterfly Garden enchanting and wonderful.
The Arboretum heralds the natural history of the Santa Cruz region and is both educational and enjoyable for all ages. There is so much to see it is almost impossible even to give an overview!
A genuinely delightful place to visit, the Gift and Garden Shop is where to buy unusual plants and other items of interest, such as souvenirs and novelty items.
Note: As with all such destinations, the time of year you visit will determine what is blooming, yet the Arboretum is stocked and maintained to be of interest year-round.
14. Beaches Around Santa Cruz
The city of Santa Cruz sits along Monterey Bay and has numerous beaches open to the public. Some of my top picks include Pleasure Point, Santa Cruz Beach (considered the "Main Beach"), and Seabright Beach.
You can soak in some sun, enjoy a picnic lunch, or catch up on the pile of books you've been meaning to read.
You will need to bring along your own blankets, chairs, and goodies, as most beaches don't offer any services.
Being that there are over 30 beaches in Santa Cruz, you have so many to choose from that you could go to a new one each time you visit Santa Cruz.
Make sure to plan ahead, as some of the beaches also require you to pay for parking and can get quite busy depending on the season.
>> Find more great beaches to explore around Santa Cruz
15. Natural Bridges State Beach in Santa Cruz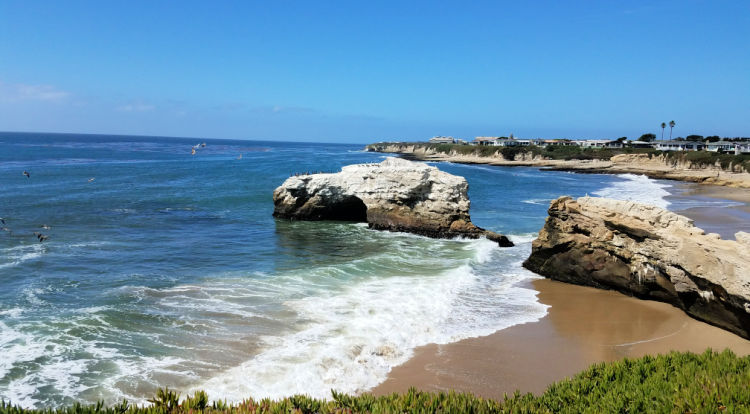 The stunning and iconic natural arch in the rock formation that spans Natural Bridges State Beach is one of the most photographed landmarks in the Bay Area. Yet there is more to this beautiful stretch of sand than that.
At low tide, the many rockpools are a fascination for all ages - look for the colored sponges that are often in the tide pools - and the many trails around the beach make for excellent walks.
Visitors come to the beach to see Monarch butterflies' migrating flocks and the gray whales that migrate along the coast, a sight that will stay with you for a lifetime.
The beach is a beautiful place to enjoy the majestic Pacific Ocean coastline, and we recommend you check websites for tide timings, as when the tide is in, much of the beach is inaccessible.
The park is usually open from 8 am until sunset. The Visitor Center is open Monday - Friday from 11 am to 4 pm.
16. Golfing
Another one of the popular things to do in Santa Cruz is to head out for a game of golf. Here are some of the highest-rated courses in the area.
DeLaveaga Golf Course
This lush, 18-hole course sits inside the popular DeLaveaga Park. It was built in the 1960s, and this course is set within the park's gorgeous forested hillsides and canyons.
It's often considered one of the top-raked public courses in the area and all of California.
This par 70 course is challenging but fun. Watch out for hole #10, as it's the toughest hole on the course and one of the most difficult holes of any Northern California golf course.
>> Visit their site to book your tee time
Pasatiempo Golf Course
Another popular golf course near Santa Cruz is Pasatiempo Golf Course. Located just 10 minutes from downtown Santa Cruz, this course is semi-private but does offer certain tee times to the public.
Designed by Alister MacKenzie, a world-renowned golf architect, this 18-hold course features sweeping views of Monterey Bay.
It's only about an hour north of the famed Pebble Beach Golf Courses and is an excellent addition for those planning to spend time in the area golfing.
>> Visit their site for more details
Seascape Golf Course
Another fantastic course near Santa Cruz is Seascape Golf Club in Aptos. This 6,034-yard par 71 course is less than a half mile away from the Pacific Ocean.
It features lush greens, towering trees, and rolling hills. It's challenging but fun. It was originally designed in 1926 by Garret and David Gill.
This course is just 15 minutes away from downtown Santa Cruz.
>> Head to their site to book your round of golf
17. Monterey Bay National Marine Sanctuary Exploration Center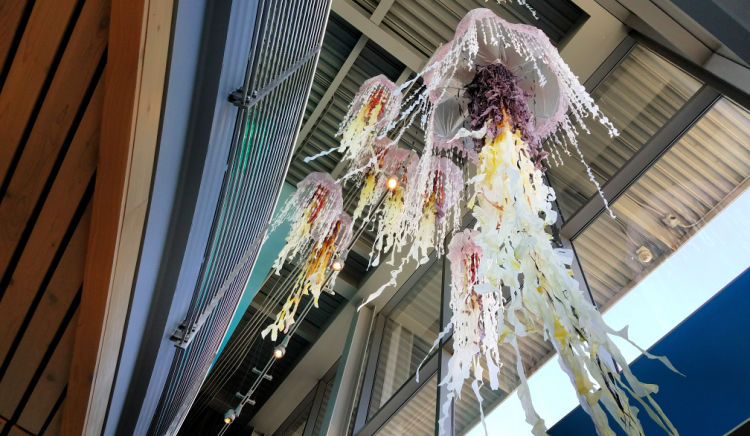 Just steps from the Santa Cruz Beach Boardwalk is the small but impressive Monterey Bay National Marina Sanctuary Exploration Center.
This free Santa Cruz museum offers interactive exhibits to help educate visitors on the ocean and conservation in Monterey Bay and beyond.
You'll also find a great film about work being done locally and have a chance to explore their state-of-the-art exhibits.
It has a wonderful gift shop and bookstore with books, maps, shirts, and more if you want to take something back from your trip to Santa Cruz.
They are open Wednesday through Sunday from 10 am to 4 pm.
18. Roaring Camp
For an exciting and engaging family day out, I highly recommend Roaring Camp.
Visitors to this beautiful Santa Cruz attraction are treated to a ride behind an authentic steam train - dating from the 1890s - while a guide narrates the history of Roaring Camp, the railroad, and the magnificent Redwood Forest through which this charming narrow gauge railway winds.
As amazing as this train ride sounds, this 75-minute journey to the summit of Bear Mountain is just one option!
You could take the Santa Cruz Beach Train, the scenic route from the mountains to the beach, and the famous Santa Cruz Beach Boardwalk, a three-hour round trip that will be great fun for all ages. This route takes a 1909 wooden bridge and a tunnel built in 1875!
Numerous fun events and festivals are going on during the year, so you'll want to check out their schedule to see what is happening during your visit to Santa Cruz.
Some of the favorite events include both Mother's and Father's Day brunches, Moonlight Dinner Parties, "The Great Train Robbery," and "Thomas and Percy's Halloween Party." That one is a favorite for kids of all ages!
And speaking of children, they have a special Roaring Camp Railroads' Kids Club where the little ones (under 12) can play games and win prizes when they visit here.
Roaring Camp railroads is one of the truly one-of-a-kind adventures you can take when you visit Santa Cruz, California.
19. Santa Cruz Warriors
Another one of the fun things to do in Santa Cruz is to watch some G League basketball. Most people don't know about the G League, but it is basically the "minor leagues" of the NBA.
The Santa Cruz Warriors are affiliated with the Golden State Warriors in San Francisco.
It's a fun way to watch up-and-coming players in the NBA make a name for themselves. Some of the players that have been through here recently include James Wiseman, Jonathan Kuminga, and Patrick Baldwin Jr.
At times, you will also see some of the Golden State Warriors stars playing here as they rehab from injuries. These include superstars like Klay Thompson, Jordan Poole, and the greatest shooter of all-time, Steph Curry.
I also enjoy watching the Santa Cruz Warriors games because I can often see young and up-and-coming players or stars from other teams who are rehabbing injuries as they come through here.
Their season usually opens in early November, and they play 32 regular season games. The season wraps up in late March and is followed by post-season play.
Their games are at the Kaiser Permanente Arena in downtown Santa Cruz. Being that the arena is small and only holds 2,505 people, you will always get a great view of the action.
20. Hiking Trails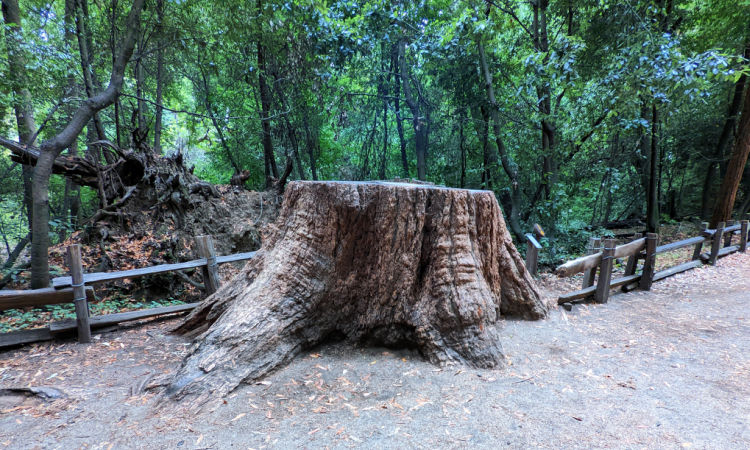 Santa Cruz is a fantastic place to visit for those that love to hike. You'll find fantastic coastal trails and dozens of hikes in the nearby Santa Cruz Mountains.
You'll also find everything from easy, flat trails to those that will really get your heart pumping.
Some of my top picks include the Redwood Grove Loop Trail in Henry Cowell Redwoods State Park, the Old Landing Cove Trail, and the Fall Creek Trail in nearby Felton.
21. Wilder Ranch State Park
The famous and attractive Wilder Ranch State Park occupies the site of a former dairy farm belonging to the Wilder family, who owned it in the 1800s. It is now a dedicated museum and home to several hiking, biking, and horse-riding trails that are among the best in the Santa Cruz area.
Many of the original ranch buildings have been beautifully restored and are now open to visitors to the museum. This includes a Victorian home that was built in 1897 and a classic rodeo site. Other sites include antique cars and old farm machinery, making for fascinating displays and spectacular ocean views.
While there is no camping permitted on the Ranch - and dogs are not allowed on the trails - it remains an attraction for people wishing to explore the beautiful local landscapes. You can also go cycling, and there are numerous routes to choose from, all of which have great views.
It is also a highly educational location where the history of dairy farming and living in the Monterey Bay Area is explained in a series of engaging and interesting displays.
There is plenty here to keep children occupied too.
The hours are from 8 am to sunset. The park center and store are open Wednesday to Sunday from 10 am to 4 pm.
22. DeLaveaga Park
In addition to the fantastic golf course mentioned above, this park offers several other fun things to do in Santa Cruz. You'll find a popular disc golf course, an archery range, and softball fields.
I also like the hiking trails here, with some offering views of its gorgeous golf course. All of the trails are service roads, which makes it easy to hike during those wet and muddy winter days.
Make sure to spend some time on the La Corona Trail, which leads you uphill to the highest point in the park, the "Top of the World" Lookout. There are a few benches to relax on, and just enjoy the view looking out over Santa Cruz and beyond when you arrive there.
23. Santa Cruz Museum of Natural History Museum
The Santa Cruz Museum of Natural History is a must if you are interested in learning about the rich natural history of the Santa Cruz region.
Covering everything from the Santa Cruz mountains to the marine life of Monterey Bay, this fascinating museum is famous for its magnificent collection of shells put together by a local lighthouse keeper.
The engaging collections of local marine life are positioned alongside exhibits that celebrate the coming of human life to the region in the early years and explain why this area was essential to man back in those days.
It's a genuinely eclectic museum with plenty to see and do. With regular events and special displays, I recommend you check the website for information about what may happen when you visit Santa Cruz.
There's a lot to see here, so set aside a few hours to enjoy your visit.
24. Walton Lighthouse
A famous landmark at the northern end of Monterey Bay, the Walton Lighthouse is a relatively new structure, dating from 2002 and erected by public subscription. Before they built it, there was a smaller light here, but the locals thought it wasn't pretty enough and wanted to have something more "their own," so they built this beauty.
The lighthouse flashes a green light every four seconds when in operation. Curiously, it originally featured a red painted band on the white background, yet seasoned seafarers argued that as it had a green light, it should have a green band, which it now does!
The lighthouse can be visited and is a fascinating landmark that guides the fishing boats and other vessels in and out of the busy harbor. It stands 41.5 feet tall and is quite impressive.
The trails around it are nice to wander around on if you just want a little quiet time to yourself. There is also a quaint gift shop if you want a little memento of your time spent here.
Fun Fact: The lighthouse is named after a local man, Derek Walton, a merchant seaman who was lost at sea during WWII. His brother Charles was among the major donators to the project.
Note: This is not to be confused with the more famous Santa Cruz Breakwater Light about 1.5 miles west above Steamer Lane that is mentioned previously.
25. Pacific Edge Climbing Gym
An unusual yet interesting attraction in Santa Cruz is the Pacific Edge Climbing Gym, where members and visitors can enjoy a different approach to health and fitness.
Pacific Edge is, as the name says, all about climbing, and they run sessions for children and adults. If you've never tried it, climbing is an incredible workout and fun adventure at the same time.
I love it here because instead of the same old boring workout, climbing walls add a lot of variety to exercise routines and are a fun and challenging method of improving one's health and confidence.
If you aren't into climbing and that type of workout, this Santa Cruz gym also runs yoga classes and other options to keep you healthy and happy.
I love that it has dedicated climbing instructors to teach newcomers and experienced climbers how to get the best out of an unusual and rewarding pursuit.
They have fun and exciting special events, programs, and camps, so make sure to check out their website. It's great fun, and you'll get a friendly welcome, whatever your level of climbing experience.
26. Farm Tours at USCS Farm and Alan Chadwick Garden
Part of the Santa Cruz USCS campus (also known as the UC Santa Cruz campus), the wonderful Farm and Alan Chadwick Garden look out over the magical expanse of Monterey Bay.
Casual visitors enjoy the sights and self-guided tour of the farm and garden, while agriculture professionals visit for advice and ideas on farming in the Bay Area. The farm is a fascinating working example of farming in the region.
Visitors will learn how to prepare fertile soil, conserve water, and grow garden plants and crops successfully.
Free guided tours are available occasionally - we recommend you check the website for dates and times - and a coffee shop and cafe make for a relaxing break after taking a walk through the site.
27. Felton
During your stay in Santa Cruz, make sure to head to the mountains to visit the historic town of Felton. It's the gateway to Henry Cowell State Park and features a cute, historic downtown area.
You can also visit the Bigfoot Discovery Museum, sample some local wine at Hallcrest Vineyards, and grab breakfast or lunch at the local favorite Rocky's Cafe.
As mentioned above, there are the always fun and entertaining Roaring Camp railroads if you want to ride the rails and just enjoy the scenery.
You can take either the windy, two-lane highway 9 to get here (the one I recommend) or take Graham Hill Road. The drive is about 10 to 15 minutes from Santa Cruz.
28. Old Lime Kiln Ruins
If you love hiking and history, then I recommend hiking in to see one of the largest Lime Kiln ruins in the area.
In the late 1800s, the Santa Cruz area was one of the largest Lime producers in the US. These kilns created the lime that built many of the buildings in Santa Cruz and those all around San Francisco.
The industry died off in the mid-1940s, but many old, abandoned lime kilns still sit in their original spots. Over time, many have become overgrown, but they are interesting to explore. The buildings around the area are really interesting also.
The shortest route to get here is to park at the small pull-out along Felton Empire Road near Kiln Road. Walk a half mile along this road until you come upon the Old Lime Kiln Ruins.
Another great one to explore is the Pogonip Historic Lime Kiln. You will have to do some hiking to get here, but it will be worth it. You'll find it on the western edge of Pogonip, a scenic open space north of Santa Cruz.
29. Moore Creek Preserve
The city of Santa Cruz obtained the magnificent Moore Creek Preserve in 1998, and now this charming 246-acre slice of city greenbelt is a glorious place featuring many rare and endangered plants.
Not only that, but it is also a 2.5-mile round-trip trail that is open to walkers only. Dogs, bikes, and horses are not permitted in the Moore Creek Preserve, so it is incredibly peaceful and quiet almost any time of the year.
The trail takes you through many aspects of local wildlife, including riparian forests, coastal prairies, and wildflower meadows. You should look out for the rare red-legged frog and San Francisco Popcorn flower, among other scarce species.
There is no parking on site, but cars can be parked close by, and the Preserve is open from sunrise to 7 pm in summer and until 4 pm in winter.
30. Whale Watching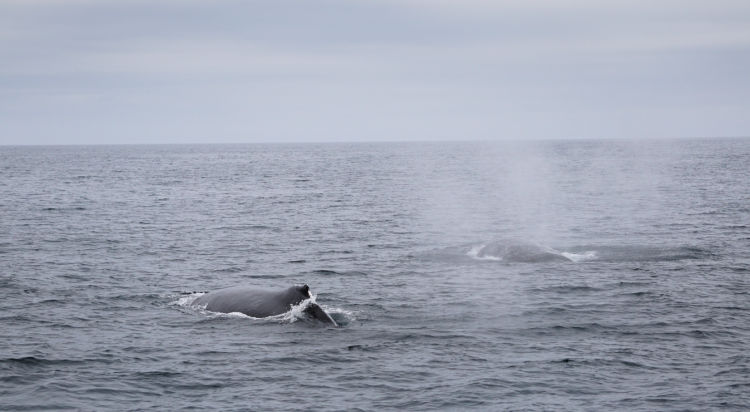 Monterey Bay is one of the best places to go whale watching in the world, and it's a fun experience when visiting Santa Cruz.
With its deep waters and rich marine life, whales love to feed here during their migration. Some of the whales you might see here include Humpback Whales (typically April through November), California Grays, fin, killer, and blue whales.
You will also get the chance to see dozens of other animals on your whale-watching adventure, including harbor seals, sea otters, dolphins, and a wide arrange of birds.
Whale watching in Santa Cruz, California, is really an adventure unlike anywhere else you can see in the world.
>> Find out more about Stagnaro Charters whale-watching cruises
>> Find out more about whale watching in Monterey Bay
31. Santa Cruz Riverwalk
The Santa Cruz Riverwalk is another fun place for outdoor lovers to explore. It features a multi-use path along the San Lorenzo River in the heart of Santa Cruz.
You can walk, run, or cycle along this path. It's also great for those traveling with dogs (just keep them on a leash). If you want even more of a workout, they have built exercise equipment alongside the path.
If you get tired or want to kick back and enjoy the view, there are benches along the path. However, there are no restrooms on the Santa Cruz Riverwalk, so make sure to plan ahead.
You'll find trails on both sides of the river from Highway 1 down to the Santa Cruz Beach Boardwalk.
Comments? Questions? Suggestions?
I would love for you to join me in my private Facebook group! 
It's a great place to interact with me and others who know the area well.
You can ask questions, get advice for your upcoming stay, and then share your photos and advice with others when you return home. It's a great community and the fastest way to get answers to those nagging questions about your visit!