Muir Woods National Park: Top Tips & What to Expect During Your Visit

by Jill Loeffler  •

Updated: January 13, 2022
Founded in 1908, Muir Woods National Park is a popular attraction about 30 minutes north of San Francisco. Most people don't realize this, but it's one of the only places in the world where you can still see indigenous Coastal Redwood trees.

The park is open 365 days a year, so it's the perfect item to add to your San Francisco itinerary. It opens at 8 am each day, but closing times differ depending on the season. Parking and ticket reservations are required for your visit.
How long should you spend in Muir Woods? If you plan to explore the main area, I recommend setting aside a couple of hours for your visit. If you plan to hike one of the longer trails, you could spend up to 3 to 5 hours hiking around it.
In my opinion, the best time to visit is early in the morning as the fog is still hanging around the park. It gives it a mystical and peaceful feel to it. If you plan to stay for a couple of hours, the fog will sometimes burn off and you can see its beauty in the sun too!

Discover more here about some of the best tours to take if you don't want to drive, and new rules for Muir Woods parking if you do plan to drive.
What You Will See in Muir Woods National Park

This species of redwoods is a close relative to the Giant Sequoias (which you can find a few hours away from SF). The Coastal Redwoods thrive in this area due to its cool, foggy climate all year long.
The average age of the trees here is between 600 to 800 years old. They original thought the oldest tree was around 1,200 years old, but recently found out it's around 800 years old.
Even though this seems quite ancient, this forest is actually relatively young, as redwood trees can live for up to 2,200 years.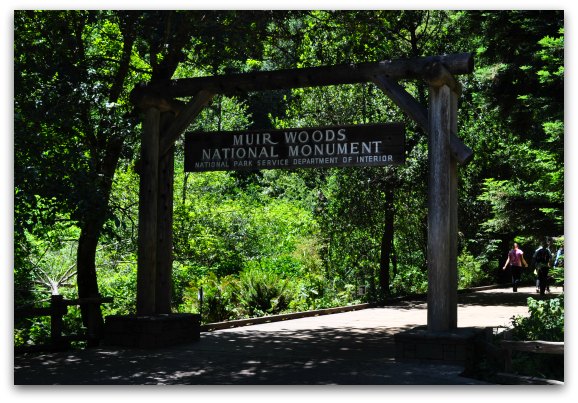 One of the best things about visiting this park is that the redwoods are easy to access. Instead of having to trek miles into it, you will see the trees the minute you enter the park. 
Muir Woods National Park is easy to explore for almost everyone since the main wooden walking paths are flat, wide and well maintained. It is wheelchair accessible, but only service dogs on a leash are allowed in also.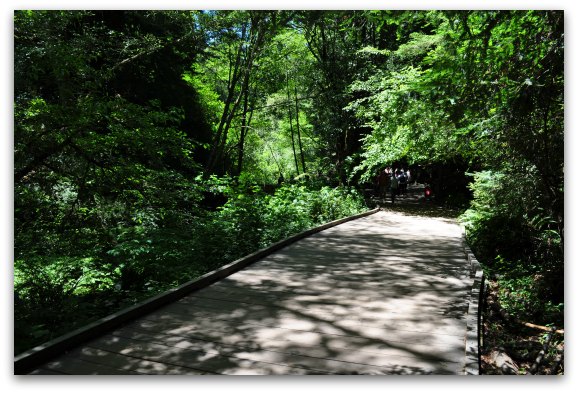 Along the main wooden trails, you will also get the chance to learn more about these rare trees. I love that every few feet, you will find educational signs and displays. 
One of my favorites is this display that shows the growth pattern for a 1,000+ year old redwood.
The inner circle shows that it started growing around 909 A.D.

The outer circle shows important dates in US history, so you get a sense for the types of events that happened during this tree's life. The final marking shows the date when the tree fell.

How tall are these trees? According to the National Park Service, the tallest redwood currently in Muir Woods National Park is around an amazing 258 feet tall.
These pictures give you a sense of their height. 
You will find about two miles of flat trails in the canyon area of the park. This includes four bridges that allow you to easily loop around the park and see a number of these gorgeous trees.
Most people follow one of the three main trails mentioned below. The estimated times listed include time to stop along the way to read the signs and take pictures. I also included the total distance, so you get a sense of what is included with each loop.
Bridge 2 Loop: On this walk, you will go all the way to Bridge 2. After you cross the bridge, head to your left. This takes you back to Bridge 1 and puts you on the main trail where you started. This walk is about a half mile and takes 30 minutes.

Bridge 3 Loop: Take the main trail all the way to Bridge 3. Cross the bridge and head to your left. You will again walk all the way to the end, cross Bridge 1 and return to the main trail. This loop is about 1 mile and takes about an hour. 

Bridge 4 Loop: Walk the main trail all the way to end which is where you will find Bridge 4. Walk across the bridge and take a left to head back to the entrance. After that, you will along this second path all the way to Bridge 1. After you cross this bridge, you will be back on the main trail near the park entrance. This loop is about 2 miles and takes about one and a half hours. 
>> Additional National Parks to visit in Northern California
Great Guided Tours from San Francisco
Other Redwoods Near SF: Are you looking for additional options to check out the redwoods during your visit? Check out my list of other options nearby including what to expect from your visit and how far away they are from SF.

Longer Hiking Options

In addition to the flat, wooden walking paths, there are also several great hiking paths within the park. The 560-acre park has a total of 6 miles worth of trails. The four additional miles are unpaved routes that take you up and down hills.
Once you reach the edges of the park, many of these trails link up with longer trails on Mount Tamalpais. If you want to learn more about these routes, you can pick up a hiking map at the entrance to Muir Woods National Park.
NOTE: Bikes are not allowed in the park.
Restrooms, Gift Shop and Cafe

On the eastern side of the main trail, which is near to Bridge 1, you will find the restrooms, a gift shop and a small café. It's the perfect place to relax or fuel up either before or after your hikes.
There is another set of restrooms and a small gift shop at the park entrance. 
The café is open from 10 am and runs until 1 hour before the park closes. There are picnic tables outside it. The retail store hours are from 9 am and also close 1 hour before the park closes.
Admission & Visiting Hours

Admission to the park is $15 for adults 16 years and older. Everyone 15 and under gets in free.
American the Beautiful - The National Parks and Federal Recreation Lands Pass is accepted here for the pass holder and up to three other adults.
Veterans and Gold Star Families can visit for free.
Visiting Hours

The park is open every day of the year including holidays. The park's hours change based on the season and when the sun goes down. Here are their typical hours by season.
Winter: 8 am to 5 pm
Early Spring: 8 am to 6 pm
Late Spring: 8 am to 7 pm
Summer from Memorial Day Weekend to Labor Day: 8 am to 8 pm
September After Labor Day: 8 am to 7 pm
Fall: 8 am to 6 pm
Disclaimer: I receive a small commission from some of the links on this page.

Muir Woods National Park Tours

Many people opt to take a tour to Muir Woods National Park. This option saves you the hassle of renting a car for the day and dealing with bay area traffic. It also means you don't have to fight for parking, which is really difficult here on the weekends and during the busy summer months.

Muir Woods & Sausalito + One Hour Golden Gate Bay Cruise

Since Muir Woods isn't that far from SF, most people stop in Sausalito either before or after their visit. This tour combines a trip to both. It also includes a 60-minute narrated cruise around the bay.
Leaves at 9 am or 11 am and lasts about 5 and a half hours
First stop at Vista Point where you will get fantastic Golden Gate Bridge photos
Second stop is in Muir Woods, where you will spend about an hour (admission to the park is included)
Stop in the small town of Sausalito, where you can shop, grab lunch or walk along the waterfront
Finally, you will enjoy a one-hour cruise around the SF bay
Tour runs all year long and includes an expert guide with commentary
Price per person starts at $125.00
Muir Woods & Wine Country Full Day Tour

If you want to visit both Muir Woods and California's Wine Country, then this is the tour that I'd recommend for you. This full day tour lasts around 9 hours and is full of activities.
Leaves around 7:30am
Starts in Muir Woods where you will spend about an hour (park admission fee not included)
Wine tasting at 3 wineries (tasting fees included)
Have lunch in the gorgeous Sonoma Plaza
Spend up to 45 minutes at each of these wineries
Save up to 20% vs. booking the two trips separately
Tour runs all year long and includes an expert guide
Price per person starts at $169
NOTE: You can also book this as a private tour if your group has up to 20 people.
Here are a few other top Muir Woods tours.

More Top Day Trips from SF

Other Ways to Get Here

By Car & Muir Woods Parking Tips

The next best option (aside from the tours) to get to Muir Woods National Park is to drive. It's an easy drive across the Golden Gate Bridge through Marin County. From most places in San Francisco, it's about a 45-minute drive.
The drive is gorgeous. After you leave 101, you will drive along a winding road that weaves back and forth through part of the Golden Gate National Recreation Area. You will see some great views of the forest and in some spots, you can see the Pacific Ocean.
Reservations for Parking & Shuttles

All personal cars will need to have a parking reservation to visit Muir Woods. This new policy helps relieve parking issues here and make it safer for everyone.
The cost to park is $9 for a standard sized car. If you have a medium sized vehicle (17 to 22 feet), it will cost $30. For all large sized vehicles (22 to 35 feet), the prices is $45.
You will also pay the normal admission price to enter the park.
Muir Woods National Park Shuttle

You will also be required to make a reservation when using the shuttle.
There are two shuttle stop locations. Both are in Marin at the following locations.
Bay & Bridgeway, Sausalito, CA 94965. Small amount of paid parking, a great option for those coming over on the Sausalito ferry.
Larkspur Landing: Near the Larkspur ferry
The shuttle runs on all weekends and holidays.

You are required to make a reservation for this shuttle. The cost of the shuttle is $3.50 per person for a round trip ticket.
The shuttle allows for up to two wheelchairs at a time, so if you are bringing one, you probably want to book as far as possible in advance. Only service dogs are allowed on the shuttle.
The registration system is now open. Visit their site for more information and to book your parking spot or shuttle ride.
What to Wear During Your Visit

I recommend wearing layers during your visit here. It's often cool, foggy and moist in the mornings and warmer in the afternoons. 
However, even if it is sunny before you arrive at the park, don't let the weather forecast fool you. The tall trees block the sun, so even on a warm day, it might still be cool in the park.
Here are some average Muir Woods temperatures to help you plan for your visit:

July, August & September are the warmest with high temps in the low 80s
April, May, June & October are mild with highs in the mid-70s
February, March & November have highs in the mid-60s
January & December are the coolest months with highs in the mid to upper 50s
You will also want to prepare for rain between late October and late March.

I also recommend wearing comfortable, flat shoes or tennis shoes. Even though the walkways are wooden, the parking lots are dirt. 

You will also be happy with comfortable shoes if you end up having to walk down the gravel roads to get to the park entrance.

Here are some additional tips for what to wear each month when visiting SF.

More SF Attractions You Will Enjoy