San Francisco Weather in December: What to Wear, What to Pack, & More Visiting Tips
San Francisco weather in December is cool and breezy with some light rain. The city is beautiful this time of year as it's lit up for the holiday season. It's also warmer than most of the US and other places in the Northern Hemisphere.

Even though it's our rainy season, you will find it's still easy to get around town to see all of our attractions and attend some of our holiday shows. On rainy days, you will find that the rain is typically light and a coat with a hood will protect you enough and keep you warm.
To help you prepare more for your stay, I've included a few additional pieces of information about the weather this month, a list of items to pack for your stay and a few of my favorite things to do. In addition, you will find a few of my favorite places to find deals around SF.
The San Francisco weather in December brings in both sunny and rainy days. The picture above is a bright, sunny day in late December. You will find many days like this throughout the month.
On rainy days, you will find that the light rain is easy to get around in. We don't typically get big storms with pouring rain. The rain here is usually light drizzle mixed with rain and it might last for several hours or all day long.
During the day, you will find highs in the mid-50s. It will dip down into the mid-40s after the sun goes down.
Here are a few more details on the San Francisco weather in December.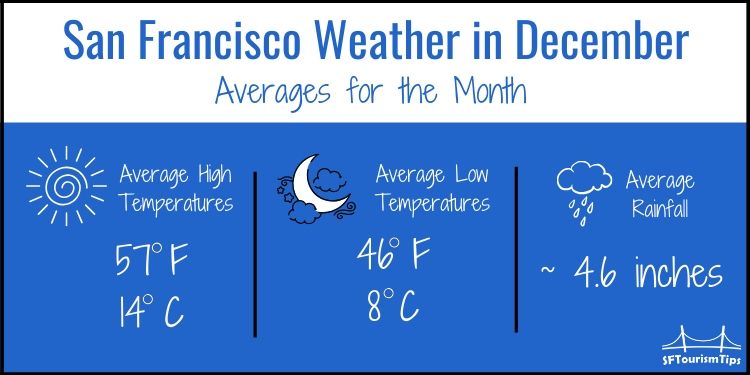 Average High in December: 57° F/14° C
Average Low in December: 46° F/8° C
Average Monthly Rainfall: 4.6 inches
Record High: 76° F/ 24° C (12/12/1958)
Record Low: 28° F/-2° C (12/22/1990)
Disclaimer: I receive a small commission from some of the links on this page.

What to Pack for the San Francisco Weather in December

With the San Francisco weather in December bringing both sun and rain, you will need to bring along clothes that you can layer. This will allow you to add and remove items as needed to stay dry or to not overheat on a sunny day.
For women, here are some recommendations.
---
---
---
---
| | |
| --- | --- |
| | Shoes: Comfortable walking shoes and ones that you don't mind getting a little wet. This can be key to making your stay a little more enjoyable. |
Here are some recommendations for men.
| | |
| --- | --- |
| | Jackets: I also recommend a medium weight jacket with a hood on them. This will keep you warm and dry on those cool rainy days. You also won't have to carry around an umbrella. Find more here.  |
---
| | |
| --- | --- |
| | Shirts: I recommend brining a few long sleeved, medium weight shirts and/or sweaters. This will keep you warm if you decide a jacket is too much some days. Find more here. |
---
| | |
| --- | --- |
| | Jeans/Pants: Jeans or pants, casual is fine for most places here. I do recommend long pants as it is cool this time of year. More ideas on Amazon here. |
---
| | |
| --- | --- |
| | Shoes: Comfortable walking shoes and ones that you don't mind getting a little wet. This can be key to making your stay a little more enjoyable. Here are some additional ideas. |
This should give you a nice variety of items to stay warm, but not get too hot.
If you plan to head out on an SF Cruise, you will find plenty of seating both indoors and out. I typically take along a heavier jacket for these trips, so I can enjoy the sights from outside. The cool wind off the water makes it feel quite a bit cooler, but it's nice and refreshing.
You will also want to wear something a little warmer when you walk across the Golden Gate Bridge. It's windy on the walkways, so make sure to prepare for it to be cooler during your walk.
>> More about what to wear when you visit
5 Fun Things to Do in SF in December

1. Check out the Christmas lights: All around town, you will see Christmas light displays. Some of the most popular are in Fisherman's Wharf and Union Square. Find a list of the best ones each year.
2. Enjoy some Christmas Eve & Day activities: There are plenty of activities to keep you busy on Christmas Eve & Day. You will also find that many restaurants and shops are open for the holidays, so you can pick-up last-minute gifts. Use my insider's guide to plan a special trip during Christmas time.
3. Watch the fireworks on NYE: Thousands of people flock to the water's edge in front of the Ferry Building to ring in the new year. The annual fireworks display starts at 11:59 and runs for around 15 to 20 minutes. More details on attending this free event.
4. See a Santa around SF: If you plan to visit SF with your kiddies, then make sure you stop by and say hi to Santa. He will be on hand at several locations around the city. Find a full list here.
5. Catch a performance of the Nutcracker with the SF Ballet: The SF Ballet was the first company in the US to perform the Nutcracker. It's become a holiday tradition for many and one of the most sought after tickets this month in SF. Find out more about the show and how you can get tickets during your stay.
More Fun in SF this December

>> Good rainy day activities all around SF
>> Where to find our amazing Diego Rivera frescos
Where to Stay in SF

Are you looking for the perfect place to stay during your visit? Most people stay in either Union Square or Fisherman's Wharf. If you are looking for some great discounts during your stay, check out the deals on either Booking.com or TripAdvisor.

Not sure if you should stay in Fisherman's Wharf or Union Square? Check out my page that gives details about each district so you can select the one that is right for you.

Comments? Questions? Suggestions?
I would love for you to join me in my private Facebook group! 
It's a great place to interact with me and others who know the area well.
You can ask questions, get advice for your upcoming stay, and then share your photos and advice with others when you return home. It's a great community and the fastest way to get answers to those nagging questions about your visit!