San Francisco Christmas Lights 2022: Where to See Holiday Decorations All Around Town

by Jill Loeffler  •

Updated: December 23, 2022
San Francisco Christmas lights are one of my favorite things about the holidays. You will find colorful displays all around town including Union Square, Fisherman's Wharf, and City Hall.

Throughout the holiday season, you will find Christmas trees, buildings lit in traditional green and red, and other holiday decorations. My list includes displays on public buildings as well as some of the most colorful lights on private residences. 
Disclaimer: I receive a small commission from some of the links on this page.

Union Square

Sparkling Union Square acts as the centerpiece to SF's downtown commercial district, especially during the holidays.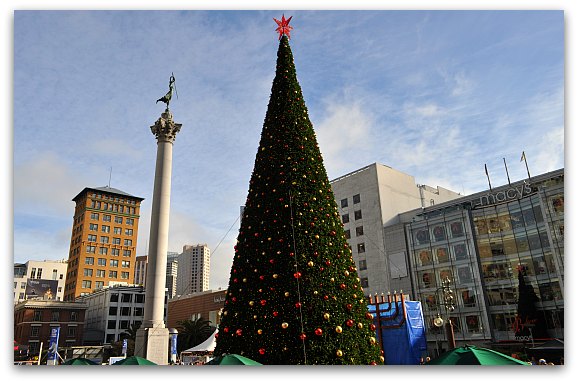 Not only will they have a huge Christmas tree lit up with over 33,000 twinkling lights and 1,100 ornaments, there will also be an ice skating rink and plenty of Christmas decorations in all the store windows surrounding it.
This is a festive part of town to walk around and do some holiday shopping.
There will be no large celebration during the lighting this year, but the tree is now lit and will be until the end of the year. 
>> More to see and do in Union Square
Pier 39

Note: Due to the extreme weather this year, the Pier 39 tree dried out and for safety, they had to remove it early. It is no longer on display.
One great place to find San Francisco Christmas lights is at Pier 39, where the magnificent 60-foot-tall Christmas tree will be glistening every night during the holiday season.
It will also offer a light show every half hour between 5 pm and 10 pm.
Pier 39 is one of San Francisco's the premier tourist destinations for its variety of restaurants, shops, family activities, and proximity to the waterfront and ferries.
This is a great place to hang out and soak in the holiday cheer.
>> Find out more about visiting Pier 39
Fisherman's Wharf Sign

The perfect place to take a holiday photo with San Francisco Christmas lights is at the Fisherman's Wharf Sign, which will be decked out for the season. It's a lovely postcard image to show friends and family that you enjoyed your holiday vacation in SF and visited the top attractions.
>> Fun things to do in Fisherman's Wharf this holiday season
Illuminate SF
You will find colorful light displays all around San Francisco with this year's Illuminate SF. The event takes permanent structures and art installations and adds colorful lights to make them even more beautiful. 
Here are just a few of the most popular spots to check out.
Grant Avenue in Chinatown: After dark, Grant Avenue at California Street will feature some new brightly colored lanterns. You will find 29 illustrated lanterns in this area that show the history, culture, and local celebrities.
Conservatory of Flowers: Head over to the Conservatory of Flowers starting on December 2 for its nightly Psychedelic Photosynthesis display. It's a step back in time to the Summer of Love and offers a beautiful and colorful display.
Bill Graham Civic Auditorium in the Civic Center: This installation is called W.F.T. It stands for Word Family Tree and shows the history of this building. You can see it anytime after dusk.
>> Visit their site for a full map of locations
Sugar Castle at the Westin St. Francis
For the first time since 2019, the Westin St. Francis in Union Square will display their famous Sugar Castle. Created by Executive Pastry Chef, Jean-Francois Houdre, it will sit in the hotel lobby through the holidays.
They will unveil this year's design on November 23.
They will also feature a Sweet Boutique where you can buy gingerbread "Castle Bites" and other goodies. The boutique is open November 26 0 December 18 on Saturday and Sundays from 11 am to 4 pm.
Macy's Holiday Windows

Macy's, the biggest department store in San Francisco's Union Square, has made it a holiday tradition to decorate their store windows with elaborate displays that bring joy to all passersby on Stockton and O'Farrell Streets.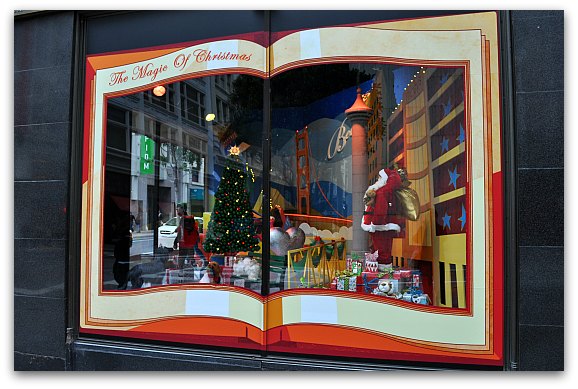 Stop by to check out their gorgeous window displays. This year will once again feature adoptable animals within their displays. 

It will run through the end of the year.
Market Street Lights

Market Street is the spine that runs through downtown San Francisco, always full of cable cars, shops, cafes, and people bustling to and from work. With so much action, it only makes sense that during the holidays, this street take on an especially bright, cheerful look.
Starting in mid-November, lights will be illuminating this thoroughfare. Check it out on your way to Union Square or the Embarcadero.
Gingerbread House at the Fairmont

The Fairmont, one of SF's grandest hotels, has a long tradition of creating elegant Christmas displays designed to enchant its guests and the public. The highlight every year is the completely edible two-story gingerbread house in the lobby.

Head over to the Nob Hill neighborhood to admire the details and aroma of this extremely sweet holiday treat. This fun event opens on Thanksgiving Weekend and runs until the first of the year.
>> Additional fun things to do in Nob Hill
More Fun Holiday Activities

Lighted Boat Parade

On Friday, December 16 starting at from 6 pm, you can watch a parade of boats lit up with holiday decorations cruise along the SF waterfront. This event is set up by the St. Francis Yacht Club.
Head down to the Marina Green or Crissy Field to watch the parade of lights! 
Parol Lantern Festival and Parade

The Parol Lantern Festival is a Filipino-American holiday tradition that showcases some of the most unique and festive San Francisco Christmas lights. The  annual event will take place on Saturday, December 10, 2022.
Leading up to that day, the Bayanihan Community Center will be offering workshops teaching the public to make the colorful, star-shaped lanterns, which will then be displayed at Yerba Buena Lane. These lanterns are an important symbol of peace, hope, luck, and light.
Outside Lights at City Hall

Every year, SF City Hall gets into the Christmas spirit by glowing red and green throughout the holiday season. Normally shining white with its beautiful golden dome, the alternating colors on its columns really make this architectural gem a treat to look at on cold winter nights.

The best place to snap your photos is from the Civic Center Plaza on the eastern side. You can easily get here by taking BART or Muni light rail to the Civic Center Station and walking two blocks west.
For the first time this year, you will also find an entire Winter Wonderland near City Hall. It will include outdoor ice skating, a skating track, and lights on the plaza's line of trees.
>> More details on visiting City Hall
World Tree of Hope at Grace Cathedral

Beginning December 5, 2022 with the annual tree lighting ceremony, you can stop by anytime to see the dazzling Tree of Hope on display in Grace Cathedral. At 22 feet tall, it is the largest origami-decorated Christmas tree in the world.
It's covered in over 15,000 handmade paper cranes and stars that each contain hopeful messages for the future contributed by people of all nationalities. Simply walk inside to visit.
It will be on display through January 7, 2023.
>> Use the Hop On Hop Off to get here
>> Read more about visiting Grace Cathedral
Tom & Jerry's Christmas Tree

Every year since the 1980s, this adorable Victorian home and the 65-foot pine outside of it are transformed into a larger-than-life outdoor Christmas living room, with giant stockings and teddy bears hanging from the fireplace-garage, and enormous colorful presents surrounding the gigantic tree.
This local favorite of the Castro neighborhood is worth a visit and a photo op. You can stop by 3650 21st Street any day during the month of December, and on some nights, you may even enjoy a visit from Santa.
Tree Lighting Ceremonies & Other Holiday Events

Every year, all around San Francisco and the Bay Area, you can be part of the holiday season kickoff by attending tree lighting ceremonies in public squares, parks, shopping centers, and more. Many of these events feature live entertainment, refreshments, family activities, or a visit from Santa in addition to the fabulous decorations.
Beyond Christmas trees, there are also menorahs, giant gingerbread houses, snowflakes, and more on display. Click the link below to find dates and times to enjoy these ceremonies and San Francisco Christmas lights displays.
>> Find a full list of events here
Things to Do on Christmas Eve & Day

Make your Christmas in the City by the Bay a special one! In addition to viewing the San Francisco Christmas lights, you'll find lots of special holiday events going on, including Christmas Eve performances of The Nutcracker ballet, musicals, bay cruises, and more.
On Christmas day, some attractions will be closed, but many of them you can still visit! Find out which sights will be open, ticketing information for shows, restaurant recommendations, and more for these special days.
>> Discover a full schedule of things to do this Christmas
Where to See Santa

Santa Claus is a busy man, but he manages to make his rounds to the major malls, Christmas displays, and family attractions in San Francisco. He'll make several appearances this season.
Click on the link below to find out exact locations, dates, and times, so you can plan your kids' visit with the jolly man in the red suit. Get your wish lists and cameras ready!
>> Where to see Santa this holiday season
SF Ballet's Nutcracker

Apart from the many San Francisco Christmas lights, one of the most popular attractions of the holiday season are the December performances of The Nutcracker by the SF Ballet.
This company was the first to bring this Russian holiday classic to the US. The timeless Tchaikovsky score, colorful costumes, and enchanting scenes are a wonderful treat for the whole family.
>> Find out more about this year's Nutcracker performances
Comments? Questions? Suggestions?
I would love for you to join me in my private Facebook group! 
It's a great place to interact with me and others who know the area well.
You can ask questions, get advice for your upcoming stay, and then share your photos and advice with others when you return home. It's a great community and the fastest way to get answers to those nagging questions about your visit!