San Francisco Attractions
25 Must See During Your Stay
NOTE: Click here to stay up-to-date with what's open and opening soon.
San Francisco attractions range from the gorgeous Golden Gate Bridge to the infamous prison on Alcatraz Island. The city is also known for its colorful Painted Ladies of Alamo Square, its historic cable cars and one of the crookedest streets in the world, Lombard Street.
Other highlights on my list of the top 25 must see include some of our top districts such as Chinatown, Fisherman's Wharf, and the Haight-Asbury neighborhood. Read on for details about each one including tips on what to expect from each one during your stay.
Disclaimer: I receive a small commission from some of the links on this page.
1. Alcatraz Island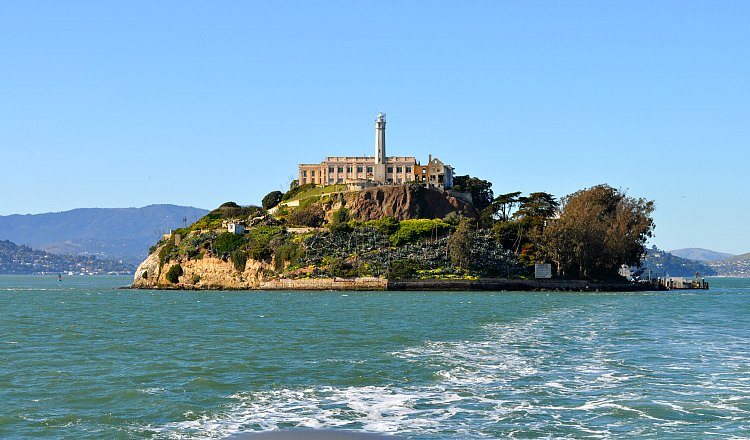 One of the top San Francisco attractions is Alcatraz Island. This old prison complex originally was opened in the mid-1850s as a US military fort. In the early 1900s, it was turned into a military prison. Finally, in 1934, it became a maximum-security federal penitentiary.
You will recognize many of the prisoners that served time on "The Rock." The most notable include Al Capone, Robert Stroud (the Birdman of Alcatraz) and Machine Gun Kelly.
The last federal prisoner left Alcatraz in 1963 as the prison shut its doors. In 1973, the island opened to the public for tours.
Each ticket to visit Alcatraz includes a ferry ride to and from the island, a self-guided audio tour of the main prison building, and a chance to explore several other buildings while you are there. I recommend setting aside a few hours for this trip. I also recommend getting tickets so your trip leaves as early as possible since you want to have as much time as possible to see the whole island.
Current Status: Alcatraz is open and offering outdoor tours only. You can also book your tickets through the end of December instead of their normal 90 days window. I'm not sure when they will open for indoor tours but will update you when they do.
>> Find out more about the night tour
You can also save on your visit by buying a combo tour. They include tickets to Alcatraz as well as an additional tour or activity. These are just some of my top picks.
2. Golden Gate Bridge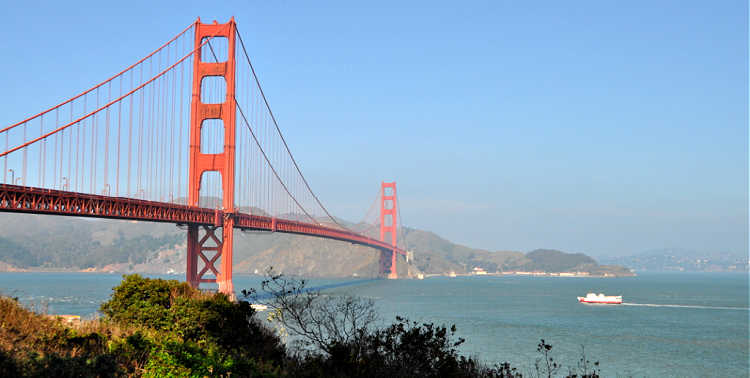 The Golden Gate Bridge is another one of the most visited San Francisco attractions. This 1.7-mile gem connects San Francisco with Marin County and points farther north.
Originally finished in 1937, this free attraction in San Francisco opens its doors daily to visitors. The eastern side of the bridge has a large sidewalk for pedestrians. It opens just before sunrise each morning and closes after dark each night.
Either before or after your walk on the bridge, make sure to check out the small museum on the southern San Francisco side. You will learn a little more about the bridge including some fun facts and history about it.
You will also find a gift shop, snack shop, and a small restaurant on the same side.
>> Tips on the best places to take pictures of this beauty
You can also get great views of our famous bridge on one of these SF cruises. These are just a few of the best-selling options.
3. Cable Cars

Another one of the must see (and must ride!) San Francisco attractions is our historic cable cars. These cars have been cruising around SF's streets since 1873.
In the late 1800s, many wealthy SF residents were building or living on the top of some of our highest hills. It was difficult for the horses and carriages to safely get up and down these hills. That is why the city of San Francisco started to build cable car lines.
By 1889, we had 8 different cable car lines running through the city.
Today, there are still 4 lines running that service three cable car routes. Two of them run from Fisherman's Wharf to Union Square. The third runs up the hill from the Financial District to Nob Hill.
Current Status: The cable car drivers interact closely with all passengers, so it will be sometime before the they reopen.
>> More about our cable cars and tips to ride them
>> Learn all about the history of these rolling attraction at its designated museum
4. Twin Peaks
If you are looking for some of the best views of downtown San Francisco and the surrounding areas, then head to the top of Twin Peaks. This outdoor, free SF attraction features two hills which tower 922 feet above sea level.
The two hills are located in the center of San Francisco, so you can see all the way from the SF Bay to the Pacific Ocean. You can also get great views of the Golden Gate Bridge and Alcatraz Island.
There are several viewing areas, so spend some time exploring for the best views all around.
Current Status: Twin Peaks is open and welcoming hikers. However, the street that runs up to the parking lot is available for pedestrians only. To get to the top, you will need to hike from the bottom.
>> Additional free attractions in San Francisco
What to Wear in SF by Month
Not sure what to pack for your visit? Check out my recommendations for each month of the year!
January | February | March | April | May | June
5. SF Museum of Modern Art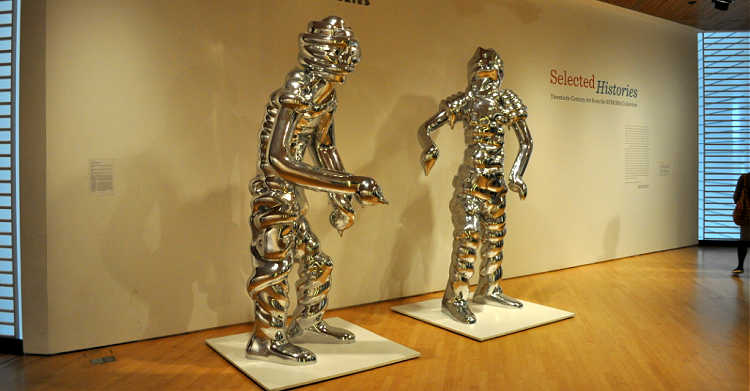 The newly remodeled SF Museum of Modern Arts is a must visit for modern art lovers. This top-rated museum is home to more than 30,000 pieces of art that include photography, paintings, sculptures and much more.
Some of the most well-known artists with pieces in their collection include Pablo Picasso, Henri Matisse, and Diego Rivera. You will also find works from Alexander Calder, Clyfford Still, and John Baldessari.
This is one of the top San Francisco attractions and you will find it in the South of Market (SOMA) district. If you don't have time to visit the entire museum, make sure to stop by their lobby as they have a few wonderful pieces on display that you can see for free. The architecture of the museum is a work of art also so make sure to check it out.
6. Palace of Fine Arts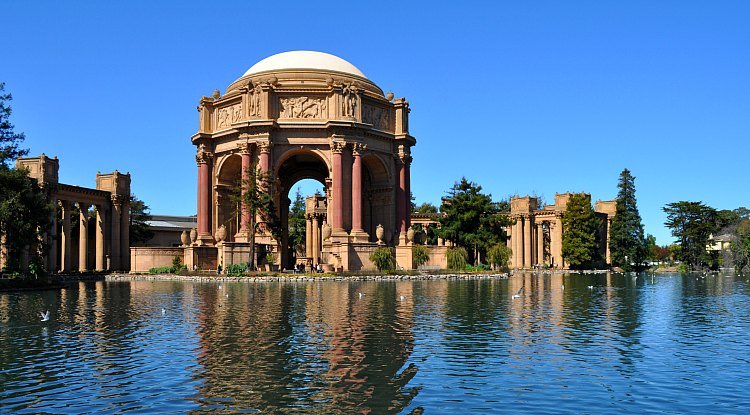 The Palace of Fine Arts is a free attraction in San Francisco's Marina District. It was originally built for the 1916 Panama Pacific Exposition, an important event that put SF back on the map after the devastating 1906 Earthquake and Fire. It's only one of the structures from the event that is still standing.
The buildings for the expo were designed to only stay standing for a short period of time, so by the late 1950s this building need a significant amount of retrofitting. This is the reason the building was taken down to its frame and almost completely rebuilt in 1965.
During your visit here, you will get the chance to walk along the gorgeous outdoor paths, get a closer look at the detail of its design, and take some amazing pictures. It's also one of my favorite places for a picnic or to just spend time relaxing on the lawn.
You can stop by during the day or at night when it's beautifully lit.
Current Status: This outdoor attraction is open. Since there are no indoor areas, you will be able to roam around freely.
>> Details about the Palace of Fine Arts and tips to visit
7. Lombard Street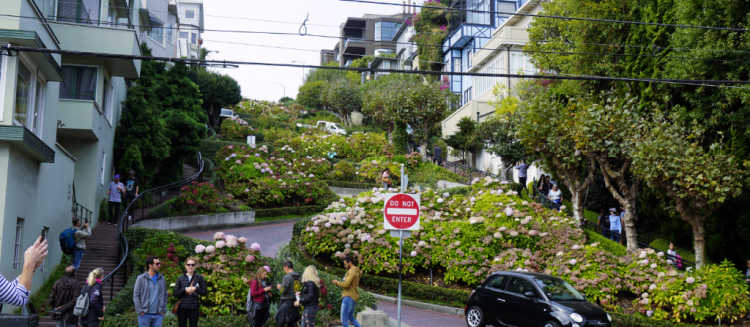 Have you heard about the "crookedest street" in San Francisco? That would be the next on our list of top San Francisco attractions, the crazy cornered Lombard Street!
This street features 8 hairpin turns all within a one block section between Hyde and Leavenworth Streets. You can walk down its sidewalks and admire its gorgeous flowers or take your turn at SLOWLY driving down it.
The best views of this free attraction are from the bottom of it at Leavenworth and Lombard Streets. If you do plan to drive, make sure to arrive as early as you can in the morning as there is often a wait of an hour or longer to drive down it.
Current Status: No changes here except you will want to be careful to maintain social distancing. Otherwise it's open for both pedestrians and cars.
Insider's Secret: You will find a second very crooked street in San Francisco on Vermont Street in the Potrero Hill District. It has 5 full and two half turns between 20th and 22nd Street. It's not as colorful or famous as Lombard Street, but it's one of our little-known hidden gems.
>> More tips about visiting Lombard Street
8. Fisherman's Wharf & Pier 39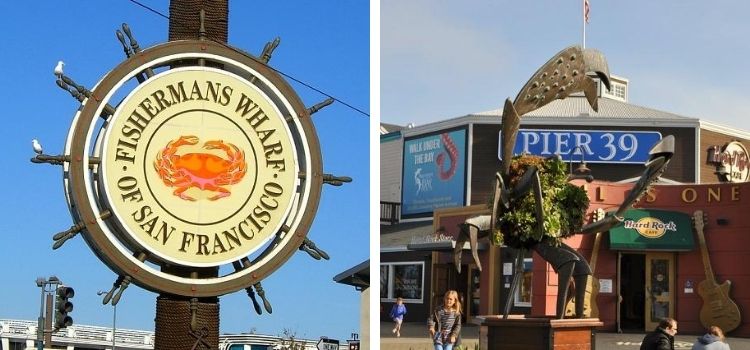 As you would guess, the most famous district in San Francisco is Fisherman's Wharf. It's home to Pier 39, the Wax Museum, and our beautiful bay cruises. In this waterfront district, you will also find the wonderful Ghirardelli Square, the Maritime Museum, and ferries to Alcatraz Island.
On Pier 39, you will find a variety of fun things to do including the 7D Experience, a mirror maze and free kids shows. It's also home to dozens of wonderful shops, restaurants, and our famous sea lions.
While some add this to their "do not visit list" because it can be busy and crowded, I always recommend it as it's the hub of so many fun attractions, museums, and other activities.
Current Status: I have this as both open and closed as it covers a large area. Pier 39's shops are open and many of its restaurants are offering outdoor dining. Some of the museums and attractions in Fisherman's Wharf are closed, but it also has outdoor dining, shopping, and cruises running.
>> Get an overview of Fisherman's Wharf
>> Find more details about Pier 39
9. California Academy of Sciences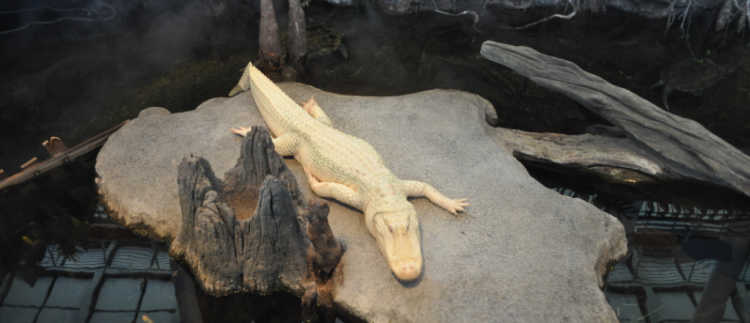 Head over to Golden Gate Park to find one of the great kid and family friendly San Francisco attractions. It is actually 4 museums in one with a planetarium, a history museum, a 4-story rain forest (my favorite!), and an aquarium.
During your visit here, make sure to stop by and say "Hi" to Claude, the rare white alligator, and spend some time watching the penguins play (you can watch them eat at 10:30am!).
I typically plan to stay for at least 3 or 4 hours as there is SO much to see and do here.
The California Academy of Sciences also offers special behind the scenes tours and an adult-only event most Thursday nights.
>> Check for skip the line ticket availability
10. Golden Gate Park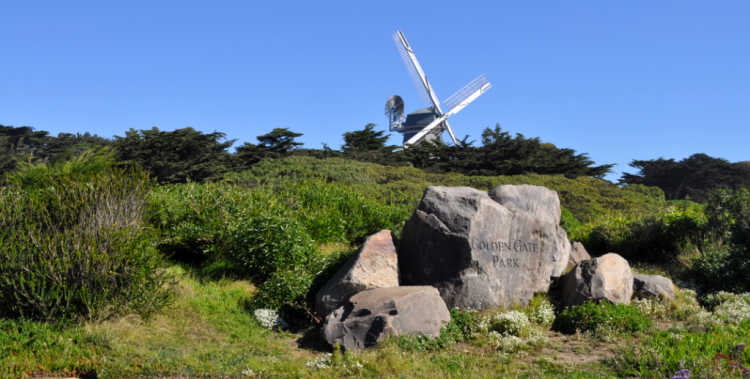 Inside Golden Gate Park you will find almost a dozen attractions and activities. This 1,000+ acre man-made park is home to many other top San Francisco attractions including the California Academy of Sciences, the Conservatory of Flowers, and the Botanical Gardens. It's also where you will find the Japanese Tea Garden, Stow Lake, and the de Young Museum of Fine Art.
Golden Gate Park is home to several beautiful gardens. It's one of my favorite places to go running or head out for a long walk. There are so many wonderful San Francisco attractions inside it and so much beauty all around the park itself.
At the far western end of the park, you will also find the Cliff House where you can grab a bite to eat as you admire the Pacific Ocean through its floor to ceiling windows. This is also where you will find the Golden Gate Park Welcome Center and you can pick up maps and find a full range of fun things to do here.
>> Best things to do in Golden Gate Park
11. Street Art & Murals
One of the reasons San Francisco is such a beautiful place to visit is because we have more than 1,000 pieces of street art and murals. You will find these beautiful pieces of art both inside and out of many buildings around the city.
The largest concentration of outdoor murals is found in SF's Mission District. More and more pieces are also popping up in Chinatown and North Beach.
Some of the best indoor pieces include those by controversial artist Diego Rivera and inside attractions such as Coit Tower.
No matter where you are in San Francisco, make sure to keep an eye out for our colorful street art and murals.
>> Overview of where to find the best pieces
>> Where to find all three Diego Rivera frescos
>> Tips to find the best works in the Mission
Monthly Event Calendars
Are you looking for some additional fun things to do during your stay? Don't miss my calendars that showcase the best events each month.
January | February | March | April | May | June
12. Union Square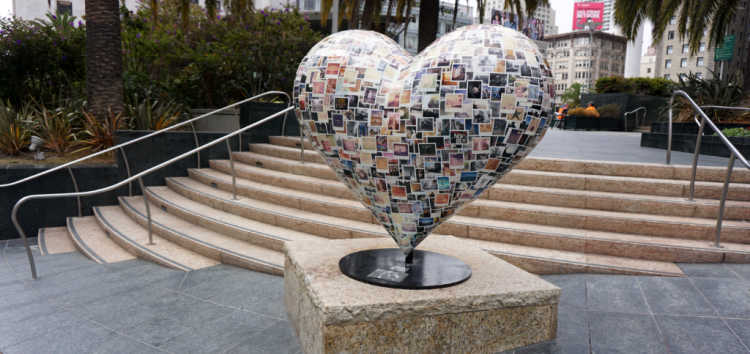 Next on my list of top San Francisco attractions is Union Square. Situated in the heart of downtown SF, this beautiful square and district offers so many fun things to do.
You can learn more about it on a free walking tour or you can stroll around on your own as you shop the day away. You will also find some great events right inside Union Square such as Union Square Live which runs in the summer and the famous Christmas tree that calls the square home throughout the holidays.
Union Square is also full of galleries and amazing restaurants. It's also one of the most popular places to stay as it has a large number and variety of hotels as well as a great central location.
Just a few steps away, you will also find the Theater District, Chinatown, and the South of Market area (SOMA) which is home to some of our top museums.
Current Status: Most shops and restaurants with outdoor dining are open. Theaters and indoor attractions are closed.
>> More about what there is to do in Union Square
13. Painted Ladies of Alamo Square
The Painted Ladies of Alamo Square have always been one of the top San Francisco attractions. They became even more famous when they were featured during the opening credits of the TV show "Full House."
Today, thousands of visitors swing by Alamo Square to admire their beauty.
The Painted Ladies of Alamo Square (also called the "Seven Sisters") are six identical Victorian houses all in a row. The seventh painted lady sits on the northern side of the block and, although it looks different, is often included in with the six identical houses.
Although you cannot step inside for a visit, you can get great views of them across the street at Alamo Square. You can also walk up to the top of the hill in the park for views of these Seven Sisters with a view of downtown San Francisco behind them.
Insider's Tip: The best time to visit the Painted Ladies of Alamo Square is in the afternoon. The front of the houses face west and you will get the best pictures when the sun shines on them in the early to mid-afternoon.
>> More history and visiting tips
14. Chinatown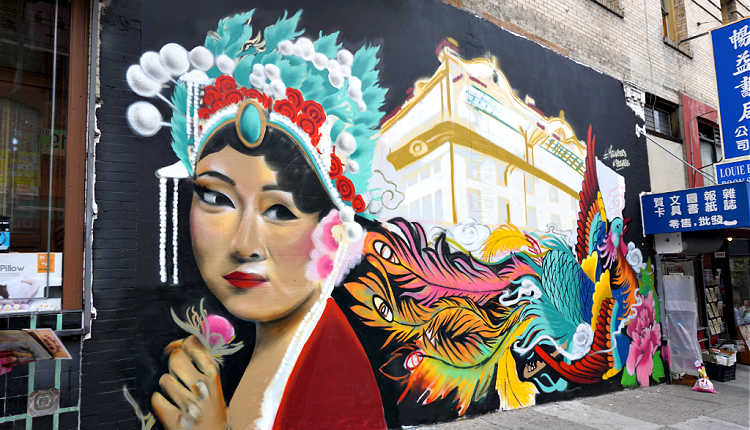 San Francisco's Chinatown is one of the oldest and largest Chinese communities outside of Asia. The district is spread out over more than 24 square blocks and borders Union Square, Nob Hill, and North Beach.
Because its location is so central, the district gets thousands of visitors each year. In fact, I've read that it gets more visitors than even #2 on my list, which is the Golden Gate Bridge!
The heart of this district and the most visited location is Grant Avenue. As you enter this shopping district from Union Square at Bush Street, you will start by walking under the Dragon Gate (also sometimes referred to as the Chinatown Gate). You will then be greeted with a flurry of activity.
The biggest draw to Chinatown is its inexpensive shops. Many of them line up along Grant Avenue. If you venture deeper into the district, you will find even better deals as this is where the locals' shop.
In addition to shopping, you will also find ancient temples, a history museum, and some amazing dim sum restaurants.
Current Status: Shopping and outdoor dining are open. Anything indoors is closed including the Chinese Historical Society. Many of its colorful murals are outdoors and open to the public.
>> What to see and do in Chinatown
>> Where to find the Chinatown temples and visiting tips
15. Exploratorium

Kids of all ages will love spending time at the Exploratorium. It is often described as a hands-on science and human perception museum.
This expansive museum on SF's Piers 15 & 17 features exhibits on everything ranging from our famous local fog to human cells and more. You can also learn more about light, sound, and human interactions.
While many of the exhibits are hands on, you will also find a lot of exhibits that change constantly so you will have a new experience every time you visit it.
Current Status: The museum is closed with no date as to when they will reopen.
>> Tips to visit the Exploratorium
16. Japanese Tea Garden
The Japanese Tea Garden is another one of the highly rated San Francisco attractions. You will find it inside Golden Gate Park.
This five-acre attraction in San Francisco first opened in 1894 as part of a World's Fair and was called the California Midwinter International Exposition. It has been expanded since it first opened and has continued to grow over the years as locals donate money, structures, and time to create the beautiful garden it is today.
Highlights of the Japanese Tea Garden include the arched drum bridge, pagodas, and the Zen garden. I also love spending some time in the tea house sipping on a drink and enjoying my surroundings.
Current Status: They are open and are allowing just a limited number of people at a time. The paths are one way, so you won't be able to roam around as freely as usual. Make sure to book your tickets in advance to ensure you can visit.
>> Pictures of and more details to visit the garden
17. Stairways of SF
One of the things that makes San Francisco unique is the number of staircases we have all throughout the city. The city has almost 50 named hills and many of them have a few sets of stairs to get you to the top.
Some of the most popular are our mosaic stairs. These include the 16th Avenue Tiled Stairs, the Hidden Garden Steps and the Lincoln Park Staircase.
Other well-traveled stairs include two sets that take you up to the top of Telegraph Hill where you will find Coit Tower. These are the Filbert and Greenwich Steps.
These San Francisco attractions are sure to delight and also get your heart pumping.
>> Find a list of my favorite staircases around SF
18. Oracle Park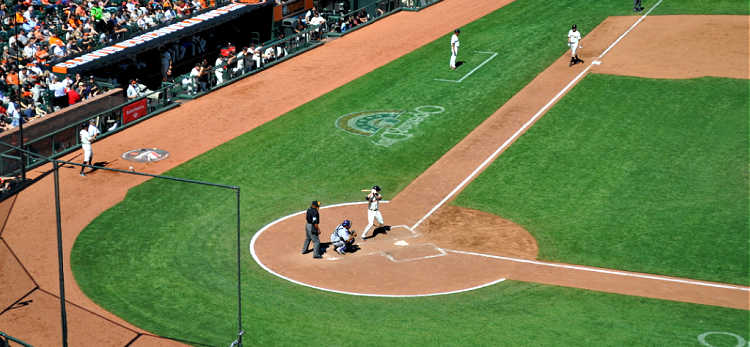 Oracle Park is home to our San Francisco Giants baseball team. It's one of the best places to catch an MLB game.
The stadium sits along the SF Bay with gorgeous views of the surrounding area. Since there is a breeze off the water, it also stays cool and makes for a pleasant way to spend an afternoon or evening in San Francisco.
In addition to baseball games, you will also find a handful of large concerts here every year as well as a free simulcast of a SF Opera performance each summer. You can even sit on the field during this event and eat some delicious garlic fries.
If you want to know more about this beautiful ballpark, you can also get a behind the scenes look on their popular ballpark tour. The tour runs twice a day, every day except during a few black out days throughout the year. On the tour, you will step inside a luxury suite, the clubhouse, and both dugouts. You will also get a chance to see the field from the warning track and the visitor's indoor batting cage.
These are some of the upcoming events at Oracle Park.
>> More about attending an SF Giants game at Oracle Park
19. Castro District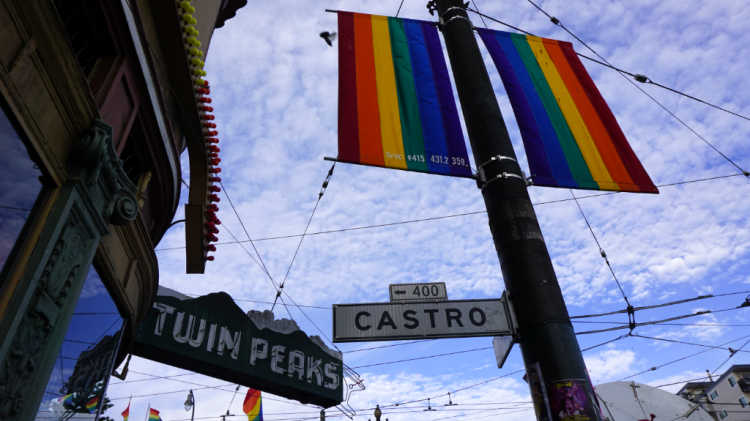 Our famous LGBTQ district, the Castro, is another must see attraction in San Francisco. This colorful district is full of history and there are always interesting activities going on.
This district was transformed into one of the first gay districts in the US during the 1960s and 1970s. As more families moved to the suburbs, the LGBT community saw this as the perfect place to call home.
One of the most famous residents in the Castro was Harvey Milk. He was an outspoken gay political activist that was the first openly gay man to win a seat in the San Francisco Board of Supervisors. You might have seen the movie about him in the Castro. If so, make sure to check out some of the famous spots in it and around the district.
There are many ways to explore this district including taking a guided walking tour, visiting the GLBT museum, or just hanging out and spending some time checking out its unique shops.
>> Tips to visit the Castro and the top things to see and do here
20. Angel Island
Escape the chaos of the city with a visit to the tranquil Angel Island. This is one of two San Francisco attractions that require you to take a ferry if you want to visit them. The other being the more famous, or infamous, Alcatraz Island.
Angel Island used to be a sleepy island used by locals for fishing and hunting for many thousands of years. In the mid-1800s, the federal government seized the land to use it to help protect the bay from intruders. It was used as an army base and later as an immigration detention center.
Today, top activities include hiking, biking, and other outdoor activities. Some of the old army and immigration buildings are also open to visitors. It's a great place to learn more about the history of the island.
There are also guided tours and a place to rent bikes.
Ferries leave for the island in the morning and return in the mid to late afternoon. It's a full day trip, and it's a perfect addition to any itinerary.
>> More about visiting Angel Island
21. Coit Tower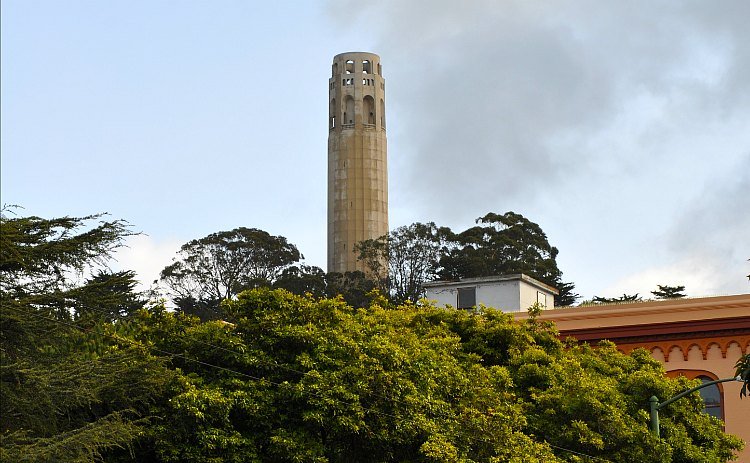 I'm sure you've seen photos of the tall, skinny, cream colored tower that sits high on the hill near North Beach and Fisherman's Wharf. It is Coit Tower.
Money for the tower was gifted to the city of San Francisco by a local woman by the name of Lillie Hitchcock Coit. She was a well-known and controversial San Francisco resident from the late 1800s to early 1900s. She was fascinated by firefighters and became an official mascot of local Knickerbocker Engine Company Number 5. When she died, she left a considerable sum of her estate to the city and they used it to build Coit Tower.
There are two draws to this San Francisco attraction: The first being the historic murals on its first level. They were added in the 1930s as part of the Public Works of Arts Project (PWAP). They show life in San Francisco and California in the 1930s.
The second is the view from the top of Coit Tower. It is something you will never forget since it has a 360-degree view of San Francisco. There are several small windows throughout the top floor that allow you to see from the Golden Gate Bridge all the way to cities on the other side of the SF Bay.
>> More about visiting Coit Tower
22. de Young & Legion of Honor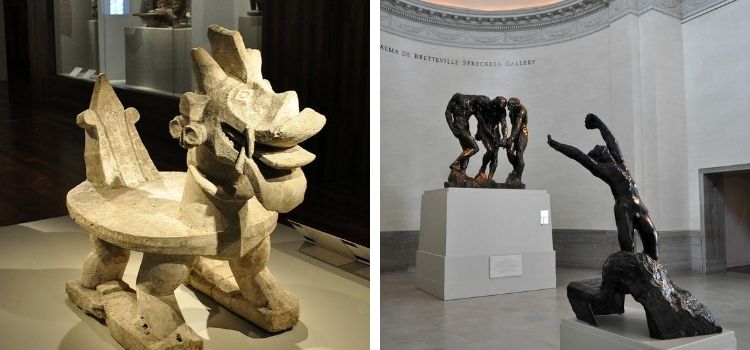 I've added both of these as one (I know, it's cheating a little) because you only need one ticket to visit each of these museums. The de Young and the Legion of Honor are known as the Fine Arts Museums of San Francisco.
You will find the de Young just across the street from the California Academy of Sciences in Golden Gate Park. It's home to a large collection of fine arts focused on the Americas, Africa, and Oceania. You will find everything from photography to textiles.
The Legion of Honor is in SF's Lincoln Park. The fine art collection here is focused on ancient and European art. Highlights in this museum include works from Auguste Rodin, Claude Monet, and an interesting piece by Pablo Picasso.
Make sure to plan in advance, because if you want to enter both museums on one ticket, you must visit each of them on the same day.
>> Tips to visit the Legion of Honor
23. Ghirardelli Square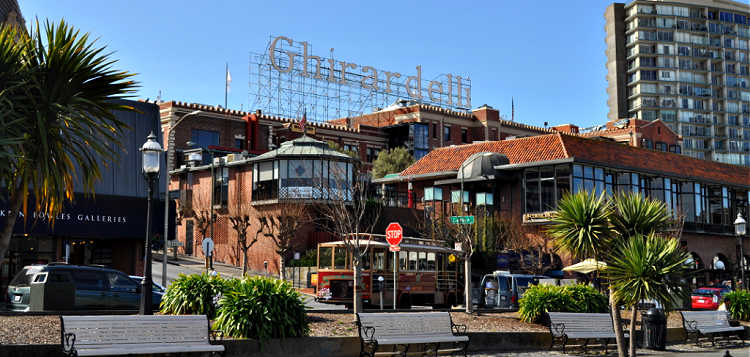 You will find Ghirardelli Square in SF's Fisherman's Wharf district. This old chocolate factory is now home to Ghirardelli chocolate stores, boutique shops, and several restaurants.
This location became a chocolate factory in 1893. For decades, it was the only location that made our famous Ghirardelli Chocolates. As interest for these chocolates increased, the factory was expanded and moved just outside the San Francisco city limits.
Today, you can shop, eat, and sample these famous chocolates. If you walk around the square, you can also do some wine tasting, check out some art galleries, and soak in the views of the SF Bay.
One way to learn even more is to take one of the guided walking tours around the square and Fisherman's Wharf. You will learn fun facts as well as a detailed history about this historic building.
Current Status: Most of Ghirardelli Square is open including outdoor dining and shopping.
>> Things to do and see in Ghirardelli Square
24. Haight-Ashbury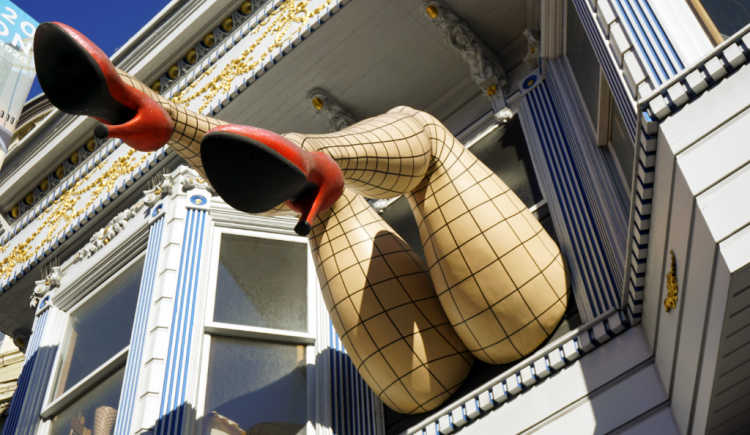 Another famous and colorful district in San Francisco is the Haight-Ashbury neighborhood. Often referred to as "The Haight", this district was a huge draw to artists and musicians in the 1950s and 60s. It became internationally known in 1967 after its famous "Summer of Love" celebration.
Over the years, it's been home to people and bands such as the Grateful Dead, Janis Joplin, and Jefferson Airplane. It was also a short time home to Charles Manson and Patty Hearst (during her imprisonment).
Today, this lively district features dozens of shops, vintage & second-hand clothing stores, and restaurants. You will also find Amoeba Records here, the world's largest independent music store.
You can also head out on walking tours to learn more and see the spots where this districts most famous events took place. Several bus tours also make their way through the district on their way around SF.
Current Status: Most shops are open and restaurants with outdoor dining. You can also explore the district to see its interesting Victorian houses and its murals.
>> Tips to visit the Haight-Asbury District
25. The Presidio

The final item on my list of 25 must see San Francisco attractions is the Presidio. This old army base is full of fun things to do.
Some of my favorites include hiking the Coastal Trail, hanging out at Baker Beach, and checking out the Disney Museum. Other top attractions here include the National Cemetery, a golf course, and Fort Point National Historic Site.
You could spend all day here exploring this vast National Historic Landmark.
Current Status: Most of the Presidio is open including access to its hiking trails, outdoor art, and the National Cemetery. The Fort Point National Historic Site is open, but the interior is still closed. The Walt Disney Museum is closed.
>> More on stopping by Baker Beach
>> More about visiting the National Cemetery
More Fun San Francisco Attractions
Family & Kid Friendly Things to Do
Are you visiting with the entire family? Here you will discover lists with some of the best kid and family friendly San Francisco attractions.
Highlights include the Aquarium of the Bay, the Randall Museum and the Musee Mechanique. You will find free things to do, museums, and activities for toddlers, teenagers, and more.
Top Things to Do with Kids | Free Activities | Family Activities
Kids Museums | Toddler Activities | Teen Friendly Activities | SF Bay Aquariums
San Francisco Attractions By Neighborhood
Here is a chart to help you find your favorite San Francisco attractions in each district.
Neighborhood
Top Attractions
The Castro
Castro Theater | GLBT Museum
Chinatown
Bargain Shopping
Chinese Historical Society | Chinese Temples
Golden Gate Fortune Cookie Factory
Civic Center
& Hayes Valley
Asian Art Museum | City Hall
International Art Museum of America
The Embarcadero
Bay Bridge | The Exploratorium | The Ferry Building
Railway & Streetcar Museum | Rincon Center Murals
Fisherman's
Wharf

7D Experience | Alcatraz | Aquarium of the Bay
Boudin Bakery | Buena Vista Cafe | The Cannery
Ghirardelli Square | Hyde Street Pier | Maritime Museum
Musee Mechanique | Pier 39
Pier 45/SS Jeremiah O'Brien | Ripley's Believe It or Not
USS Pampanito SS-383

Golden Gate
Park

Beach Chalet | Botanical Gardens
California Academy of Sciences
Conservatory of Flowers | de Young Museum
Japanese Tea Garden | Ocean Beach | Stow Lake

Japantown
National Japanese American Historical Society
Peace Pagoda
Marina
Fort Mason | Italian American Museum
Mexican Museum | The Octagon House
The Palace of Fine Arts
Mission District

Dolores Park | Hua Zang Si
Mission Murals | Mission San Francisco de Asis

Nob Hill
& Russian Hill
Cable Car Museum | Grace Cathedral
Lombard Street (Crooked Street)
North
Beach &
Telegraph Hill
Beat Museum | Coit Tower
Diego Rivera Making of a Fresco Mural
Filbert Steps | Greenwich Steps
Saints Peter & Pauls Church | Vesuvio Cafe
Pacific
Heights
Fire Museum | Haas Lilienthal House
Lyon Street Stairs
Presidio
Baker Beach | Disney Museum
Fort Point | National Cemetery
Presidio Golf Course
South of
Market (SOMA)
Oracle Park
Contemporary Jewish Museum
Museum of the African Diaspora
Museum of Modern Art (SFMOMA)
Union Square
& Financial District

Diego Rivera Allegory of California Mural
Union Square Shopping | Wells Fargo History Museum

Other SF
Districts

China Beach (Seacliff)
Craft & Design Museum (Dogpatch)
16th Avenue Steps (Inner Sunset)
Hidden Garden Steps (Inner Sunset)
Lincoln Park Steps (Outer Richmond)
Minnesota Street Project (Dogpatch)
Mount Davidson (West Portal)
Legion of Honor (Lands End)
Painted Ladies of Alamo Square
SF Zoo (Ocean Beach)

Beyond SF

Angel Island | Muir Woods
Napa & Sonoma | Sausalito

Monterey, CA
Monterey Bay Aquarium | Cannery Row
Fisherman's Wharf | Wine Tasting Rooms
Pebble Beach Golf Courses
More SF Attractions
Hidden Gems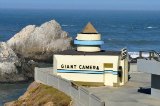 Are you looking for something a little different? If so, then check out these hidden gems. You will find them all around San Francisco.
They range from the colorful Diego Rivera frescos to a camera obscura at Ocean Beach.
Learn More: 25 Hidden Gems
---
Cheap Things to Do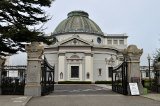 If you are looking to stretch your budget further, check out some of these top cheap things to do in SF. My list includes a variety of free activities as well as options that are less than $10.
The list includes San Francisco attractions, museums, and activities all around town.
More: Find my 25 favorite cheap things to do in SF
---
One Day in San Francisco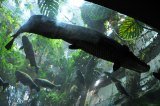 Are you planning a short stay in SF and want some of the best things to do? These 10 San Francisco attractions, tours, and museums will give you a wealth of ideas for your stay.
They include visits to the most popular spots around town, as well as a few hidden gems for those returning for a second visit.
More: My list of 10 of the best things to do in 24 hours in SF
---
Popular SF Beaches
On a warm sunny day in the city, there is no better place to be then at one of these San Francisco beaches.
Enjoy a picnic lunch or relax while taking in the views of the amazing landscape around you. These are some of the best San Francisco attractions on a sunny day!
Learn More: Beaches
---
Top Five Military History Sights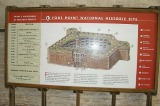 Do you love visiting military history sites and ships? Here you will find a list of the top five military history sites in SF. The SF Bay Area has been a key military area for hundreds of years. Several sites were built here in order to protect the area from potential attack.
Read on to learn more about visiting these sites during your visit to SF.
Learn More: Military History Sites
---
San Francisco Churches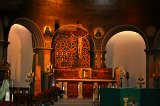 SF has many historical and well-known churches throughout the city. They range from the majestic Grace Cathedral in SF's Nob Hill neighborhood to the historic Mission San Francisco de Asis in the Mission District. Another famous one is Saints Peter and Paul Church in North Beach. Here you can learn more about all of them and even find some recommendations on where to celebrate on Sunday.
Learn More: SF Churches
---
San Francisco for Wine Lovers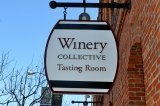 If you love sampling wines, then check out my San Francisco for wine lover's insider's guide. It will give you all the information you need to know to sample some of SF's best wines. Options range from tasting rooms for wines produced right in the city limits to fun wine tasting tours up north to both Napa Valley and Sonoma County.
Learn More: SF for Wine Lovers
---
10 Haunted SF Locations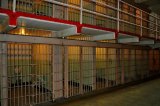 Do you love to go ghost hunting or hear the stories about SF's dark past? If so, then check out this list of 10 of the most haunted SF places. This list only includes those places that are open to the public, so you get the chance to check them out for yourself.
Learn More: Haunted SF
---
Indoor Activities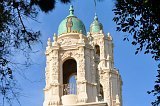 Are you ready to head indoors to warm up a bit? If so, then I have the list of the best San Francisco attractions and activities for you!
On my list of 25 indoor activities, you will find fun things to do including visiting our top museums, enjoying some local wines, and exploring our historic attractions.
More: Best Indoor Attractions, Museums, and Activities
---
SF Cemeteries
If you love visiting old cemeteries, then you will love what you will find in San Francisco. There are currently two historic cemeteries and two Columbariums open to the public. All are free to visit and a fun way to learn more about SF's past.
More: Where to Find and Tips to Visit SF's Cemeteries
---
25 Things You Probably Don't Know About SF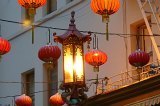 San Francisco is full of history and hidden gems. There are also several fun and interesting facts about it that many people don't realize. Do you know how many people live within the city limits? Who are some of the most famous people born here? What is unique about Al Capone's arrival to Alcatraz? Read on to find answers to these and other fun and interesting facts about SF.
Learn More: 25 Things You May Not Know About SF
---
Myths About SF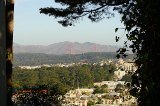 On this page, you will find 10 of SF's most common myths debunked. Did anyone ever escape the "inescapable" Alcatraz Island? How often is the Golden Gate Bridge painted? How much money did people make while panning for gold during the Gold Rush of 1849? Click the link below for answers to these and other top myths about SF.
Learn More: 10 Myths About San Francisco - Debunked!
---
San Francisco Activities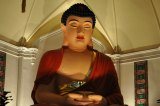 These 25 fun San Francisco activities will keep you going during your entire stay. They include things to do such as heading out on a cruise, visiting our hidden gems, or seeing a local sports game.
More: Find a list of 25 of the best activities in SF
San Francisco Attractions Holiday Schedule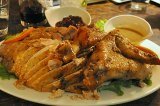 Are you visiting on Thanksgiving Day, Christmas or New Year's Eve? Are you interested in visiting attractions during this time? If so, then click the link below for a full schedule for all major SF attraction during the holidays. This will help you plan your visits during your stay.
Learn More: SF Holiday Attraction Schedules
Save my San Francisco attractions page on one of your Pinterest boards!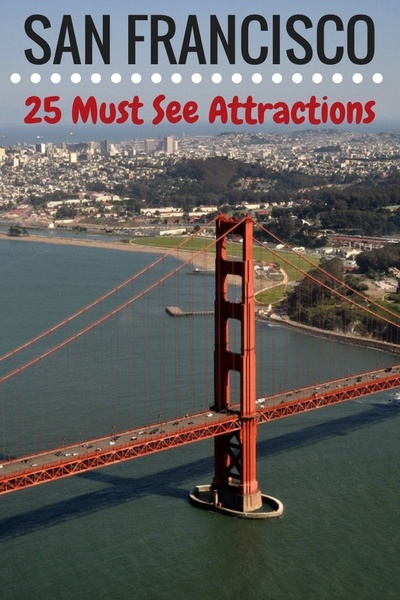 Follow SFTourismTips on Facebook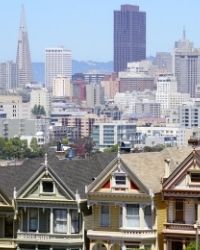 On my Facebook page, you will find more great information about planning your San Francisco vacation.
It includes tips, must see attractions, and other fun details.
Click the link below to check it out. If you enjoy the page, give us a like.