Exploratorium in San Francisco
Tips to Visit this Hands-On Science & Human Perception Museum
The Exploratorium in San Francisco recently opened a new, larger facility on Piers 15 and 17. This new SF museum offers hundreds of hands-on exhibits where you can learn about everything from light and sound to human emotions and perceptions.
It includes five galleries each based on a different topic. This way, you can explore just the areas that interest you.
The museum is well done. Each gallery includes several levels of interactive exhibits, so it truly is designed for adults and kids of all ages.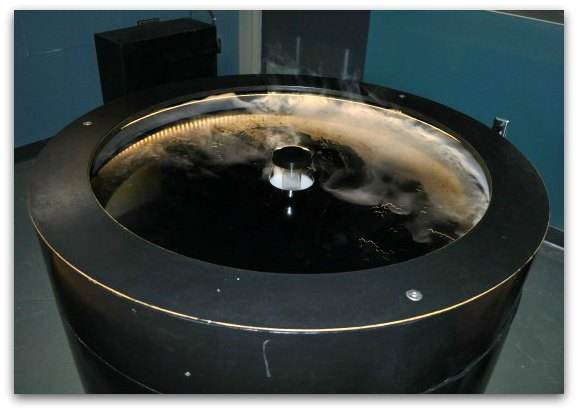 This fog machine is just one of several hands-on exhibits
Below you'll find a quick overview and pictures from each of the five galleries.
For some of the links on this page, I receive a small commission when you purchase. You don't pay more when you buy through me and it gives me the chance to offer you all this great content for free!
Fisher Bay Observatory Gallery
The Bay Observatory Gallery is on the upper level of the museum toward the back of the building. Here you can learn more about weather patterns. You can also learn about the interaction of natural and human forces in the landscape.
The gallery includes a variety of maps that allow you to research the world in different ways. You can also climb inside their Sky View display to see what the sky in SF currently looks like and how it affects the surrounding city scape.
The centerpiece of the room is the large monitor that shows current weather patterns and temperatures around the globe.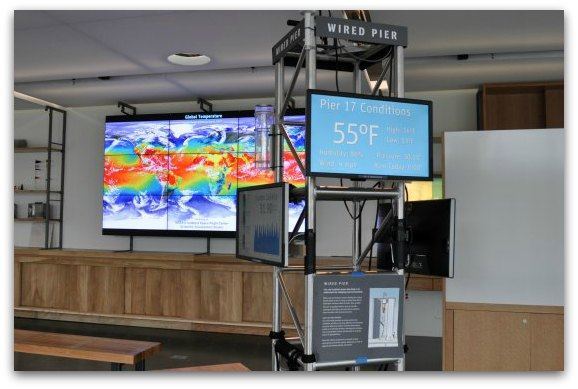 The fog display and interactive exhibits are also interesting. This is just one of two displays where you can learn more about why SF gets foggy weather throughout the year.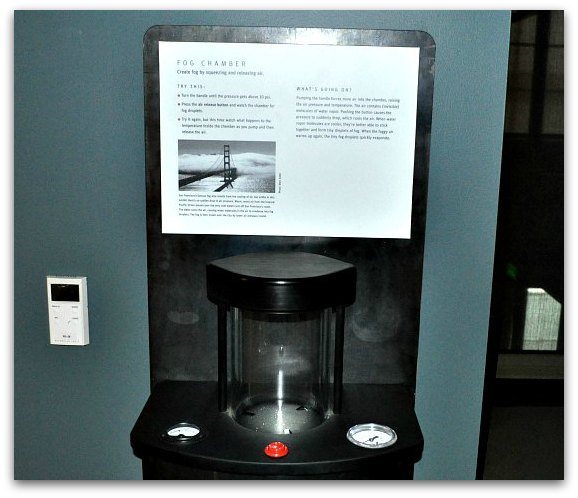 East Gallery
The East Gallery sits in the back of the Exploratorium.
It houses displays on all living things, both big and small, from a large redwood tree to small plants that curl up when you touch them.
Here you will also learn about plant and animal cells. There are several monitors showing live organisms under microscopes.
In addition, they have models where you can look inside a cell. This picture shows what the cell of an animal looks like.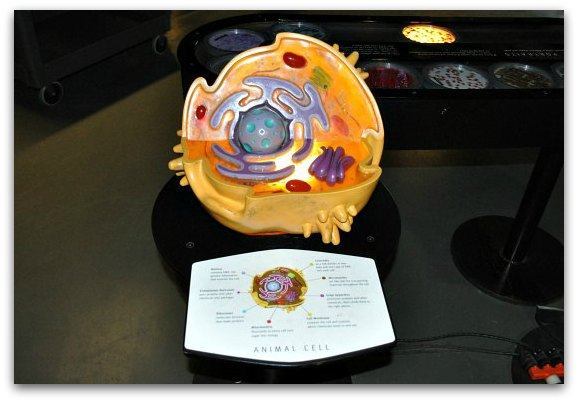 While you are here, make sure you also stop by the Explainer Station. They have some fun games and can tell you more about some of the exhibits in this area. They also have a schedule of activities throughout the day.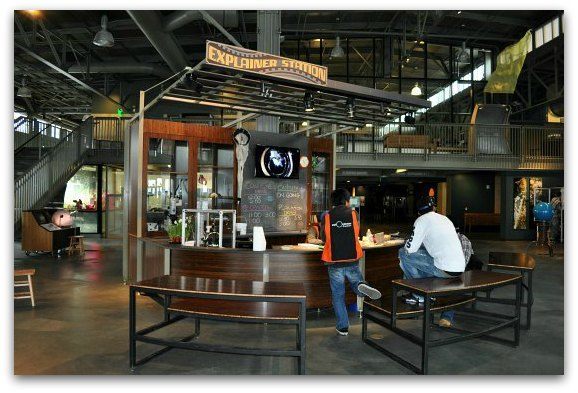 Central Gallery
The next gallery is the Central Gallery. In this one, you can learn more about light, vision, sound, and hearing.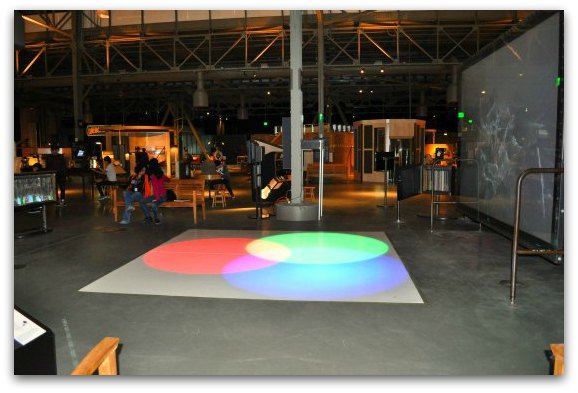 This area teaches about things such as how light impacts color, ways to create different sounds, and how curved mirrors can change how you see things.
One of my favorites in this gallery is clear in the back. It measures the amount of sound you produce when you walk on gravel. You can walk through as many times as you like and even compare your scores with others.
Another favorite in this area is the shadow box. It's a large room that allows you to capture your shadow at a moment in time. You can enter with up to 10 to 15 friends to capture a group moment.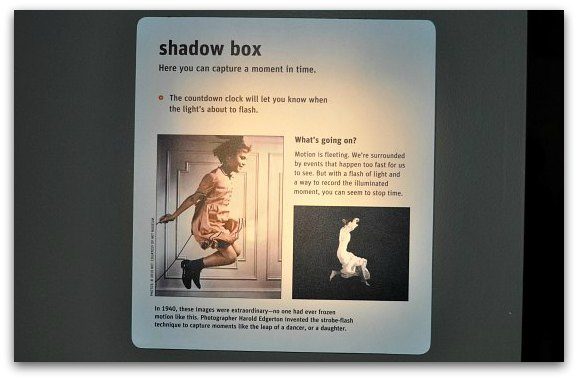 South Gallery
The South Gallery is also called "Tinkerville". Here you can tinker with your hands and explore your creativity.
Exhibits in this area include large magnets where you can build fun creations, see how electricity is made, and learn about gravity.
This display is called the "Strange Attractor". The magnets and discs inside make the pendulum move in unpredictable ways.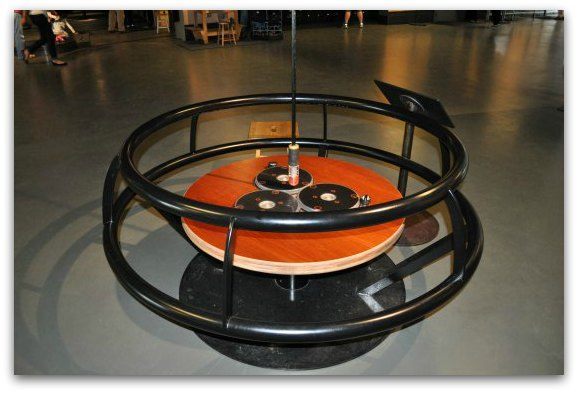 This one is an open clock. It allows you to pull and move the gears, which in turn shows you how the clock works.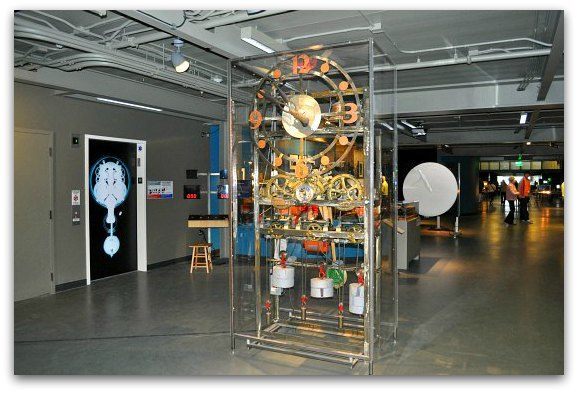 West Gallery
The final section in the Exploratorium is the West Gallery. This is where you can learn more about thoughts, feelings, and social behavior.
Displays here include facial expression recognition, a unique display on mental illness, and several 'people watching' areas.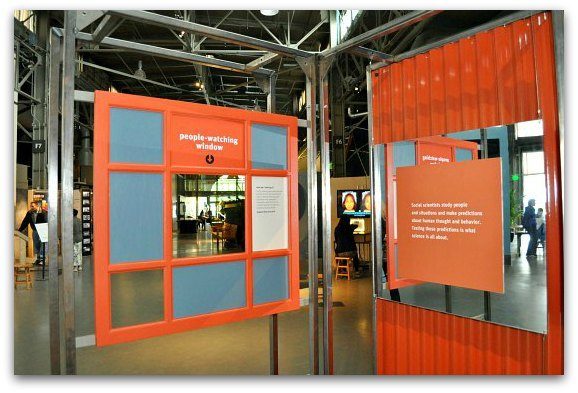 An interesting one in this area is a small board where you and a partner can evaluate your perception of another person.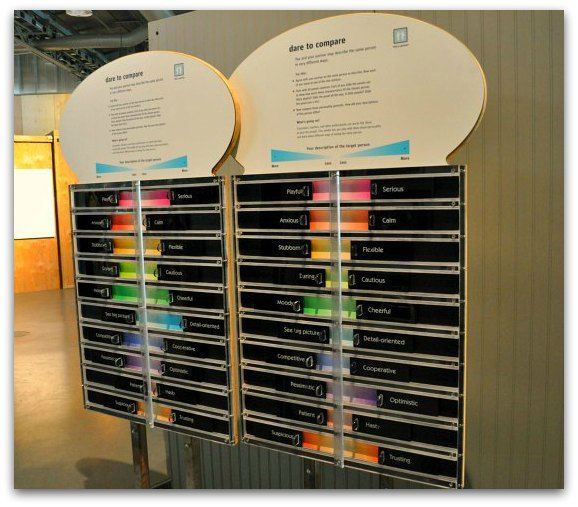 On this sliding board, you rate your perception of someone based on certain characteristics such as playfulness, how detail-oriented they are, and if they are optimistic or pessimistic. You then compare your board with your partner. I'm sure you will find quite a few differences.
This area also includes a group think table. Today's topic was on stereotypes. You are welcome to listen, learn, and participate.
Visiting the Museum
The Exploratorium in San Francisco is open during the following hours:
Regular Hours
Tuesday - Sunday: 10am - 5pm
Thursday evenings (18+): 6pm - 10pm
Monday: Closed except on select holidays
Tickets
Visit the Exploratorium site for the latest ticket prices.
If you are planning to visit several museums and attractions during your stay, I recommend checking out the Go San Francisco Card. This discount pass includes admission to more than 50 Bay Area attractions including the Exploratorium, California Academy of Sciences, and the de Young. It also includes tickets to several tours including the popular Bay Cruise and GreyLine City Skyview Tour. Discover more ways to save with this pass here.
How to Get to the Museum
The easiest way to get here from both Fisherman's Wharf and Union Square is by taking the F streetcar. In Fisherman's Wharf, you can pick it up on Beach Street. In Union Square, you can pick it up anywhere along Market Street.
You will want to get off the streetcar at the Embarcadero and Green Street stop. This is right in front of the building. Here is a map showing the location.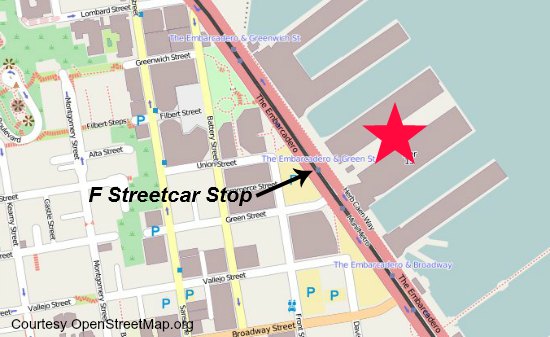 Other Museums You Might Enjoy