Pier 39 in San Francisco: What to See & Do at this Top SF Attraction

by Jill Loeffler  •

Updated: September 5, 2023
Pier 39 in San Francisco was an originally a working pier that has transformed into one of the city's most popular destinations for travelers This busy Fisherman's Wharf attraction is home to dozens of restaurants, shops, activities for the kids, and more.
Here, you will also find the Aquarium of the Bay and the famous SF sea lions.
It is definitely touristy, but it's also fun. If you know what to look for, you will find quite a few enjoyable and exciting activities and attractions.
It sits on the northeastern side of the Fisherman's Wharf neighborhood. When visiting, you are just steps away from several other San Francisco attractions, including the ferries to Alcatraz, Ghirardelli Square, and the Hyde Street Pier.
10 Fun Things to Do on Pier 39 San Francisco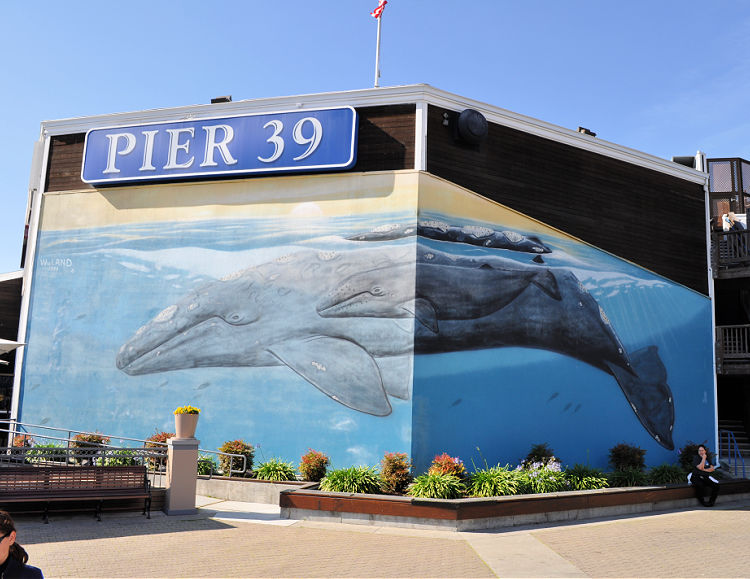 Disclaimer: I receive a small commission from some of the links on this page.

1. Aquarium of the Bay

The San Francisco Bay Aquarium, officially called the Aquarium by the Bay, is an adventure for both kids and adults. The aquarium does a great job of telling a complete story about the bay and its inhabitants.
It's educational and fun for everyone in the family.
>> Learn more about your visit Bay Aquarium
---
2. Watch the Sea Lions Play

One of my favorite attractions here is the sea lions on the western side of the pier. More than a decade ago, these sea lions started showing up in the area.
As more and more came, the city of San Francisco welcomed them with permanent platforms along Pier 39 San Francisco.
They are usually loud and a little smelly, but watching them jockey for position on the platforms is fun.

Pier 39 San Francisco also recently opened a new Sea Lion Center. It is small but tells you more about these fun and famous creatures. You will find it on the second floor.

---
3. Discover The 7D Experience

Spend some time on this thrill ride and laser-blasting adventure. You have no choice but to get involved. It includes a large-screen TV and 3D technology that keeps you going during this ride.
Compete with other participants as you battle ghosts in a haunted gold mine, go on a pirate adventure, or fight off zombies during the apocalypse.
It's a fun way to entertain the entire family!
>> Find out what it's like at the 7D Experience
---
4. Get Lost in Magowan's Infinite Mirror Maze

Magowan's Infinite Mirror Maze is one of the hidden gems on Pier 39 San Francisco. It's the perfect stop for kids of all ages. The maze is a fun experience and is designed to stump you a few times along the way.
You will want to leave at least 30 minutes or more to work your way through the maze and find the exit.
---
5. Entertain the Kids

There are tons of activities for the kids at Pier 39 San Francisco. In the center of the pier, there is a little area with a historic carousel. It only takes a few minutes and is a fun experience.

Right next to the carousel is a stage with free performances, including jugglers, outrageous acrobats, and magicians. On some days, Captain Jack Spareribs from the Pirates of the Caribbean stops by for a short visit.
>> More fun things to do with kids around SF
---
6. Play Some Games at the Arcade

Players Sports Grill & Arcade is a fun option for everyone in your group. This 12,000-square-foot entertainment center offers food, drinks, games, and 200+ live sports feeds.
Their food is standard bar food with some deli sandwiches, burgers, and more. They have more than 16 beers on tap.
You can also catch your favorite team in action on one of their 30 screens.
Want to challenge your friends or family to some games? Head to the arcade for air hockey, NFL 2-minute Drill, hoops, pinball, and so much more! 
---
7. Shop 'til You Drop

This is the main reason most people stop by Pier 39 San Francisco. On it, you will find dozens of boutique shops. It's a great place to pick up souvenirs, make-up, or some fun local sweet treats. You could spend hours checking out the shops here.
>> Additional shopping options in SF
---
8. Enjoy a Cruise Around the SF Bay

You will find a variety of cruise options that depart from Pier 39 as well as other piers nearby. One of the most popular options is the 60-minute bay cruise. This one takes you under the Golden Gate Bridge, near Alcatraz, and back to Fisherman's Wharf.
You will hear fun stories and get several picture-perfect moments along the way. Find tickets here.
Another popular option is the twilight cruise run by the Red & White Fleet. This 2-hour cruise offers you the chance to cruise on the water in the early evening. Half of the year, it will run at twilight, and half the year, you will get to watch the sunset from the boat.
It also cruises under Golden Gate Bridge, near Sausalito, around Alcatraz, and features a light appetizer buffet. 
>> Discover More Details for this and Four Other Top SF Bay Cruises

---
9. Make Your Own Music on the Musical Stairs

Have fun on the musical piano stairs on Pier 39. They are from the same designer who built the musical stairs for the movie "Big" with Tom Hanks.
Run up fast or walk down slowly for a different musical experience. You will find the musical stairs in Building O from Level 1 to Level 2.

---
10. Frequent Flyers

One of the newest Pier 39 San Francisco activities is Frequent Flyers. It's a family-friendly activity that combines both bungee and trampoline jumping. You are put into a harness that allows you to safely jump in the air up to 20 feet above the trampoline.
It's a fun way to see the pier and all it has to offer from above. All jumpers must be over 30 and under 230 pounds.
You will find it on Level 1 near Building Q.
Hotels Near Pier 39

Pier 39 San Francisco is in the heart of the Fisherman's Wharf neighborhood. Here, you will find dozens of hotels. They range from well-known brands such as Holiday Inn and Marriott to smaller local hotels such as the affordable two-star San Remo Hotel.

Here are a few of my top picks nearby.
Hotel Zephyr: 3.5-star hotel just two blocks away from Pier 39 San Francisco, fun hotel with a courtyard full of games and fun activities, 250 Beach Street, check pricing and availability
Hotel Riu Plaza: 4-star non-smoking hotel just 3 blocks away, comfy beds, great location, 2500 Mason Street, check pricing and availability
The Wharf Inn: 2-star budget-friendly option, 4 blocks away in the heart of Fisherman's Wharf, 2601 Mason Street, check pricing and availability
>> Find additional hotels nearby and around Fisherman's Wharf
Before you book your hotel room, also make sure you check out the great deals. They offer a huge selection of hotels (and you can cancel most without a fee) near Pier 39, Fisherman's Wharf, and throughout the city. Click here to visit and learn more.
Pier 39 San Francisco Hours

Pier 39 San Francisco is open 365 days a year. Here is the typical schedule of most of their restaurants and stores. Some of them will vary their hours, but this will give you a good idea of what to expect when you visit.
Stores: 10 am to 9 pm
Restaurants: 11 am to 10 pm (some open earlier for breakfast or close later for dinners)
The attractions at pier 39 have similar hours, but you will want to check with them directly. Some are closed on Christmas and have limited hours on some other top holidays. You can find more details here for our major holidays.

Annual Events on Pier 39

Each year, Pier 39 San Francisco hosts a number of great events. They include activities such as Fleet Week Celebrations, Tulipmania, and the Tree Lighting Ceremonies.
1. Sea Lion Encounter in January: Each January, Pier 39 celebrates the sea lions' arrival. This celebration is usually the second or third weekend of the month. Click here to find details for the next event.
2. Tulipmania in February: The pier is bright and colorful every February for Tulipmania. During this event, you will see tulips throughout the pier and outside it. They also offer a free walking tour each day at 10 am (just during the event) so you can learn even more about them. Check the latest February calendar for details.
3. Fourth of July Celebrations in July: This is one of the best places to be in order to celebrate the Fourth of July. All day long, you will find live music and other entertainment. As day turns into night, you will find several great spots to see the fireworks display. Click here to learn more about celebrating the Fourth of July in SF.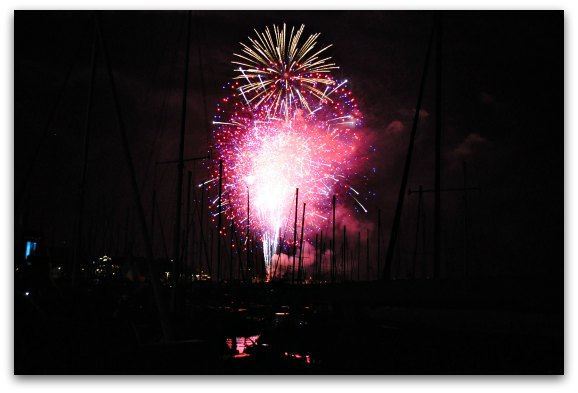 4. Fleet Week Celebrations in October: Every October, the Blue Angels make an appearance in SF during Fleet Week. Not only do the Blue Angels perform, but you will also get the chance to see other areal acts, tour large ships, and more. During this weekend-long event, Pier 39 adds even more fun. They feature live performers, music, and other fun on both Saturday and Sunday. Click here for more details on Fleet Week.
5. Tree Lighting Celebration: If you plan to visit in November, make sure to stop by for the Tree Lighting Celebration. The pier sets up a 60-foot tree for the holidays and this is the time to see its lights sparkle in the night. Before the tree lighting ceremony, stop by for some free live music and other activities for the entire family. Click here to learn more about other tree lighting ceremonies in San Francisco and the Bay Area.
Where to Eat on Pier 39 San Francisco

In addition to shopping and the other activities mentioned above, you will also find quite a few restaurants. Many are well-known brands, such as the Hard Rock Cafe. However, you will also find a few smaller, local restaurants on the pier. Here are some of the most popular:
Bubba Gump: Everything from fish and chips to slow roasted baby back ribs
Hard Rock Cafe: Traditional American food such as burgers, fries and salads
Luau Lounge: Burgers, salads, clam chowder and some of the most interesting drinks anywhere
Crab House at Pier 39: Mainly crab and other fresh seafood
Lorenzo's Pizzeria: Pizzas, pastas, soups, and salads
Wipeout Bar & Grill: Casual American food with great outdoor seating
>> Find more great places to eat in Fisherman's Wharf
How to Get Here

The map above shows the major public transportation stops for Pier 39. It is marked with the black star, so you can easily see how far it is to get to it from each transit stop.

From Union Square to Pier 39 San Francisco

Streetcar: The F Streetcar from Union Square is a fun way to travel to Pier 39 San Francisco. It runs along Market Street with stops every couple of blocks. It takes about 20 to 25 minutes.
#1 on the map above shows the stop at the Embarcadero and Stockton Streets - this is the closest one
Cable Car: Another fun way to get from Union Square to Pier 39 is by cable car. Two lines run from Union Square to Fisherman's Wharf. Both drop you off just a few blocks from Pier 39 San Francisco. The ride is about 30 minutes, with another 10 minutes of walking.
#2 on the map is the stop for the Powell/Hyde cable car at Hyde and Beach
#3 on the map is the stop for the Powell/Mason cable car at Bay and Taylor
Taxi: The fastest way to get here is by cab. You can grab a cab in any part of San Francisco. If you are coming from Union Square, it will take about 20 minutes and cost around $20 to $25.
Uber/Lyft: You can also use a ride-sharing service to get here. If it's just you and your party, it's about $15 to get here. If you do a shared ride, you could get here for as little as around $10.
Tips to Get To & From Other Popular Destinations

Chinatown: This top SF district is about a mile away from Pier 39 San Francisco. You can either walk or take public transit to get here. You will make your way through North Beach and then to Chinatown. The best public transit routes are the #8 and #30 buses and the Powell Mason cable car.
BART: If you plan to take BART into SF, make your way to the Embarcadero Station. If you have plenty of time, you can take a stroll along the Embarcadero to Pier 39. It's about 1.5 miles. You can also grab the F streetcar at the corner of Market and Main Streets.
Ferry Building: The Ferry Building is about 1.3 miles from Pier 39. You can walk along the Embarcadero between these two SF attractions or take the F streetcar.
Ghirardelli Square: This popular attraction is on the western end of Fisherman's Wharf. Here, you will find shopping, restaurants, and Ghirardelli chocolate shops. It's just under a mile from Pier 39 and is easy to walk. There isn't a direct bus or train route between these two. If you want to avoid walking, I recommend taking a Lyft or cab between the two.
Oracle Park: If you are heading to a Giants game or an event at Oracle Park, you will find the easiest option is to take the N-Judah Muni and then transfer to the F Streetcar at the Embarcadero Station. It takes about 40 minutes and offers beautiful scenery most of the way. If you have plenty of time and want to get a few steps on your Fitbit, you will find a flat walking path running from Pier 39 to Oracle Park. It's about a 2.5-mile walk.
Alcatraz: The ferries to Alcatraz are less than a half mile from Pier 39 San Francisco. It's an easy flat walk between these two attractions and the best option to get there. You will want to be sure to leave plenty of time to check in once you arrive on Pier 33, where the ferries to Alcatraz depart.
Pier 39 Parking

If you plan to drive to Pier 39 San Francisco, you will find several parking garages. The main parking garage is the official Pier 39 Garage, just across the street from this attraction. It is located on the corner of Beach and Stockton Street.
The garage is open 24 hours a day, 365 days a year. The pricing starts at $10 an hour during the week and $12 an hour on the weekends. They have a maximum rate of $50 during the week and $60 each weekend day. If you reserve your spot on their website in advance, the maximum is only $20 for weekdays and $25 on the weekends.
If you plan to grab a bite to eat while you are here, you can get one-hour validation at these restaurant locations: Bubba Gump Shrimp Co., Crab House, Eagle Cafe, Fog Harbor Fish House, Hard Rock Cafe, Lorenzo's Pizzeria, Luau Lounge Tiki Bar, Pier Market Seafood Restaurant, Players Sports Grill & Arcade, Swiss Louis Italian & Seafood Restaurant, Taco Cantina and Wipeout Bar & Grill.
Note: You will need to ask your server for the validation before you leave.
Other Parking Options Nearby Pier 39

In addition, you will find a few other options for parking near Pier 39. Here are just a few of my favorites. Make sure to put all valuables away to avoid being a target for potential break-ins.
2210 Stockton St: This lot is much less expensive than the official lot. It's about three blocks from the pier.
80 Francisco St: This is a great option for both the pier and Alcatraz. It's about 3 blocks away and it's an easy walk between the two.
Comments? Questions? Suggestions?
I would love for you to join me in my private Facebook group! 
It's a great place to interact with me and others who know the area well.
You can ask questions, get advice for your upcoming stay, and then share your photos and advice with others when you return home. It's a great community and the fastest way to get answers to those nagging questions about your visit!