Ghirardelli Square in San Francisco: Top Shops, Restaurants, and Other Fun Activities
Located on the western side of Fisherman's Wharf, Ghirardelli Square in San Francisco is a popular attraction for those who love to dine and shop.
As this square was the original home of the first Ghirardelli Chocolate Factory, the main draw is the famous SF chocolate treats, which make the perfect pick-me-up on a day of sightseeing. You can stop into one of the three chocolate shops on the square to enjoy a specialty coffee drink, ice cream, or another delectable sweet. 
Apart from reveling in chocolate consumption, there are many other fun things to do, such as wine tasting, boutique shopping, a free walking tour, and several large annual events.
(Tip: How do you pronounce Ghirardelli? It's a little different from how it looks -- "Gear-r-deli")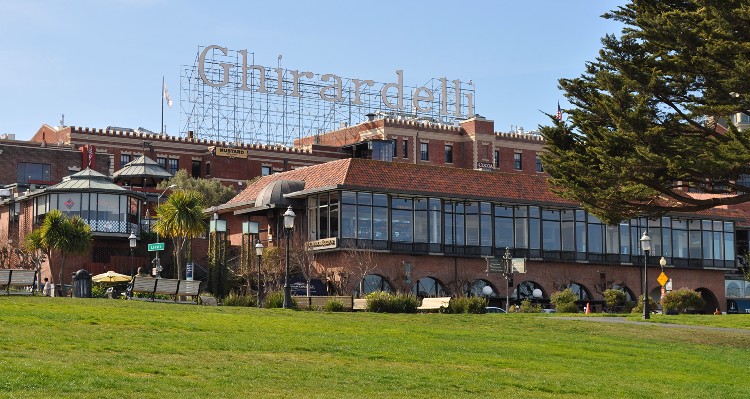 Located near the bay front on Beach Street, Ghirardelli Square is easy to find. The famous white letters comprising the sign sit high on top of the building, and can be seen from many blocks away, as well as from the water, if you happen to take a boat out on the bay.
Read on to learn more about this famous attraction's past and the top things to see and do here today!
History of Ghirardelli Square San Francisco

Ghirardelli Chocolate is the oldest continuously operating chocolate maker in the U.S. 
It was started by a man named Domingo Ghirardelli, an Italian immigrant. Growing up in Italy, his family introduced him to sugar-based treats early on in his life. He always had a fascination with them and later set out to start his own chocolate and candy company.
He first tried his skills in Peru in South America, and later relocated to California during the height of the Gold Rush. He originally sold sweet treats and drinks to the gold miners.
A few years later he decided he wanted to open up a shop. In 1852, his dreams came true and he opened the first chocolate business in San Francisco. This business would later become known as the Ghirardelli Chocolate company we know today.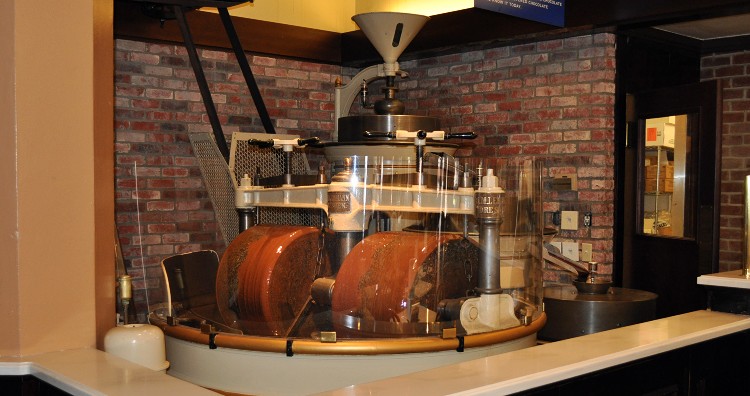 In 1893, his business continued to expand. To keep up with demand he moved his chocolate factory to the buildings in what is now known as Ghirardelli Square.
Over the years, the company added buildings. They added and sold portions of the business. At one time, they also produced mustard (this is evident by signs on one of the buildings in the courtyard today).
The company added the famous 15-foot high "Ghirardelli Square San Francisco" sign in 1923. Finally, in 1967, they moved the factory to San Leandro in the East Bay.
Disclaimer: I receive a small commission from some of the links on this page.

Five Things to Do at Ghirardelli Square San Francisco

Ghirardelli Square San Francisco is just one square city block in size. Investors purchased and updated the original buildings of the factory shortly after Ghirardelli moved out, and turned it into a small retail area, making it what is considered the first successful adaptive reuse project in the country.
Here are several things to do and see at Ghirardelli Square:
1. Buy Ghirardelli Chocolate & Other Treats

Most people come here to buy chocolates and see what is under the famous white Ghirardelli sign that lights up the San Francisco skyline.
There are three places to buy Ghirardelli chocolates within this small complex.
The first one, the Original Chocolate Manufactory, is the main shop located on the eastern side of the square. Here, you can indulge in some hot fudge sundaes and see some of the original chocolate factory equipment.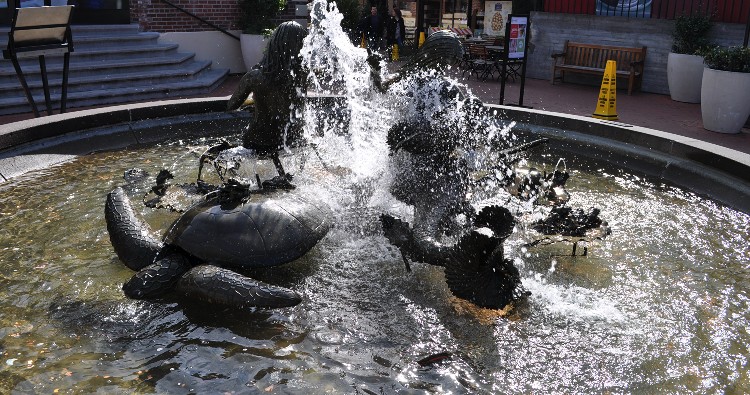 Don't fall into the trap of standing in line waiting for hours just to buy some chocolates at the main store. Unless the line is short, I recommend heading over to one of the other two shops, so you don't end up spending an hour or more in line.
The first alternative is the Ghirardelli Chocolate Marketplace, tucked into the West Plaza of Ghirardelli Square. You can access it from the main courtyard. It is a little smaller than the main shop, but has many of the same treats available.
The second additional shop is the smallest and newest addition on Beach Street, called Ghirardelli-On-the-Go, where you can quickly duck in for some of their famous hot chocolate or other chocolate goodies. This location is petite, but perfect if the lines at the other two are too long.
2. Shop in the Square

There are several small boutique shops in the square that offer great souvenirs.
Jackson & Polk and Lola of North Beach are two cute, local shops that sell wonderful little gifts, stationery, and greeting cards with unique designs. If you're looking for handcrafted jewelry, check out Mashka Jewelry.
Ghirardelli Square is home to the flagship store of elizabethW's locally made candles and fragrances. You'll also find Gigi & Rose + Gigi & Rose Kids, which both offer high-end clothing and accessories.
There is also Game Day VR, where your kids can experience virtual reality. They also have arena games and an eSports Lab.
And don't forget about your beloved furry friends while on vacation! Stop by Yap to pick up fun pet toys and accessories.
3. Dine on the Square

When you're ready to take a break from walking and shopping, there are a handful of delightful restaurants and cafes on the square, apart from the Ghirardelli ice cream shops and cafes.
You can check out the Cheese School of San Francisco which has some great salads, sandwiches, and cheese boards. Barrio is another favorite of mine which serves up Latin street food with an agave bar.
Then there are higher-end restaurants such as McCormick and Kuleto's Seafood & Steaks, which sits right on Beach Street and has amazing views of the bay. There's also Palette Tea House for some artful, modern, Chinese dim sum.
4. Tour the Square and the Pier

If you are a history buff, then you might enjoy a free guided tour of the area that meets in Ghirardelli Square, offered by San Francisco City Guides on Monday mornings at 11am.

During the 1.5- to 2-hour tour, you'll learn more about the history of Ghirardelli Square, but you'll also get to visit the truly unique Musée Mécanique at the Hyde Street Pier, and learn about the city's famous cable cars.
You do not need to register ahead of time, unless you have a group of more than 8. Simply show up at the mermaid fountain in the center of the square a few minutes before 11am and let them know you are interested.
>> Visit the SF City Guides site for details and dates
Even if you don't take a guided tour, Ghirardelli Square San Francisco is worth a stop at least for a few minutes if you love sweets or want to buy some gifts. Grab a cup of coffee or hot chocolate and explore the area. Aquatic Park is just across the street, where you can walk down the pier to get a better view of Alcatraz and the Golden Gate Bridge.
5. Attend a Ghirardelli Event

Every year, Ghirardelli Square hosts seven large annual events. Many of these have been cancelled since 2020, so double-check before you plan your visit.
1. March/April - Easter Celebrations: Every Easter, Ghirardelli Square invites kids and their families to enjoy an Easter egg hunt, photos with the Easter bunny, and other fun activities. Click here for details and other fun things to do this Easter.
2. April - Ghirardelli Goes Green: Celebrate Earth Day at Ghirardelli Square. This annual event includes live music, green-focused activities, and a visit from the "Bag Monster." This one-day event is perfect for the entire family.
3. May - Uncorked Wine Festival: This wine tasting event invites many of the top wineries in Northern California to showcase their wonderful wines. For two days, you can sample wines, savor Ghirardelli chocolates, listen to live music, and more. Find out more here.
4. September - Chocolate Festival: The popular Chocolate Festival gives you the chance to sample a variety of their amazing chocolates. In addition, it features a wine tasting pavilion, cooking demonstrations, live entertainment, and more. Click here for more details.
5. October - Fleet Week: Celebrate Fleet Week at Ghirardelli Square. This large SF event features an airshow (with the Blue Angels!), ship tours, and more. Every year, Ghirardelli Square provides live music and other fun activities all around the square. Read more about Fleet Week.
6. November/December - Light the Menorah: For Hanukkah, head over to the square to light the first candle on the menorah with Rabbi Peretz Mochkin. After the ceremony, stick around for some kid-friendly events.
7. November/December - Holiday Tree Lighting: Watch the annual tree lighting ceremony with a visit from Santa, live music, and other children's activities. Click here to find a full list of tree lighting ceremonies and other holiday events.
Where to Stay: the Fairmont in Ghirardelli Square

If you decide to stay in the area, consider staying right in Ghirardelli Square itself. This old chocolate factory is now home to the top five-star hotel in San Francisco, the Fairmont Heritage Place.
This hotel offers over 51 two- and three-bedroom apartments and guests love it! Find ratings and reviews for the Fairmont Heritage Place on Booking.com.
If you are like me and your budget doesn't allow you to stay at the priciest hotel in SF, then check out the great deals on Booking.com. They also offer free cancellations on most rooms. Browse the deals on Booking.com today!

Address & Hours

You will find Ghirardelli Square San Francisco on the western end of Fisherman's Wharf at 900 North Point Street. Shops are open from 11 am to 9 pm every day. Some businesses stay open a little later (mostly the restaurants and bars).
Holiday Hours

The holiday hours here vary by store and restaurant. On Thanksgiving, only a handful are open, and on Christmas, all shops and restaurants are closed. All are open on New Year's Eve and only some will be open on New Year's Day.

Where to Park Near Ghirardelli Square San Francisco

You will find plenty of parking near Ghirardelli Square San Francisco. Here are some of the best options.
Ghirardelli Square Garage: The closest and easiest place to park is right in Ghirardelli Square. The lot is beneath the shops and is open from 6 am to 2 am daily. You can either enter on Larkin Street between Beach and North Point or on Beach Street between Larkin and Polk Streets. Parking here is $6 an hour for the first hour and $8 an hour afterwards. The daily maximum rate is $40.
Hyde Beach Garage: You will also find parking just two blocks away on the corner of Hyde and Beach. This parking garage charges $10 an hour for the first hour, $8 for additional hours with a daily maximum of $46.
Fisherman's Wharf Parking: You will find another lot in the heart of Fisherman's Wharf at 550 North Point Street. This lot is inside the Holiday Inn Express and is open 24-hours a day. Prices start at $10 per hour with a fee of $30 for up to 12 hours. The overnight or 24-hour rate is $64.
>> Find additional parking around San Francisco
Sweet Treats at Ghirardelli

Okay, I'll admit it—I love chocolate and can't resist the Ghirardelli chocolate squares. My favorite is their milk chocolate squares filled with caramel. These yummy chocolate square treats were first introduced in 1999.
You can find some fun San Francisco-themed treats at all three of the Ghirardelli Square shops. If you want to replenish your stash of sweet treats you buy on your SF vacation, you can easily find a wide selection of Ghirardelli chocolates and gift baskets online.
Would you love to make your own Ghirardelli sweet treats? Wow your friends and family with recipes from this official Ghirardelli chocolate cookbook.
This cookbook is a baker's dream with over 80 recipes. Find everything from cookies, bars, and cakes, to some of their world-famous chocolate drinks.
Inside, you will find both simple recipes to extravagant desserts only found in the Ghirardelli shops. 25 full-color, mouth-watering pictures showcase the final results of some of the best recipes in the book.
Though this cookbook is my favorite, there are also a few other Ghirardelli cookbooks available. All have uncovered the secrets of these amazing sweet treats that you can find in Ghirardelli Square.
Getting Here

The easiest and cheapest way to get from Union Square or downtown San Francisco to Ghirardelli Square is by taking public transit. You can either take the 30-bus outbound from Union Square to the Marina, or you can pick up the bus at Sutter and Kearney Streets in Union Square.
Get off at North Point and Larkin Streets. You will see the Ghirardelli Square San Francisco sign when you exit the bus. This ride takes about 20 minutes. It is a crowded route so many other people will probably be looking for Ghirardelli also.
Another option is to take a cab from Union Square. This will cost around $15 to $20 and take only about 10 minutes. This is a faster, and probably more pleasant, way to get to Ghirardelli Square.
From the rest of Fisherman's Wharf, you can walk. Pier 39 is on the other side of Fisherman's Wharf and it's about a 15 minute walk (0.8 miles).
The square is on the western side of the neighborhood and a pretty quick walk. Walk all the way down Jefferson Street to the end and you will see it on your right, just past the park. You can also walk down Beach Street until you reach the square.
Best San Francisco Maps

Already mapping out your trip to San Francisco? This Streetwise Compact San Francisco map is the perfect companion.
This small map is about 20% smaller than the standard Streetwise map. It is easier to slip into your bag or purse for quick reference during your trip.
Plan out your day or document the places you already visited. This laminated, accordion style map is easy to fold and unfold.
When folded, the map is only about the size of a checkbook cover. You can hide it away when not in use and pull it out when needed for a look at where you are or where you are heading.
Find out more about the Streetwise San Francisco map. Interested in a larger map? Check the ratings, reviews and prices of these other San Francisco maps.
More Fun Things to Do in SF

Want to learn more about San Francisco? Here are some additional pages you might enjoy:
North Beach: Located to the north of Fisherman's Wharf is the Italian neighborhood of North Beach. This friendly San Francisco neighborhood is full of shops, bars, and of course, Italian restaurants.
Chinatown: Another popular, must-see neighborhood is Chinatown San Francisco. From the amazing food to the bustling inexpensive shops, you could spend an entire day just soaking in the liveliness of the culture here.
SF Things to Do: Find information on other great neighborhoods in the city. From the Marina to the Mission, this section has all the details on what to expect from each district.
Details on the Hop-On Hop-Off Tours

One of the best ways to find your way around the city is the Hop-On Hop-Off bus, which is a great first-day activity in any city you are visiting. The San Francisco bus has more than 20 stops, taking you from one end of the city to the other.
With stops in Union Square, Fisherman's Wharf, and other popular neighborhoods, you will quickly make your way around San Francisco. You will also listen to recorded audio so you can learn more about the City by the Bay during the ride.
The first bus starts in Union Square at 9am. The last bus leaves Fisherman's Wharf at 4pm. This is a great option for getting over to Ghirardelli Square San Francisco for a few hours or to other parts of the city.
You can buy passes for one or two days. Find pricing and learn more about the San Francisco Hop-On Hop-Off Bus today!
Additional Tips to Plan Your Stay

Are you looking for additional tips to plan your trip? Check out these great sections to help with the planning process.
Lodging: Union Square, downtown San Francisco, and Fisherman's Wharf are three of the most popular neighborhoods for hotels. Find recommendations for different types of hotels in each location. In this section, you can also look at hotel recommendations by budget. Whether you are looking for a top-of-the-line five-star hotel or something a little more modest, you can find it all here.
Best SF Restaurants: San Francisco is home to a wide variety of restaurants, including some of the best in the world. Discover a list and descriptions of top restaurants by neighborhood or by cuisine.
San Francisco Nightlife: Where do the locals go to play at night? Find out some of the best places to go for dancing, drinks, or even theater. Are you looking for live music? You can find recommendations for that here too! Uncover some of the best places to spend your evenings during your trip to San Francisco.