Chinese New Year San Francisco 2023


by Jill Loeffler  •

Updated: November 30, 2022
The Chinese New Year celebration in San Francisco is one of the largest in the world. The main draw of this celebration, the Grand Parade, will be held on Saturday, February 4.
In addition, you will find lots of fun events for the lunar new year in both January and February.

2023 is the Year of the Rabbit.

One of the floats in the Chinese New Year Parade
Disclaimer: I receive a small commission from some of the links on this page.

Brief History of the Event

The Chinese New Year celebration in San Francisco first began in the mid-1800s, when many immigrants from China came to the US looking for work. 
As the word of the Gold Rush in California spread, many Chinese immigrants decided to stay in San Francisco. This built up a large Chinese community in this city, forming the famous Chinatown district that is still very much alive today.
When they planned their first full scale New Year's celebration here, they incorporated both Chinese and American traditions. They loved the idea of having a large, colorful parade, though that was not done in China at that time.

More Details on the Chinese New Year Parade

Today, this celebration and parade is one of the largest in the world. More than three million people watch the parade every year.
There are more than 100 parade entries. These include participants marching down the street with flags, lanterns, and drums. 
The parade also includes several floats, the largest and most popular of which is the 28-foot-long Golden Dragon. It takes a team of more than 100 people to operate and move it through the streets of San Francisco.

The 2023 Chinese New Year Parade is on Saturday, February 4. It starts at 5:15 pm at the corner of 2nd and Market Streets. It then weaves its way through Chinatown and ends at Jackson and Kearny Streets. The parade usually ends around 8 pm.

Here is a map of the full route.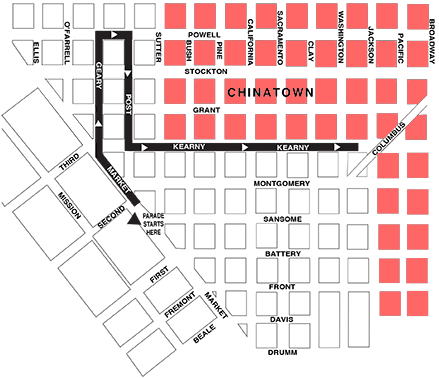 You can either watch it in person or on KTVU Channel 2, a local San Francisco station. People start to line up along the parade route several hours in advance. If you want a front row spot, I recommend getting there at least an hour before the parade starts.

Several people managing one of the dragons during the Chinese New Year Parade and some fireworks going off in front of them
If you don't want to stand, you can also buy bleacher seats. These are along the parade route on Kearny Street. Tickets are around $38 - $55 per person. They will then either email them to you or you can access them in the Eventbrite mobile app.
The bleacher seats are not assigned and there is no coverage above the seats. Click here to order your tickets online.
February Events: Find additional events this February in San Francisco. My calendar includes festivals, theater performances, concerts, and more. Click here to find out more.

More Top Tours & Activities in SF

Chinese New Year San Francisco 2023 Schedule

While most people attend just the parade, there are several other events scheduled to celebrate the Chinese New Year in San Francisco. 
Here are the events planned for 2023.
Flower Market Fair 

Buy fresh flowers, plants, candies, and fruits at this open-air market in the heart of Chinatown
Saturday, January 14 from 10 am - 6 pm
Sunday, January 15 from 9 am - 6 pm
Basketball Jamboree

Betty Ann Ong Chinese Recreation Center in Chinatown, at Mason and Washington Streets
Saturday, January 28 from 7:30 pm
Miss Chinatown & Coronation Ball

Miss Chinatown USA pageant
Hyatt Regency, 5 Embarcadero Center
Friday, 4 pm cocktails, 5 pm pageant, 6:30 pm dinner and coronation ball
Community Street Fair
Traditional dancing, drumming, acrobats, Chinese calligraphy, fortune telling, and lion dancing
Grant Avenue from California to Broadway; also on Washington, Jackson, and Pacific between Stockton and Kearny 
Same weekend as the Grand Parade
Saturday, February 4 from 10 am - 4:30 pm
Sunday, February 5 from 9 am - 5 pm
Chinatown YMCA Run

10k run, 5k run, 5k walk
Starts at 8am at Sacramento and Grant streets, then runs through Chinatown, North Beach, the Embarcadero, and Downtown, and finishes again in Chinatown
Sunday, March 5 at 8 am (Registration: 7 am)
Hotels Near Chinatown

Any hotels in Union Square will get you within walking distance to Chinatown. There are also a few that are just steps from the Chinatown gates. Here are my recommendations on where to stay near Chinatown.

Here are some of the best places to stay in in Union Square.
Here are also some great budget-friendly options for those looking to spend a little less on their hotel stay. These are spread throughout the city, but most are close to public transit so you can easily get to Chinatown.
Fun Chinatown Tours
Getting to the Event

Chinatown is just steps from Union Square and downtown San Francisco. If you are staying in Union Square, you can easily walk over to the events or take one of several transit options.
If you are driving into the city or from another neighborhood, here are some of the best parking options. All of these are in Union Square.
Ellis-O'Farrell Garage at 123 O'Farrell St. 
Union Square Garage at 333 Post (at Geary)
Sutter-Stockton at 330 Stockton (at Sutter)
Fifth & Mission Garage at 833 Mission (at 5th St.)
Four-Fifty Sutter Garage at 450 Sutter Street
Parking is quite expensive in San Francisco, so be prepared to pay anywhere from $30 to $50 a day. Some of these parking garages also increase their fees for large events.

Public transit is another option. BART drops you off just blocks from Chinatown and/or the parade route. This is a great option if you are coming in from outside the city. 
Buses from Marin also drop off just blocks from Union Square and Chinatown.
Prepare for the Weather

The weather in San Francisco in February is often cool and rainy. Most of the celebrations, including the parade, are all outdoors. 
If you attend any of these celebrations, dress warm and bring along your umbrella or rain gear. It often rains during this parade, but they rarely cancel. The festivities will still be running strong, so plan ahead for this celebration.
Find out even more tips on what to wear - all year around - in San Francisco.

Comments? Questions? Suggestions?
I would love for you to join me in my private Facebook group! 
It's a great place to interact with me and others who know the area well.
You can ask questions, get advice for your upcoming stay, and then share your photos and advice with others when you return home. It's a great community and the fastest way to get answers to those nagging questions about your visit!