Free Things to Do in San Francisco
200+ Attractions, Activities, Events, & More
Keep your budget in check with these free things to do in San Francisco. SF is an expensive city to visit, but you will be delighted by the hundreds of free options here.
You will find everything from walking tours to museums to events. Each month, you will find several options.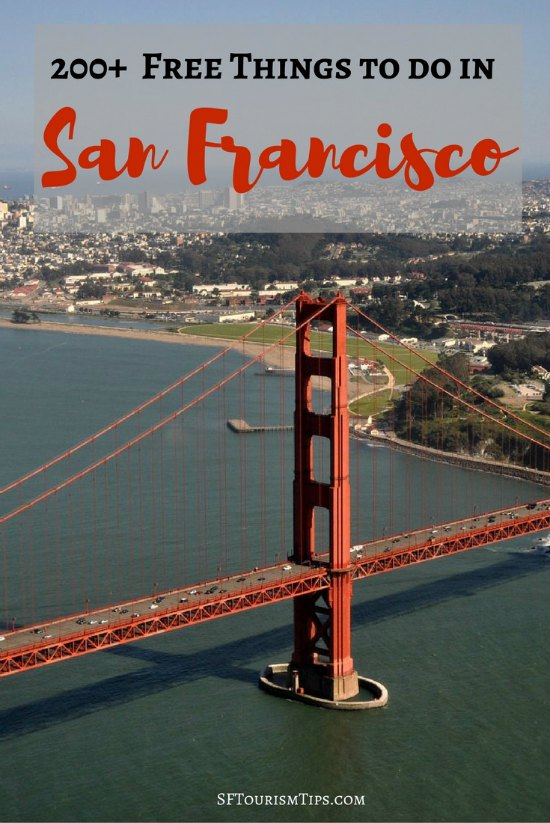 Below find a list of ideas that will allow you to stretch your dollar farther during your stay.
Disclaimer: I recieve a small commission from some of the links on this page.
By Month
January | February | March | April | May | June
My 50 Favorite Free Activities & Attractions
Let's start with a list of my 50 favorite free things to do in San Francisco. This list includes activities, museums, attractions, events, and more. It will help you start thinking about the wide variety of options available.
Learn More: Visit my 50 free page for more details
Free Walking Tours
SF City Guides, part of the SF Library, offers free walking tours every day of the year. You will find anywhere from five to twelve options per day. You can get a guided tour of the Golden Gate Bridge, walk around Chinatown as you learn more about this interesting district, or sample food in SF's famed North Beach.
Learn More: Click here for the daily schedule and more details on the walks
10 Top Free Attractions
On this list, you will find the 10 best SF attractions that you can visit at no cost. They include top options such as the Golden Gate Bridge, Lombard Street, and the Palace of Fine Arts.
Learn More: Find the full list of attractions here
11 Best Free Museums
In addition to attractions, SF has a number of free museums. These include the Cable Car Museum, the Maritime Museum in Fisherman's Wharf, and the Fire Museum.
Learn More: Find a list of the eleven best
Free Museum Admission Days
Many of the top museums in SF offer free admission to their permanent collection. Some offer free access once a month, while others offer it just once a quarter. Museums included on this list are the Asian Art Museum, the California Academy of Sciences, and the de Young.
Learn More: Find a calendar of dates by month
Free Self-Guided Walking Tours
To help you get started with your trip planning, I've created several self-guided walking tours. The tours are free and you can download them from my site. Some of them include attractions and activities that you will need to pay to enter. All of them also have several free things to do in San Francisco. You can decide which options to choose during your time exploring.
Learn More: Check out my free self-guided tours
101 Free Events
One of the best parts about living in San Francisco is that there is a free event almost every day of the week. To make them easier to find, I've created a list of the 101 top free events in SF every year. My list includes street fairs, film festivals, parades, and so much more!
Learn More: Uncover my list of 101 free events in SF each year
Free Activities with Kids
Are you visiting San Francisco with kids? If so, then make sure to check out this list before you arrive. It includes 20 fun and free things to do with the entire family. They include options such as climbing to the top of Twin Peaks, visiting the Maritime Museum, and hiking the Coastal Trail.
More: Find my full list of 20 fun ideas
Other Ways to Save During Your Stay
In addition to all of the great free activities, you will find several other ways to save on your stay. Below are some of my top recommendations on where to save on hotels, tours, tickets, and more. For some of the links, I do get a small commission which allows me to continue to offer you all of this great, free content!
Goldstar: I recommend Goldstar to everyone coming in and visiting San Francisco. It's a great way to save on all of your activities, tours, and events. They help retailers fill spots by offering tickets at up to 50% off. I always check them first before buying tickets anywhere else! Click here to check out their selection today.
Groupon: This is another great place to save on your stay. They also offer great deals on tours, events, and restaurants. Their selection is changing all the time and you will find even better discounts on their short term deals. Check them out today and save more during your visit.
Priceline: There are a lot of great hotel sites, but Priceline allows you to quickly and easily find some great deals for your lodging. They work with many hotels in SF and show you ways to save on your stay. Click here to fill in your dates and check out the current deals.
More Fun Things to Do in SF
You will find there are a lot of free things to do in San Francisco. However, I'm sure you will also want to check out some of the paid activities too. These are some of the top options I recommend.
Alcatraz: A visit to Alcatraz is a must for any first time visitors. This small island off the coast of SF started as a military prison and was eventually turned into a federal prison. This is where famous prisoners such as Al Capone, Robert "The Bird Man" Stroud, and George "Machine Gun" Kelly spent much of their time in prison. Click here for an idea on what to expect during your visit.
Asian Art Museum: If you love interesting pieces of art from Asia, then make sure to stop by the Asian Art Museum. They have a wonderful display of pieces from all around Asia. You will see works from Japan, China, and Korea. You will also see some lovely pieces from Indonesia, Malaysia, and Thailand. This is one of my favorites and I visit it quite often. Click here for pictures and more details.
California Academy of Sciences: One of the most visited museums is the California Academy of Sciences in Golden Gate Park. This museum offers four different experiences under one roof. You can stop by the four-story rainforest for a look at colorful birds and butterflies, visit the Natural History Museum for an in-depth review of our history, get tickets to see a show at the Planetarium, and wade through the aquariums at the Steinhart Aquarium. Click here for pictures and more information on what you will see during your visit.
Wine Tours: If you love wine, then I also recommend heading up north for the day on a wine tasting tour. It's just over an hour north of SF. All tours offer you the chance to taste locally produced wines from Napa Valley and/or Sonoma County. You will sample everything from Cabernet Sauvignon to Rose. It's a fun way to spend some time here. Click here for a list of tours and a chart that compares them all so you can easily find the right one for you.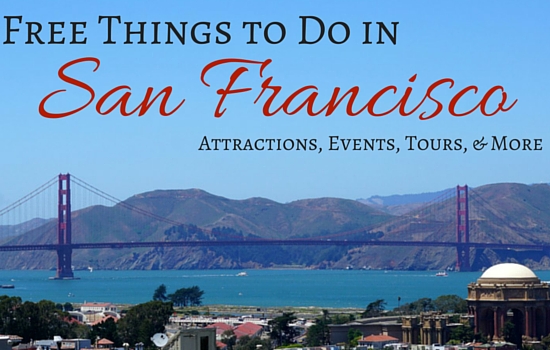 More Fun Things to Do in San Francisco
Home

>
Free Things to Do in San Francisco