Free Things to Do in San Francisco: 200+ Attractions, Activities, & Events
Keep your budget in check with these free things to do in San Francisco. SF is an expensive city to visit, but you will be delighted by the hundreds of free options here.

You will find everything from walking tours to museums to events. Each month, you will find several options.
Below find a list of ideas that will allow you to stretch your dollar farther during your stay.

Disclaimer: I receive a small commission from some of the links on this page.

By Month

My 50 Favorite Free Activities & Attractions

Here you will find fifty of my favorite free things to do in San Francisco in no particular order.
1. Admire the Mission Murals: The eclectic Mission District is home to hundreds of colorful murals. You can see them on your own or take a free SF walking tour.
2. See the Cables Spin at the Cable Car Museum: San Francisco is one of only a handful of cities with working cable cars. You can learn more about them and watch the live cables in action at the Cable Car Museum.

3. Hike the Coastal Trail: The coastal trail offers some of the most amazing views along the SF waterfront. From the trail, you will also get some of the best photos of the Golden Gate Bridge. It's another one of the great outdoor free things to do in San Francisco.

4. Catch Three Innings of SF Giants Baseball: Head to the south side of Oracle Park (formerly AT&T Park) near McCovey Cove for the chance to see three innings for free. The viewing area offers standing room only access to a limited number of people. Viewers switch every three innings.

5. Discover SF's History on a City Guides Walking Tour: Every day, you will find five to ten free walking tours offered through SF City Guides (part of the public library). They cover everything from the 1906 Earthquake & Fire to neighborhood specific walks. Reservations are not required.

6. Uncover SF's Waterfront History at the Maritime Museum: Learn more about the history of the waterfront, including the Fisherman's Wharf neighborhood, with their fun interactive displays. It's another one of the top free things to do in San Francisco.

Visit the Golden Gate Bridge and its mini-museum for free!
7. Celebrate Spring at the Cherry Blossom Festival: In April, the cherry trees are in bloom and Japantown is celebrating. This two weekend long event includes traditional music, food and other fun activities. It's one of the best free things to do in San Francisco.

8. Ring in the Chinese New Year: San Francisco hosts one of the largest Chinese New Year's Parades in the world. Stop by Chinatown in February to celebrate.
9. Check Out the Mansions on Billionaire's Row: A two-block stretch in the Pacific Heights neighborhood showcases some of the largest mansions in the city. At the end it, you'll also find breathtaking views of the SF Bay at the Lyon Street Stairs.
10. Step Inside City Hall: Many people don't realize that there are quite a few things to see inside SF's City Hall. Located in the Civic Center, City Hall includes a mini-museum, a gorgeous marble staircase and an ever changing gallery on its lower level. In addition, you will find several statues, beautiful architecture and even a free walking tour a few times a week.

11. Watch the Sea Lions at Pier 39: A handful of sea lions mysteriously started calling Pier 39 their home in January 1990. Now there are dozens. Stop by the pier to watch them jockey for position on the wooden platforms in the bay. It's a fun way to spend time and save money as one of the lively free things to do in San Francisco.

12. Visit the SF Galleries: Several art galleries host open houses on the First Thursday and Saturday of the month. Stop by for a chance to see their most important works of art.

13. View the Coit Tower Murals: The city of San Francisco has more than a 1,000 beautiful murals. Some of the most controversial are found on the first floor of Coit Tower. They are some of the most interesting free things to do in San Francisco.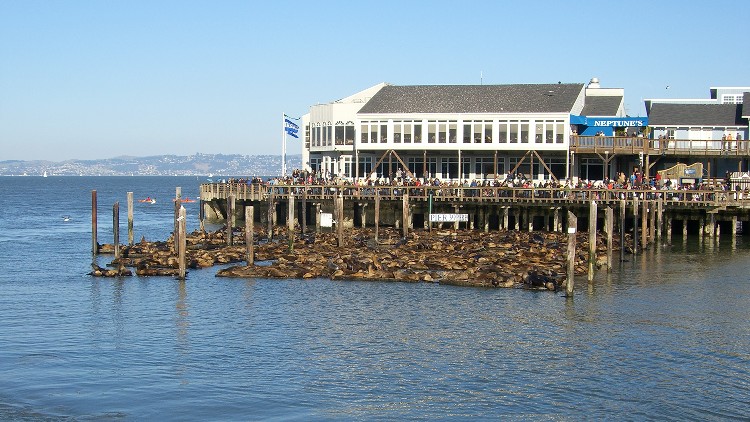 Sea lions hanging out on the wooden platforms at Pier 39
14. Walk the Hyde Street Pier: The Hyde Street Pier is home to five historical boats. Although it does cost to enter the boats, you can walk the pier for free to admire them from the outside.
15. Enjoy a Day at the Beach: While the weather is fairly mild all year long, many people love to head to one of several beaches in SF. Crissy Field, Baker Beach and Ocean Beach are three of the most popular. 
16. Discover an Important Piece of History at the Fort Point National Historic Site: Many visitors don't realize that the city is full of military history sites. Fort Point is one of the most important. It's one of the top historic free things to do in San Francisco.

17. Stroll the Golden Gate Bridge: The eastern side of the Golden Gate Bridge has a large walking path that you can visit for free. In addition, several new outdoor exhibits have opened that explain the bridge's architecture and its history. If you haven't visited lately, then now is the time. It's one of the free things to do in San Francisco that you do not want to miss!

18. Honor Veterans at the National Cemetery: Thousands of veterans are buried in the large military cemetery located in the Presidio. It was the first cemetery on the west coast dedicated to those that served. They host several events here every year and it's open every day from 6am to 6pm.

19. Step Back in Time at the Palace of Fine Arts: Originally built for the 1915 Panama Pacific Exhibition, the Palace of Fine Arts is still an amazing work of architecture. Stroll the walkways and enjoy lunch on the lawn.

20. Admire the Beauty of Grace Cathedral: This gorgeous church opens its doors to visitors every day. Make sure you spend some time checking out the golden doors at the front before you enter.

21. Walk the Paths Around Stow Lake: One of the hidden gems in Golden Gate Park is Stow Lake. During your visit, make sure you take one of the walkways over the water to explore Strawberry Hill and the Chinese Pavilion. You can also bring some bread for the ducks and geese that swim in Stow Lake.
22. Spend One Hour in the Japanese Tea Gardens: Every Monday, Wednesday and Friday morning from 9am to 10am, you can visit the Japanese Tea Gardens for free. It's another one of my favorite free things to do in San Francisco.
23. Visit the SF Museums: The first Tuesday of every month, many SF museums offer free general admission including the de Young Museum, the Asian Art Museum and the Legion of Honor.

24. Take Pictures of the Famous Painted Ladies near Alamo Square: One of the classic San Francisco photos is of seven similar looking Victorians side by side with a view of downtown SF in the background. While you are in the neighborhood, make sure you walk around and look at dozens of the other restored Victorians, better known as "The Painted Ladies".

25. Check Out One of the Most Crooked Streets in the World: Head over to Lombard Street to walk down one of the most crooked streets in the world. Drive down for an experience you will never forget. (A little known secret is that this is actually the second most crooked street in SF. The most crooked street is Vermont Street in the Potrero Hill district.)

26. Hang with the Locals at Dolores Park: On a sunny day in the city, you will find hundreds of people hanging out in Dolores Park. Grab some coffee and a good book to enjoy it like a local. 

27. Stop & Smell the Roses in Golden Gate Park: Golden Gate Park has several beautiful gardens including the free Rose Garden near Park Presidio Blvd. and Fulton Street. While you are there, make sure you also check out the colorful Dahlia Garden near the Conservatory of Flowers. Don't miss your chance to check out these free things to do in San Francisco.

28. Listen to Free Music at Stern Grove: Every Sunday in the summer, you can watch free concerts at Stern Grove Park. The concerts start in mid-June and run through mid-August each year. Concerts start at 2pm, but I recommend arriving early to get a coveted spot on the lawn.

29. Discover the History of the Fairmont Hotel: The Fairmont Hotel sits at the top of the hill in the Nob Hill neighborhood. This hotel is where the United Nations Charter was drafted in 1945. You can either stroll the lobby on your own or take the free Nob Hill walking tour offered by SF City Guides (part of the SF Public Library).

Some of the ornate details in the lobby of the Fairmont Hotel in Nob Hill
30. Sample Gourmet Treats at the Ferry Building: The historic Ferry Building along the Embarcadero is a food lover's dream. Inside you will find dozens of high-end food and beverage retail shops. Many offer samples of their goodies including chocolates, bread and olive oil.
31. Watch the Surfers at Fort Point: Fort Point sits right under the Golden Gate Bridge. They surf in a small area right on the waterfront. You will often see a small group of spectators enjoying the show (stop here after visiting #16). 
32. Soak in the Amazing Views at the de Young Tower: Many people don't realize that you can visit the de Young Tower Observation Deck at no cost. Head to the right of the main ticketing area to grab the elevator to the ninth floor. Here you will get 360° views that include Golden Gate Park, the top of the Golden Gate Bridge and downtown. On a clear day, you can even see the Pacific Ocean, which makes it another of my favorite free things to do in San Francisco.

33. Uncover Your Fortune at the Golden Gate Fortune Cookie Company: While visiting Chinatown, make sure you make a quick stop at the Golden Gate Fortune Cookie Company to see how fortune cookies are made. The visit is free, but they do request $1 to take pictures.

34. Admire the Ancient Artifacts at the Chinese Temples: After your visit to the Golden Gate Fortune Cookie Company, head over to visit the three small Chinese Temples. All are open to the public and allow you to take a look at their artifacts and alters.

35. See the Bakers Work their Magic at Boudin Bakery: The bakers at the Boudin Bakery in Fisherman's Wharf work in front of a large window. Often, the lead baker has a microphone and describes their work to the audience. It's fun to see them craft alligators and other characters out of dough.

36. Visit the Photography Exhibit at Pier 24: The photography collection at Pier 24 gives you the chance to see rare pieces of art from all around the world. It's a rotating exhibit so you can visit more than once and see new photography each time. The visit includes a two hour self-guided tour. It's free, but you must reserve a spot in advance to visit.

37. Learn About the Murals at the Rincon Center: Check out the many murals at the Rincon Center located at 121 Spear Street. These murals follow the history of San Francisco and how it became the amazing city it is today. Several plaques are posted throughout the building to explain each mural in more detail.

38. Dance to the Music at San Francisco's Summer Street Fairs: Every year, most SF neighborhoods host a large street fair. Almost all of them offer free music. Some of the most popular are the North Beach Festival, the Fillmore Jazz Festival and the Haight Street Festival. Don't miss your chance to miss these fun, free things to do in San Francisco.

39. Hear the Sounds of the Water at the Wave Organ: At the end of one of the piers between Crissy Field and the Marina Green, there is a man-made wave organ. As the waves and water move around, the wave organ create music. The pier is at the end of Baker Street in the Marina.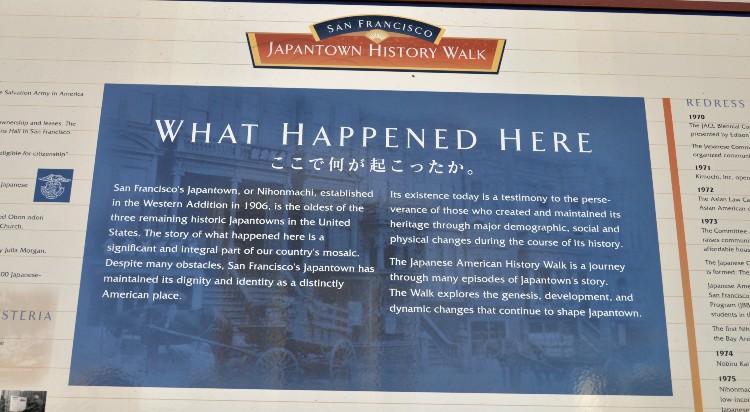 One of the signs on the Japantown History Walk
40. Walk the Historic Tour in Japantown: Japantown has a great self-guided walking tour throughout the neighborhood. On this tour, you'll learn more about the history of this district and stop at the spots where many important event occurred.
41. Tackle the Filbert Street Stairs: On your way to visit Coit Tower, you can either take the bus or walk the Filbert Street Stairs. These famous stairs challenge even those that are fit, but it's a real accomplishment if you can walk all the way to the top. 
42. Catch Amazing Views of San Francisco at Twin Peaks: One of the best places to get a full view of San Francisco is from Twin Peaks. The views here cover downtown, Alcatraz Island and a large part of the SF Bay. This is another one of the must see free things to do in San Francisco.

43. See How Chocolate Was Made at Ghirardelli Square: For decades, this historic square housed the chocolate production for Ghirardelli chocolates. Today, the factory no longer resides here, but you can still see some of the old equipment in action. Don't forget to grab your free piece of chocolate during your visit.

44. Enjoy Bluegrass Music in the Park at the Hardly Strictly Bluegrass Festival: Every October, you can listen to free bluegrass, and other types of music, for three days in Golden Gate Park.

45. Honor San Francisco Fire Fighters at the Fire Department Museum: Walk through hundreds of photos and memorabilia collected over the years about the SF Fire Department. They also have a number of great pieces from the 1906 Earthquake and Fire. It's a wonderful stop and one of my favorite free things to do in San Francisco.

46. Find Out About the San Francisco Streetcars: Another free museum that recently opened is the Railway Museum. Here you can learn a little about the origins of all the historic streetcars that carry passengers up and down Market Street. While you are there, make sure you take a sneak peek at the live map that shows where each one is currently located.
47. Attend a Book Reading at City Lights Bookstore: One to two times a week you can catch a reading at the City Lights Bookstore in San Francisco's North Beach district. This famous bookstore was founded by poet Lawrence Ferlinghetti and was a favorite hangout of the Beat Generation. It's one of the few great independent bookstores still open.
48. Roam Through the Games at the Musee Mechanique: One of the hidden gems in Fisherman's Wharf is an arcade called the Musee Mechanique. This old warehouse is full of arcade games including everything from Ms. Pacman to old time music boxes. It's free to walk around, but you will have to pay to play. This is one of the best free things to do in San Francisco with kids.
49. Listen to the Beautiful Music of the Glide Memorial Chorus: Glide Memorial is a church with non-traditional, yet spiritual services. The choir draws some of the most amazing talent in the area and you feel like you are at a concert, not a church service. At times, Bono and other famous artists also stop by to perform alongside this world-renowned choir. 
50. Admire the Diego Rivera Frescos: San Francisco is home to three Diego Rivera frescos and all three are amazing works of art. One is in the Financial District, the other is in Russian Hill (near North Beach) and the final one, the largest piece, is out near Balboa Park in the Outer Mission District. My insider's guide will give you tips on where to find these masterpieces and what to expect when you arrive. They are some of the must see free things to do in San Francisco.
10 Top Free Attractions

On this list, you will find the 10 best SF attractions that you can visit at no cost. They include top options such as the Golden Gate Bridge, Lombard Street, and the Palace of Fine Arts. It's a great way to save some money on your stay and also enjoy some of our most treasured attractions. Make sure to add these to your list of the free things to do in San Francisco.
Learn More: Find the full list of attractions here
10 Best Free Museums

In addition to attractions, SF has a number of free museums. These include the Cable Car Museum, the Maritime Museum in Fisherman's Wharf, and the Fire Museum.
Learn More: Find a list of the best
Free Self-Guided Walking Tours

To help you get started with your trip planning, I've created several self-guided walking tours. The tours are free and you can download them from my site. Some of them include attractions and activities that you will need to pay to enter. All of them also have several free things to do in San Francisco. You can decide which options to choose during your time exploring. 
Learn More: Check out my free self-guided tours
101 Free Events

One of the best parts about living in San Francisco is that there is a free event almost every day of the week. To make them easier to find, I've created a list of the 101 top free events in SF every year. My list includes street fairs, film festivals, parades, and so much more!
Learn More: Uncover my list of 101 free events in SF each year
20 Free Activities with Kids

Are you visiting San Francisco with kids? If so, then make sure to check out this list before you arrive. It includes 20 fun and free things to do with the entire family. They include options such as climbing to the top of Twin Peaks, visiting the Maritime Museum, and hiking the Coastal Trail.
More: Find my full list of 20 fun ideas
Other Ways to Save During Your Stay

In addition to all of the great free activities, you will find several other ways to save on your stay. Below are some of my top recommendations on where to save on hotels, tours, tickets, and more. For some of the links, I do get a small commission which allows me to continue to offer you all of this great, free content!
Goldstar: I recommend Goldstar to everyone coming in and visiting San Francisco. It's a great way to save on all of your activities, tours, and events. They help retailers fill spots by offering tickets at up to 50% off. I always check them first before buying tickets anywhere else! Click here to check out their selection today.
Groupon: This is another great place to save on your stay. They also offer great deals on tours, events, and restaurants. Their selection is changing all the time and you will find even better discounts on their short term deals. Check them out today and save more during your visit.

Priceline: There are a lot of great hotel sites, but Priceline allows you to quickly and easily find some great deals for your lodging. They work with many hotels in SF and show you ways to save on your stay. Click here to fill in your dates and check out the current deals.

More Fun Things to Do in SF

You will find there are a lot of free things to do in San Francisco. However, I'm sure you will also want to check out some of the paid activities too. These are some of the top options I recommend.
Alcatraz: A visit to Alcatraz is a must for any first time visitors. This small island off the coast of SF started as a military prison and was eventually turned into a federal prison. This is where famous prisoners such as Al Capone, Robert "The Bird Man" Stroud, and George "Machine Gun" Kelly spent much of their time in prison. Click here for an idea on what to expect during your visit.
Asian Art Museum: If you love interesting pieces of art from Asia, then make sure to stop by the Asian Art Museum. They have a wonderful display of pieces from all around Asia. You will see works from Japan, China, and Korea. You will also see some lovely pieces from Indonesia, Malaysia, and Thailand. This is one of my favorites and I visit it quite often. Click here for pictures and more details. 

California Academy of Sciences: One of the most visited museums is the California Academy of Sciences in Golden Gate Park. This museum offers four different experiences under one roof. You can stop by the four-story rainforest for a look at colorful birds and butterflies, visit the Natural History Museum for an in-depth review of our history, get tickets to see a show at the Planetarium, and wade through the aquariums at the Steinhart Aquarium. Click here for pictures and more information on what you will see during your visit.

Wine Tours: If you love wine, then I also recommend heading up north for the day on a wine tasting tour. It's just over an hour north of SF. All tours offer you the chance to taste locally produced wines from Napa Valley and/or Sonoma County. You will sample everything from Cabernet Sauvignon to Rose. It's a fun way to spend some time here. Click here for a list of tours and a chart that compares them all so you can easily find the right one for you.