55 Free Things to Do in San Francisco: Attractions, Activities, & Events

by Jill Loeffler  •

Update: January 19, 2023
Keep your budget in check with these free things to do in San Francisco. SF is an expensive city to visit, but you will be delighted by the dozens of free options here.
You will find everything from walking tours to museums to events. Each month, you will find several options.
Below find a list of ideas that will allow you to stretch your dollar farther during your stay.
Disclaimer: I receive a small commission from some of the links on this page.

1. Golden Gate Bridge
Visit the Golden Gate Bridge and its mini-museum for free!
The eastern side of the Golden Gate Bridge has a large walking path that you can visit for free. In addition, several new outdoor exhibits have opened that explain the bridge's architecture and its history.
If you haven't visited lately, then now is the time. It's one of the free things to do in San Francisco that you do not want to miss!
>> Learn more about visiting the bridge
>> Tips to walk across the bridge
2. Lombard Street
Head over to Lombard Street to walk down one of the most crooked streets in the world. It's a popular tourist attraction since you can either walk or drive down it to experience its beauty. 
The road is paved with bricks and there are lovely gardens inside each turn. 
You will find stairs on both sides. The steps are short, so they are easy to walk up and down. 
A little-known secret is that this is actually the second crookedest street in SF. The most crooked street is Vermont Street in the Potrero Hill district (but it isn't nearly as beautiful).
>> More tips to visit this gem
>> Find a list of additional free attractions around SF
3. Painted Ladies Along Alamo Square Park
One of the classic San Francisco photos is of six similar-looking Victorians side by side with a view of downtown SF in the background. It's famous since it was in the opening credits of the popular 1980s show Full House.
While you are in the neighborhood, make sure you walk around and look at dozens of the other restored Victorians, better known as "The Painted Ladies".
>> Visit Alamo Square to photograph the Painted Ladies
>> More about these and other Painted Ladies in SF
4. Free Days at Local Museums
On the first Tuesday of every month, many SF museums offer free admission including the de Young Museum, the Asian Art Museum, and the Legion of Honor.
Others include The San Francisco Botanical Gardens, the Exploratorium, and the California Academy of Sciences which offer free museum days at certain times of the month or year.
Most offer free general admission to their permanent collection. For many, you have to pay to see any traveling exhibits, although some offer a discount on these as well during their free admission days. 
>> Find a calendar of upcoming dates
5. Hike the Coastal Trail

The coastal trail offers some of the most amazing views along the SF waterfront. From the trail, you will also get some of the best photos of the Golden Gate Bridge.
The section of the trail I recommend hiking is between the bridge and Baker Beach. If you walk down into either Marshall's Beach or Baker Beach, you will get even more hiking action. 
It's another one of the great outdoor free things to do in San Francisco.
>> More about visiting the Presidio and hiking the trail
6. Twin Peaks
The stairs leading to the summit of one of the Twin Peaks
One of the best places to get a full view of San Francisco is from Twin Peaks. To reach the top, you can hike up the stairs. 
You will get the best views from its highest point. From here you will see, Alcatraz Island, Angel Island, and a large part of the San Francisco Bay.
This is another one of the must-see free things to do in San Francisco.
>> More about visiting Twin Peaks
7. Mission Murals

The eclectic Mission District is home to hundreds of colorful murals. This district offers the largest concentration of pieces in San Francisco.
You can stroll along 24th Street, step into Clarion Alley, or admire the pieces along Balmy Alley. Many of these works by local artists are around politics, local events, and civil rights. The pieces change quite often as some get damaged or fade over time.
You can see them on your own or take a free SF walking tour.
>> Learn more about the Mission Murals and where to find the best pieces
8. Cable Car Museum

San Francisco is one of only a handful of cities with working cable cars. It's also the only city in the world where you will find those that are still run using the traditional method.
While riding the cable cars costs money, you can learn more about them for free at the Cable Car Museum in SF's North Beach District. 
Here you can learn about their history, step inside a display of one, and, my favorite part, is to watch the wheels at work pulling these cars up SF's steep hills. 
>> Learn more about visiting the Cable Car Museum
>> Additional free museums around SF
Free Things to Do in San Francisco by Month
I know many of you already have your plans in place for a certain month. In addition to this list of 50 free things to do in San Francisco, I also created shorter lists of 25 by month. This will show what I recommend for each month based on the weather and what's open at that time of year. Some are also on this list, but there are certain things that are best during specific times of the year. 

9. Free Tours with San Francisco City Guides

Every day, you will find five to ten free walking tours offered through SF City Guides (part of the public library). They cover everything from the 1906 Earthquake & Fire to neighborhood-specific walks. Reservations are not required.
Even though these are "free" they will ask for a donation at the end. I recommend anything from $7 to $10 per person. This money goes back to the public library and SF City Guides in order to keep this program running.
I keep this on the list of free things to do in San Francisco as you are not required to pay.
>> Find out more about these popular tours
10. Cherry Blossom Festival

In April, the cherry trees are in bloom and Japantown is celebrating. The event runs over two weekends and includes traditional music, food, and other fun activities.
It's one of the best free things to do in San Francisco.
>> Find out more about this popular free event
>> Find additional free events around SF each year
11. Lands End Hiking Trail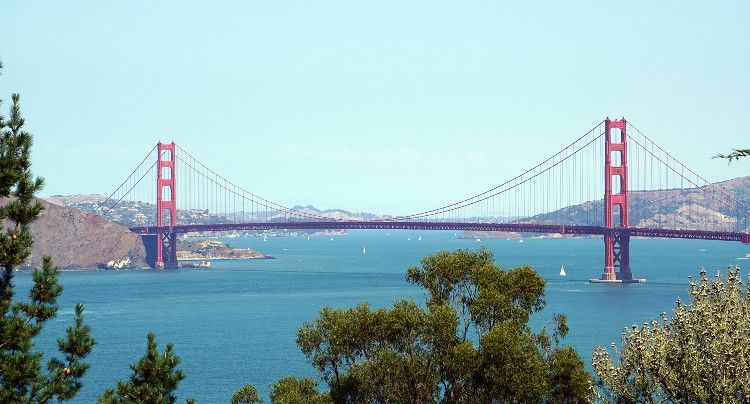 One of many spectacular views of the bridge from the Lands End Trail
Head over to Lands End for a gorgeous hike along the cliffs. You'll get your heart pumping with some nice up and down sections. 
The reason this one is SOOO popular is due to the views of the Golden Gate Bridge.
>> More details about hiking and visiting Lands End
>> Additional places to view the Golden Gate Bridge
12. Chinese New Year Parade and Festival

San Francisco hosts one of the largest Chinese New Year's Parades in the world. Thousands of people from around the SF Bay Area and the world come here every year to celebrate. 
Although many come for the parade, there is also a festival on that same weekend as the parade. 
You can enjoy both. The dates change each year, but you will find this in late January, February, or early March each year.
>> Find dates for this year's festivities
13. Ghirardelli Square

Ghirardelli Square offers a few free things to do. One of my favorites is checking out the old chocolate factory in their main store on the eastern side of the square. You can read all about how chocolate was made in this location when they first opened.
You can also stroll around their shops, check out the Ruth Asawa fountain in the courtyard, and admire their colorful mosaic steps. 
>> Find out more about visiting Ghirardelli Square
14. City Hall

Many people don't realize that there are quite a few things to see inside SF's City Hall.
Located in the Civic Center, City Hall includes a mini-museum, a gorgeous marble staircase, and an ever-changing gallery on its lower level.
In addition, you will find several statues, beautiful architecture, and even a free walking tour a few times a week.
>> More about visiting City Hall
15. National Cemetery
Thousands of veterans are buried in the large military cemetery located in the Presidio. It was the first cemetery on the west coast dedicated to those that served.
They host several events here every year and it's open every day from 6 am to 6 pm.
>> More about visiting and their annual events
16. Diego Rivera Frescos
A small section of the Diego Rivera fresco at the SF Museum of Modern Art
San Francisco is home to three Diego Rivera frescos and all three are amazing works of art.
One is in the Financial District, the other is in Russian Hill (near North Beach) and the final one, the largest piece, is at the San Francisco Museum of Modern Art.
My insider's guide will give you tips on where to find these masterpieces and what to expect when you arrive. They are some of the must-see free things to do in San Francisco.
>> More details and where to find all three
17. Coit Tower Murals

The city of San Francisco has more than 1,000 beautiful murals. Some of the most controversial are found on the first floor of Coit Tower.
In addition to the free murals on the first floor, you can also pay to take an elevator to see the views from the top floor. 
You will find Coit Tower at the top of Telegraph Hill. 
It's another one of the popular free things to do in San Francisco. 
>> More about visiting Coit Tower
18. 16th Avenue Steps

San Francisco is home to many gorgeous staircases. One of the most popular is the 16th Avenue Stairs in the Inner Sunset.
As you climb, you can see the top of the towers of the Golden Gate Bridge. When you turn around, you can see the Pacific Ocean and all around the district. 
These mosaic steps are picture-perfect and free to visit. 
>> Find out more about visiting these steps
19. San Francisco Beaches

While the weather is fairly mild all year long, many people love to head to one of several beaches in SF. 
Crissy Field, Baker Beach, and Ocean Beach are three of the most popular.
Many of these beaches offer striking views of the Golden Gate Bridge, the Pacific Ocean, or the surrounding SF bay area.
>> Find out more about our top beaches
20. Fort Point National Historic Site

Many visitors don't realize that the city is full of military historical sites. Fort Point, at the foot of the southern side of the Golden Gate Bridge, is one of the most important.
Step inside to visit their small museum on the 2nd floor. I also recommend climbing to the top floor to get some of the best views of the bridge from below!
It's one of the top historic free things to do in San Francisco.
21. Sea Lions at Pier 39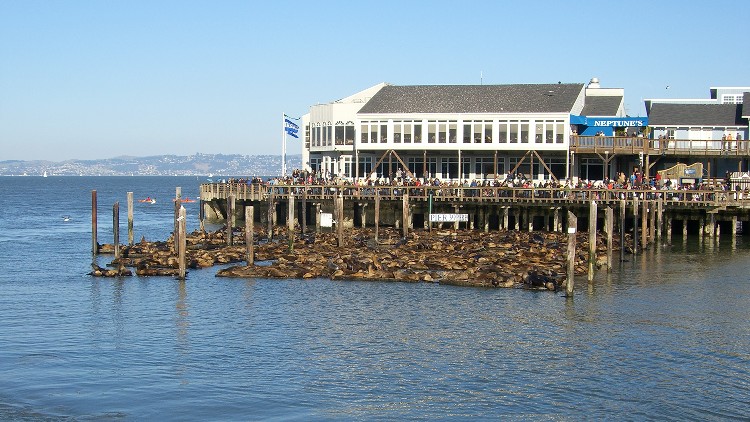 Sea lions hanging out on the wooden platforms at Pier 39
A handful of sea lions mysteriously started calling Pier 39 their home in January 1990. Now there are dozens. Stop by the pier to watch them jockey for position on the wooden platforms in the bay.
It's a fun way to spend time and save money as one of the lively free things to do in San Francisco.
>> More to see and do on Pier 39
22. Palace of Fine Arts

Originally built for the 1915 Panama-Pacific Exhibition, the Palace of Fine Arts is still an amazing work of architecture.
Stroll the walkways, check out its beauty, and enjoy lunch on the lawn.
23. Hearts in SF

Wandering around the city, you'll probably notice a collection of large, 5-foot-tall heart sculptures spread throughout the parks, streets, and buildings. Each is painted with a unique design.
They are part of an annual Hearts in SF art project and fundraiser which displays new pieces every year and then auctions them off to benefit the SF General Hospital Foundation. 
The only one that never changes is the heart that Tony Bennett himself painted and left in San Francisco.
24. Stow Lake

One of the hidden gems in Golden Gate Park is Stow Lake. During your visit, make sure you take one of the walkways over the water to explore Strawberry Hill and the Chinese Pavilion.
You can also bring some bread for the ducks and geese that swim in Stow Lake.
>> More tips to visit Stow Lake
25. Japanese Tea Garden Morning Free Times

Every Monday, Wednesday, and Friday morning between 9 am to 10 am, you can enter the Japanese Tea Garden for free.
This allows you to stay as long as you want to admire the beautiful gardens, check out its colorful pagodas, and stroll along its paved paths. 
It's another one of my favorite free things to do in San Francisco.
>> More about visiting the Japanese Tea Garden
26. Musee Mechanique

The entrance to the Musee Mechanique in SF's Fisherman's Wharf
One of the hidden gems in Fisherman's Wharf is an arcade called the Musee Mechanique. This old warehouse is full of arcade games including everything from Ms. Pacman to old-time music boxes.
It's free to walk around, but you will have to pay to play. You will find it on Pier 45.
This is one of the best free things to do in San Francisco with kids.
>> More about visiting Pier 45
27. Golden Gate Park Gardens

Golden Gate Park has several beautiful gardens including the free Rose Garden near Park Presidio Blvd. and Fulton Street. While you are there, make sure you also check out the colorful Dahlia Garden near the Conservatory of Flowers.
Don't miss your chance to check out these free things to do in San Francisco.
>> More about visiting Golden Gate Park
28. Stern Grove Festival

Every Sunday in the summer, you can watch free live music at Stern Grove Park.
The free concerts start in mid-June and run through mid-August each year.
Concerts start at 2 pm, but I recommend arriving early to get a coveted spot on the lawn.
>> Find out more and check this year's schedule
29. Fairmont Hotel Lobby

The Fairmont Hotel sits at the top of the hill in the Nob Hill neighborhood. This hotel is where the United Nations Charter was drafted in 1945.
You can either stroll the lobby on your own or take the free Nob Hill walking tour offered by SF City Guides (part of the SF Public Library).
30. Seward Street Slides
If you love slides or are visiting with kids, then head over to the hidden Seward Street Slides near the Castro District.
This set of concrete slides offers a fun way to spend an hour or so. You will need some cardboard to get down them, but you can usually find some nearby left by others enjoying the slides.
They open around 10 am daily and close around 5 pm.
>> More things to see and do nearby
31. Ferry Building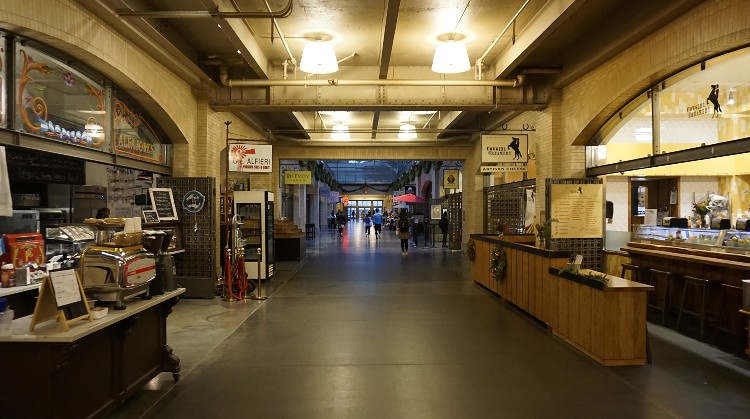 Shops inside the Ferry Building
The historic Ferry Building along the Embarcadero is a food lover's dream. Inside you will find dozens of high-end food and beverage retail shops.
You can stroll around for free checking out this historic gem. Some even offer samples of their goodies including chocolates, bread, and olive oil.
>> Find out more about visiting the Ferry Building
32. Maritime Museum
One of the top free things to do in San Francisco's Fisherman's Wharf neighborhood is to visit the Maritime Museum and learn about the area's history with their fun interactive displays.
You can visit the main part of the museum at the historic Bathhouse, a white building on the waterfront that resembles an ocean liner and was constructed as a WPA project. There's also the free Visitor's Center on the ground floor of the Argonaut Hotel at the corner of Hyde and Jefferson Streets.
33. Golden Gate Fortune Cookie Factory

While visiting Chinatown, make sure you make a quick stop at the Golden Gate Fortune Cookie Factory to see how fortune cookies are made. They will often give you a sample to try them and there are plenty of cookies on sale.
The visit is free, but sometimes they request $1 to take pictures or videos. They didn't on our last visit, but they have requested this at times when I'm not buying anything.
34. Chinese Temples

After your visit to the Golden Gate Fortune Cookie Factory, head over to visit the three small Chinese Temples.
All are open to the public and allow you to take a look at their artifacts and alters.
Pictures are not allowed inside most of these places, so just ask if you aren't sure. These are also places of worship, so be respectful of those visiting for religious reasons.
35. Boudin Bakery Bakers at Work

The bakers at the Boudin Bakery in Fisherman's Wharf work in front of a large window. Often, the lead baker has a microphone and describes their work to the audience.
It's fun to see them craft alligators and other characters out of dough.
You can also step inside to visit their small museum on the second floor or grab a bite to eat (not free, but delicious!). 
36. Murals at the Rincon Center

One of more than a dozen murals inside the Rincon Center
Check out the many murals at the Rincon Center located at 121 Spear Street. These murals follow the history of San Francisco and how it became the amazing city it is today.
Several plaques are posted throughout the building to explain each mural in more detail.
They are set inside an old Post Office, so once you find these signs, you know you are in the right place.
>> More about seeing these murals
37. Pier 24

The photography collection at Pier 24 gives you the chance to see rare pieces of art from all around the world. It's a rotating exhibit so you can visit more than once and see new photography each time.
The visit includes a two-hour self-guided tour. It's free, but you must reserve a spot in advance to visit.
>> More about visiting Pier 24
38. Summer Street Fairs

Every year, most SF neighborhoods host a large street fair. Almost all of them offer free music.
Some of the most popular are the North Beach Festival, the Fillmore Jazz Festival, and the Haight Street Festival.
Don't miss your chance to miss these fun, free things to do in San Francisco.
>> Calendar of all street fairs and festivals 
39. Wave Organ

At the end of one of the piers between Crissy Field and the Marina Green, there is a man-made wave organ. As the waves and water move around, the organ creates acoustic music.
The pier is in the Marina District at the end of Baker Street. You access the Wave Organ by walking along the trail past the St. Francis Yacht Club and the Golden Gate Yacht Club. It feels like you are walking on private property, but you are not. 
>> Find more free and fun things to do with kids in SF
40. Filbert Street Stairs

On your way to visit Coit Tower, you can either take the bus or walk the Filbert Street Stairs.
These famous stairs challenge even those that are fit, but it's a real accomplishment if you can walk all the way to the top. 
As you climb, you will be treated to some lovely flowers and small pieces of art. 
>> More about climbing the Filbert Street Steps
41. Historic Walking Tour in Japantown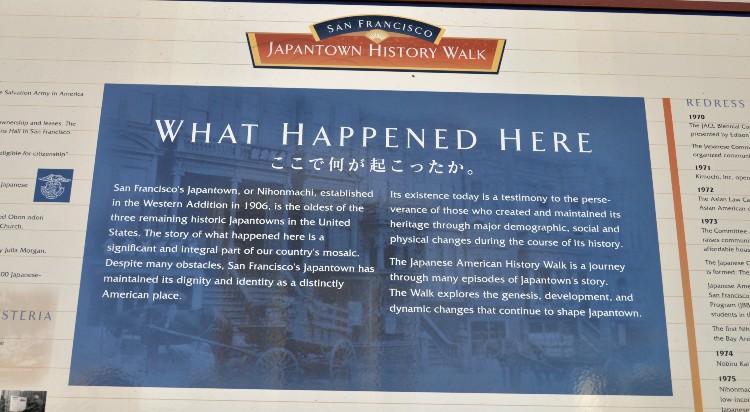 One of the signs on the Japantown History Walk
Japantown has a great self-guided walking tour throughout the neighborhood.
On this tour, you'll learn more about the history of this district and stop at the spots where many important events occurred.
It's a great way to learn even more about this important SF district.
>> More about visiting Japantown
>> Find additional self-guided walking tours around SF
42. Three Free Innings of Baseball
Head to the south side of Oracle Park near McCovey Cove for the chance to see three innings of San Francisco Giants baseball for free.
The viewing area offers standing room only access to a limited number of people.
Viewers switch every three innings. There is an usher running the transition, so you won't be able to sneak in any additional innings unless the line is short.
>> More about this and attending an SF Giants game
43. Sutro Baths Ruins

Did you know that San Francisco used to have a huge indoor pool and spa called the Sutro Baths? While they burned down several decades ago, you can still head out and see the ruins.
They are a fascinating look back in time. You can hike down to them and take some Instagram-worthy pics. 
If you want to learn even more, you can check out the tour of the Sutro Baths offered by the SF City Guides. 
>> More about its history and visiting Sutro Baths
44. Hardly Strictly Bluegrass Festival

Every October, you can listen to free bluegrass, and other types of music, for three days in Golden Gate Park.
It's one of the best free events on the list and always draws in thousands of people every year.
Previous performers include stars such as Steve Earle & The Dukes, Tanya Tucker, and Emmy Lou Harris.
>> Find out more about this year's line-up and dates for the festival
45. Fire Department Museum

Walk through hundreds of photos and memorabilia collected over the years about the SF Fire Department. They also have a number of great pieces from the 1906 Earthquake and Fire.
They are open just a few days a week and it's run by volunteers, so I usually call ahead to confirm they are open before I arrive.
It's a wonderful stop and one of my favorite free things to do in San Francisco.
>> More about visiting this unique museum
46. Streetcar Museum

One of the exhibits inside the Railway Museums about our streetcars
Another free museum is the Railway Museum. Here you can learn a little about the origins of all the historic streetcars that carry passengers up and down Market Street.
While you are there, make sure you take a sneak peek at the live map that shows where each one is currently located.
You will find this right at the Don Chee Way & Steuart St stop along the streetcar line.
>> More about our streetcars and this fun museum
47. Book Reading at City Lights Bookstore

One to two times a week you can catch a reading at the City Lights Bookstore in San Francisco's North Beach district.
This famous bookstore was founded by poet Lawrence Ferlinghetti and was a favorite hangout of the Beat Generation.
It's one of the few great independent bookstores still open.
48. Dolores Park
On a sunny day in the city, you will find hundreds of people hanging out in Dolores Park.
Grab some coffee and a good book to enjoy it like a local. 
It's also a popular spot for picnics. 
>> Find out more about visiting and what to see and do nearby
49. Billionaire's Row in Pacific Heights
A two-block stretch in the Pacific Heights neighborhood showcases some of the largest mansions in the city.
At the end it, you'll also find breathtaking views of the SF Bay at the Lyon Street Stairs.
>> More tips to visit Pacific Heights
50. SF Galleries

Several art galleries host open houses on the First Thursday and Saturday of the month. You will get the chance to see amazing works by both local and internationally recognized artists. 
Many of these galleries are in the Union Square district. Stop by for a chance to see their most important works of art.
>> More about visiting Union Square and some of my favorite galleries to visit
51. Other Free Street Art Around San Francisco
Just one example of the types of murals and street art you will find around the city.
I've mentioned several places to find free street art and murals above. However, this doesn't even begin to cover them all!
You will find additional pieces in North Beach, around Union Square, and throughout Chinatown.
>> My guide to finding the best pieces all around SF
52. Randall Museum
If you are visiting with kids, another one of the great free things to do in San Francisco is the Randall Museum. Located in Corona Heights Park, this museum offers a look at all things bay area.
It focuses on science, nature, and the arts. Inside, you can visit local rescue animals that can no longer be in the wild, an exhibit all about the ocean, and a huge model railroad.
A visit here usually takes a couple of hours. 
If you want to extend your visit, Corona Heights Park also has a few hiking trails (short, but steep) and some tennis courts. 
>> Find out more about visiting the Corona Heights area
53. Mount Davidson
Want to climb the highest peak in San Francisco? Many think it's at Twin Peaks, but Mount Davidson is just a few feet higher.
This place is famous for its large concrete cross at its summit. It also has some great hiking trails and is the perfect place to escape the chaos of the city for a few hours.
>> More about visiting Mount Davidson
54. Glen Park Canyon
Another place for a getaway in the city is Glen Park Canyon. This gorgeous park has a few miles of hiking trails. 
They aren't your normal trails as they take you down into the canyon and then you will have a steep climb out.
You will find this wonderful hiking spot in the Glen Park district.
>> More about visiting the Glen Park District and hiking in this park
55. Surfers at Fort Point
Fort Point sits right under the Golden Gate Bridge. They surf in a small area right on the waterfront.
You will often see a small group of spectators enjoying the show (stop here after visiting #20).

More Fun Things to Do in SF

You will find there are a lot of free things to do in San Francisco. However, I'm sure you will also want to check out some of the paid activities too. These are some of the top options I recommend.
Alcatraz: A visit to Alcatraz is a must for any first-time visitors. This small island off the coast of SF started as a military prison and was eventually turned into a federal prison. This is where famous prisoners such as Al Capone, Robert "The Bird Man" Stroud, and George "Machine Gun" Kelly spent much of their time in prison. Click here for an idea of what to expect during your visit.
Asian Art Museum: If you love interesting pieces of art from Asia, then make sure to stop by the Asian Art Museum. They have a wonderful display of pieces from all around Asia. You will see works from Japan, China, and Korea. You will also see some lovely pieces from Indonesia, Malaysia, and Thailand. This is one of my favorites and I visit it quite often. Click here for pictures and more details. 

California Academy of Sciences: One of the most visited museums is the California Academy of Sciences in Golden Gate Park. This museum offers four different experiences under one roof. You can stop by the four-story rainforest for a look at colorful birds and butterflies, visit the Natural History Museum for an in-depth review of our history, get tickets to see a show at the Planetarium, and wade through the aquariums at the Steinhart Aquarium. Click here for pictures and more information on what you will see during your visit.

Wine Tours: If you love wine, then I also recommend heading up north for the day on a wine tasting tour. It's just over an hour north of SF. All tours offer you the chance to taste locally produced wines from Napa Valley and/or Sonoma County. You will sample everything from Cabernet Sauvignon to Rose. It's a fun way to spend some time here. Click here for a list of tours and a chart that compares them all so you can easily find the right one for you.