Parades in San Francisco: List of the Annual Parade Celebrations in SF
You will find a variety of parades in San Francisco every year. They range from the large Chinese New Year parade toward the beginning of the year to the small, fun Lighted Boat Parade in December.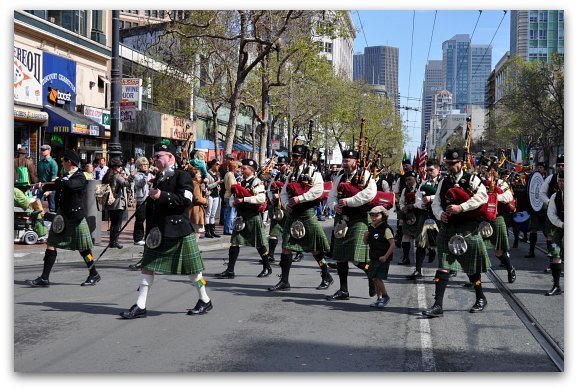 Disclaimer: I receive a small commission from some of the links on this page.

Martin Luther King, Jr. Day

The first one on the list is in January on Martin Luther King, Jr. Day. On Monday morning, thousands of people line up just south of Lefty O'Doul Bridge near Oracle Park.
They walk over the bridge, stop at Willie Mays Plaza for a short ceremony, and then head toward the festival location. It usually starts around 11am and everyone is welcome to join in.
Learn More: Details about the Martin Luther King, Jr. Day celebration
Chinese New Year

The date for the Chinese New Year event changes every year as it is timed with the lunar cycle. The entire celebration is a month long with a street fair, flower market, and other fun activities. However, the largest draw is the annual parade.
It starts in downtown SF and weaves back and forth through Chinatown, ending near Columbus and Jackson in North Beach. The highlight is the dragon toward the end of the evening.
This parade starts around 5:15 pm and lasts for several hours. I recommend arriving early if you want a spot up front to see all of the participants.
Learn More: Chinese New Year Celebration
Saint Patrick's Day

Another one of the highly attended parades in San Francisco the Saint Patrick's Day celebration. It's either the Saturday before or after the holiday. The procession starts at 2nd and Market Streets, then heads west, turning at McAllister Street, and ending just to the north of City Hall.
This parade is filled with Irish costumes, dancers, and music. It starts at 11:30am and lasts for around two hours. During or after, make sure to stop by the festival in the Civic Center Plaza in front of City Hall.
Learn More: Saint Patrick's Day
Cherry Blossom Festival

The Cherry Blossom Festival is a yearly Japantown event in April. It's a great time to enjoy the cherry blossoms, as well as traditional Japanese music, food, and activities. The festival takes place over the course of two weekends in April.
The annual parade is on the last day of the event. It starts at 1pm near City Hall, then heads north, turning on Post Street, then west to Japantown. During this event, you will see colorful costumes, traditional music, and fun floats.
Learn More: Cherry Blossom Event
Cesar Chavez Festival & Parade

The Cesar Chavez Festival commemorates the life and work of this labor and civil rights leader. This one-day event is held in the Mission District.
The annual parade starts near Dolores Park on 19th and Guerrero Streets at 11am. It makes its way east to the heart of the festival in the Mission. You will experience traditional dress, dancing, and plenty of live music.

Learn More: Cesar Chavez
Carnaval

One of my favorite parades in San Francisco every year is Carnaval. The two-day festival celebrates Latin American cultures. It's the Saturday and Sunday of Memorial Day weekend.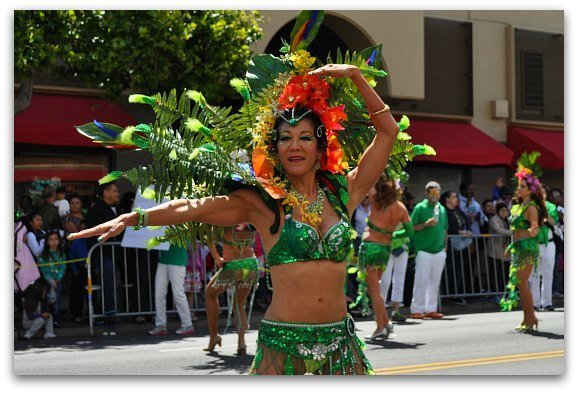 This lovely procession is full of time-honored dress from many colorful countries. In addition, you get the chance to enjoy lots of traditional dances and music. The parade runs along Mission Street and starts around 10am on Sunday morning, lasting for three or more hours.
Learn More: Carnaval
Pride Celebration

One of the largest parades in San Francisco each year is during the Pride Celebration. This event is always the last weekend in June in the Civic Center District.
This annual parade is on Sunday morning. Thousands turn out to support the LGBT community and watch this wonderful and entertaining procession. It starts at 10:30am at Market and Beale. It lasts for about three hours (or sometimes more) and ends at Market at 8th Streets.
Learn More: SF Pride Event in June
4th of July

To celebrate Independence Day, San Francisco always hosts a variety of activities along the waterfront in preparation for the large nighttime fireworks display. However, if parades are more your thing for this all-American occasion, you have plenty of options in surrounding towns all over the Bay Area. 
Whether you plan to visit the wine country up north, the East Bay, or the Peninsula, you have a great variety of family-friendly and small-town vibes to choose from.
Most cities kick off with the red, white, and blue floats and marching bands between 8 and 10 am, followed by food, entertainment, and other festivities.
Learn More: Get the details on all the parades around the Bay for this holiday 
Fleet Week: Parade of Ships

Since the water that surrounds SF is as famous as the city itself, you won't be surprised to hear that we have a few annual water parades. The first is the Parade of Ships that kicks off Fleet Week. It's usually on the Friday morning of Fleet Week, which is always in October.
Come down to the waterfront to see almost a dozen military ships come into port. The best views are from Fisherman's Wharf, Crissy Field, or Alcatraz Island.
Learn More: Details on this year's Fleet Week
Italian Heritage Parade

The Italian Heritage Parade is on the Columbus Day holiday. It's the city's oldest civic event and has been running since 1868. It features high school bands, hand-crafted floats, and performances by Italian music artists.
It starts at 12:30pm in Fisherman's Wharf, then makes its way south to North Beach and ends at Washington Square Park. At the park, you can enjoy a small family-friendly festival.
Learn More: Italian Heritage Annual Event
Lighted Boat Parade

Another one of my favorite parades in San Francisco is the holiday Lighted Boat Parade. It includes about 60 boats that float near the shoreline in Fisherman's Wharf.
It's free and you can see it best from Pier 39 or Aquatic Park.

Other Fun Activities in SF

Comments? Questions? Suggestions?
I would love for you to join me in my private Facebook group! 
It's a great place to interact with me and others who know the area well.
You can ask questions, get advice for your upcoming stay, and then share your photos and advice with others when you return home. It's a great community and the fastest way to get answers to those nagging questions about your visit!